Nashville alternative pop band Nightly have revealed their simplistic yet endearing video for their exhilarating new single, "you should probably just hang up."
— —
Any band that produce alternative pop music can often be stuck in a continual tug-of-war between crafting art that's simultaneously easily accessible and intimately personal. Nightly, alongside a handful of their peers, have mastered the ability to craft infectiously delightful music that's refreshingly resonant. Their latest single 'you should probably just hang up' serves as a shining example of Nightly's unique style, with the track's resonant synths almost acting a counter-point to the track's energizing yet heart-wrenching lyricism.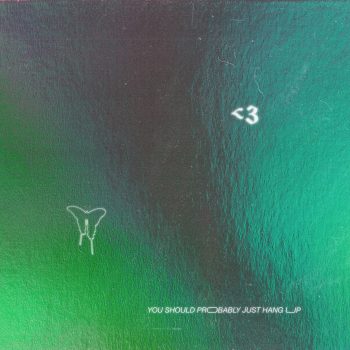 She said 'I'm changing'
'I'm not really wanting the same thing'
Tried a couple times to explain it
It wasn't me 'cause she just wanted space, yeah
Anyway she found a replacement
Atwood Magazine is proud to be premiering the video for Nightly's latest single "you should probably just hang up." The track serves as a follow-up to their preceding single 'the movies', featuring the incredible Charli Adams. While they both occupy different spaces sonically, lyrically it's not hard to draw parallels between the two tracks. While a large percentage of alternative pop music can focus on the overwhelming power of single distinct feeling, with both of their latest singles they've succeeded in encompassing multi-faceted emotion.
Talking of the track, the band shared, "We wrote 'you should probably just hang up' about a toxic situation. The song came to us super quickly, and we immediately recorded and produced it in Joey's basement." That relatively fast creative process is perhaps most in the track's relatable lyrical hook, and just those six words have the ability to conjure up a plethora of emotions for the respective listener. There's undoubtedly a sense of soul-crushing loss that's expertly masked under compelling synth's, with that sonic and lyrical disconnect serving to represent the intricately complex nature of emotions that accompany a breakup.
Two months later
It didn't work out
She's hitting my phone again
If you think of calling
You should probably hang up
It's three in the morning
I don't wanna wake up
With your voice in my head
It's only messing me up
If you think of calling
You should probably just hang up
(You should probably just hang up)
Speaking about the track's video, Nightly's lead vocalist Jonathan Capeci shared, "We shot the 'you should probably just hang up' video with our photographer/best friend Zach Pigg. The idea for the video came from a nightmare Joey had of having to rehearse on the way to a show because we were running late. Since we can't tour and play shows at the moment, it just felt right to get in the back of a van and jump around for a few hours."
The video intersperses those van shots, which see lead vocalist Jonathan deliver an impassioned performance, with stylish shots of the band among nature. The fact that the video is relatively simplistic amplifies the track's lyrical sentiment. Without the abundance of distractions that are usually at the forefront of music videos, the viewer can really hone in on the band's sprightly and impromptu performances. While the moody nature shots in the video might have ripped out the indie boyband video textbook, it's revitalising to see the unencumbered and unadulterated fun that the band have while passionately performing in the van.
The track's breezy and effervescent nature coupled with the infectious joy that's overwhelmingly evident in the video shows how music can often provide a much-needed escape. Although Nightly first released music back in 2016, they're still yet to release a full-length LP. If their past two tracks are anything to go by, their debut record is going to be worth the long wait.
— —
"you should probably just hang up" – Nightly
— — — —
? © Zach Pigg
:: Stream Nightly ::
---