Chicago band Ester emerge as an expressive, dynamic alternative force in their visceral sophomore album 'Turn Around', a heavy, vulnerable, and refreshingly introspective coming-of-age record complete with fracture and balance, dissonance and harmony, self-love, cults, and more.
Stream: 'Turn Around' – Ester
---
Darkness permeates Ester's visceral new album, but not in the draining, melancholic way to which most of us are accustomed. Rather, Turn Around (out 3/27/2020) is a heavy, vulnerable, and refreshingly introspective record reckoning with adulthood. It's a coming-of-age album that brings listeners intimately close to life's regular and not-so-regular turbulence – from cults and strained relationships to self-love, insecurity, and chasing our dreams, Turn Around is a passionate, expressive, and dynamic alternative rock force ready to fill our ears during those long days and nights ahead.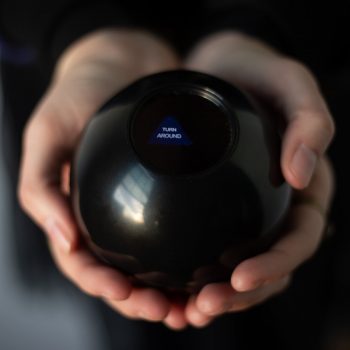 Atwood Magazine is proud to be premiering Ester's sophomore album Turn Around," out March 27, 2020 via Midwest Action. The musical project of Chicago's Anna Holmquist (they/them), Ester first debuted seven years ago with the feverish three-track EP Circadian Rhythm before more recently returning with 2018's debut album Curtains, an emotional upheaval set to ethereal soundscapes full of light and intimate energy.
"I'd recorded the record two or three years prior to [2018], and sat on it for too long," Holmquist tells Atwood Magazine, explaining how their "debut" is more of a solo endeavor that pre-dates the current line-up. "After the full band formed, I finally released [Curtains]. So, since that time I feel like I've grown as a songwriter and we've certainly grown and evolved our sound with a full band."
Turn Around is whole-heartedly reflective of Ester's present day artistry: Consisting of Anna Holmquist, Katelyn Cohen, Chris Colson, Raul Cotaquispe, Chris Harris, and Tim Newsum, the band have established themselves as something of an up-and-coming mainstay in Chicago's indie scene, and this album gives us the first real look at how they've done that, and why they've managed to stick around.
Turn Around presents a musical confluence of rock and folk elements centered around Holmquist's stunningly emotional vocals and their confessional, up-close-and-personal lyricism. Though the band is in the same sonic family as Hand Habits and Pinegrove, their songs exist in a league of their own. What's striking about Ester is just how different their songs can be from one another, while still sounding like congruent pieces of the same overarching puzzle.
Beautiful harmonies and haunting melodies elevate songs like "Little Shadow" and "Holy Daze" to great heights, whereas right next door, songs like "John's Car" and "Lock Me Up" find themselves built of tension and release, propulsive beats, and explosive choruses. Sometimes (as in "Thirsty"), Ester come off like a modern-day Fleetwood Mac; in "When You Wake," they conjure images of Florence Welch in a rock band; further still, "Wildfire" and its gorgeous vocal harmonies feel pulled from the English countryside, adapted to Chicago's scenic shores overlooking Lake Michigan.
---
Meanwhile, every one of these unique-sounding songs has its own different message. Some of these statements, like that of stellar album opener "The Space" and its breathtaking journey of self-discovery toward self-love, come easy; Anna Holmquist has a story to tell, and they open themselves up to the world in a magnificent display of emotional transparency. However, most of Turn Around's tracks are not so readily available to even the sharpest, most discerning minds.
"Most of my songs aren't about one specific person or thing or idea," Holmquist explains. "Some have a verse about one person and a chorus about another. Some I write all in one go and then find out what they mean months or years later."
Nevertheless, we at Atwood Magazine put Anna Holmquist to the task of breaking down Ester's second full-length album – their first since evolving from a solo effort into the formidable six-piece band they are today. Through just a cursory reading of the below text, it's clear that Turn Around is so much more than meets the eye.
A dark record though it may be, Ester's album is a deep reflection of the soul complete with fracture and balance, dissonance and harmony, doubt and certainty, longing and satisfaction.
It is a meditation on life's challenges, to say the very least; as we listen, we hear those burdens unravel, feel their impact on the individual, and come to understand Ester and its primary songwriter better than we perhaps could ever have imagined. It is not a suffocating confrontation; it is an enlightening one.
Experience the full record via our exclusive stream, and peek inside Ester's Turn Around with Atwood Magazine as Anna Holmquist goes track-by-track through the music and lyrics of their upcoming sophomore album! Turn Around is out March 27 via Midwest Action.
— —
Stream: 'Turn Around' – Ester
:: Inside Turn Around ::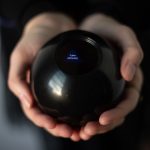 — —
The Space
It's tough to learn to love yourself. I think it's a long, non-linear journey. This song is about embracing the sadness of that as well as the joy. Right now, sitting in my apartment, where I live alone, I'm particularly trying to remind myself to embrace the loneliness –  that's a part of the human experience that can be rich and weirdly beautiful in its own way. I really didn't anticipate writing this during a pandemic but here we go.
Little Shadow
Sometimes the person or thing that you fear turns out not to be that scary. Sometimes when the thing you fear the most and fight against happens, it's not that bad. They don't control you anymore and next time, probably, hopefully, it won't be as scary when a big change happens in your life. That's Katelyn Cohen playing the excellent cello part.
John's Car
I joined a cult while in college, and this one's about the man who brought me into it. Hope he hears it! Also I particularly love Will Hulseman's synth line on this one.
Rediscover Me
A plea during a stagnant relationship. I wanted to be seen anew. I wanted to be forgiven for past mistakes. I wanted to be seen as more than a static picture of a person. Our bassist Tim Newsum tuned a brandy snifter and ran his finger around the edge to make a drone for the end of this song. Listen to Raul Cotaquispe's fantastic weird drumming on this.
Thirsty
I wrote this after getting out of a long relationship, about the feeling of relearning who I am and finding joy. Partly about sex, partly about the feeling of wanting to open my mouth and drink in the whole world in a way I hadn't in years. Give me more, I'm ready for it.
Holy Daze
After I left the cult, I wrote this song, which is my favorite of all the songs I've written. This also appears on our 2018 album Curtains, but we wanted to re-record a full-band version for Turn Around. I think it acts as a nice bridge between albums. Jenn Romero plays bass on this and was part of the original Ester lineup.
Lock Me Up
Sometimes you feel like you can never do anything right. You can try and try and try to be as good as you can, but nothing will ever be quite good enough. Proud of the beginning guitar riff that I wrote (and that Chris Colson masterfully played and adapted to be his own).
Not the Kind
I'm a Capricorn and an independent person, and am really good at seeming like I have my shit together, but I don't all the time. I don't like being told I'll be just fine. This one's a breakup song. Featuring my best friend Ariana Anderson on the flute. 
Wildfire
I want to set the world on fire for new growth to happen. I don't want to stop. Currently thinking about ways to reframe and use this feeling while stuck inside my apartment. What does it mean to go and grow at this moment in the world?
When You Wake
Though I don't like to succumb to petty feelings all the time, sometimes I let myself (see John's Car). 
Crutch
I care a lot and sometimes it gets me in trouble. Is it a way to comfort myself? Is it a crutch? Is it a tool to be used for good or ill? Am I a whiny little baby? Listen to the end for the CLASSIC FADE-OUT.
Wait It Out
When will it be my turn? I want it to be my turn now. Let's see what happens next.
— —
Stream: 'Turn Around' – Ester
— — — —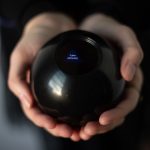 ? © 2020
:: Stream Ester ::
---