When I'm with you I feel like wearing nothing
Good music is something fans tolerate to put on repeat, conscious music has fans thinking about the lyrics or message of the song, and moving music provides solace influencing the moods of fans. Dagny Norvoll Sandvik (who goes by Dagny) is a 26-year-old Norwegian pop star who wants to make moving music through her upbeat electro-percussion based style that complements her radiant-fervor vocals.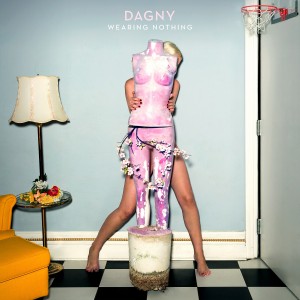 The spotlight descended upon Dagny after Apple Music influencer Zane Lowe caught ear of her song "Backbeat." He premiered it on his Beats 1 Radio show and from there her mainstream career took off: she signed with Republic Records and Island UK, released her debut EP "Ultraviolet" 2016—which includes "Fools Gold" a collaboration with genre-blending artist BØRNS, opened up for Sir Elton John and Sting, and Backbeat currently racks up over 30 million streams!
Now that Dagny has had an introductory taste of the industry, she's ready to take it by storm. Less than a week ago, she released her playful-airy summer song "Wearing Nothing" (5/26 via Republic Records). Atwood Magazine had the privilege to chat with Dagny in advance of her single release, where she opened up in a pleasant, yet unfiltered and youthful demeanor about "Wearing Nothing," her artistry, and her industry experience thus far.
All I hear is the rhythm of my speeding heart
It's getting loud and I can't hide it
Boy, you know the distance is just killing me
Even when I lied right beside ya
Watch/Listen: "Wearing Nothing" – Dagny
A CONVERSATION WITH DAGNY
Atwood Magazine: Your new song "Wearing Nothing" sounds far more stripped down focusing on your vocals when compared to your past tracks. How do you describe it?
Dagny: Well I think you're absolutely right in that it is a quite more stripped back. To begin with that was really terrifying because I naturally always feel like there needs to be more and more sounds. Bigger sounds. I always seem to react to that very produced-up-celebration pop if you can call it that. I think what's really great about it is that it is it is really minimal. It was a really interesting process to get my head around that. I feel like it's come out really good and it now represents a slight difference which is nice because we released a past EP and we moved on from that. So now it's nice to come out with something that's so different but still feels like me you know.
What does it represent?
Dagny: When it comes to what it represents for me the track is you can kinda take it in two ways. Naturally you could listen to it and it's about wanting to be naked… well, naked with someone. But you know, we actually wanted to write it about when you meet someone where you get that feeling with and you just kinda wanna be completely bare, and not put anything in-between. It's to show everything to the point [that] even a little piece of clothing feels like there's no space in between. So maybe it's like some weird encouragement.
We wanted to write about when you meet someone, and you just want to be completely bare, and not put anything in-between.
For me, this track has a fun summer vibe. I can picture it being played on the beach.
Dagny: Me too! You know we actually considered doing another song first and go into "Wearing Nothing" after but it was like "no wait wait wait we are coming up to summer and this song is called 'Wearing Nothing' and it's light and fun". It would feel so wrong to release it in autumn. So yeah I think it's the perfect summer song.
In the past you described your music as "pleasant melancholia." Can you elaborate on that?
Dagny: Well I don't know what it is, but I feel like in general in Scandinavia a lot of the music seems to have this underlying melancholy to it. I don't know if it's because it's so fucking dark in Scandinavia or if it's because we're quite realistic people. I think as people we are down to earth and just realistic when it comes to everything. So you know for me as a person, I guess I see the really great side of life and I am in touch with the more melancholy side to things. The things not so simple.
For me when I make music, I think you can call it melancholy but you can also call it a sense of hope in a way. Because when I listen to music that has that really cheerful side but still has that slightly more emotion thing to it, it gives me this weird feeling of wanting to let go. It feels like its hopeful in a way and I guess its hope people take out of my music. That they listen to it and feel good and hopeful. It could be a weird celebration of both. I listen to a lot of music all the time like when I'm doing work or when I'm on the train or whatever. But it really feels good when I'm a little emotional and I need something to pick me up and I'm hoping I can do that for someone else.
Or you can just be on the beach and have a fucking good time. Don't get me wrong. I want my music to connect to people. And for me it just naturally connects when it has that touch of melancholy. That's really what it comes down to because that's what I immediately react to when I'm making music.
What was it like opening for Sir Elton John?
Dagny: Yeah it was a good message to get. I mean it was great! The man is rocking the piano for two hours non-stop. It was like really fun to see him because… it feels like for me he only performs because he really wants to. Because he probably doesn't need to. So he goes out and plays all these shows and when he comes on the stage he gives so much of himself.
So there we were, like five mid 20-year-old people (Dagny plus her band) looking at this guy who's like 50 years older than us. He was absolutely smashing it. Rocking it (chuckles). It was really cool. Well yeah, his audience seemed to respond well to my music too. It was one for the books.
I read in an interview that you initially wanted to become a song writer after you performed a song in high school. How did that transition to you wanting to become an artist?
Dagny: [stern tone] That's really cool that you read that. Hmm.. I feel like I haven't talked about it that much, that must've been a really good interview. I was quite late. I feel like that's the story of my life, I'm always a bit late in every way. But yeah I was around 15 or 16 and I wanted to be a song writer more than I wanted to be an artist.
It hadn't really hit me that it was ever an option. Well maybe that's not true, it's just that I was a child with many dreams and song writing came to be quite late. I wanted to be a teacher, a drummer, and I wanted to be an astronaut and an archeologist. It wasn't until I had to perform this song, in a class in school and the teacher just had such a reaction to what I was doing. And he started putting me on these stages around town. I was playing guitar and singing and I probably only knew four chords on the guitar, It wasn't anything super. I guess it just kinda sparked something.
The more I performed I became motived to make more and to do more. To do new cool projects. I think I said this before but there were so many things I wanted to do and it just took me a bit of time to just focus on one thing like music. But I guess since I did I never really looked back. I'm very happy that it happened. I still feel like however cliché it sounds it still feels surreal in a way because this was something I started off doing in my bedroom. It was something I did just for myself.
Well I'm definitely glad you became an artist.
Dagny: Thank you! With that said, I definitely had that performing thing in me because I have pictures of myself as a kid wearing shiny, sparkly shoes, and a weird hat. I used to jump around the living room and sing all the 90s smash hits performing for my parents and our guests. But of course it wasn't a serious thing until later. (For her first ever New-York-City performance at VEVO's dscvr showcase at the Brooklyn Knitting Factory, she beamed leaping in the air while donning a shiny-glittery outfit from head to toe.)
What is your songwriting process like?
Dagny: I prefer to start with the music most of the time. I think I'm a melody girl and I really appreciate the lyrics but for a song to feel right for me it needs to have the right atmosphere. It needs the right vibe. This is where the drummer comes on because I pretty much always start with drums (haha). Or a hook. I also like hooks a lot. I write with people and I say it's always a collaborative effort.
I get really inspired by the people I work with. And the energy. If that isn't right then it's very hard to make something for me I think. So yeah I always start with the drums and I'm always up for something upbeat. We work on the melody. Then we start working on the words. A lot of these things change over time. For me if it's something I'm really excited about then I can work for 16 hours and I don't want to stop because it just feels good. Other times it's more difficult you either (snaps) have that moment or you don't. It's definitely like just vibing and trying. It's like grownups getting together and just playing. Sometimes I look around the room and say here we are a group of like mid-20s or thirty-year-olds and we're just playing with music.
Describe the moment when Republic Records reached out to you? I'm sure it must've been surreal for you to hear from them.
Dagny: Yeah it was all quite surreal because I released the track "BackBeat" just on my own with my band. There wasn't anyone backing us up. It was just us releasing something that we were really excited about. I was really at a point where I was like I might need some new challenges in my life (laughs). I wasn't really sure what I was doing and then overnight after Zane Lowe premiered it, it was just like suddenly the phones started ringing and the emails started popping in. It was absolutely surreal. It was such a change.
I remember the first time we were flying out to America to see a label for like 48 hours. We were just looking at each other being "what the fuck is going on. This is crazy." I remember the moment when I showcased for Republic. It was in their office and normally people like that are really dull because everyone is reserved and serious, and here I come into this big office and people are so excited and cool. After four songs, everyone is standing and clapping and singing. It was so weird. I think that I flew by myself back to the UK. Like I didn't need a plane I was just on some cloud over the Atlantic Ocean (laughs). It was really crazy and I was so excited and I'm still so excited. They're great! I don't think I'll ever forgot that moment for sure.
---
How has growing up in Norway and listening to the jazz and Brazilian music that your parents liked influence you?
Dagny: I think the Brazilian music especially had a spark with me because it's very rhythmic and it feels good. I think all of those things that I really care about when making music a lot of it can weirdly be traced back to the Brazilian vibe in some way. Growing up there was always music at home. My parents equally celebrate life the way I do, and the fact that they allowed 'if you know what I mean' the fact that they have given me the support and let me just do what I'm doing for so long even when things weren't moving.
They were like, "No Dagny, just keep going. Keep doing what you're doing." That meant so much because I think a lot of parents would have a massive freak-out and say, 'Okay it's time to come home and do something proper.' But they were like, 'No – just keep doing what you love. You can do this.'
For me, it's made such a difference. It's probably made an even bigger difference than I realized because to try and be a full time musician… well, that's not easy. If you don't have the support it can be really hard to keep going when you're unsure if it's the right thing or not. It's like a passion that we share together.
There are a lot of cool European pop acts that are doing well here in the states like Tove Lo, Sigrid, Astrid S, and Zara Larrson. Why do you think these acts are succeeding?
Dagny: That's a very good question. I think when it comes down to it, you can't fake anything. It all comes down to the song and the music. It just seems like that right now. They're all making great music and that's what it comes down to. There's obliviously a spotlight on Scandinavia where people are like wait there's something going on there now.
All eyes on Scandinavia. So it's like we are kinda helping each other in a way because when there's cool things happening it helps other people. It's like we're kinda creating a stage for ourselves together. With that being said I think I'd love to joke that there's something in the water in Scandinavia, Sweden, Norway, that makes everyone write great pop music but I think its exciting there's so many cool female artists coming from there now.
At the end of the day the music is what makes it work and that's the most important thing. So I'm a massive fan of all of them (laughs). So maybe we'll make our own Scandinavian female festival and just put all of us on it. I feel like I would be lucky to be in good company.
Aside from "Wearing Nothing," what can we expect from your upcoming music?
Dagny: We have a few songs coming out. There's some songs I know people reacted to very well live and that I'm excited to show. People are singing along even though we haven't released them yet. It's really fun for us.
I feel like this time around, you know with "Backbeat" it was released before anything started happening, well now we had a chance to prepare. I'm really excited not just for the music but for artwork and for the videos. Well I think there are some goodies… hopefully. Hopefully more songs that will excite people.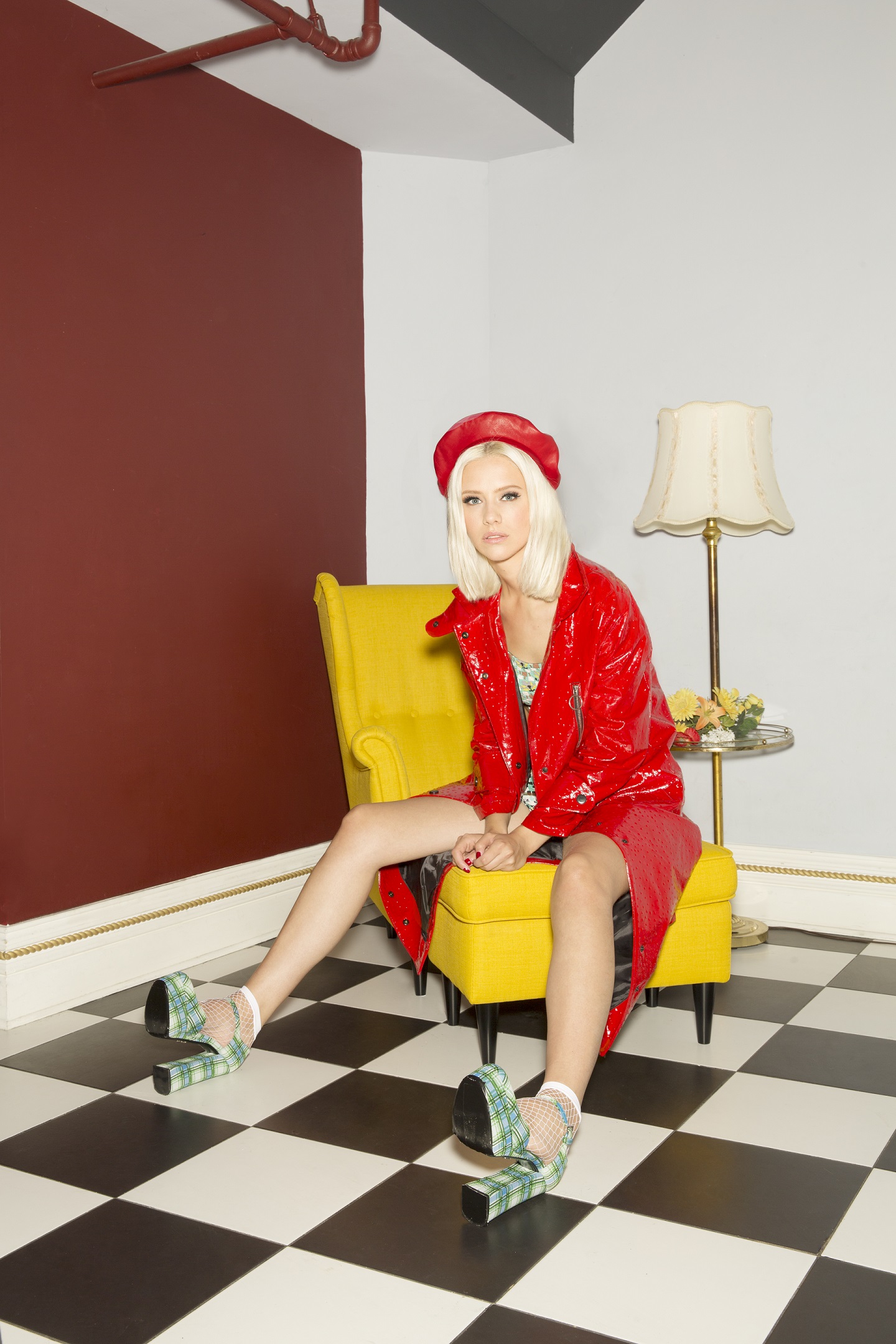 — —
Music was embedded into Dagny from a very young age. The Norwegian songstress has a long career ahead of her and a lot of time to evolve as an artist. Furthermore, living in London suits her as an artist because she can absorb inspiration from the bustling-diverse backdrop. Essentially Dagny wants her music to inspire and help others gain hope and confidence to the point where they may feel comfortable fearlessly running naked holding their heads up high.
At the very least, her signature fun-percussion heavy melodies, light-hearted lyrics, vivacious vocals, dazzling fashion sense, and stomp-ready charisma are the elements of a new star. Endorsed by Republic Records and VEVO, Dagny is destined to succeed. Perhaps there really is something in the Scandinavian water?
Note the interview took place at 10:30pm in London, Dagny's current base, yet she remained energetic and amiable without any indication she was drained from a long recording day. Atwood Magazine wishes Dagny the best for her career.
— — — —
cover © Republic Records
:: Dagny Summer 2017 Tour ::
6/2 – Baklengs Festival – Tromsø
6/9 – True Music Festival – Madrid
6/10 – Cirkus Ravnedalen – Kristiansand
6/11 – Juba Juba Festival – Trondheim
6/15 – Bergenfest – Bergen
6/16 – Villmarksrock – Villmarks
6/17 – Drøbakfestivalen – Drøbak
6/24 – Over Oslo – Oslo
6/27 – Mercury Lounge – New York
July 1 – Barn On The Farm – Gloucestershire
July 14 – Slottsfjell – Tønsberg
July 15 – Riddu Riddu – Kåfjord
July 20 – Malakoff Rockfestival – Nordfjordeid
July 21 – Vinjerock – Jotunheimen
July 22 – Kallokkas Venner – Lakselv
July 29 – Leopallooza – Cornwall
8/5 – Indiependence – Cork
8/11 – Målrock – Årdalstangen
8/18 – BAKgårdenfestivalen – Harstad
8/19 – Verket Musikkfestival – Mo i Rana
8/25 – Hvalstrandfestivalen – ASKER
---
:: Listen to More Dagny ::