Striking the heart with cool tenderness, Melbourne artist Shannen James' debut EP 'Arrows' is a dazzling, intimate outpouring of fresh grooves and hot feelings.
Stream: "Something in the Water" – Shannen James
---
These songs are little snapshots of moments in time and always take me back to that emotion or feeling.
Melbourne's Shannen James has been staking out her space in the indie pop world for just over a year now, evoking the likes of HAIM, Maggie Rogers, and Fleetwood Mac with her catchy, thoughtful songwriting and a wondrous sound. James' debut EP Arrows marks the culmination of the artist's exciting year one: Striking the heart with cool tenderness, Arrows is a dazzling, intimate outpouring of fresh grooves and hot feelings.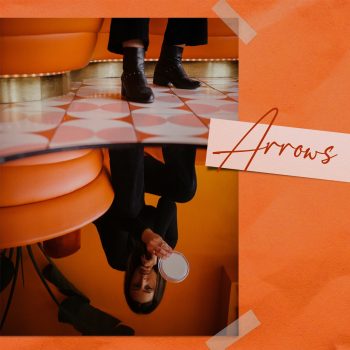 Oh my god
I think there's something in the water
We're locking our eyes, so tell me if you wanna
Come a little closer, I can handle it
Tell me what I'm missing, baby, it's been years
So stop me if I'm diving in too deep
I need to find out what this means
Tell me if you feel it now
Tell me if you feel it
I swear saw something down below
Under the surface, it won't show
So tell me do you believe it now?
Tell me do you believe it, 'lieve it, 'lieve it?
– "Something in the Water," Shannen James
Released September 25, 2020 via Ivy League Records, Shannen James' Arrows is a stirring introduction blending new and old sounds with a 2020 twist. Recorded with up-and-coming producer ("and good friend") Dylan Nash (Dean Lewis, Angus and Julia Stone), Arrows came to life in a home studio on the outskirts of Melbourne.
"I would define my sound as a modern take on '70s pop rock with a blend of electronic textures and organic, grounding instrumentation with a central focus on catchy, melodic storytelling," James reflects on . "The things that I am most drawn to in regards my own music would be my sense of melody. I love having a simple chord progression and some kind of beat to just play around with lots of different melodies over the top until I feel like something catches me. There are just so many possibilities and variations of melodies that sometimes its hard to decide where a song should sit melodically, but usually it's quite an instinctive initial feeling of what feels right."
Whatever journey it took to narrow down those endless options, James nailed the landing on her first six songs. EP opener "Something in the Water" sets the tone with a strong wash of lush tones: A gilded caress, the song served as James' debut release last summer, and remains her most streamed song to date.
The heavier guitar-driven title track follows; "Arrows" is tight and groovy, a rock/pop overhaul that finds James soaring above impassioned overdrive and chugging grooves. "The idea for 'Arrows' came about with Dylan and myself chatting about being in the music industry and how it can sometimes feel so uncertain," the artist explains. "The song reflects on my own dreams and ambitions and it being tricky to navigate whilst managing all other things in my life. This song really made sense for me as the title track for the EP because it has a hopefulness to it and represents the journey that we have to go through to get where we want to go."
That uplifting effervescence proves an indelible part of Shannen James' artistry. Her songs inspire warmth and hope, connection and togetherness; listening to the EP as a whole is like dwelling in a familiar, loving (and badass) embrace.
"This EP captures a sense of nostalgia for me, equally in lyric content and instrumentation," James says. "These songs are little snapshots of moments in time and always take me back to that emotion or feeling. I think the familiarity comes with the use of natural, real instrumentation that's used on so many classic songs that I love, but then there are more modern elements that make it feel current and new. The Arrows EP as a whole feels like a diverse range of pop songs that all slightly veer off in their own direction and show off different sides to me as a songwriter and my influences but are cohesive stylistically."
Songs like "Empty Eyes," "Collide," and "Seventeen" are sweet, seductive and easily repeatable; their striking instrumentation is just polished enough to feel lively and exhilarating, but still come off naturally – like you're hearing the band not in a four-walled studio, but a club or arena. Perhaps that's the magic of this music: It's big enough to fill the room, but still overwhelmingly vulnerable and personal.
---
For her part, James cites EP closer "Golden" as a personal favorite moment on the record. "The last song on the EP probably holds the most meaning and biggest place in my heart. It's the perfect last song for many reasons – it's a slower jam and really rounds out the tone of the EP. It was also the very first song that I ever co-wrote, and was written on the second anniversary of my Nana's passing. So this one is super special and it really all came together in this one for me."
Regarding some other special tracks, she notes, "'Seventeen' is probably the most playful and fun song for me to listen to and to play live. I usually open with this one in my set and it always starts off the show with a lot of energy and get everyone bopping along in no time. I'd say 'Arrows' is the most powerful song and in particular the chorus for me is so cathartic an anthemic, it's just a huge release moment for me on the EP."
While it could certainly be defined as a coming-of-age record, Arrows is intoxicating as a full journey and as isolated, individual parts. Each song is its own entrancing, entrenching groove full of warm, sun-drenched music and captivating emotion. James radiates confidence and a strong sense of self in this spirited start, spilling herself into six songs that burn bright.
My hope for this EP is for people to just have a good time while they listen to it, and hopefully feel connected to the writing and the groove! I think it's perfect listening material for going on a road trip.
Experience the full record via our below stream, and peek inside Shannen James' Arrows EP with Atwood Magazine as the singer/songwriter goes track-by-track through the music and lyrics of her debut EP!
Arrows is out now on Ivy League Records.
— —
Stream: 'Arrows' EP – Shannen James
:: Inside Arrows EP ::
— —
'Something In The Water'
"Something In the water was one of the first songs I wrote that I really felt stylistically was where I wanted my music to go and I guess it acted as somewhat of a spring board for future songs and sounds."
 'Arrows'
"Arrows is an introspective song reflecting on my own dreams and ambitions and how uncertain it can be navigating through life to achieve them. I wrote this at a time where some of my friendships were falling away, as well as being really unsure of myself and what lies ahead, but at the same time knowing I was heading in the right direction. The idea of using arrows as a metaphor ended up being the core of the song; it's about persisting with what it is you want regardless and knowing that you get more than one shot, it might just take a few goes before something sticks."
'Empty Eyes'
"This song started off with the first line 'I've got a little heart left for you'. I had this in a voice memo on my phone and I was instantly drawn to the percussive nature of the way I was singing it. It was written in one day and the vocals from that first day are actually the same ones you hear in the final version. It ended up having a somewhat melancholy undertone to it as it's about wanting someone to appreciate and adore you and not feeling like that's the case. I think we get so caught up in our own world that sometimes we forget about the people that live in it with us."
'Collide'
"'Collide' is a song about connecting with someone that is the polar opposite to you in every way yet you're still drawn to them as a person. At the heart of this song is the idea that you can love another even if they are different from you and that regardless of those differences, there is a common ground of love and an undeniable connection and attraction. I think we all have those people who drive us crazy yet draw you into their world because of its difference to our own. I wanted this song to almost be a reminder that we can always find something in each other to connect with."
'Seventeen'
"Seventeen has a real youthful and playful nature to it which I think is why it's the most fun song off the EP. I remember going in to a writing session and having this line written down of 'still feels like we're seventeen' and knew it was a line that I wanted to explore further. It was something that my boyfriend had said to me nights before as we were most likely childishly giggling at something stupid. For some reason it stuck with me that idea of letting yourself to be a little silly sometimes and never losing sight of what created such a bond and relationship to begin with. The production on this track shares a similar cheekiness to it I think."
'Golden'
"Golden was written on the 2nd anniversary of my nana's passing and I probably hold this song closest to my heart. It was also the first time I'd ever worked on a song with someone else so it felt like I just laid all my cards on the table and basically said 'this is all I can think about today, so this has to be what I write about'. Golden is one of those songs that at the time is super difficult to write and even to play live but is so cathartic and healing in the process."
— —
— — — —
? © 2020
:: Stream Shannen James ::
---