As an expressive vehicle, music can be as vague or as direct as its makers want. While it's certainly no easy task to balance the means with the ends, there are some songs that manage to break out of their constraints and hit listeners in all sorts of ways – as is the case with Polaroid Summer's runaway single "Tides," an intense anthem of addiction and healing whose weight is fully realized in its dark and enthralling music video.
I've been hard pressed
sorting through this thick mess
I've been so stressed, father I must confess
I've been weeping blood
thinking bout the things I've done
But I must say, But I must say
The marriage of two Houston-based bands (Lost Element and VerseCity), Polaroid Summer came together in 2017 for a fresh start, hitting the ground hard and playing over 80 shows in their first year together. Comprising of Micaiah Walker, Brian Barrett, Trace Sisson, and Kenneth Conlon, the band's mix of organic, alternative rock and electronic influences lends them a distinctive sound that is as biting as it is sincere. With their debut EP set for a mid-2018 release, Polaroid Summer caught many an eye and ear by surprise with "TIDES." With its heavy weight and hearty alt-pop energy, the song demands attention from its listener.
Watch: TIDES" – Polaroid Summer (Behind the Scenes)
---
Atwood Magazine is proud to be premiering Polaroid Summer's Behind the Scenes video for the making of "Tides," which came out exactly 1 month ago (2/26/2018) and has already amassed over 6000 views. Filmed and edited by Angie Duong, Polaroid Summer's "TIDES" video is an uncut nosedive into addiction – its pain, its intoxication, and its control over the mind and body. We watch as four individuals struggle through their own vice, morphing between their natural state and their induced state (as depicted through animal masks): Jenna Schafer (Unicorn Mask // Social Media Addiction), Leah Sullivan (Fox Mask // Drug Addiction), Amanda Nardo (Pig Mask // Eating Disorder), and Nadia Choates (Owl Mask // Depression).
"TIDES is a song that represents the struggles of addiction, depression, anxiety and other trials that drastically affect our young community today more then ever," Polaroid Summer share. "Although the track portrays struggles, it's also a song about healing and how important it is to make a change for yourself. The chorus line 'Tides turning for the inside' portrays just that. Our hope is that this song will help others through their internal struggles making them aware that they not alone and to encourage them to open up and talk to someone."
I feel the dirt on my bones,
I've self inflicted these wounds
I gotta, get it back get it back
I cant keep patching my soul,
this pain that nobody knows
I gotta, get it back get it back
Tides turnin' on the inside
Sirens, come and take me
Tides turnin' on the inside
"TIDES" is intentionally explicit in its portrayal of dependencies: We see the needles going toward the vein in a powerful and direct visual. "When were in the final stages of this video (basically final edit but before we released), we struggled with the thought of how people may take a few of the darker drug related scenes," lead singer Micaiah Walker reflects to Atwood Magazine. "I think the band was split on if we should cut them out or leave them in, so we decided to poll all of our friends who work in the music industry. We knew this video had the potential to catch fire and from one side the thought was those scenes could turn people off and keep potential press away, the other side the thought was thinking people will appreciate the realness of it more and the fact that we are not trying to shy away from the tough topics. Ultimately, we decided to leave them in and I think we are all glad we did. Tough topics, but ones that people struggle with everyday. The goal would be for this song to inspire at least one person to make a change, that would make it all worth it."
Rather than dance around subjects, Polaroid Summer tackle these issues head-on, making sure we come away from "TIDES" feeling a mixture of terror and hope. We also come away from the song remembering the name Polaroid Summer – whose story is really just beginning. "We put our hearts and souls in every track," Walker shares, reflecting on their latest song's impact. "But our friends and fans feedback can really help us gauge which tracks are the best. The feedback we've gotten on "TIDES" has been on a different level than anything else we've put out. For example, just a couple days ago I had a, old friend text me out of nowhere telling me how he has been listening to "TIDES" a lot and really loves the track. In my 10-year music career I've released well over 50 songs, and he has never messaged me saying that about anything else. It's really cool to see how much one good song can really help launch a band to the next level, not to say "TIDES" is a giant hit, but for us, as a new band, the song has put us on the map at least as a band to watch!"
Whether you're watching for your own inward change, or you're a fan of dynamic, pulsing anthems, you'll come away from "TIDES" feeling a special sort of invigoration. Go behind-the-scenes with Polaroid Summer in our exclusive stream below, and be sure to give their powerful single a watch!
— —
— — — —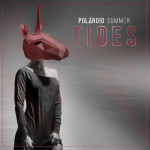 ? © Angie Duong
:: Stream Polaroid Summer ::