Sufjan Stevens' "Mystery of Love" is the most nuanced and subtle contender for the Best Song Written for Visual Media Grammy. It deserves the prize.
— —
Let me start this off by saying that Sufjan Stevens meant close to nothing to me before I heard the songs he wrote for Call Me By Your Name so no, this isn't a piece written by a Sufjan stan who's desperate to see her quiet, loving idol finally win a prestigious award. You might be thinking: "Call Me By Your Name? That's so 2018!" and while we will fundamentally disagree on that because I think that a gorgeous movie about someone's first love and coming-of-age which is responsible for bringing Timothée Chalamet into public consciousness can never be outdated, I bring it up because the 61st Grammy Awards are this weekend and Stevens has been nominated for his first Grammy for "Mystery of Love", one of two songs he wrote for Luca Guadagnino's movie. His tiny golden man statuette was stolen last year (@ The Academy), but he deserves to win the tiny golden gramophone on Sunday! Please, Recording Academy, do the right thing.
Why am I writing a piece on such a small category (Best Song Written for Visual Media) that no one seems to care about? Because this year I care about it and I will fight to the death to defend anything related to Sufjan Stevens and his involvement in Call Me By Your Name. Also, there's no way for me to pitch this to Grammy voters so I will pitch it to the internet and hope that I convert some people instead.
Listen: "Mystery of Love" – Sufjan Stevens
"Mystery of Love" is competing against Kendrick Lamar and SZA's "All the Stars" written for Black Panther, Coco's "Remember Me", "This is Me" from The Greatest Showman, and the absolute smash hit "Shallow", performed by Lady Gaga and Bradley Cooper, and written for Cooper's own A Star is Born. That's some extremely tough competition and Stevens definitely looks like the underdog but we all love underdogs and hope never dies. At least mine doesn't.
To understand why Stevens deserves the win, we must first ask: what makes a song worthy of this nomination? How can we objectively understand what a song brings to a movie? Those are hard questions to answer, but I'll try to. To me, best song written for visual media consists two things: firstly, a track that drew inspiration from a movie but could also have existed as a stand-alone song in our world, and secondly one that, when used skilfully, becomes a tool through which the filmmaker and musician are able to, with the song, communicate feelings and thoughts that are left unsaid onscreen.
Watch: "This is Me" – The Greatest Showman
---
To be completely frank, I think nominating songs from movie musicals is too much of a given. Of course The Greatest Showman and Coco will have great songs, those movies do not exist without their songs, the songs are integral parts of their storytelling abilities and structure. Without these songs, the movie would be left full of gaping plot holes – it's like asking us to breathe without oxygen, one won't happen without the other .They become vehicles through which an audience member understands the plot, rather than a medium the filmmaker uses to elevate a scene. These songs, good and enjoyable as they might be, don't serve to showcase nuances that are better communicated through music, they are plot devices and are a different kind of song than all the other ones, and so in my opinion can't be considered for this kind of race at all.
Watch: "Remember Me" – Coco
---
A Star is Born complicates things, because despite it not being a musical, it is a movie about music for which several songs were written. They don't serve as storytelling devices, but without them the movie would be quite bland and not too believable. "Shallow" is a tremendous song, the scene in which it is performed has become the movie's most memorable scene and the song is the one thing people who haven't watched A Star is Born know the movie for. The way "Shallow" has become a cultural phenomenon (especially with the Lady Gaga ad lib memes ) is impressive and satisfying, and it's a song that deserves all the praise in the world. But it's a song that's tied to another world, a song that incorporates the love and artistic partnership of Jackson Maine and Ally (does she even have a last name?), and ultimately lives inside the world which Cooper crafted in his movie. Basically, if Maine and Ally weren't musicians in the movie, "Shallow" would not exist. So while it does fit my second point about it elevating the scene and communicating emotions that are left unsaid onscreen, "Shallow" is inexorably tied to the musicianship and life of two fictional characters. At the end of the day, Jackson Maine and Ally are singing those words, not Gaga and Cooper.
Watch: "Shallow" – Lady Gaga and Bradley Cooper
---
Which leaves us with "All the Stars", the objectively great song written by Lamar and SZA for Black Panther. While it definitely does what all others up until now can't do and exists in our world without being tied to the universe of the movie it was written for, what makes "All the Stars" lose this prize, for me, is its usage in the movie. "All the Stars" isn't heard in Black Panther until the credits. Are you kidding me? They're giving Kendrick Lamar and SZA the credits?! They did, and I was horrified. What "All the Stars" doesn't do is elevate scenes in Black Panther because it wasn't given the freaking chance to do so. It doesn't add to the movie's atmosphere or feeling in any way, nor is it used to communicate anything but instead soundtracks the listing of the names of Black Panther's cast and crew. Honourable deed, and very smart way to keep people sitting through the credits (which they probably would anyway since all Marvel movies have hidden post-credit scenes) but it doesn't do the song justice, and so it becomes a track that isn't used skilfully in the visual media it was written for.
Watch: "All the Stars" – Kendrick Lamar and SZA
---
"Mystery of Love", on the other hand, ticks all the boxes. I can vividly remember the scene "Mystery of Love" is used in in Call Me By Your Name , when Elio and Oliver travel and, free from all the judgemental eyes of city folks, manage to publicly live their romance for their last few days together. There's a feeling of euphoria and freedom, both of which are perfectly portrayed in the song's instrumental introduction with Stevens' layered mandolin.Elio and Oliver's intimacy and love are reflected in Stevens' whisper-like, layered vocals, and in the song's opening verse:
Oh, to see without my eyes
The first time that you kissed me
Boundless by the time I cried
I built your walls around me
White noise, what an awful sound
Fumbling by Rogue River
Feel my feet above the ground
Hand of God, deliver me
Watch: "Mystery of Love" by Sufjan Stevens
---
It is impossible to listen to this song and not feel what Elio, a teenager who's experiencing the giddiness, fear, infatuation, and wonder of first love, is feeling. The song envelops the scene, becoming one with the movie and story and making the audience member hear and feel what they're only shown hints of onscreen. It turns the indescribable and overwhelming emotion of finally getting to be your true self and live your first love into something tactile and comprehensible, letting music and images speak where words fail. It turns a montage of Timothée Chalamet and Armie Hammer running around mountains and waterfalls into visual poetry. Call Me By Your Name could exist without "Mystery of Love", but it wouldn't be the same without it. Guadagnino was extremely thoughtful when scoring the movie, and Stevens' songs play integral roles in turning images and scenes into feelings. Watch the movie's last scene, soundtracked by Stevens' other original song "Visions of Gideon", and try to tell me the song doesn't make you want to fall apart at the seams.
And yet, Stevens manages to divorce "Mystery of Love" from Call Me By Your Name by incorporating classic elements of his own music into the song. The vocal arrangement, the mandolin, the softness and sentimentality, these are Sufjan Stevens' trademarks. He even incorporates his own life into the lyrics, referencing his niece ("Cursed by the love that I received/ From my brother's daughter") who he also mentions in "Should Have Known Better" from his album Carrie & Lowell, and Rogue River, a river in Oregon, the state where he sets Carrie & Lowell as well. "Mystery of Love" is ultimately a Sufjan Stevens song which drew inspiration from Call Me By Your Name, and was used masterfully in the movie, becoming a vehicle through which the audience could connect even further with the characters and story onscreen. It's the best, but also the most nuanced and subtle, Best Song for Visual Media  Grammy contender, now all you have to do is give Sufjan Stevens his Grammy.
— —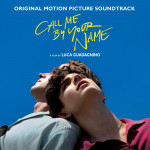 ? © Call Me By Your Name
:: Stream Sufjan Stevens ::
---