Recommended If You Like: The 1975, U2, LANY, Daughter, Sir Sly
Years ago, a music instructor taught me a very valuable lesson: Don't cover a song, unless you can make it your own. Arrangement and instrumentation are everything when it comes to covering someone else's music and lyrics; it takes a true understanding of, and connection to a song's substance for an artist to come in and manipulate it, creating something new and exciting out of something familiar. Jimi Hendrix did it with Bob Dylan's "All Along the Watchtower;" Johnny Cash did it with Nine Inch Nails' "Hurt;" Jeff Buckley did it with Leonard Cohen's "Hallelujah."
And Lone Kodiak have done it with Daughter's "Smother."
In the darkness I will meet my creators
And they will all agree, that I'm a suffocator
Listen: "Smother" – Lone Kodiak (Daughter cover)
---
Lone Kodiak's cover of Daughter's "Smother," which Atwood Magazine is proud to be premiering today, stays true to Elena Tonra's indie folk masterpiece while offering dynamic and expressive qualities that are lacking in the original. The lead single off Daughter's 2013 debut album If You Leave (4AD), "Smother" is an all-around introduction to Daughter's dark and brooding minimalism: Daughter utilize space to create anticipation and emotion, slowly building a thick soundscape that yearns for a musical release that never comes. Attention draws in to focus on Tonra's poetic confessional:
I should go now quietly
For my bones have found a place
To lie down and sleep
Where all my layers can become reeds
All my limbs can become trees
All my children can become me
What a mess I leave
To follow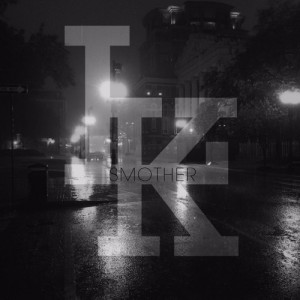 A shattered soul turns to face its true self in a mirror, helplessly self-aware. Unapologetic, the narrator admits to flaws beneath the surface that no one but the individual could ever know about; regret and shame do not need to be explicitly stated in order to be understood.
Lone Kodiak understand all too well the underlying factors driving "Smother." Whereas Daughter build from scratch and utilize a minimalist build to recreate the song's lonely existence, Lone Kodiak open upon a somber environment and utilize dynamic juxtaposition and dark, reverb-laden instrumental build-ups to reach a similar end. Daughter are minimalist indie folk; Lone Kodiak are pensive indie rock. The crossover is seamless.
"Smother" is the first of five covers to be released by Los Angeles trio Lone Kodiak each Tuesday of August, in buildup toward the band's debut EP release later this summer. Produced by Johnny What (BRÅVES) and engineer Adam Moseley (U2, Beck, Rush), Lone Kodiak's EP is so long in the making that the band decided to use spare time to honor some of their most influential artists. All of these songs – starting with Daughter's "Smother" – have a connection to one member in some way or another.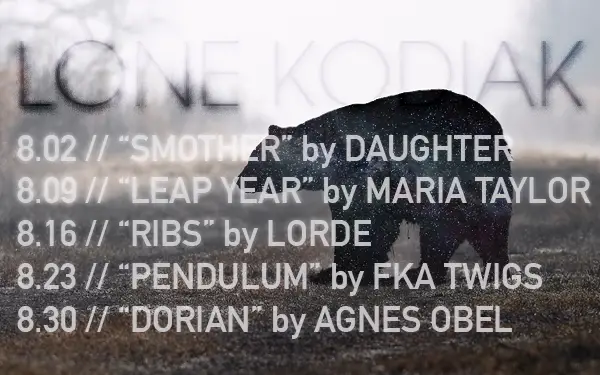 In addition to "Smother," Lone Kodiak are set to release covers of Maria Taylor's "Leap Year," Lorde's "Ribs," FKA Twigs' "Pendulum," and Agnes Obel's "Dorian." The song choices are a "tiny glimpse into what is to come with Lone Kodiak's forthcoming debut EP," according to drummer Andrew Smith.
That journey starts now.
"Smother" was lead singer Dainéal Parker's introduction to Daughter. "I heard it on Pandora and it broke my heart – the sparse atmosphere, the lyrics, Elena's voice," he describes. Perhaps that's the core of this song: Crushing the listener. The words paint a portrait of despair: No matter how you swing it, "Smother" is intended to portray a raw and vulnerable soul on the precipice of engulfment.
I'm sorry if I smothered you
I sometimes wish I'd stayed inside
My mother
Never to come out
"Smother" is now our introduction to Lone Kodiak. Parker's voice sends shivers as he glides through Tonra's lyrics. His breaths are audible, but for as up close and personal as he seems, Parker is equally distanced – shrouded by his own echoey, Edge-y guitar. The spaces between words feel empty because the instruments blend together into an ethereal soundscape; unlike Daughter's silent spaces, Lone Kodiak's vocal pauses are full of rhythmic pounding – a fervent drive forward. Their escape is not into nothing, but into an unknown beyond: Their cover thrives off this push for more, for power and energy. We see this halfway through the song, when an electric guitar solos upwards after Parker's heavy drop into the words, "to follow."
And so, Parker keeps his distance from us, bearing the weight of existence not merely on his, but the entire band's shoulders. The equal distribution of weight presents a cohesive picture, allowing the listener to turn inward and reflect upon the lyrics ourselves, rather than channel them onto the singer.
Tasteful, dark, heavy and melodic musical exploration characterize Lone Kodiak's impeccable interpretation of "Smother." Lone Kodiak embed themselves into "Smother," introducing us to a heavy atmospheric interpretation that faithfully delivers the song's darkest, human truths. Get this first look into a band bent on pushing the possibilities of indie rock and keep up with Lone Kodiak throughout the month of August as they release a new cover each week!
cover: Lone Kodiak © Erin Marie Miller (www.erin-miller.com)