As a medium, music is inherently meant to transcend the boundaries of mere words alone. The job of the music writer is therefore an uphill battle from the outset: Sacrifices must be made when translating music into the written realm. The English language can only carry with it so much expression, hence we as a consumer society have established groups and groupings in order for us to better understand and contextualize music and its makers.

We call these outlines "genres," and we try to couple together similar sounds and familiar feelings. This inevitably creates for us seemingly impermeable structures that serve to divide, rather than unite music: Different genres play host to different cultures of listeners, who enjoy music differently and use it as a means to different ends. Some music is for dancing; other music is for working out; still other music is for brooding and thinking about the world. We get confused when artists seem to cross genres, because in our minds (and through culture) these definitive boundaries exist. Definition – putting music into a box – becomes that much harder when you cannot rely on traditional structures to understand that music.

Don't bother trying to put KOLAJ into a box; they won't fit any standard size or shape.

Listen: "The Touch" – KOLAJ

[soundcloud url="https://api.soundcloud.com/tracks/215002453″ params="color=ff5500&auto_play=true&hide_related=false&show_comments=true&show_user=true&show_reposts=false" width="100%" height="166″ iframe="true" /]
---
Pronounced collage, Teesa Houston and "Mighty" Mike McGarity's fast-rising musical duo KOLAJ started as a side project, where the two seasoned music makers could experiment with production and explore the possibilities of the sonic universe while also exercising their own personal expression. What resulted is an artistic identity whose majestic blend of influences defies categorization whilst maintaining an undeniably current and playful pop sensibility.
KOLAJ's introductory single "The Touch," which hit No. 1 on Hype Machine and Spotify's Viral chart, captures those quintessential elements that make KOLAJ's music so difficult to put into words. It's dance pop music with a tropical house undercurrent; it's melodic, pristine pop with EDM-like drops; it's a glamorized ballad for guitar and vocals; and so on.
Since words don't seem to cut it, perhaps it is better to focus on how "The Touch" makes listeners feel. The song's melodies are euphoric and entrancing, soaring to great heights while tribal percussion beats keep the song (and listeners) grounded in deep rhythmic patterns. Teesa Houston's voice is massive and fearless. On the song's single art, Houston is depicted mid-action as she tosses her hair back, diva-style; one can easily visualize how she might rear her head in anticipation of the song's massive chorus:
You make me want you so much I get high
You have the touch just enough to get by
KOLAJ's melodic focus is evident throughout this song, but the chorus is particularly genius. Houston's voice feels close and personal; she sings delicately, as if the microphone were pressed up to her lips. Her words are inviting and honest, a hopeful admission of lustful desire. The instrumentation builds expectantly around Houston as she doubles up the chorus' lyrics. The surrounding music continues to rise with her voice until they peak – but rather than land, "The Touch" then explodes into an infectious guitar-led drop that plays off the melody and keeps listeners engaged. Vibrant and colorful, "The Touch" dazzles from start to finish.
Houston has been quoted describing KOLAJ as "a fusion of sound and culture." She and McGarity come from opposite worlds and approach music from different ends of the spectrum. They've known each other for over six years, but KOLAJ is a new endeavor that finds them blending their unique backgrounds into altogether new, exciting music.

In addition to "The Touch" – which served as the band's introduction a year ago, and was re-released via Darkroom/Interscope Records in April 2016 – KOLAJ have released covers of Adele's "Hello" and The Weeknd's "Can't Feel My Face," as well as a second original single, "100 Degrees" featuring Quinn XCII. "Into You," a collaboration with K-pop star Eric Nam, was released last month, and an acoustic music video for "The Touch" came out two weeks ago. Stripping "The Touch" down to Houston's vocals, hand percussion and a pair of guitars, the acoustic video reminds us of KOLAJ's true nature: Superior song craft with mindfulness to arrangements and production that will bring out the best in each song.

When it comes to KOLAJ, there's a lot to talk about and even more in the works – just don't try to put them in a box. Atwood Magazine spoke to co-producer/songwriter Teesa Houston about KOLAJ's roots, their musical process, defying genres, and more: Go behind the scenes with KOLAJ in our exclusive interview!

Watch: "The Touch" (acoustic) – KOLAJ

[youtube=https://youtu.be/OjM0ttFdaZg?t=0s]
A CONVERSATION WITH KOLAJ
Atwood Magazine: Great to meet you Teesa! How long have you been making music?
KOLAJ: I've been making music for about ten years now.
But it wasn't always in the form that it is today.
KOLAJ: Yeah – no, not at all (laughs)! I started very raw, as a teenager.
When did you know that you had found your sound, whatever that means?
KOLAJ: Honestly, I've always had a lot of different skillsets. Moving into the music industry out in LA translated into a lot of different experimenting. I feel like KOLAJ, at this point, is the project where I think I actually found my real voice – as far as a songwriter, a vocalist, and producer.
I feel like KOLAJ, at this point, is the project where I think I actually found my real voice.
What sort of other things were you experimenting with to get here?
KOLAJ: Like… everything? (laughs) I started out just being a super indie rocker girl. I was in hardcore bands in high school, like screamo bands and stuff… Then, I did my own one-woman band thing in Hawaii for a while – that was more rock/pop… Then I did this experimental synth-pop thing… A very straightforward pop dance artistry, solo kind of thing, performing in clubs and stuff. Kind of exhausted from that, I decided to go back to my roots – I was like, "I don't think I'm like a Madonna. I'm not a diva; I'm much more of a creator," so we started this side project, me and Mike, because we were both doing a lot of pop every day for placements. And we came up with these really surreal, cool, different experimental tones, with I was just being a lot more soulful, while still having the big, commercial pop sensibility to the music that I learned from doing the pop placement game.
It's so interesting that you called it a side project. It's funny how those things end up evolving.
KOLAJ: (laughs) Yeah, it started as a side project! It was a folder on our computer where we were making really cool ideas, and we casually put it on SoundCloud and we ended getting a lot of attention for it. That's how we got our management deal. They had a vision for what we were doing, and the partnership's just worked out really well. It's not a side project anymore, that's for sure.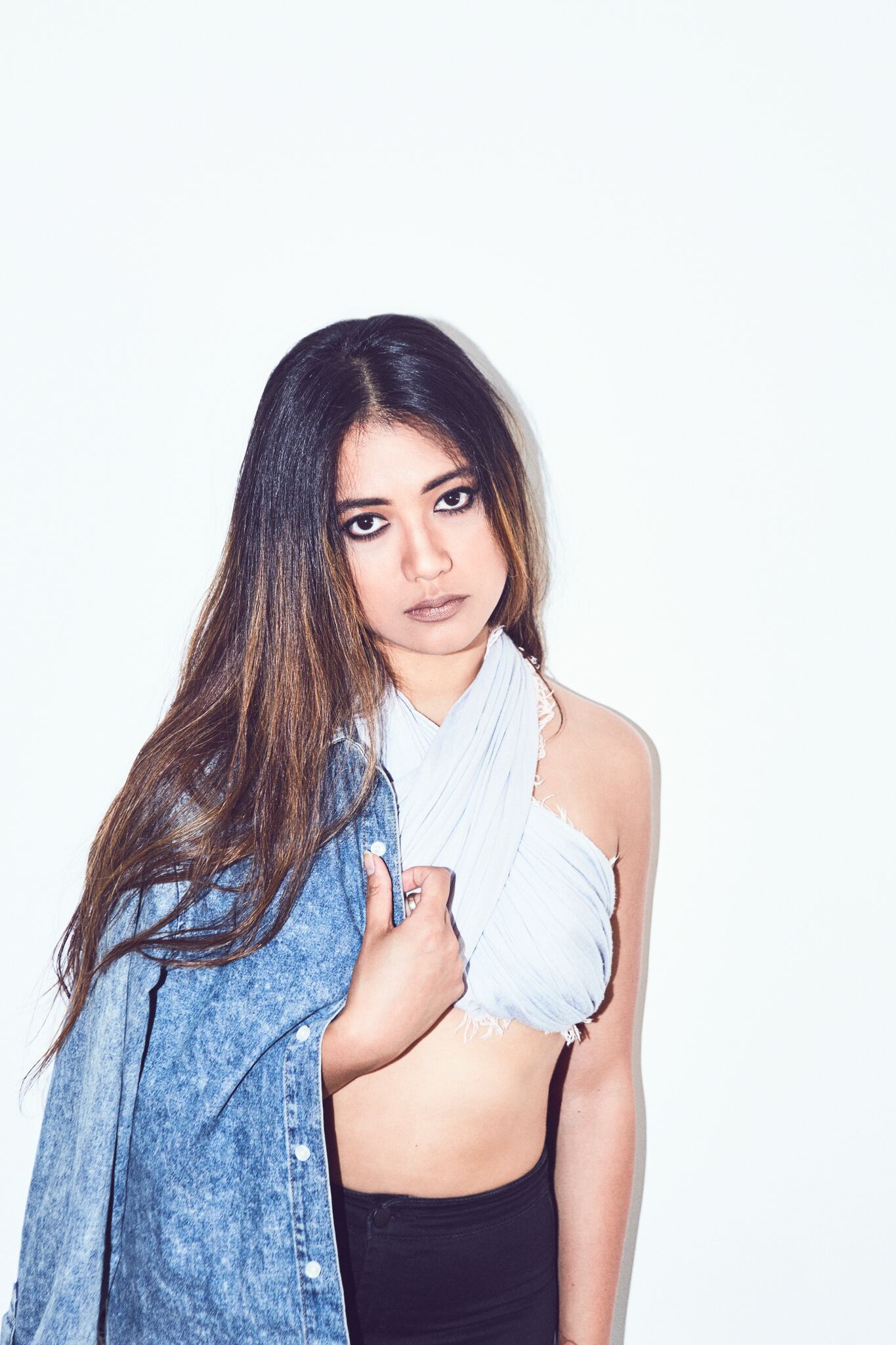 That folder on your desktop, was it always named KOLAJ?
KOLAJ: It's actually named "DOJO" – actually, I think it's still named "DOJO"! We still put all our KOLAJ songs in it… Before we were called KOLAJ, we were called DOJO, as a duo. It represented this very serene, tranquil place where we could just focus on our craft. That was kind of the vibe we started with.
It represented this very serene, tranquil place where we could just focus on our craft.
It's kind of funny how the vibe you started with - going back and freeing yourself from all these rules - ended up being the thing that brought you the farthest.
KOLAJ: Yeah, it's really crazy how full-circle so much experience of just pursuing the music industry and pursuing artistry really takes you. So many weird coincidences, I guess you could say.
You can't 'try too hard', you need to stop trying to really get there - and I feel like that's such a cliche -
KOLAJ: Yeah, that's a good way of putting it…
- it's such a cliche, but every time I meet somebody, that seems to be what happened.
KOLAJ: I could confidently say that every KOLAJ song that we put out, I've written extremely quickly – like, within a couple hours. I've done it for so long, and then we made this world – we made this sound that is pretty unique to us, and now I just get to thrive in it. Everything I write is very off-the-cuff and it's very instinctual, and I just trust it. Usually what I end up making within one session ends up being pretty much the meat of the final that gets out.
That feels very special.
KOLAJ: Yeah, it is! It's amazing. I used to slave over songs for days and weeks, and just to see how far I've come with really letting go of laboring…
I don't think it's supposed to be a chore. I feel like once it becomes a chore, either it's not fun anymore, or it's not as much of a self-expression as it is just a creation.
KOLAJ: That's what I felt when I was making pop music – granted, it also felt like I was studying. I felt like I was doing homework assignments, so that probably added to it. Now, it's just so second nature – every time I lay down a new idea, it's like, "Ooh! Yeah! That's like, really different, but at the same time it sounds like you guys."
You're the teacher now; no longer the student.
KOLAJ: I guess I'm a little bit the master of my own little thing now!
You've been labeled an 'indie pop dance band,' which to me says that no one really knows what to call you.
KOLAJ: (laughs) Honestly, we were kind of leaving it up to other people to begin to define the genre, because there isn't a specific one already made… for us? We fit in a lot of different sound markets, I think. I think a lot of people get excited that we fit into EDM, but we also fit into the band/indie culture – tastemaker-y, but also commercial. It's weird.
That's a cross-over you never see in concerts - not yet, at least.
KOLAJ: To me, it's second nature, but I also see how it's something very different going on, and if people can't define it, everybody's lost.
At the end of the day, do you care what people call you?
KOLAJ: Not right now, no I really don't care. I think regardless of defining it, which is the essential idea of the name "KOLAJ," which is just a mixture of so much – making something new, taking so much familiar and twisting it –
- it fits.
KOLAJ: It fits! Yeah, I don't really care because at the end of the day, most of the feedback I ever get back is just people saying, "I love this song so much! This song is so good!" So that's what I focus on: Making really awesome songs.
I catch myself trying to put artists into boxes. You can say something for a reader's benefit, but music is not about definitions.
KOLAJ: I think it's good when an artistry can transcend that, and kind of become its own perspective – its own brand.
Speaking of which, you've covered Adele and The Weeknd, two artists whom I see as lying pretty much on opposite sides of the spectrum!
KOLAJ: Yeah – that was last year. I wasn't really expecting to cover the two biggest songs of the year… The Weeknd was actually our manager's idea, and I was like, "Uh, I'm really not into doing covers," but if I made this into a project where we would remake the song, I was down. So that's what we did, and then that's what we did with Adele as well – transforming the song, but staying true to the writing. I think I learned… Actually, I was in a discussion with Rick Rubin at his house, years ago. I was just listening to the conversation, and he was explaining the most important aspects of music, and what is the most important thing about songs that connect with people. He was explaining how a house is a foundation, and you can paint the walls any color. He was basically saying, "I have songs for which the same song can be performed by Maroon 5, and Dixie Chicks can also perform this song, or Kid Rock can perform this song," and it was crazy – blowing my mind! I grew up in our culture where we separated, like, a brand of cereal. And to hear that, I was like, "Oh my gosh, I think he's right! If I just change the sounds and the delivery of it, it becomes other artistry." Hearing that early on really helped my perspective in creating, and just knowing that at the end of the day, it's really all about the song – it's just about the arrangement.
A house is a foundation, and you can paint the walls any color
Listen: "Can't Feel My Face" – KOLAJ (The Weeknd cover)
[soundcloud url="https://api.soundcloud.com/tracks/220671554″ params="color=ff5500&auto_play=false&hide_related=false&show_comments=true&show_user=true&show_reposts=false" width="100%" height="166″ iframe="true" /]
---
How long has the KOLAJ project been in the making?
KOLAJ: KOLAJ has not been that long, I guess it's maybe two years? We've been active for one year.
Tell me about how "The Touch" came about.
KOLAJ: I actually completely started "The Touch" on my own on GarageBand. It was just me and a guitar – I think I had to start with chords, and I ended up writing the whole chorus randomly. I was like, "Ooh, that has a really cool feel to it!" and he's like, "Oh, this is cool!" so we got together and made an arrangement of it, I finished writing the whole rest of the song, and then we got to the fun part where we invented this drop section – like, oh, let's do a guitar solo here – and we wrote that part in, and got really excited about it. "The Touch" kind of started a little bit hokey for me because it's a very major chord song, and it took a matter of messing up the chords a little bit to make it sound less hokey, and it gave it this nice, perfect little surreal, tropical texture. Yeah, that song came out on the cuff, like in the shower – I think that's how it was born!
What matters to you when you're making a song? When you're looking at one of your finished products, what matters the most?
KOLAJ: I can tell you it in order! For me personally, the most important aspect in a song is melody. I'm a little bit like a Swedish envious pop songwriter; I love unique, but huge sounding melodies. That has to get established first before I even touch the lyrics, although sometimes some lyrics will just come out my mouth off the bat, and I'll already know what the song is about – and I just pay attention to that. Lastly, the track – which, some people argue the track is the most important – but I say we handle the track lastly, after we know the song is really solid, and we just have as much fun as we want building this sound that we've made out of KOLAJ, which is just like, guitars here! tribal drums here! I don't know, it's like a fun little playground, I think, for track building now…. More fun than it used to be!
You're labeled (in your bio) as the 'singer-songwriter' and Mike is labeled as the 'producer'. How does that collaboration work?
KOLAJ: We do so much creating together, to be honest, outside of the songwriting – I do do all of the songwriting, but we basically co-produce. Mike is an extremely talented producer, programmer, drummer… He is the opposite of me as far as musical background goes: He comes from a very pristine, musical, technical family. He was jazz trained and is a phenomenal prodigy drummer – that's actually how we met, the first time in LA, before we even got into production… But the writing process lately consists of Mike and I getting together and making chords that we think are really cool. He's really good at chords, and once we agree on a solid four chords or whatever, then I'll have it in a small arrangement and I ask him to leave the room. He just goes to watch TV. For the past seven songs it's been like this, where I basically will write the entire song within a couple hours – maybe like, two hours – and then I have him come back. He's like, "Dope!" and then we arrange it, blah blah blah, and spend as much time as we want on the production afterwards.
I can really visualize that, thank you!
KOLAJ: (laughs) Yup, just one little room.
It sounds like you're very much a duo.
KOLAJ: We were discussing it too. We were like, "You know, actually we're much more of the traditional band situation, where bands were actually writing together, or at least producing a sound together." We're much more of that; it just happens to be that we both are producers, and we are living in a very producer/electronic-focused market now. So when you see us together and you see the word producer, people immediately think, "Okay, Mike's the producer and this girl sings," but it's so much more than that.
That's why I asked the question, because when I listen to "The Touch," I can easily imagine the stripped-down version of just you and your guitar. That's the backing track of the entire song; it's you and a guitar. Then you add all this luscious, beautiful harmony and melody and beat behind it, and that changes everything. That is the backing band around you – it's that entire world that you both are creating.
KOLAJ: It's interesting, because the process is a little wonky, but we're getting more efficient with it. The process is basically us editing each other, because we both get in on the session. I'm a lot more raw and expressive or instinctual, whereas he's a lot more technical. I'll put on an idea, and then Mike comes in and cleans it up, then I come back in and go, "It's a little bit too cleaned up, -let's put a little dirt here," so I don't know what exactly the process is nowadays for a lot of the younger producers, but ours is a lot more hands-on. We do everything on Pro Tools from scratch.
It sounds really balanced. What's your favorite part about "The Touch"?
KOLAJ: Ooh… Either the chorus melody, or the guitar drop. The guitar drop is, I think, an awesome feat for myself personally, as a guitarist, to fit that into a dance song. That checks something off my personal bucket list. Other than that, the melodies are just really solid, so I just am proud of good work.
It really is a dance song that transcends dance, isn't it?
KOLAJ: Yeah… yeah, that's what I think. Some people called it, like, "Is it kind of country/folky?" Everybody can kind of interpret it differently.
Like we were saying earlier, call it whatever you want! Just share it, spread the good word.
KOLAJ: I think the whole idea of what I also want to start pushing, with our content and visually, is just the idea of not so much labeling. I think things are going to start getting more mixed up, more blurred, globalized and united, that we all just start moving forward with a lot of new stuff.
You're a little bit ahead of the curve, it sounds.
KOLAJ: I guess! I hope I get to reach that curve, yeah!
Do you feel any restraint when you're writing in the pop genre?
KOLAJ: I think I have a really specific appreciation for pop. I do also feel like I edit myself when I think something is too campy or too poppy, too cheesy. In that case, I'll edit it. I think "The Touch" is cool because I think people respond to the lyrics as much as they respond to the melody – equally – and I think that's really something. I did a fair amount of editing on the lyrics for the verses, but to be honest the chorus… I always have ideas where I think they're just placeholders, but actually the lyrics of the chorus, in the end whatever I said off the cuff ended up being the chorus. I don't usually like using the word just – "just enough to get by" – but it just felt really good, and I think it's good sometimes to be really effortless, and that's what I let it be.
And it does definitely come off as authentic.
KOLAJ: Yay! (laughs)
 I think I have a really specific appreciation for pop.
What can we expect to see or hear from KOLAJ this summer?
KOLAJ: We are actually about to shoot a music video for "The Touch," which will hopefully be right on time for the summer – so it's going to be a nice, summery, beautifully-shot, vibed-out video. Right now, we're working on a ton of new material, and in the in-between we've actually been hopping in and out of shows in different cities, opening up for Gryffin. I'm actually on the road, as we speak, to San Francisco. We have a lot of other… uncompleted projects that may or may not come out. I am personally working on a Prince tribute, because he was like – and I'm not kidding – my most ultimate, ultimate. We also have a song coming out with this Korean artist in the K-Pop world… No one's really doing this! The song turned out to be really good, so it might just work, as far as crossing the East with the West.
Listen: "Into You" – KOLAJ x Eric Nam
[soundcloud url="https://api.soundcloud.com/tracks/268884816″ params="color=ff5500&auto_play=false&hide_related=false&show_comments=true&show_user=true&show_reposts=false" width="100%" height="166″ iframe="true" /]
---
It sounds like KOLAJ is holding true to its name, and living a life full of... I don't want to say it.
KOLAJ: Non-boundaries?! Boundless?
KOLAJ is being a collage.
KOLAJ: Yeah! (laughs) See, it's kind of good to not have a defined label in the beginning.
It is! Do you feel like you're in the beginning?
KOLAJ: I don't know. I feel like I've been like, just hanging out at the beginning for like, ten years though (laughs) but maybe I'm a lot more head than I realize.
That's totally fine - I think if you always feel that way, then you'll always be pushing yourself forward, too.
KOLAJ: Exactly, yeah. That's a very good way of describing me: I have a very evolving attention span.
Connect with KOLAJ on Facebook, Twitter, Instagram, Snapchat (@kolajteesa)
cover photo: KOLAJ © Koury Angelo
Watch: "The Touch" – KOLAJ

[youtube=https://youtu.be/OjM0ttFdaZg?t=0s]