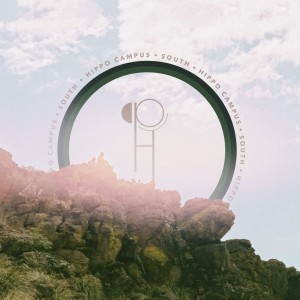 Some might say Hippo Campus, the four-piece from the suburb of St. Paul, Minnesota are an alt-pop group. Others may define them as indie-rockers. Stylistically, their sound is an effortless blend between both. It's safe to say their catchy single "South" off their newest EP South (October 2, 2015 via Grand Jury Records) is proof of this, while being nothing short of sunshine soaked bliss.
The foursome came together in 2013. Whistler Allen, Jake Luppen, Nathan Stocker, and Zach Sutton all graduated from the Saint Paul Conservatory for Performing Artists.
"South" is a trilling, summery indie-rock song. Raspy vocals give a slight edge to the track as simple lyrics echo over and over, giving the layered track depth and definition. It's infectious and cheerful.
Three weeks down I drown myself in whiskey
Came back round, and drowned out, you left me with a
Chest hum, a black gun, and forty dollars
Chest hum, a black gun, and forty dollars
Listen: "South" – Hippo Campus
[soundcloud url="https://api.soundcloud.com/tracks/217015063″ params="color=ff5500&auto_play=true&hide_related=false&show_comments=true&show_user=true&show_reposts=false" width="100%" height="166″ iframe="true" /]
---
The track falls somewhere between a Vampire Weekend-esque tune, meshed with a Young the Giant sound. There is also a splash of something mystical, if not transcendent. It is highly evocative of Bombay Bicycle Club, evident in the jangly guitar. This makes sense considering they are one of the band's major influences, however the band puts their own unique sonic fingerprint on the music map.
Maybe it's the theme of repetition throughout "South" that makes it stand out. It's almost an anthem about conformity, but in acknowledging that it is, it takes on a rebellious aspect. It's paradoxical.
Streetlights talk the same way my mother told me
(You go down south, south)
I walk the same way my father told me
(You go down south, south)
Back straight and chest out, just like a soldier
(You go down south, south)
The self-reflexivity of the song is a testament to growing up. The theme of escapism in order to find one's true self is pure, simple and true. It's a message of life is elsewhere—in this case, it's down South.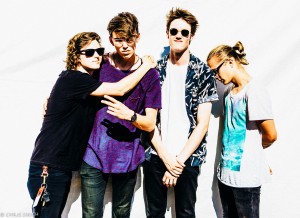 "South" has all the perfect ingredients for a straightforward song that addresses how we all feel. It gets stuck in your head thanks to the mellow harmonies and simple guitar layering. The catchiness is the beauty of the song; it gives off the ambiance of warmer days when life was simpler; when going away could solve all of one's problems. The nostalgia of the words is wrapped up in a glossy melody that makes one picture the band marching about with a happy, youthful air of longing for summer.
The vocals build as the song gains momentum. During the last verse, passion radiates through the song as it rises and falls. It reminds us all that better days lie ahead, as we continue to trek forward while reminiscing about the past.
With an unforgettable infectious melody, "South" ambitiously aims to be clear and bright. Supercharged with optimism and pulse quickening, Hippo Campus is proving to be a diamond in the rough in the world of indie music.
Watch: "South"  – Hippo Campus
[youtube=https://youtu.be/Ure4jaEue5U?t=0s]
---
You can follow Hippo Campus on Facebook, Twitter, and Instagram
:: Hippo Campus Fall 2015 Tour ::
^ – with Bad Bad Hats
11/10 — Baby's All Right—Brooklyn, New York
11/11 — Black Cat—Washington, DC
11/12 — The Barbary—Philadelphia, Pennsylvania
11/14 — Cattivo—Pittsburgh, Pennsylvania^
11/15 — Visulite Theatre—Charlotte, North Carolina^
11/17 — Madison Live!—Cincinnati, Ohio^
11/18 — Zanzabar—Louisville, Kentucky^
11/19 — Rose Music Hall—Columbia, Missouri^
11/20 — Reverb Lounge—Omaha, Nebraska^
11/28 — First Avenue—Minneapolis, Minnesota^
12/02 — The LC Pavilion—Columbus, Ohio
South [EP] – Hippo Campus