swim school's new EP 'duality' is a punchy grouping of captivating vignettes that envelop listeners in a pool of introspective brilliance.
Stream: 'duality' – swim school
---
swim school, the Edinburgh hailing trio consisting of frontwoman Alice Johnson, guitarist Lewis Bunting, and drummer Billy McMahon, recently released their third EP, titled duality.
And it is honestly genius, as it works to dissect themes of love and life in four songs. What might be the most genius thing about this EP is that while it is a dip into an utterly dreamy landscape exploring love and life, the collection holds two anger driven songs and two more lighthearted tracks. Splitting the album perfectly and living up to its namesake.
Leading off the EP is "kill you," and with Alice Johnson's angelic vocals paired with the atmosphere generated by the backing instruments, this little tune envelopes you in a safety blanket. With a bright twinkling sound and large spacious guitars ebbing and flowing behind and around Johnson's vocals the landscape story that is told in this song is utterly beautiful.
Looking at the lyrics, this track tells a story about the security of knowing that you have someone to grow old with no matter what life throws at you, "Ooh, I wanna have you with me / When days are old, our looks have faded / If you're not there, well, I'll be waiting." It is lovey-dovey in the best way, shedding a positive light on the prospect of growing old with someone you hold dear. Additionally it may be noted that in following the theme of duality, the band juxtaposes violence with kindness as the song states in the first verse, "And if you were to go and leave me on my own / I think I'd kill you in the nicest way I could."
---
Moving on, second in the track listing is "delirious," which provides a full auditory switch. This song features flashy drums and a heavy guitar that bring about an undeniable sense of frustration and anger. swim school's instrumentation, coupled with Johnson's haunting, seductive vocals, make this a true standout.
Delving into the details of the track we see that in the first verse we are introduced to a fierce argument against misogyny. "You disengage when you see my name, my face, my age" is a clever little lyric that avoids any sugar coating and jumps straight to the point and highlights a very real experience that women face. The relatability of this song is remarkable and honestly a little disheartening that it has to be a subject that is portrayed in media. Nevertheless, swim school do a brilliant job at executing an abrasive attack against misogyny. Throughout the song we are able to see the message that misogynists are a joke not to be taken seriously and that they should be stripped of societal power, lit up. This track stands to spotlight reasons why misogynists act the way they do which while it speaks directly to a character in the song, it serves to broadcast to listeners.
I'll say it louder for you
So it can really get through
Your insecurities show nothing but your jealousy
I'll say it louder for you
So it can really get through
Your insecurities show nothing but your jealousy
---
Third in the lineup is "don't leave me behind" and fourth is "over now," and both tracks jump back to discussing love.
Breaking it down, "don't leave me behind" portrays an alternate angle from the tale that was told in "kill you." What we see in "don't leave me behind" is a question of reciprocation in a budding relationship. One party in the relationship sees potential and expresses an insecurity about where they stand with their person of interest, and feels threatened that they might be left behind.
Something that seems instinctive in the wheelhouse of swim school is their ability to write such intimately relatable songs, as the insecurity that they weave into the lyrics of "don't leave me behind" seems like it could have come straight out of just about anyone's present reality. In this way, similarly to "kill you," this track also offers the essence of a security blanket to listeners as it shows them that they are not alone in experiencing the desire to want reciprocation and feeling one sided in a relationship.
At the start, I always knew that we would be
Said goodbye to loneliness that haunted me
Now all I see is you, I'm trying to get through
'Cause all I need to know is if you feel it too
I'm hung up on you and you like me too
I see this going somewhere
Don't leave me behind
I'm hung up on you and you like me too
I see this going somewhere
Don't leave me behind
---
Contrasting both "don't leave me behind" and "kill you" while still revolving around the theme of love is "over now," which shows the end of a relationship.
At the start I was blinded
by your words and all your promises
Felt like heaven was in front of me, I swear, it really did
This time, the cracks began to show what laid underneath
But we both jumped in at a breakneck speed
Did you really think you were enough for me?
The band paint a clear picture of the realization and coming to terms with the end of a relationship, and what is so smart about this track in the broad picture of it being the final track of the EP and the song itself is the repetition of the lyric "it's over now" at the end of the song. What this does is it allows for a final sense of release and freedom from a relationship that never seemed to be fully satisfying, if we look at the EP as telling various stages of the same relationship. In terms of how this use of repetition impacts the EP as it exists as a collective of individual songs, there is finality and a period brought to the end of the piece stating literally that the EP is "over now."
Without hesitation, it is easy to say that swim school are budding experts in the world of indie pop.
duality smartly shows their capabilities on a multitude of fronts both thematically and sonically, and it is a thoroughly compelling offering of the talents of the band. This three piece is undoubtedly one to watch as they continue their journey through music.
— —
— — — —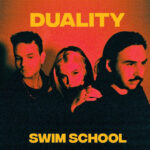 © Rory Barnes
:: Stream swim school ::
---