Freddie Gibbs and the Alchemist's 'Alfredo' may not be anything unexpected, but in a year like 2020 it was definitely needed.
Stream: 'Alfredo' – Freddie Gibbs & The Alchemist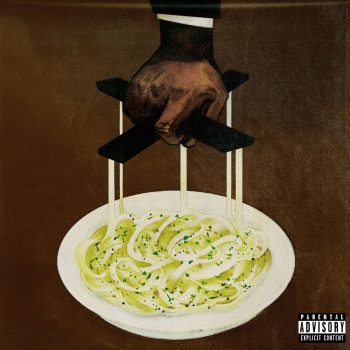 Freddie Gibbs' last two collaborative projects with the legendary Madlib are the story of his rise in the rap game, and the conflict, struggle, and drug pushing it took to make this possible. But if his latest collaborative album with the Alchemist, dubbed Alfredo, is any indication, Freddie feels like he's on top. It's not even that his raps have changed drastically, but the landscape laid by the Alchemist gives new meaning and context to Gibbs' verses. Alfredo has a mob mentality to it, with the cover riffing off The Godfather poster; in a way, the simplistic cover is a microcosm of the album.
These are not complicated songs, and aren't anything we haven't heard from Gibbs and the Alchemist to this point, but the two are the center of attention, even with amazing guest verses from Rick Ross, Benny the Butcher, Tyler, the Creator, and Conway the Machine. There's an air of confidence to everything these two do, and Gibbs probably said it best on one of the standout tracks from the project "Frank Lucas", when rapped, "Fuck rap bitch, I'm poppin' off of poppy seeds / My name cocaine, they ain't gone put me in the nominees."  While they might not get some of the mainstream recognition lesser projects get, these two are some of the best in the game, the mob of rap. And what's ironic is they got a Grammy nomination in the process.
Watch: "Frank Lucas (feat. Benny the Butcher)" – Freddie Gibbs & The Alchemist
While the easy thing to do when discussing this album is to immediately start with Freddie Gibbs, we know what he's bringing to the table. Consistently he has shown himself to be a technically proficient and interesting rapper, and Alfredo continues this trend. However, the Alchemist's role in creating the soundscape for this album is the biggest switch from the projects Freddie did with Madlib (Piñata in 2014 and Bandana in 2019). The Alchemist makes some of the lushest beats in hip-hop, a stark contrast to the busy and complex Madlib beats we'd heard Freddie on previously. Would it sound, for lack of a better word, "boring" in contrast to the deep and complex songs on Piñata and Bandana? For the most part, this could not be further from the truth.
Each of these songs in a vacuum show why the Alchemist is such a coveted producer. An avid crate diver, he finds some of the best guitar and piano samples imaginable and builds a complementing landscape to perfectly accompany it. The highs of the beats on this album are extremely high, and there are practically no lows; however, the beats are too similar from song to song. As beautiful as some of them are, as a whole they are too similar, a stark contrast to past collaborations for Gibbs. Now, it might not be right to compare the Alchemist and Madlib, but the two are consistently brought up when discussing some of the most acclaimed and esteemed producers creating today – it seems right to compare them.
Transitioning focus to Gibbs, the motto seems to be "more of the same". This might sound like a dig, but very few rappers can be as exhilarating and simultaneously consistent year to year. He talks his shit about moving cocaine, his all-around status, and…well, for the most part it's those two things, but who cares? He's clever, he's ruthless, and his voice is one of the most unique in the rap game. It pierces through the ambience of the Alchemist's beats, giving new meaning and an undiscovered vibe to Gibbs' rapping ("1985" and "Baby $hit" are top-notch examples of this). The only difference between this collaboration and past ones is how much freer Gibbs feels on these beats. He's not down in the trenches anymore, he's someone who got out and gets to look down on those lesser than him. He's earned the right to brag, and Alfredo is indicative of someone who's fully enjoying that right.
Watch: "1985" – Freddie Gibbs & The Alchemist
Alfredo is a really good album, but it's been a little over-elevated in a year in hip-hop that promised more than was given. It might be worthy of a Grammy nomination in 2020 (even if the Grammy's don't matter, like, at all), and it might be one of the best rap projects this year, but, again, it was a slow year in rap. It's great hearing two established figures in rap doing what they do, but this is far from either of their heights. Alfredo is an "every once in a while" album. You'll find yourself browsing around Spotify looking for something to listen to and you'll put on Alfredo, but then it'll be a few months before you venture back to it. This album sounds exactly like you would expect it to sound, and while this led to a great album, you would expect Gibbs and the Alchemist to elevate each other more than they did.
— —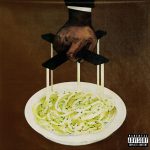 ? © Freddie Gibbs
Alfredo
an album by Freddie Gibbs & The Alchemist