One for the road: Typically, it's the final drink of the night. In Left Lane Cruiser's case, it's an homage to the long, strange trip that brought them here. With over ten years' experience making powerfully raw, gritty rock and blues music, Left Lane Cruiser have their fair share of stories to tell – and probably some not to tell. Their raucous new song "Still Rollin'" is an ode to their journey – one for the road that took them here.
Listen: "Still Rollin'" – Left Lane Cruiser
---
Atwood Magazine is excited to be premiering "Still Rollin'," the latest single off Left Lane Cruiser's upcoming seventh studio album, Claw Machine Wizard. Hailing from Fort Wayne, Indiana, Left Lane Cruiser's Freddy J Evans IV (guitars/vocals) and Pete Dio (drums) embrace the grit and grind, calling themselves a proud "trash-punk-blues" and (at times) "voodoo hillbilly punk-blues" outfit. The words, "THE BLUES IS IN PERFECTLY UNSAFE HANDS!" are written in the description for each of the band's songs like a mantra.
Big bird still be rollin
Bleed into the show
Everybody looking like we don't know
Sun down go round and round
Drive it thru the night
Junkyard Speedball
Keeping me right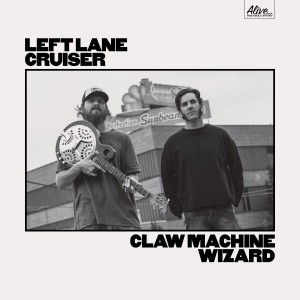 Left Lane Cruiser may drive a little wild, but Muddy Waters would be proud of how far the blues has gone. A classic rock guitar riff opens "Still Rollin'" with electric energy: Evans and Dio grab ahold of their groove, leaning into it as Evans sings the opening refrain. His voice is startling gruff, yet supremely polished – a testament to the years he's dedicated to this craft.
That said, don't mistake skilled musicianship with refined sound. Left Lane Cruiser are unapologetically raw, dirty, and fearless: If they've got something to say, they've already said it. "Still Rollin'" is an homage to the band's travels – who they are, where they've gone, and how far they've come.
Basically, for those unfamiliar with Left Lane Cruiser, "Still Rollin'" is a good place to start.
Twist it up before UK
Customs in the way
Smuggle dirty blues
Across the channel to play
Selling out in Edinburgh
All through the Kingdom
Wrong side of the road
"This tune was written in dedication to the road, rollin dirty, crossing borders, tracking down the sound, tracking down what ya need to succeed," explains Freddy J Evans IV. "It's a road story. A tale to tell ya where the Cruiser has been and what it took to get there. No matter how many times the man tries to stop us, we still rollin'."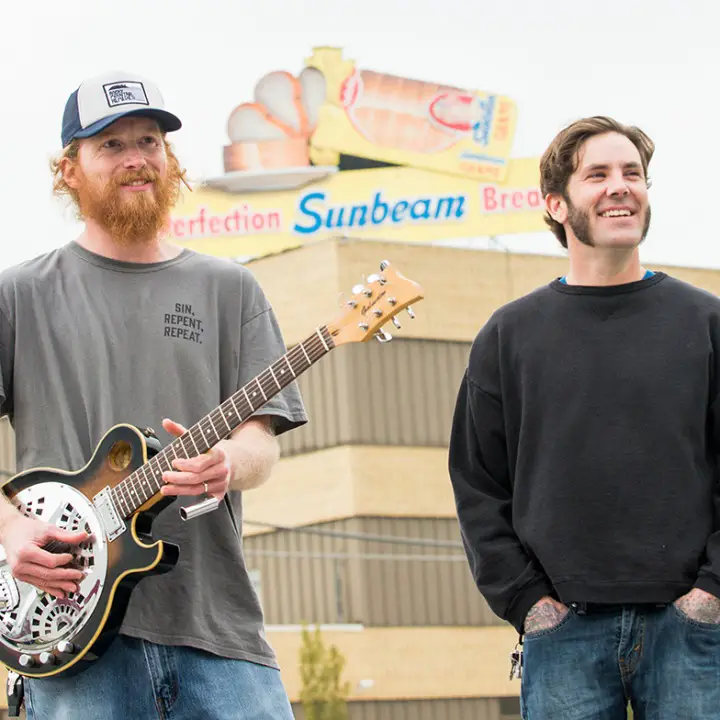 How many teens and twenty-somethings get together with their friends one afternoon, record a song on their laptop, and no sooner call themselves a rock band? Playing music in time doesn't grant you any titles; the grind is where you earn your stripes. Blood, sweat, and tears. Cutting your teeth means going all over creation, just for the chance to book another gig – to play to a small audience who will probably forget your name before you're off the stage.
"Still Rollin'" is a vivid account of Left Lane Cruiser's life and times. It captures a few snapshots of over a decade's worth of music, establishing the band's credibility – not that they necessarily needed to say it; their sound says it for them. For all the time Evans and Dio have spent together, they still find ways of keeping things fresh. "Still Rollin'" is infectiously grandiose – a punch in the gut from one of the few bands that are keeping the blues alive and well.
Left Lane Cruiser's Claw Machine Wizard is out May 19th via Alive Naturalsound Records. Pre-order it here and see below for the band's summer tour dates!
— — — —
cover © Joel Faurote
"Still Rollin'" – Left Lane Cruiser
---
:: Left Lane Cruiser :: Tour Dates ::
4/28 @ White Rabbit — Indianapolis, IN
4/29 @ Goat Fest IV @ The Basement — Nashville, TN
5/6 @ Monnrunners Music Festival — Chicago, IL
5/11 @ The Brickhause — Stevens Point, WI
5/12 @ Nakato Bar — North Mankato, MN
5/14 @ The Hook and Ladder — Minneapolis, MN
5/19 @ The Brown Hotel — Indiana, PA
5/20 @ 13th Floor Music Lounge — Florence, MA
5/21 @ Lexington Battle Green BBQ Fest — Lexington, MA
6/2 @ Muddy Roots Spring Weekender — Brown County, IN
6/8 @ Dakota Tavern — Toronto, CA
6/23 @ Moe's BBQ — Steamboat Springs, CO
6/24 @ Choice City Stomp — Fort Collins, CO
7/12 @ Three Rivers Festival — Fort Wayne, IN
7/22 @ Raut Oak Fest — Riegsee, Germany
9/1-4 @ Muddy Roots Music Festival — Cookeville, TN