KIDinaKORNER / Republic Records-signed singer/songwriter County Line Runner delivers a raw, visceral folk rock force in "Saw You in a Dream," capturing the magic ephemeral moment when fantasy and reality collide into one, and our dreams come alive.
Stream: "Saw You in a Dream" – County Line Runner
---
You come to me, you come to me in the middle of the night…
There's a cool energy building throughout County Line Runner's latest release: A slow, driving force emanating wonder and nostalgia, excitement and hope. Reaching, reaching, reaching…. and just for a very brief second, making it to the plateau and feeling that sense of accomplishment. A raw, dynamic folk rock force, County Line Runner's "Saw You in a Dream" captures the magic ephemeral moment when fantasy and reality collide into one, and anything – past, present, and future – is possible. We've all had our dreams come alive for a fleeting second, but few have dared capture that sensation in song.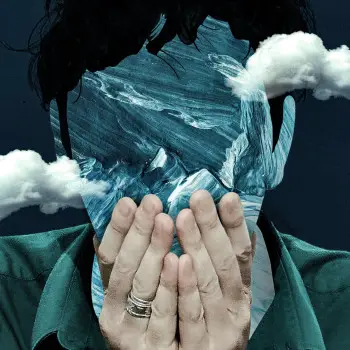 I didn't know that
That was even there
I didnt see it
Coming through the air
I thought the morning
Would come out and kill it
Like the sunlight
And burn right through it
Atwood Magazine is proud to be premiering "Saw You In A Dream," County Line Runner's first single of 2019 and debut release on KIDinaKORNER / Republic Records. The artist moniker for British singer/songwriter Adam Day, County Line Runner introduced himself in 2018 with the songs "Hard to Find" and "Wide Eyes," whose magnificent Americana sounds and heartfelt lyics capture the resilience of a spirit that just won't quit.
Inspired by some of folk/Americana music's classics – Dylan, Cash and Cohen – County Line Runner strikes a fine balance between being vulnerable, and capturing a feeling. The latter wins out in "Saw You in a Dream," where vague lyrics create a sense of wonder for listeners as the artist guides us through his half-dream state:
I didn't notice
That you were no longer there
I didn't think
If you even cared
I didnt see
Who you're running with
Or know
Who you wanted to forgive
Vague though his words may be, once one understands the entity that is County Line Runner / Adam Day, "Saw You in a Dream" quickly makes a lot more sense. The musician project was born in the aftermath of separation and loss: The separation of Day from his (now ex) girlfriend and their son, and the loss of a future that might have been – a story familial fulfillment and togetherness. "I thought I was destined for family life at that time, but I ended up living on my own away from my son," he shares. "I had to do something, otherwise I was going to lose my mind missing him every night. So, I started writing."
With this backstory in mind, we come to hear County Line Runner's latest single as a pained, poetic longing – perhaps for that other path life may have taken, or perhaps just for the dream of being together again, in any capacity. The song's final stanza finds coming to a moment of wistful acceptance; the clarity that comes with the morning's awakening brings the memories of separation, loss, and change flooding back to him, and he realizes once again that he is without:
You know I saw you
In a dream last night
And my heart
Sank like a stone
Now everything
Has started hitting home
You come to me
In the middle of the night
You come to me
In the middle of the night
To dream of what we love but cannot have is its own form of suffering, and "Saw You in a Dream" recognizes that truth while offering solace in the form of impassioned beats, chugging guitars, and Day's resilient earthy vocals. It's a startling, finessed balance: Whether you hear County Line Runner's third release as a song of despair or one of hope, "Saw You in a Dream" stands out for its buoyancy and sheer drive.
Stream the new song exclusively on Atwood Magazine, and learn more about County Line Runner in our interview below!
MEET COUNTY LINE RUNNER
Atwood Magazine: Adam, I'd love to learn the meaning of the "alter ego" artist moniker County Line Runner. Where did this come from?
County Line Runner: County Line Runner means a few things now. I heard the name while back on a 90's tv show the FBI Files or something like that. Some guy who used to rob banks in America and cross state and countylines to avoid capture, so they called him The County Line Runner. They never caught him and the whole thing was quite romanticised. I thought it suited some of the places where my songs come from.
How did the KIDinaKORNER / Republic Records signing come about, and how's your adjustment been as a singer/songwriter?
County Line Runner: Yeah, that was a nice surprise. I didn't expect much when I released "Hard To Find," I was just happy to be putting something out. I've always written but never released anything on my own, and I started to get a few messages from labels asking if I was signed. When I put out "Wide Eyes" KIDinaKORNER got in touch, and then I went to LA met with Alex da Kid and everyone and signed. As for adjusting as a songwriter, I'm just the same. I take my music seriously, but I don't over analyze why I write or talk about it much. Mostly, I've always enjoyed it. I was happy before, so I've nothing to lose.
For you, how does "Saw You In A Dream" compare with "Hard to Find" and "Wide Eyes"? What, in your mind, differentiates this song?
County Line Runner: I guess this song is more directly about me… I'm sure most people have had a dream that was so vivid it felt real. It's about those few seconds it is real.
What is the personal significance of "Saw You in a Dream"? Why does this song matter to you?
County Line Runner: I try not to put too much importance or significance on my songs. I have songs which are significant in my life, but as the writer of a song I try to keep perspective. If I'm still carrying what I've done I'm missing the next thing, so I tend to move on quickly. Generally I'm living in the world of the song that I'm writing at that moment.
I love the way your vocals hold certain notes at the ends of sentences - the way your words tend be crisp, but the sentences kind of have their own trail. Who influenced your vocal performance? How did you come to perform this way?
County Line Runner: Ah thank you. My influences vocally, I guess, are the types of singers who aren't considered singers in the traditional sense like Dylan, Cash and Cohen. They can kill you just in how they say something not necessarily in what they're saying. That kind of magic was something I've always been interested in.
How is the music you're making as County Line Runner different from the music you made as Adam Day?
County Line Runner: For me, the less that gets between the idea and the music the better. In the past I'd write something similar to what I'm doing now, but it'd be filtered through four or five other people with their own agendas. When I'm writing or recording now it's a straight path and the song is the central part and everything revolves around that.
— — — —
? © 2019
:: Stream County Line Runner ::