Swimming with youthful optimism, Gypsy Temple's eye-opening "Pick a Number" inspires us to find the majesty in our own lives through charming and impassioned alternative rock.
— —
Do we find love through destiny or chance?
Gypsy Temple's debut music video begins with a powerful statement on place, purpose, and experience. Swimming with youthful optimism, the eye-opening "Pick a Number" inspires us to find the majesty in our own lives through charming and impassioned alternative rock.
Please don't tell me to choose
We'll figure it out on the way
You've got nothing to lose
When you don't carry this weight
Instead drop it off
On the corner of what's next
Where you forgot
It was all in your head
Atwood Magazine is proud to be premiering the music video for Gypsy Temple's "Pick a Number," directed by Marko Kharmyshev. It's too easy to go through life with blinders on: Our heads down, our ears masked by speakers, our eyes consumed in by the bright lights of nanoscopic LEDs. That's no way to go through life, and Gypsy Temple are determined to open our eyes and minds to the world's beauty. Led by the riveting Cameron Lavi-Jones, Gypsy Temple are a five-piece alternative rock band from Seattle, Washington following in the footsteps of fellow Seattle natives Nirvana, Pearl Jam and Soundgarden – they are boldly trailblazing a path that is all their own, with poppy melodies set against driving rock jams.
And I don't know where I'm going
But I'm not lost at all
"I wrote Pick a Number thinking about what it means when you find true love – assuming such a thing exists, which I think it does. Is it random? Is it destiny? Is it a combination? Probably a combination, but how often do we walk right by what could be the best thing that ever happened to us because we just can't see it even it is right in front of us?" Cameron Lavi-Jones explains. "The video is about how we don't see the signs of the best thing that could ever happen to any of us, even though the signs are usually right in front of us. We also wanted to give a nod to a couple of our favorite movies – Groundhog Day and the Seattle grunge story by Cameron Crowe Singles, which is why we put our bass player Hamoon [Milaninia] in a long black haired wig. Even when we are trying to be all philosophical and shit, we have to laugh as life is too short to be so damn serious."
"Pick a Number" is the first video off Gypsy Temple's forthcoming debut LP King Youngblood, out May 2019. In addition to Lavi-Jones, the band is rounded out by Wilson Rahn (guitars), Cory Cavazos (electric cello), Kai Hill (drums) and Hamoon "Moon" Milaninia (bass).
3-Dimensional space
Could not keep me from you
And I'd just like to say
Sometimes I don't know what to do
But I know what we've made
Build the old with the new
I'll admit that I'm broken
So keep a piece of me with you
It goes without saying that each of us is on our own path, navigating through the seconds and minutes that define our numbered days the best we can. In singing "my love, my love, pick a number," Gypsy Temple aren't inviting us to conteplate the world's randomness; rather, they're celebrating the limitless opportunity at our disposal. The world is a glorious, majestic place to be – and we're all here, soaking up the beauty.
Gypsy Temple call themselves the second coming of alt rock, and damn if they're not setting a high bar. Stream "Pick a Number" exclusively on Atwood Magazine, and stay tuned for more from this exciting new act!
Stream: "Pick a Number" – Gypsy Temple
— — — —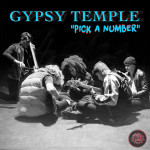 ? © Travis Trautt
:: Stream Gypsy Temple ::