Sycco's new single "Time's Up" staves off falling into bad habits or feelings, instead proudly exclaiming confidence, self-reliance, and reassurance that the best will be yet to come. 
Stream: "Time's Up" – Sycco
---
19-year old Sasha McLeod, better known by their stage name, Sycco (pronounced "psycho"), has had a whirlwind year since the release of their massively popular singles "Dribble," "Nicotine," "Peacemaker," and, most recently, "My Ways." The Australian-based singer has shown with each new release that she can masterfully blend together pop, soul, and electronica beats to curate a sound that sticks to listeners like glue. Sycco's newest single, "Time's Up," which Atwood Magazine is proudly premiering today, only further proves the artist's impressive prowess.
"Time's Up" serves as an eff-you power-anthem to an ex-lover, as feelings of freedom flow throughout the four-minute track. Sycco's bouncing vocals and the song's explosive instrumentals only further aid in these sentiments, driving home the point of independence and allowing listeners to fully revel in it.
"Creating this song put me in a complete flow state," Sycco explains. "The inspiration behind the lyrics was sparked by lockdown and wanting to get out, but it ended up being quite the angry break up song."
The first half of the song ostensibly seems to be lamenting on this lost relationship, as Sycco delineates feeling slighted by what transpired; in reality, however, the first half of the song perfectly sets up its counterpart in the second half, opening the floodgates for Sycco to truly dig in with their real feelings. The first half croons about "missing out on love," "proving [Sycco] wrong when they were right," "crying on the floor," and "ingrained fear," among other sentiments, harping on what could have been.
Only here to fall
Cuz you've taken control of
Everything I loved
And I missed out on love
Trusted you to prove
Me wrong when I was right
Took all that I loved
And turned off all the lights
"Time's Up" illustrates feelings that have been universally felt by people experiencing a breakup.
The stages of sadness, grief, questioning, and vexation coincide with every post-breakup, before the reality fully sets in and one can begin to move on. It can be easy to fall into the trappings of this sadness, but it's what happens when you come back out on top that truly makes the impact.
As the song continues on into its second half, there is a marked difference in Sycco's feelings toward the situation, as an exuberance of self-love and confidence shine through the song's glittering tones. Sycco knows their worth, and as she continues to sing to the ex-partner in question, listeners can't help but root for her in this newfound, explosive confidence.
I really didn't wanna know
That everything I had hoped would change
Oh you would still be the same
Projecting an acts that's a little more fake
A little more vain
That's just the way
Light up the sage 
The song's accompanying video is a fever dream of varying visuals, further driving home the song's emotional progression. A varied mesh of locations and (especially) colors, the video for "Time's Up" gives a pointed impression about Sycco's emotional experiences. The expressionistic nature of the video supplements the audio brilliantly, artfully giving the narrative of the song the support it deserves. Not all videos match their songs well – this is not one of those videos.
"Time's Up" encapsulates what it feels like to be free from a loveless relationship, and free from the pain that it causes.
Opposite to the song's first half, the second half croons about "[the ex] not taking hints," "letting [them] know that it's over six times," and "trying to set things right." To come out on the other side of a breakup like this with confidence — with panache — speaks volumes.
Run out of time
You took it right from me
Can't let it die
Expect nothing less from me
No more replies
Starting to affect things
It's your mental control
Oh you don't wanna fuck with me
As the song comes to its end, Sycco's sharp self-assurance offers one final blow: "Our time is up / You can't accept that you just weren't enough." It's a biting reminder that despite whatever love or lust or passion may have existed in the past, there is a nail in the coffin and there is no going back to what once was. "Time's Up" staves off falling into bad habits or feelings, instead proudly exclaiming confidence, self-reliance, and reassurance that the best will be yet to come.
At just 19, Sycco already exudes more confidence and maturity than most. She continues to impress with an infectious verve of music-making, and "Time's Up" is just the latest proof of that. What fans have received so far from Sycco imputes that there is still so much left to come from the young Aussie, and it will be exciting and fascinating to engage with this progression as time goes on.
Stream "Time's Up" now, exclusively on Atwood Magazine.
— —
Stream: "Time's Up" – Sycco
— — — —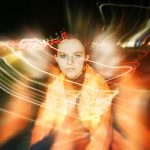 ? © Brianna Da Silva
:: Stream SYCCO ::
---