An ode to the underdogs, MAUMAUMAU's debut EP 'Meow Meow Meow' is a fun, feel-good alternative collection ready to brighten our days and soften life's blows.
Stream: 'Meow Meow Meow' – MAUMAUMAU
---
I think this EP is the epitome of what I tend to write about: Vulnerable and witty songs intended to encourage you through the slew of emotions that come with being human.
"I think I'm pretty good for a mess," MAUMAUMAU sings in the opening lines of his dynamic debut EP. "Never best man but mediocre at best." Undeniably honest and equally tongue-in-cheek, it's an enthralling start to a record full of love, quirk, and sublime radiance. An ode to the underdogs, MAUMAUMAU's Meow Meow Meow is a fun, feel-good alternative collection ready to brighten our days and soften life's blows. Whether you've got the millennial blues or a digital heart, overloaded or overwhelmed, these five tracks will remind you that you're special; that you're someone worth fighting for.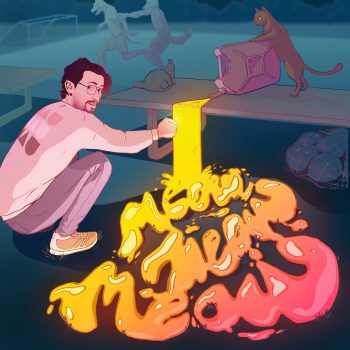 I think I'm pretty good for a mess
Never best man but mediocre at best
I think I'm pretty cool for a wreck
I never get picked first but I'm first to obsess
I never do wrong i never do wrong
i don't do enough right correctly
Its taking too long its taking too long
I'm stuck in the middle of maybes
I think im pretty cool for a wreck
I hold my chin high just to try to impress
I think that im a tool for the rest
I keep the bench warm for the best of the best
Oh just when i figured it out
Sweep the rug kiss the ground
Gotta love that curveball cut scene
Oh i think i figured it out
Bitter sweet on the mouth
Love the taste of that curveball whip cream
– "Curveball Whip Cream," MAUMAUMAU
Atwood Magazine is proud to be premiering Meow Meow Meow, a visceral and vulnerable debut EP that beats to the tune of its own drum (literally and figuratively). The solo project of LA-based Mexican rocker Mauricio Jimenez (lead vocalist of acclaimed indie trio Night Lights), MAUMAUMAU first introduced himself with last September's "MOUTH BREATHER," a bustling burst of charming, churning, confessional self-expression that, along with its successors "Heartbreak Police" and "B!l!ngval," captured the anxiety, tension, and raw energy so many of us felt during the COVID-19 pandemic.
---
For Jimenez, MAUMAUMAU strives "to provide a soundtrack for the underdogs and a voice for the underrepresented." His music embraces a wide spectrum of pop-rock sound and style, reminiscent of everyone from Weezer and Sir Sly to twenty one pilots and COIN; meanwhile, his intimate lyrics cut to our human core with vivid reflections and observations that bring to life the joys, woes, and in-betweens of our daily realities. Tethered to all this is the inescapable fact fact that he's given this EP the funny, playful name Meow Meow Meow.
"When conceiving the concept for this solo project, I decided that all the album names would be a pun on my nickname," Jimenez says. "'Meow meow meow' just felt right as the first one since it rolls off the tongue, and I feel like everyone thinks of that when hearing MAUMAUMAU as an artist name. I just wanted to beat everyone to the punch."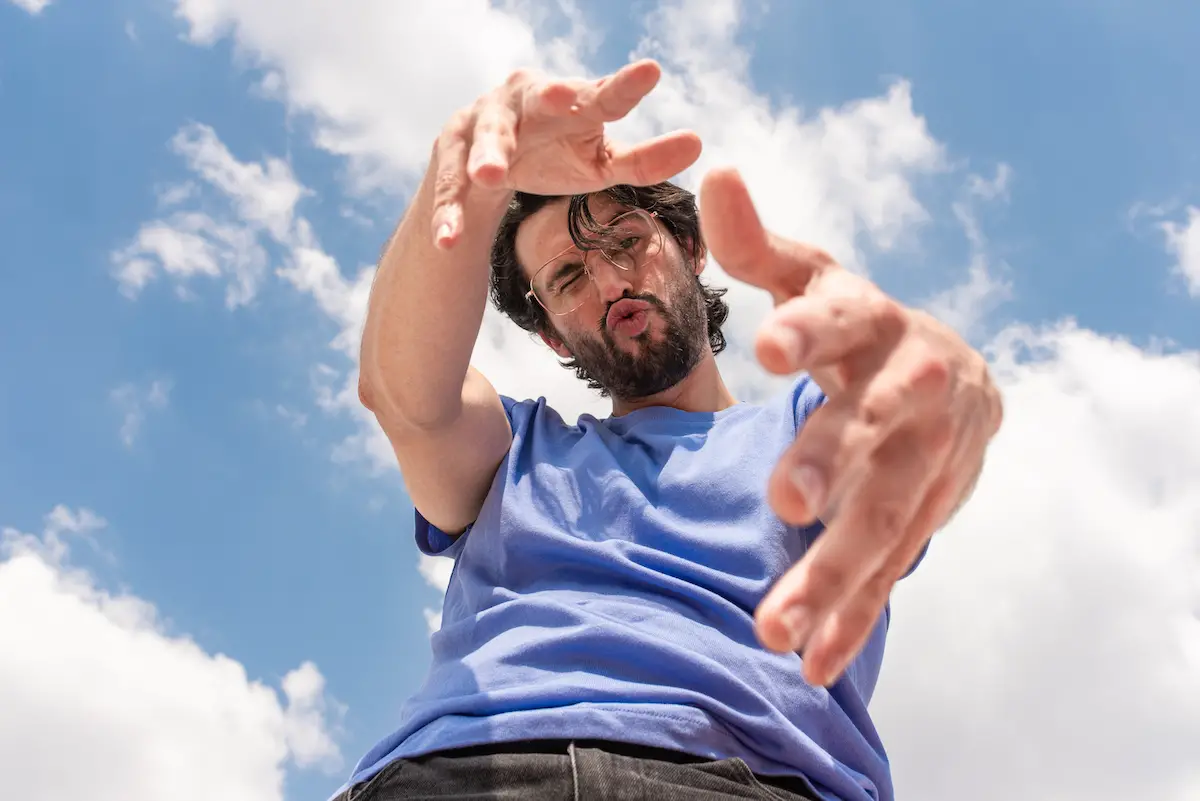 Don't let the name fool you: Meow Meow Meow is far from a joke.
Jimenez tackles his music with the same kind of wholehearted gusto as Rivers Cuomo: Yes, he's not always serious, but he means every word.
"This album was ready to be released in March of 2020. I had just finished producing and recording all the songs in February, Jimenez tells Atwood Magazine. "The pretense of this solo project was not to overthink things and just put out music that I loved without any ulterior motives. To keep the music as sincere as I could. But then I finished the EP and loved it so much that I figured I needed to spend some time strategizing on the best way to put it out and it not disappearing into the static of the internet."
"Then the pandemic hit, and suddenly, there were more urgent songs that I had to put out. "Mouth Breather," "Heartbreak Police," and "B!l!ngval" just needed to be put out as urgently as I felt the urge to write them, so the EP just kept getting pushed back. Finally, I'm putting it out, and I couldn't be more excited about it."
"I still think my vision is to be sincere and not hold back on what I wanted to write about. I wanted to find the confidence in myself as a songwriter and producer to stand behind my creations without feeling less than. The more I listen to the songs I'm creating, the less I feel like an imposter."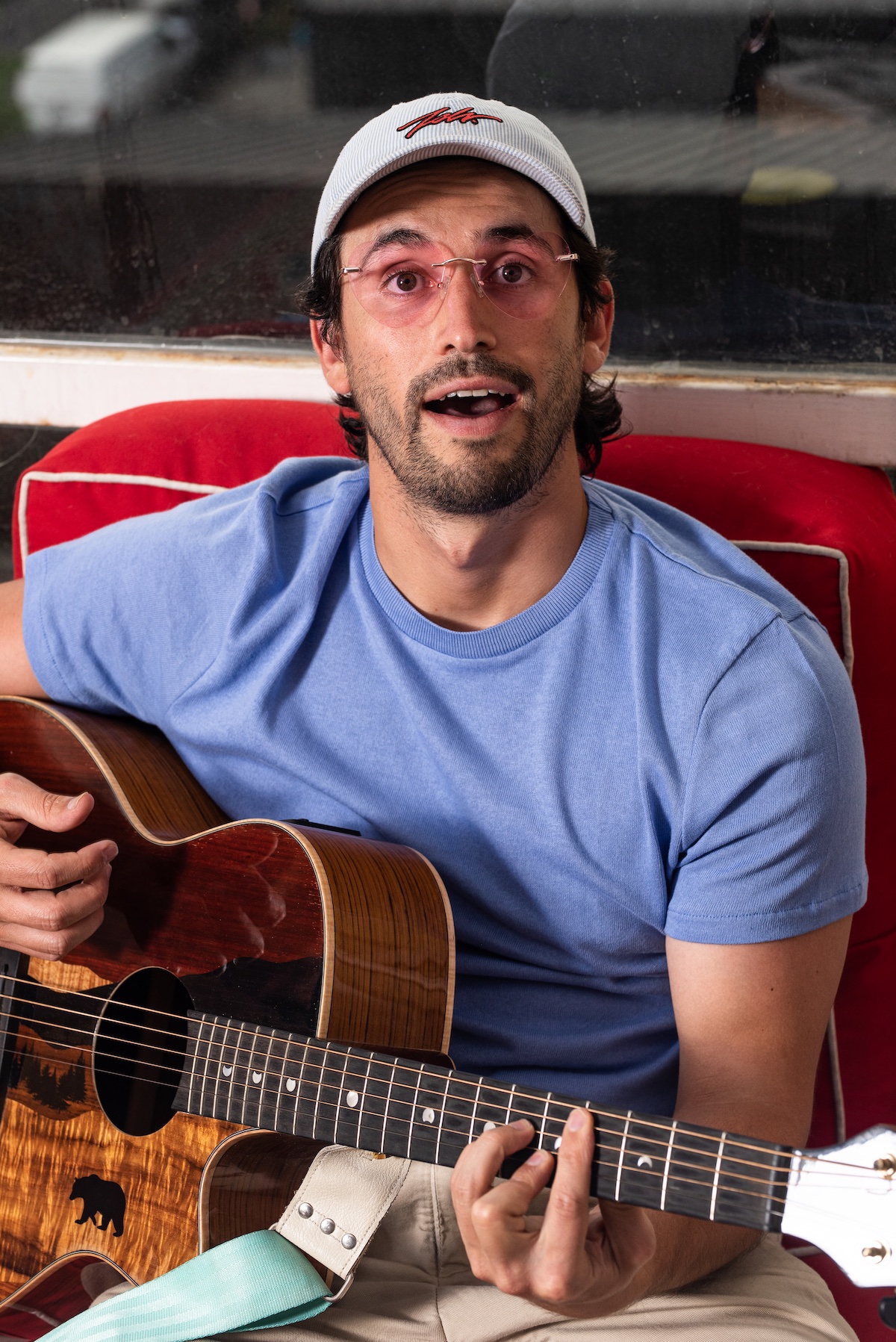 Armed with impassioned vocal outpourings, wily guitars, and dynamic drums, Meow Meow Meow is an impressive and instantly memorable introduction to MAUMAUMAU. "I think this EP is the epitome of what I tend to write about," he says. "Vulnerable and witty songs intended to encourage you through the slew of emotions that come with being human. It's a great ode to anyone who's ever felt like the underdog and a reminder you belong: 2nd place and all."
MAUMAUMAU starts his journey off with "Curveball Whip Cream," a heady dose of self-deprecation that strives for balance in this chaotic world. "I think I'm pretty slick for a dork – voted most likely to sleep in his clothes," he sings in a cool, smooth second verse. "I think I'm pretty quick on the ropes – I learned I'm the best when I'm rocking the boat." It's a fun that sacrifices neither depth nor melody; in point of fact, MAUMAUMAU has his cake and eats it, too.
The theatrics continue into the dramatic "Famous" and the stirringly sweet "Distracted," a soulful, poetic outpouring that may very well be the reason MAUMAUMAU came to be in the first place.
"'Distracted' holds a very special place in my heart. It's just a very sincere song about ADHD and feeling like you're missing out on life. It's an old-ass song. I wrote it in 2015 with a friend and just couldn't find a project to release it under. It's pretty much what brought MAUMAUMAU to fruition. I wanted so badly to put that song out that I decided to start this solo project to release all the songs that never found a home in my other projects."
"Distracted" may be Jimenez's highlight, but that doesn't stop the EP's final tracks "Happy" and "Alright" from exuding their own dazzling light. As a lyrically forward artist, the MAUMAUMAU mastermind lists some of his personal favorite lines in each of his songs.
"I love "pretty rich to be broke. Never had a laugh that I couldn't afford" in curveball whip cream. "Get famous till it hurts" on famous. "Inconveniences at best like when a toe is introduced to every corner of your bed" off of alright. "I just want you to be happy, show your teeth like it's your only language, smile on automatic" in "Happy." All of "Distracted" is just a lyrical goldmine. So I'll spare you the long quote, but that song is special."
Come tell me a lie, cuz I've been uncomfortable
No compass, no guide and so I just fall apart
My chemicals, my flammable heart
Missed the mark
Can't get it right, too much on my mind
Overloaded , overwhelmed
With everything I need to keep me happy
I've been getting distracted
I keep wasting my time
Telling everyone everything's fine
I'm feeling disconnected
Got my head in the clouds
But my dreams got its feet on the ground
I keep searching for truth
Got the millennial blues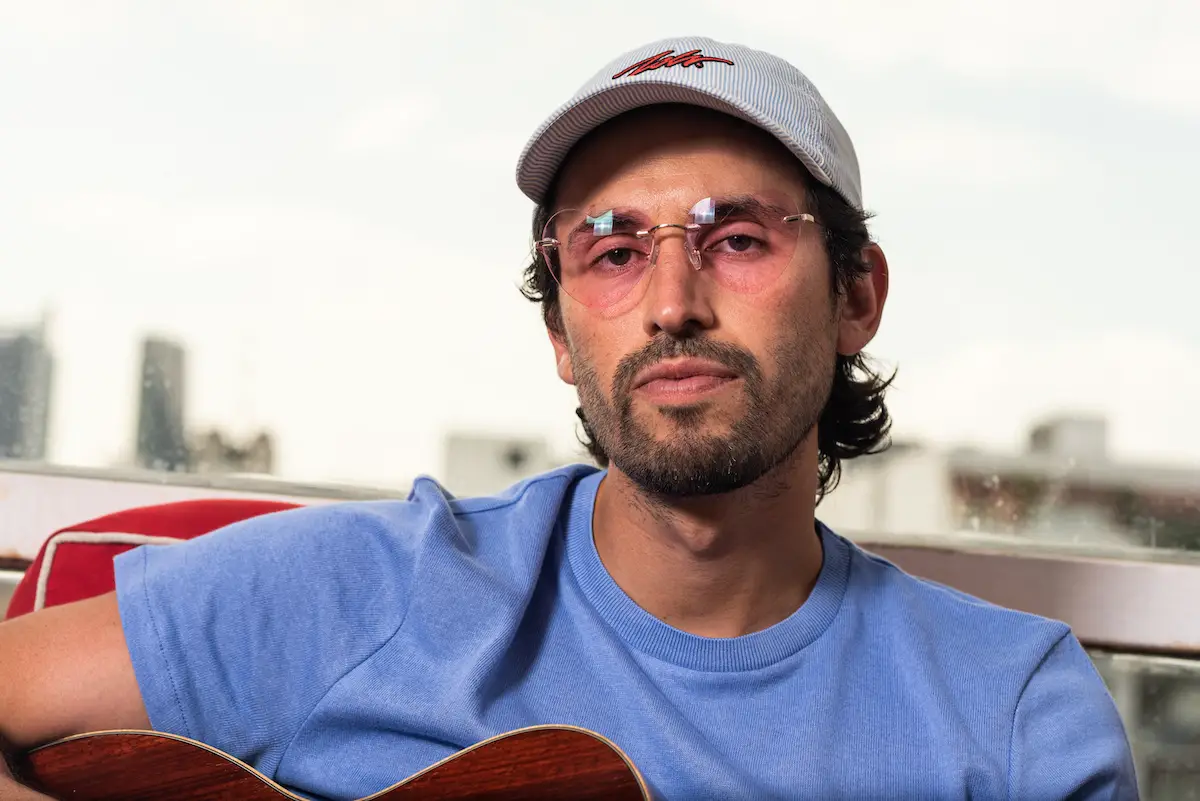 There's lots to discover in MAUMAUMAU's music: Listen close, and you're sure to uncover hidden musical and lyrics gems that make each of Meow Meow Meow's five songs its own world of vibrant wonder.
Ultimately, Jimenez hopes his new music finds a special home where it matters most. "I would love for connection," he shares. "Connection to the songs beyond a fun playlist addition. For them to meet other people through it and have some cool memories because of it. I'd love for it to be a soundtrack to special moments. And I'd love for it to help them cope with some of the more difficult things in life. It's definitely been all of the above for me creating it."
This EP is nothing if not unique – a memorable listen, with quite a few twists. Experience the full record via our exclusive stream, and peek inside MAUMAUMAU's Meow Meow Meow EP with Atwood Magazine as Mauricio Jimenez goes track-by-track through the music and lyrics of his debut EP!
— —
Stream: 'Meow Meow Meow' – MAUMAUMAU
:: Inside MEOW MEOW MEOW ::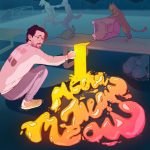 — —
Meow Meow Meow (EP)
Meow Meow Meow is a bundle of encouragement. It was written by me, for me, and if you feel like you need a pick-me-up, it was written for you too. It's an ode to anyone who's felt like the underdog. I wrote it with love and intention in hopes of finding my people in this world, so if that's you. Hi. Nice to meet you. I wrote this for you. Enjoy this assortment of encouraging songs for different scenarios. Get acquainted with them and have them on speed dial to fit your needs. You got this. You are awesome. You are loved, and you belong. Thank you for your ears.
Curveball Whip Cream
Curveball whip cream is great for getting ready. It is highly recommended for a little self hype sesh and as a friendly reminder that life doesn't always go how you planned it, but that's ok, and you got this.
Famous
Famous is great for screaming at the top of your lungs on a road trip to commemorate your famous TikTok friend that won't talk to you anymore because he's too busy dealing with his newfound fame. Screw them. You matter.
Distracted
Distracted is great for a little cry sesh in your room while laying in bed and staring at your ceiling—great little pensive bop about appreciating the time you have and not missing out on your dreams. Adhd can be really tough. You got this.
Alright
Alright. It's in the name. This is another solid self hype song. Less so for getting ready. More so for slow sway/dancing in your hip outfit for the day in front of a mirror to show yourself some self-love. A great reminder that it's going to be alright, and if it's not, you'll be fine.
Happy
Happy is a great pre-breakup song. Highly recommend sending it to someone you love after a fight to remind them that you just want them to be happy and that your argument can always take a back seat in lew of each other's happiness—also a great bop to dance around with mad attitude. 
— —
— — — —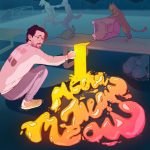 ? © Lucila Muriel
:: Stream MAUMAUMAU ::
---