Tank and The Bangas: This New Orleans native band can easily be defined in the same way as its hometown: Unforgettable, distinct, bright, positive, and soulful. Their sound is a quirky collection of poetry, funk, jazz, soul, rock, gospel and pop. Their live show leaves you with an experience you truly will never forget. An eclectic and colorful tribe of true artists, working in prefect synchronization to speak truths through rhymes, rhythms, and melodies.
Watch: "Quick" – Tank and The Bangas
---
If you don't know them yet, you will, which is why you should get to know them now. Led by Tarriona "tank" Ball, the band includes, Jelly Joseph (vocals); Merell Burkett Jr. (keys); Norman Spence II (keys); Joshua Johnson (drums); Jonathan Johnson (bass); and Albert Allenback (saxophone). They released their first album, Think Tank, independently in 2013. Shortly after, they released a live album The Big Bang Theory: Live at Gasa Gasa, in 2014 – both of which feature fan favorite songs "Rollercoasters," "Oh Heart," and "Boxes and Squares." However, it wasn't until recently, with their new song "Quick," that they were catapulted to a new level of success.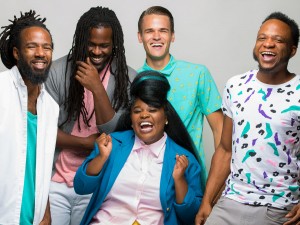 On January 27, 2017, Tank and The Bangas submitted "Quick" to NPR's Tiny Desk Contest, and on March 10, 2017, they were announced as the contest's winners, beating out over 6,000 other entries. According to NPR, the choice was unanimous: "This band combines R&B with hip-hop's poetry and rollercoaster storytelling, with a flair and alchemy that could only come from New Orleans," wrote NPR's Bob Boilen in the announcement. "Their winning song, "Quick," mixes liquor and revenge — a sort of modern day take on a great folk tale, but peppered with their own idiosyncratic flair and humor."
Tank and The Bangas make it look easy, but the immense thought and intricacies that must go into their performances is astonishing and beyond impressive. The two singers, Tank and Jelly, have a short hand that is incredibly entertaining to watch. The impressive collection of musicians never break a sweat as they smoothly transition from up-beat funks right over to the jazzy blues. Together, they bounce between being silly, serious, endearing, and comedic all in one set. It leaves you laughing, crying, and definitely yearning for more. Not only are they this fun and entertaining group, but also their songs are incredibly powerful. They have the type of songs where the more you listen, the more they make sense. There is so much depth to their lyrics, giving the songs that extra layer of meaning. And as you can see from the video below, Tank and The Bangas don't just sing and play these songs. They perform them.
Tank and the Bangas (Tiny Desk Concert)
---
Following suit of fellow New Orleans bands that are sweeping the nation like The Revivalists, Trombone Shorty, and Galactic, Tank and The Bangas are about to make their mark in the music industry. Hot off their win from the Tiny Desk Contest, they're booked solid this summer for shows and festivals all around the states. Be sure to see if they're coming to a city near you, not just because you'll see an unforgettable show, but also because you'll be able to say, "I saw them just as they were getting big."
— — — —
cover © Gus Bennett
:: Listen to Tank and the Bangas ::
:: Tank and the Bangas :: Tour 2017 ::
5/4 – Sanctuary – New Orleans, LA
5/6 – Jazz Fest – New Orleans, LA
5/6 – Republic – New Orleans, LA
5/7 – Mosaic Live In The Sky – Baton Rouge, LA
5/9 – Lagunitas Taproom w/NPR – Petaluma, CA
5/10 – Lagunitas Community Room w/NPR – Portland, OR
5/11 – Lagunitas Taproom w/NPR – Azusa, CA
5/12 – Live Bait – Orange Beach, AL
5/13 – Saturn – Birmingham, AL
5/16 – Lagunitas Brewery w/NPR – Chicago, IL
5/17 – Lafayette Square – New Orleans, LA
5/19 – Bayou Boogaloo Festival – New Orleans, LA
5/21 – Artsplosure – Raleigh, NC
5/22 – Lagunitas Brewery w/NPR – Charleston, SC
5/24 – Independence Brewing CO w/NPR – Austin, TX
5/27 – Clayborn Temple – Memphis, TN
6/3 – Riverfest – Little Rock, AR
6/4 – Shreveport House – Shreveport, LA
6/8 – Bonnaroo – Manchester, TN
6/9 – Bonnaroo – Manchester, TN
6/10 – Bonnaroo – Manchester, TN
6/11 – Bonnaroo – Manchester, TN
6/14 – Old Rock House – St Louis, MO
6/15 – Zanzabar – Louisville, KY
6/16 – Space Bar- Columbus, OH
6/17 – Urban Artifact – Cincinnati, OH
6/18 – SPACE- Evanston, IL
6/24 – ID10T Festival – Mountain View, CA
6/29 – High Sierra Music Festival – Quincy, CA
7/11 – World Cafe Live Philadelphia – Philadelphia, PA
7/14 – 3s Art Space – Portsmouth, NH
7/15 – Green River Festival – Greenfield, MA
7/16 – The Ballroom at The Outer Space – Hamden, CT
7/21 – Songbyrd Music House- Washington, DC
8/3 – Hullabaloo Festival – Omaha, NE
8/5 – Pickathon – Portland, OR
8/6 – Pickathon – Portland, OR