According to some sociologists, there's a good chance that we're all products of the environments we grew up in. Which, though directly in conflict with that good old American sense of individualism, can be kind of oddly comforting. Reminding yourself that you're at some level a product of your surroundings can at times remedy the ache caused by the pressure to be somebody different and original, an all-too-familiar pain for any twenty-something making their way in the world today.
Tapping into that pressure and having a bit of fun with it is exactly what new kids on the block RECREATION. tap set out to do in their new single "Surely a Vapor," which Atwood Magazine is proud to be premiering today. Formed for a one-off house show to support touring friends coming through town last year, the relatively new Santa Barbara quartet realized they had a good thing going and made the choice to stick together. Though they note that their influences range from Paul Simon to American Football, their sound remains inherently West Coast. "Surely a Vapor" sees RECREATION. playing off of their influences while dealing with the the unknowns of growing up.
Listen: "Surely a Vapor" – RECREATION.
---
According to the band, "'Surely A Vapor' is a thoughtfully playful song about growing up, unmet expectations, insecurities, and the inescapability of being shaped by your environment no matter how original you think you are." Which, coupled with the song's first notes and opening lyrics about going back to bed after waking up solely to check a horoscope, is s description that pretty much nails the song's atmosphere. As carefree as the song seems at first glance, there's an ever-present questioning going on–especially in the song's main refrain:
I'm just an immigrant in this world
And I wanna know just as bad as the next guy
Who dropped the cigarette that started the forest fire?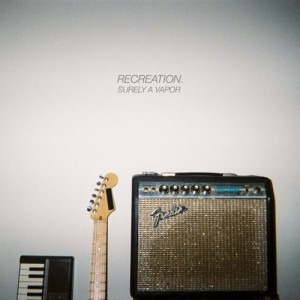 These lines can just as easily be a metaphor for growing up, feeling like an outsider, and realizing that life is always a bit beyond your control as much as they reference to actual forest fires (which, playing off of that entire your-environment-shapes-you bit in the band's description of the song, happen to be part of any Santa Barbaran's worries come autumn). That imagery only serve to reinforce growing pains throughout the song, yet there's a sense that this, too, will pass. As the song's title suggests, there's a playful realization that all the questioning and complacency, as with life, can't last forever, so why not have a little fun with it? Why not hold onto that dream of being an astronaut, believe your horoscope, and sleep in? Growing up doesn't have to be all questioning and feeling like an outsider.
With "Surely a Vapor," RECREATION. touch on the anxieties and insecurities of growing up without letting those stressors get to them. It's a playful testament of being a twenty-something in today's world, and letting go of the pressure to be somebody –an ultimately refreshing sentiment that most of us could use a refresher course in.
– – – –
Connect with RECREATION. on FB, Insta
cover © Cole Erickson