That Brunette rings Valentine's Day weekend in with yet another explosive bop, "Secret Crush," a pop anthem made to dance along to in the thrill and anticipation of new feelings blossoming.

Stream: "Secret Crush" – That Brunette
---
---
Proving to us time and time again how effortlessly versatile she is in her explosive creativity, unapologetic thoughtfulness, and ability to push the boundaries of what irresistible pop tunes could be, Brooklyn based experimental pop artist That Brunette has returned in style: Her latest single "Secret Crush" is a brilliant and buzzing rush of joy and infatuation.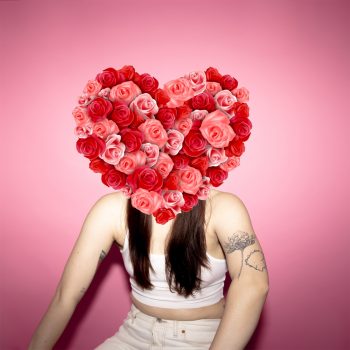 Every other weekend
You're the one I'm feeling
Get me what you're drinking
Wonder what you're thinking
I don't wanna jinx it
Looking for a reason to
Patiently I ease in
Still at the beginning
How can I get you alone ?
You're a rose in my hand
Looking for a reason to
Atwood Magazine is proud to be premiering the song and music video for "Secret Crush," the latest offering from Madeline Mondrala's alt/indie pop moniker, That Brunette. Released independently, this is That Brunette's first 2021 drop to succeed her beautifully layered December release "Platonic" – an ethereal sparkling sea of twinkling bells, shakers, overlapping harmonies, and claps on all the feelings tangled up in friendship that was everything before disappearing. "Secret Crush" is showcases the very best of That Brunette's musicality with a song that is as catchy as it is utterly alluring.
"Secret Crush" captures the essence of one of the most universal feelings out there, capturing the essence of that whirlwind excitement in the whole new world having a crush opens one up to. In racing hearts, the tingling lightness,  elating fever, honest secrecy, hypnotic suspense, pondering over all that could be… That Brunette turns this fundamental experience that's so personal, bubbly, adventurous, and exciting into pop perfection that exudes exactly every aspect of that.
Upbeat percussion drives this song, articulating pounding heart beats and bringing fluttering butterflies to life. Light synths take those rhythms to a twinkling liveliness, where That Brunette daydreams through lyrics of admiration and imagining when she'll see her "Secret Crush" again. Lyrically and sonically, the song comes together as a fun, soaring pop anthem mirroring the effect of one of those surreally perfect, dazzling nights out.
Stay out with you all night long
High till the break of dawn
We can leave the boys at home
Can it be the two of us
Touching the way we want
Cus I got a secret crush on you
Star of all my daydreams
Damn your man is lucky
Angle that I'm facing
You look like a Barbie
Making me feel crazy
Looking for a reason to
"I wrote this song about the girl who turned me on to my own queerness," That Brunette tells Atwood Magazine. "I developed an undeniable secret crush on her which led me to confront my own stifled bisexuality for the first time. I recorded it in the Lower East Side with my producer Mike Spivack. We wanted to make the song sound the way having a crush feels so we opted for bubbly punchy drums, fluttery synths, and dreamy vocal textures. I think the song accurately captures the feeling of longing for something you know you might never get. There's an element of fantasy to it as well. When I listen to this song I feel transported to the time when I was truly head over heels for this girl, and every other weekend held the twinkling potential of finally kissing her. This song is the big shiny bubble of a crush at its maximum capacity right before it bursts and you find yourself back in reality."
And so importantly, there is just an undeniable magnificent beauty in queer joy: To discover parts of ourselves as we grow is only natural, but in more cases than most (mine included), queerness is something that one must find and discover alone.
Sneak off from the party
Kiss you in the hallway
Find a way to let you know
That you're a rose in my hand
I don't need a reason to
Stay out with you all night long
High till the break of dawn
We can leave the boys at home
Can it be the two of us
Touching the way we want
Cus I got a secret crush on you
This cute bouncy bop of having a crush – a catchy and fun love song detailing feelings most everyone on this Earth has had without missing a beat – with an explicit queerness to it is simply magnificent.
Queer people exist in every corner of the world; we always have and always will, and so to be able to see yourself represented through a lens you can just laugh, daydream, and dance to in a world that tends to do too much to suppress that part of your identity is a normalcy that goes beyond refreshing.
Directed and edited by Matthew Speno, the "Secret Crush" music video brings us up-close and personal with That Brunette as she lives her best life against a pink backdrop, radiating the same joy we feel through her song. "Secret Crush" cultivates a sphere of hope that is effortless, sparkling and beautiful. Stream That Brunette's new single and watch her video exclusively on Atwood Magazine!
In the night the stars align
I don't wanna hold too tight
Honey I'd be satisfied
Even if it's just tonight
Even if it's just tonight
Stay out with you all night long
High till the break of dawn
We can leave the boys at home
Can it be the two of us
Touching the way we want
Cus I got a secret crush on you
Stay out with you all night long
Fanning the fire on
Never wanna let this go
Cus I love the two of us
Touching the way we want
And I got a secret crush on you
— —
Stream: "Secret Crush" – That Brunette
— — — —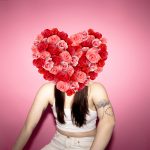 ? © Zeno Pittarelli
:: Stream That Brunette ::
---