Some of the best hip-hop albums are projects wholly (or mostly) produced by one producer that sets the perfect stage for an artist. The Collab Column will look at these albums and what they show us about collaboration in hip-hop and the relationships and art that grow from it.
---
There's the classic saying that a desert either mystifies or terrifies, and Clipse and The Neptunes' Hell Hath No Fury exists in this space, too: It shows how much can be achieved when talented musicians commit to a vibe.
— —
"Fear him, as soon as you hear him / Upon my arrival, the dope dealers cheer him (Got it for cheap)." The first two lines of Clipse's Hell Hath No Fury (2006) encapsulate all they mean to the drug and rap game. They're feared, they're celebrated. They're the sh*t, and they know it. Made up of brothers Pusha-T and No Malice, they're arguably the best rap duo in history not named Outkast, and might be the only artists fully equipped to do a collection of Neptunes beats justice. Their raps consist of cocaine, shit-talking, humor, and more cocaine, and while that might seem like a brief list, they've spent their careers stretching these topics as far as they can go, and to great success.
A lot of how we can group and assess rappers comes from the bars that live on past their albums. It may seem simple to say that you can tell a rapper's elite from the content of their raps, but the broader rankings of the rap world come from what an artist makes their name doing. For Drake that's making Instagram captions you wish you'd thought of, for Common it's poetic analysis of social issues, and for Clipse it's giving out advice over bricks of cocaine. It's similar to the way you can learn from Dali Lama quotes you only halfway understand; the experiences of these brothers speak volumes even to those far removed from trap houses. Besides, learning lessons like self-respect and work ethic are more fun this way. A lot of Clipse's acclaim (and Pusha-T's after No Malice's arrest) comes from the gems they sprinkle throughout their songs; it's the type of music that's bound to create cult-followings at-the-time-of-release and years after.
Stream: 'Hell Hath No Fury' – Clipse
---
Though Virginia is not widely regarded as a hub of great music, it's home to D'Angelo, Missy Elliot, Timabaland, and the two groups behind HHNF: True titans. I would argue there's as much musical ingenuity in this group of artists than any group of five artist you can pull from cities like New York and Los Angeles. But unlike the names from those better-known scenes, those from Virginia had a smaller group of musical people to interact with. Yet might have been to their advantage, as they're each are known for pushing the boundaries of their respective genres. What's unanimous in this group, though, is work ethic (no matter what the frequency of D'Angelo's albums tells you).
In an interview with Red Bull Academy on The Neptunes, No Malice spoke on Pharrell, saying, "He would say things sometimes and I would say to myself that it was too far-fetched. Sky was the limit for him. It was the first time that I witnessed that life was what you made it. I didn't know where he got his drive from, but I paid attention." Diving into the careers of Pharrell, Chad Hugo, and them as The Neptunes shows just how far hip-hop has come and can go. Though they made tremendous artistic strides during the period after producing Clipse's first album Lord Willin', this album shows how quickly they were able to slip back into the rough, choppy beats for HHNF.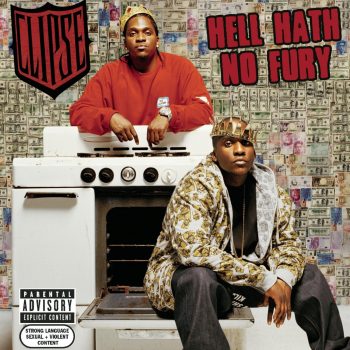 As someone's who's first introduction to Pusha-T came with Daytona, the HHNF­-era was striking. A lot of times when we gravitate to artists, even we have no context for why they're famous; I even went through a whole Pharrell phase before I fully appreciated just how influential Chad Hugo is in his own right. Though Daytona feels lightyears and millions of dollars away from HHNF­, going back in time to this album crystallized why Push is such an important figure in rap.  "I philosophize about Glocks and keys / Niggas call me Young Black Socrates," he raps on "Momma I'm So Sorry". No Malice is a phenomenal rapper in his own right, but witnessing Pusha-T elevate the tricks of his trade to that of the all-time greats is what keeps me returning to the project.
There's the classic saying that a desert either mystifies or terrifies, and (I think) HHNF­ exists in this space, too. A lot of artists get critiqued for committing and dedicating everything to a specific sound, especially in hip-hop. While this is definitely valid sometimes, albums like HHNF show how much can be achieved when really talented musicians commit to a vibe. The first time listening to this project was an almost jarring experience. You're thrust into this space where dark acts are carried out happily with flows that could only fit snugly on a Neptunes beat. "We Got It For a Cheap" is almost a syllabus for the rest of the album: everything is serious while nothing is, everything is the truth even if they stretch it. Some artists recycle a sound for an hour or so, but HHNF is almost the equivalent of a bottle movie. Though you're in this space the whole forty-eight minutes, the two groups extract every angle of what molded and emboldened Clipse as brothers as business partners. There's the grueling reality of the situation, and then there's how they actually discuss it, with a sort of sincere flippancy that you can only have if you've seen the top.
Conversations about Clipse are very different from normal music conversations. Between their subject matter, the affiliation with The Neptunes, the arrest of No Malice, and what Pusha-T has done since, they are these sort of immortal what-ifs that still kind of have an answer. Though we know exactly what Clipse is about and the type of music the excel at making, you can't help but think what a career without controversy could have brought them. There a lot of different categories of drug rap (each one somewhat mimicking the drug they're selling), but Clipse sort of exists as this omnipotent figure to the side. Names like Snoop, Jay-Z, Future, etc. are probably higher than them in terms of rap's all-time ranking, but something about the grit and lack of glamour captured on HHNF feels uniquely connected to reality in the way those other artists don't seem to touch on as consistently. It's hard to even fathom how such a glut of musical talent was concentrated in Virginia during that period; but, like D'Angelo, Clipse capture a different sort of feeling with their music: A sort of anxiousness only made better by knowing those days are behind you.
— —
— — — —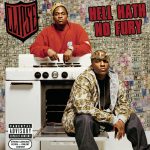 ? © Clipse
Hell Hath No Fury
an album by Clipse (and The Neptunes)
---