ToBy pours his heart out on his debut album 'L'esprit', an intimate and vulnerable multidimensional triumph full of jaw-dropping passion and heart-pounding emotion.
Stream: "Are We Ridin" – ToBy
---
Los Angeles-based multi-hyphenate ToBy has already stood out from his peers as a trailblazing, innovative, and genre-defiant artist. As an indie rapper, his releases over the past four-plus years have run the gamut in style, sound, and substance; his witty lyrics relay compelling stories, while his vocal performances – some singing, some rapping, others somewhere in-between – flood the ears full of jaw-dropping, heart-pounding emotion.
ToBy's debut album brings these many talents together, asserting what many have long known about the Miami-born "rapper/actor/writer": Whether he's spitting a hard-hitting verse over edgy trap production, singing a hypnotic psychedelic rock song, or surrendering himself to bittersweet melancholia in an electro-R&B ballad, L'esprit stirs and stuns with passion, purpose, and feverish feeling. He pours his heart out in an intimate and vulnerable multidimensional record that longs for release, recognition, and ultimately, understanding.
Released October 15, 2021 via Magnetic Moon Records, the majestic L'esprit arrives this fall as ToBy's long-awaited, triumphant full-length debut. A heavy-hearted "masterpiece" (Play Too Much) already receiving praise for its seamless, subversive blend of sounds and stirring feelings (Ones to Watch, Grimy Goods), L'esprit is both a powerful personal statement as well a poignant tribute from multimodal artist ToBy.
The musical moniker for Reggie Baril has long been an outlet for experimental creative expression for the artist, who cites artists like Mos Def and Childish Gambino as having an impact on his art, style, and delivery. Since debuting with the song "Trader Joe's" in 2017, Baril has worked with an extensive array of producers as he developed himself, and his two long-form releases ToBy Season, Vol. 1 and ToBySeason: Genesis speak to this ever-present explorations of sound, genre, and the flexibility of the English language.
In featuring his 2020 EP The Outside, Atwood Magazine praised ToBy for delving deep into himself and his surroundings on (another) genre-defiant record full of space, nuance, nostalgia, and self-awareness: "Past and present collide in songs full of warmth and reflection, perseverance and patience… The artist's latest EP feels like a breath of fresh air, and it stands out for its willingness to go against current trends in hip-hop and rap's mainstream."
L'esprit is without a doubt its own self-contained work, yet it also makes sense as the logical musical follow-up to The Outside. Empowered and self-aware, ToBy's performance mixes empathy with hearty self-expression as together, he and his collaborators foster a safe space for vulnerability and honesty. Whether he's working through the stinging pain of grief caused by his grandmother's loss, discovering something new about himself, or reconciling deep-seated insecurities, L'esprit puts everything out there for all to see, hear, and feel.
"The story behind this record is both pretty simple and pretty complicated," ToBy tells Atwood Magazine. "I had never written an album before; I tended to focus my energies on small EPs and mixtapes (because) I liked their brevity and executability. When I had linked up with (record label) Magnetic Moon, the one thing they were interested in was an album from me so I decided it needed to get done, but it had to get done in a way that felt organic to me. So that meant really challenging myself as a creative, but also finding the bravery to put more of myself out there than I had in the past. I had tracks that I made when I first moved to LA in 2017-2018 that I didn't have plans for, and after listening to them again I realized that they all had elements I could use to weave a story about myself."
"Then 2019 came around and I went home for the holidays where my mother sat myself and my siblings down to tell us that our grandma had been diagnosed with ovarian cancer. My entire perspective on what this album was going to be changed in an instant. Growing up, she raised myself, my sister, and my brother while both of my parents worked, so she was a huge part of our lives. When I got old enough to drive, I returned the favor by driving her everywhere she needed to go. We'd spend whole days going to her appointments together and talking. I loved her so much and she was one of the few people in my family when I first pursued music who supported me and was proud of it. My grandma and I would always sit out in the backyard, sip coffee, and talk, so after I found out about her health I decided to record one of our conversations. It was really just her talking and imparting blessings, advice, and wisdom to me for 6 minutes. That's when I realized that for my whole life, she had been there – pointing and guiding the way as best as she could, even when I didn't listen or hit my lowest points. I knew that the album had to be a testament to that, so the voice recordings interlaid throughout are a reimagining of that experience for me, in the hopes that maybe it touches someone else who needs it and doesn't like themselves very much."
"[Basically,] when I found out about my grandmother's health I did a 180 degree pivot, and instead chose to tell a story (my story) in a way that both honored her memory, but also encapsulated my life and artistry organically and truthfully. I'm a storyteller at heart, and one of my favorite albums of all time is Because The Internet by Childish Gambino, so I put myself in the shows of my own version of "The Boy" from that album narrative and said what I knew."
L'Esprit is French for "The Spirit." It's supposed to have many meanings, but "The Spirit" literally would mean the spirit of someone who has passed. What was really hard about this album is that I named it before my Grandma passed away. A lot of it was coming together while my Grandma's health declined from the cancer, so it was a way for me to anticipate the inevitable.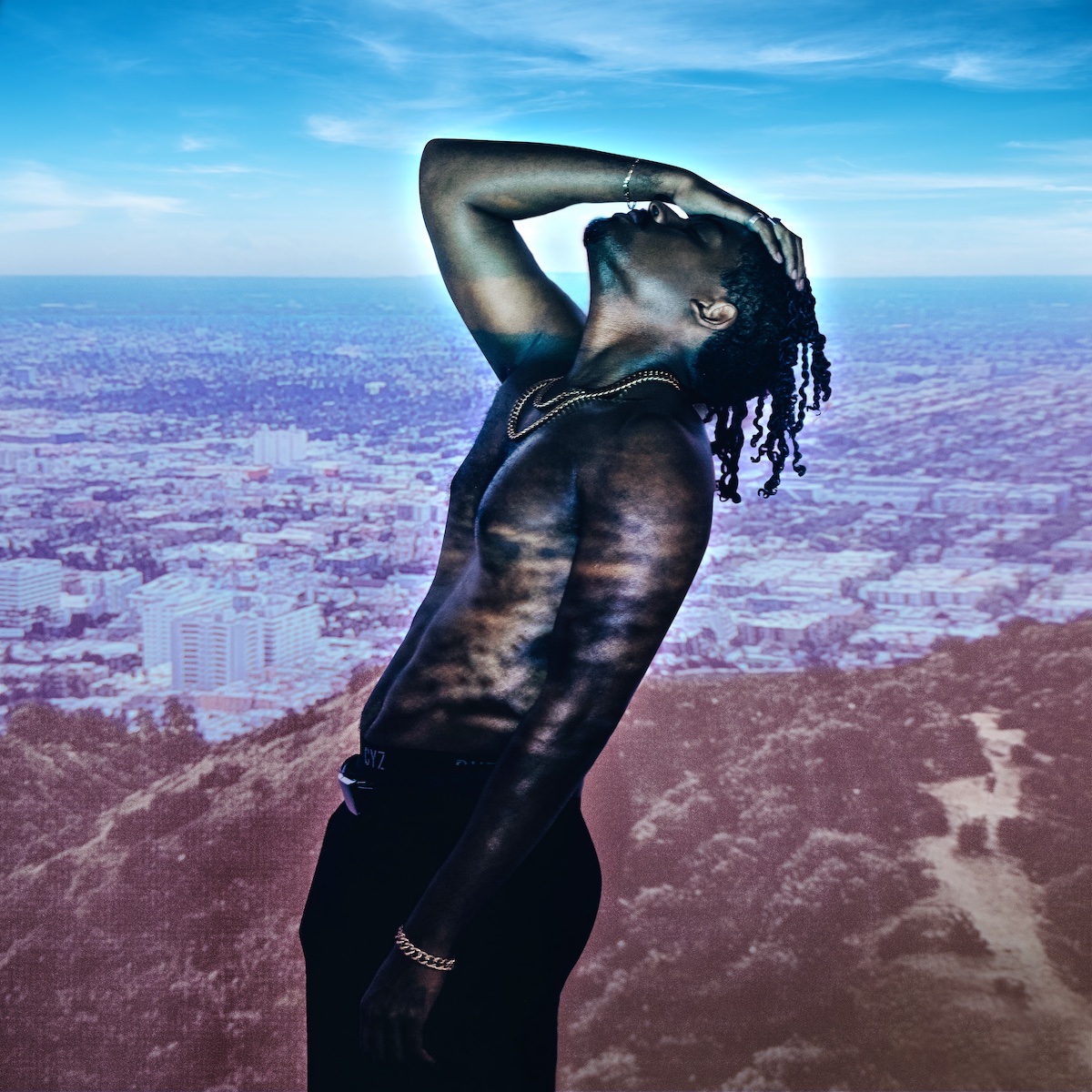 You don't need to familiar with ToBy's prior work to get hooked by L'esprit: The album does it for you. "I think it introduces me pretty accurately," ToBy muses. "I'm not really a genre artist; I've said in the past that I'm influenced by many styles of music, so paying homage to those different sonic landscapes was really important to me. You've got indie rock, pop, funk and R&B, lo-fi, early Soundcloud hip hop/emo trap, and a bunch of other stuff all swirling together on the same project and it kind of mirrors myself as a multimedia artist (writer/actor/stand-up)."
From start to finish, L'esprit is an immersive, intense journey.
The gripping opener "Let It Go – Winter" sets the tone with a voice recording of ToBy's grandmother fading into a cool, unforgiving outpouring of raw energy and slick raps that (eventually) subsides into a moody, emotional, and softly sung reverie. It's a lot to take in over just three and a half minutes' time, but it's a testament to ToBy's talents that the cathartic song flows fluidly and hits all the right spots. Remarkably, it's just the beginning of what becomes an intrinsically diverse and impressively cohesive adventure through ToBy's identity, exposing the fabric of his very being.
---
I sequenced [my songs] in an order to tell a story that loosely mirrored my own experience with relationships, anxiety, and depression, and I used [my grandma's] recording to narrate that journey. There's a narrative through-line through the record, and she is the guide, so-to-speak, for the listener – kind of like how she was mine in real life.
Highlights abound, from the album's unrelenting lead single "Are We Ridin" to the visceral psychedelia-laced indie rock of second track "Boyfriend" and the unapologetic roar of "2FUKKINCOCKY."
"I think all of 2FUKKINCOCKY is just such a whiplash moment on the record," ToBy says, citing some of his own favorite moments throughout this multifaceted and endlessly enthralling record. "It stands in stark contrast to everything that's going on, and is pure chaos and cacophony. I think the last grunge rock hook on 'Boyfriend' is really beautiful and discordant to the rest of the song. My grandma's interlude at the end of 'Similar Road' over the pianos is from a part in our conversation where she's asking me if I'm happy with her, and eerily describes that "she's passed her time on this earth" and that she's so grateful to have known me; it makes me think that she was aware of her time coming and wanted to tell me first before things got really bad. The lyrics on 'Ghost' were written before I found out about the diagnosis, and in the last hook I say, "This cancer eating me alive," which used to be more metaphorical and turned out being much closer to home. I think the synth stabs that introduce the piano on the second half of 'Sinners' reminds me of a heartbeat slowing down. I love the horns on 'Want Me to Do' – they were performed by my high school band teacher Keith Cooper, whom I greatly admired when I studied under him, and was one of the first people to see me start rapping. [My] favorite songs in no particular order are 'Similar Road,' 'Ghost,' '2FUKKINCOCKY,' 'Boyfriend,' '40 Miles,' & 'Sinners.'"
As a lyricist, ToBy goes on to share some of his favorite lines on L'esprit:
"No G-Shock, we the men that you watch (Watchmen) in a suit for the opps, blue skin blue skin get it in like Yeah Yeah (Yahya)" – Sinners
Crease on your brow furrowed, I'm too thorough. Transcend civil disobedience like I'm Theroux" – Sinners
"My bitch so bad she get sent to the principal" – Are We Ridin
"This free time got me inside of a weak mind and I see now it was all lies that I told myself just to moonwalk out of a situation." – Day by Day
"Almost fell asleep until I realized I had the wheel and that I left the keys in" 40 Miles
---
Allowing himself to wear his heart on his sleeve and sing from the depths of his soul worked out fully in ToBy's favor: L'esprit proves to be a stunning, richly expressive, colorful, and cathartic album through and through. It's beautiful tribute to a figure who so deeply defined the man he has become, and a bold recognition of his own continuous path of self-discovery, growth, and learning.
"I hope people feel a little less alone listening to the album," ToBy shares. "At the end of the day I want this project to represent a relatability and vulnerability that I had during this time in my life, and provide a sense of catharsis for people who may find it hard to express themselves, grieve, grow, and live."
"I believe in unity through specificity; by sharing our unique nuanced specific experiences we stand to become much closer to one another because we are not as different as we want to believe. The more specific we can get with our lives and our stories, the more it will resonate with a community because all of our lives are pretty specific… I hope people take away that they are not super alone in this world. I hope that by hearing my story and hearing me bare out my soul, as this is the most personal music I have ever made and I have never injected this much of my real life in my music before, people take away that the enormity of life is so grand and so vast and so much that the most we can do is experience it to its fullest; all the good, all the bad, and all the in-between."
Experience the full record via our below stream, and peek inside ToBy's vulnerable, raw, and hopeful L'esprit with Atwood Magazine as the artist goes track-by-track through the music and lyrics of his debut album!
— —
Stream: 'L'esprit' – ToBy
:: Inside L'esprit ::
— —
Let It Go – Winter
This might be the oldest song on the project by a few years, I got the beat from a Soundcloud producer named Mateo around the time I first moved to LA in 2017 and just wrote to it while I was stuck in my room with no car or anything to leave the house. I was writing a lot those days, 4 or 5 tracks a day sometimes and I was really focused on trying to improve my lyrical prowess as a rapper and also inject meaning and message to my writing. The latter half, Winter, is actually the first song I ever wrote on guitar and recorded in my room without a studio or anything just my really bare bones mic and interface setup. The song is really raw for me because I was feeling down on myself for leaving Miami and missing out on time I could be spending with my family, especially with my grandma knowing I didn't have much left. During the post production for the album I wanted to set this song up to be more of an introduction to not just the album but the narrative structure of it as well with my grandmothers voice guiding the listener through it with her message. I love Frank Ocean's Blonde and SZA's CTRL albums so much and I think the way they included recordings and lessons from their own family members was really personal and creative so I wanted to emulate that in my own way. I think giving the listener a sense of how my grandma and I would talk (the conversation is completely candid, she would speak to me in long inspirational monologues and ask me whether I wanted to speak Kreyol, French, or English) was the best way to describe how I was raised and also set up some of the more dark parts of the album.
Boyfriend
"boyfriend" is an ode to the fuckboy mentality of semi-dating a girl for months (even years) but actively denying a committed relationship status. The track was produced by my best friends smle and has a special place in my heart. I'm a big fan of alternative and indie rock but growing up I never felt like I could be that type of singer so this song definitely feels like an accomplishment for teenage Reggie. I had to throw a kingdom hearts line in there because I love those games. In regards to the album narrative it places you kind of in the middle of the story a bit, where I had just gotten out of a bad breakup and im "spending alone time together" with a new girl but constantly having to remind her that I'm not the one she's going to end up with.
Day by Day
The reference track for this song was actually "Lucid Dreams" by Juice Wrld. I recorded it in 2018 during a session with my best friends Ruben and Lewis, the producer duo smle. Making music back then was loose and free we were just making what we thought sounded cool, I didn't know it at the time but I was really purging stuff in my lyrics. The clip in the beginning was from this DV camera I used to take with me everywhere in college, I was just sitting in the car filming a hang with all my homies and I started singing "who got love you If you don't love yourself". In the narrative I planned out for the sequencing, this would be the moment after breaking a girls heart where I'm being down on myself and trapped by all my negative thoughts. I think a lot of my anxiety and stuff I was avoiding was leaking out into my music. The song is really about just taking life as it comes, I really like the saying "its a bad day, not a bad life." The piano at the end was recorded on my iPhone at my parents house in Miami. My grandma would always walk around the house back in the day and comment on my playing, sometimes she would sing along. She really made me feel like I was special and told me every chance she got.
2FUKKINCOCKY
This is the whiplash moment on the album that splits it in half sonically. This is the binge before the purge in the rollercoaster of emotions I go through on the project. My homegirl in the beginning actually said that to me on FaceTime and I had my DV camera on back in college. There's a lot of my real life in this album which makes me really connected to these messages, its stuff I lived and experienced. The beats were made by my good friend YOUCANDOITNIKI who I met in acting school in Miami. We would drive around and blast Ski Mask the Slump God, Denzel Curry, and a bunch of early Soundcloud trap artists everywhere so when he hit me with a beat pack I picked these two out and wanted to snap as hard as they did. My friend Emiko came in to record the Japanese vocals in the bridge and Seann Bowe helped direct the performance on that. The energy and bravado is high on this track but its meant to be a statement about posturing and insecurity. I think the loudest people tend to be the least confident usually, so this track serves to put a big guard up.
Want Me to Do
I originally wanted this song to be a ballad with only guitar but smle came through and added the beat and pads after. The horns were done by my high school band teacher Keith Cooper who played in a dope hip hop band called ArtOfficial. When I started rapping in 2011 I would show him like really rough demos and perform songs in class because I thought what he was doing with that band was super cool and I wanted his stamp of approval. 10 years later he ended up lending his skills to my album so that full circle was awesome. The song itself is a stream of conscious introspective freeform poetry flow like Earl Sweatshirt, Mavi, and Mach-Hommy who I think are this generations most prolific hip hop poets. I spend a lot of time in my head, my first ever artistic endeavor was a poem about flowers I wrote in kindergarten so drawing from that personal history with writing I feel most comfortable when I can just speak over a beat. Where it fits in the narrative of the album is as my inner thoughts during 2FUKKINCOCKY, the lyrics are about feeling powerless and destined to be a fuck up.
Remind Me
This track was recorded with Datakrash while I was living at his house after moving to LA. It's heavily inspired by "Redbone" by Childish Gambino, who's my favorite artist. The track is about finding a girl I just really liked having sex with. Its not like a love song or romantic by any means it was more so just like coping with life and escaping from myself through sex. The structure of the song is even intentionally slow in the beginning and builds in pace till the end where it switches up and turns into a party. The narrative here follows me seeking fulfillment in relationships that don't provide such but still distract me from working on myself.
Sinners
This one was recorded during a series of sessions in Van Nuys with Seann Bowe, a talented producer and songwriter and one of my best friends. The reference track for it was "Politics and Violence" by Dominic Fike who I've been really into lately, both of us being from Florida and having an appreciation for rock music. I'm not religious but my grandma had a devout faith to God and Jesus so I wanted to play with the idea of myself as the sinner on a road to redemption in my album. There are nods to Dr. Manhattan from Watchmen and the actor who plays him in the HBO show Yahya Abdul Mateen II. This is another introspective dip in the ebbing and flowing between vice binging and self actualizing purging on the album.
Ghost
"Ghost" was recorded in the same series of sessions as "Are We Ridin", "Let it Go", and "Day by Day". Its my favorite song on the album. I love acoustic guitars and heavy 808's and when they work well together its like a happy marriage. This song kind of scares me a bit because the lyric "This cancer eating me alive" was supposed to just be about anxiety when I originally wrote it in 2017 but when everything happened with my grandma it took a whole different meaning.
Are We Ridin
This track is the final insecure outcry and serves as the climax of the albums narrative. The lines are all braggadocios and poser but they serve as the last molting phase of my character, as I throw it all on the table and shed the remnants of that person. Mateo produced this one and was a huge support during the album process, he's an underground talent that I think deserves a ton of shine because without him this album wouldn't be what it is.
Similar Road
I have a hard time listening to this song. It was one of the first songs I wrote on guitar (along with Winter). It was just me and my really bare bones home recording system just throwing my voice out. I wrote it to be somewhat reassuring to myself, sort of like advice I wish someone would or could have given me. What my grandma says at the end is really scary too, she's basically asking me if I was happy with her (I think she meant the conversation but something feels like she meant it generally). She goes on to say that she's glad she got to know me and watch me grow and having me in her life was a blessing. She finishes by saying she's lived her life and there's no time left for her (mind you this is nearly a year before she ended up leaving us) so it's almost like she knew what was going to happen and she was giving me all of the love and appreciation she could before things took a turn. I still have a hard time listening to this song.
40 Miles
This song is an homage to all the lofi hiphop I listened to that made me want to become a rapper. I liked the idea of making a melancholy song that was beautiful in its sadness. Its the finale of the album and finds me years later after the events of the narrative still healing and growing, but not romanticizing it. I think the road to recovery gets glorified all too often, its a tough process to change even if its for the better. The beat was made by a super team of producers (Seann Bowe, Ruben Cardenas & Lewie Martinee of smle, and composer Andre Correa)  who came together to form the group as is.  I got to hear an early version of it back in the day and they were great enough to let me use it for the album. The final interlude by my grandma is her giving her explanation of the concept of "l'esprit". She says that the journey of our lives follows a pattern of descension to earth, observation of life, and a homecoming to the sky/heaven where we came from.
— —
— — — —
? © Maxine Bowen
:: Stream ToBy ::
---
---