On their debut album 'MID AIR', Paris Texas create a project indicative of their present and future as a duo, delivering songs and statement pieces alike.
Stream: 'MID AIR' – Paris Texas
---
The rumbling along the underbelly of Paris Texas' MID AIR: The tire on the cover prepares you for the lining of static and feedback that typifies the energy of their latest project, a newly honed energy, one that finally feels like their first album.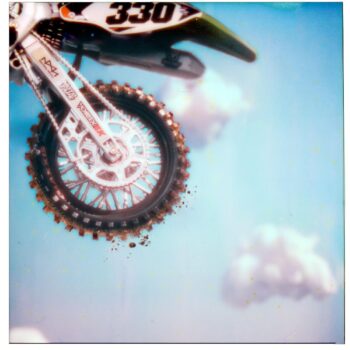 Released July 21, 2023, MID AIR set a framework around the chaotic energy of 2020's project BOY ANONYMOUS, sharpening its sense of fun, purpose, and vindication through the eye of a bottle. This leads to bouncier bass drums and a continuation of their mastery navigating vocal spaces around guitars in hip-hop. The duo of Louie Pastel and Felix, the former a producer-rapper and the latter a rapper's rapper, crafted both records through a partnership that feels like one built off of bands past.
But as is noted in their interview with Esquire, "Whatever you do, don't call Paris Texas rap-rock. "If that's your only focus point of who we are," Louie says, "Well you're dumb as shit. I'll die on that hill."
But the joining of producers and rappers has been integral to the history of hip-hop, and the sound Paris Texas worked through and exacted seems like it could only be the product of two minds.
The fifth song of MID AIR, "Closed Caption," shows this mesh in full strength. Louie Pastel's voice drips in a pitch down, oracle-like tone to set up a Felix verse emblematic of the blues and hip-hop alike; then we see their sound expand into euphoric trumpets, products of a bliss that could only come from an extreme groove in creativity.
---
It's these moments which typify MID AIR, an offering that breaks from the standard song structure of BOY ANONYMOUS. The upshift in style, while staying true to the connection that makes the Louie and Felix partnership unique, shows Paris Texas have the legs to do much more with each other and solo. They are artists who have found a distinct connection between two disparate worlds, occupying the space between with their own stroke of originality. Hooks are tough and verses flow.
The transition from "Closed Caption" to "BULLET MAN" and "NüWhip" is where the musicianship of the two develop to their truest sense yet. The songs mix their voices in a gumbo with too many tastes to distinguish form the whole. It's a pressure-cooker, 21st century album that shows how far music has and can progress.
---
It's a pressure-cooker, 21st Century album that shows how far music has and can progress.
It doesn't mean it's without reservations, though. Still, those are all centered on how this "first album" leads to the next and the next. They take interview questions like artists and have a release pacing that promises resolution to any questions of how they'll slow that sound down with age and find even more grooves within their connection.
It goes without saying that rock benefitted from the lack of technology available to the general public when it came to music. It was almost monopolized, but the newer generations of software downloads and online instruments allow for more people than ever to try their hand at what could be "their thing." Rock doesn't have the same ideology, but it still possesses this ability to run a grooved comb through your hair and identify a love still true to music's past.
Again, Paris Texas is not rock rap, rap rock, etc., but they have a spirit that rock artists, duos, and bands have struggled to consistently find like they did in the 20th Century.
MID AIR is a startling and calming reminder of the great musicianship that continues to exist and grow within our culture and cultures. We are finding new ways of creating, and Paris Texas is a prime example of how great the great collision of globalization can be good for some. It can connect you between continents, connect you to generations, even if that was never your intent.
— —
Stream: "PANIC!!!" – Paris Texas
— — — —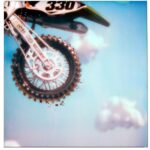 © Saru Hagher
:: Stream Paris Texas ::
---