The Coronas' Danny O'Reilly dives into the hope at the heart of the band's 7th album 'TIME STOPPED,' a beacon of radiant light and heartfelt emotion stemming from one of the darkest periods in living history.
Stream: 'TIME STOPPED' – The Coronas
---
Honestly, a big feeling for us when the pandemic hit was gratitude.
Some of us got angry, some got sad, still others fearful and wary of an uncertain future. The COVID-19 pandemic and its accompanying lockdowns forced every last one of us into our own siloed corners of the universe, sequestered to homes where we by and large relied on little blue screens to keep us connected not only to our loved ones, but also to the world at large. Danny O'Reilly felt many of these same feelings when time stopped, but more than anything, he felt grateful – for his family and close friends; for his career; for his outlets; and for his immediate surroundings – and it's out of this headspace that he and his bandmates wrote their most uplifting, hopeful, and outright energizing album to date.
Would you mind if I stayed for a while?
Is it safe for us?
Still afraid to touch
Is it so wrong that I'm glad to be here?
Waking up, the world's still messed up
And time stops
And almost everything 'til now
Didn't mean an awful lot
Seriously, what the f—?
'Cause I'm not too sure of anything
Except you cheer me up
And I don't tell you enough
Released in early October via their own SoFarSoGood Records imprint, The Coronas' seventh album TIME STOPPED is a beacon of radiant light and heartfelt emotion stemming from one of the darkest periods in living history. It's a record of love and reflection; of compassion and support; of intimate celebrations of the little everyday moments of connection and togetherness that we all, collectively, learned to cherish the hard way.
It's also a massive, undeniable triumph for The Coronas, who have spent the past two decades cutting their teeth in the studio and on the road, and have slowly emerged as one of Ireland's most exciting, if not still vastly under-appreciated, rock bands of the 21st Century. Atwood Magazine previously praised 2020's sixth album True Love Waits for its hearty dose of stadium-sized anthems and arena-ready power-ballads, calling it "an intimate outpouring of emotionally-charged rock full of depth, nuance, and unrelenting energy":
True Love Waits radiates with the strength and sensational energy of the stage – and while it's a cruel irony that these songs can't be felt in their rightful setting at the moment, they've been presented on record with such passion and visceral power to make us feel like we're right there with The Coronas all along… O'Reilly finds inspiration in everything from disconnection and isolation, to self-growth and spiritual guidance. He spares no expense in making his lyrics both vivid and evocative – thus as with so many great albums, we end up coming for the music and staying for the stories.
If you had spoken to Danny O'Reilly in 2019, 2020 was set to be The Coronas' "year." The band were set to embark on a massive North American tour, and True Love Waits was to be their big breakout record. As it stands, The Coronas' past three albums have all debuted at #1 on the Irish album charts – solidifying their successes at home – and the band is continuously growing their global audience as well.
The pandemic that came and killed The Coronas' SEO score – and made them famous for all the wrong reasons – turned out to be a tremendous source of inspiration for their seventh album.
"The overriding feeling on the album was that even though the world was turned upside down, that we felt lucky to be safe with loved ones," Danny O'Reilly tells Atwood Magazine. "The pandemic brought what's really important into focus for us. We're just so grateful to be out the other side of it now, with the learnings and perspective we've gained from it."
This sentiment can be heard throughout O'Reilly's writing, as he sings in the album's titular closing track: "Time stopped, and almost everything 'til now didn't mean an awful lot." Addressing the pandemic head on, TIME STOPPED dwells not in anger or isolation, but in hope. Its eleven tracks share a lot of those same emotional and sonic characteristics that made True Love Waits resonate so deeply with listeners all over the globe – they are all unapologetic, intense, charming, and churning – but that infectious, heart-on-sleeve optimism sets The Coronas' latest record apart from its peers.
---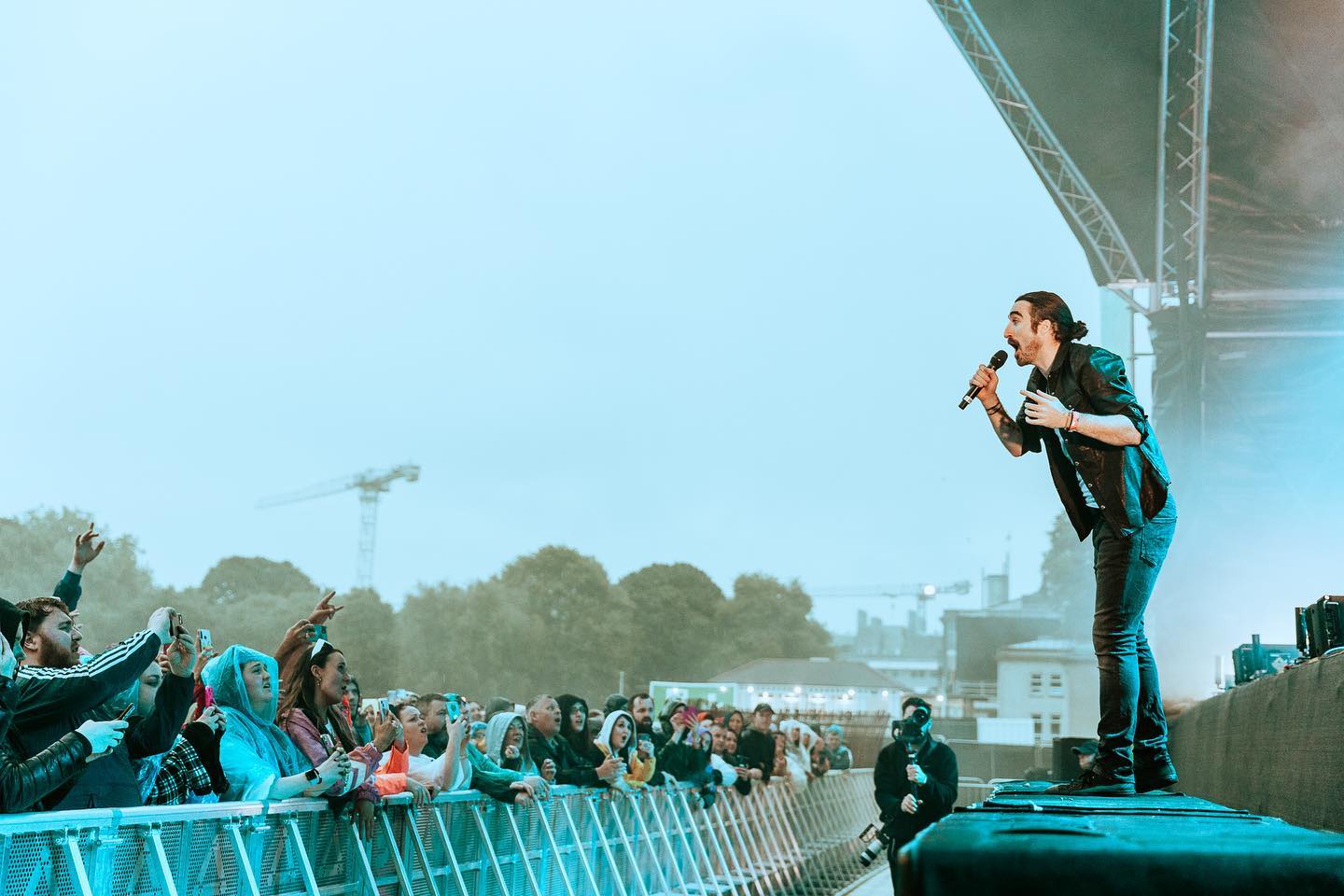 Highlights abound throughout TIME STOPPED's forty-minute run – from the glistening, possibility-fueled "Write Your Own Soundtrack" to the ethereal, endearing "Blessed to Call You My Own" and the glitchy, volcanic finale "Time Stopped." Of particular note is last summer's anthemic "Don't You Say You're In Love," a cinematic outpouring of intimacy and uncertainty that hangs heavy with the weight of words unspoken:
Well I suppose I want you to know
I can't take it, no I just can't take it alone
Something doesn't feel right
'Cause when we joke, you keep a straight face
Are you pretending? No you don't give nothing away
I'm waiting for the punch line
Something doesn't feel right
So when you said not to worry
Why did it sound like you're in a hurry?
Is this what we really wanted
Or are we done being honest?
So don't you say you're in love
It's a bold, beautiful, heart-wrenching upheaval – a sort of soundtrack to the cracks, faults, and breaks in a partnership going south. Best of all, though, this song is irresistibly catchy: Sad though its story may be, The Coronas invite us to join in and sing at the top of our lungs. And they do so with the unyielding belief that even though things are bad right now, it will all be alright in the end.
"When everything is suddenly upside down, relationships and our place in the world are given a new perspective," O'Reilly says with a smile. "Even though it came together in an uncertain time, TIME STOPPED is a positive album about togetherness and support."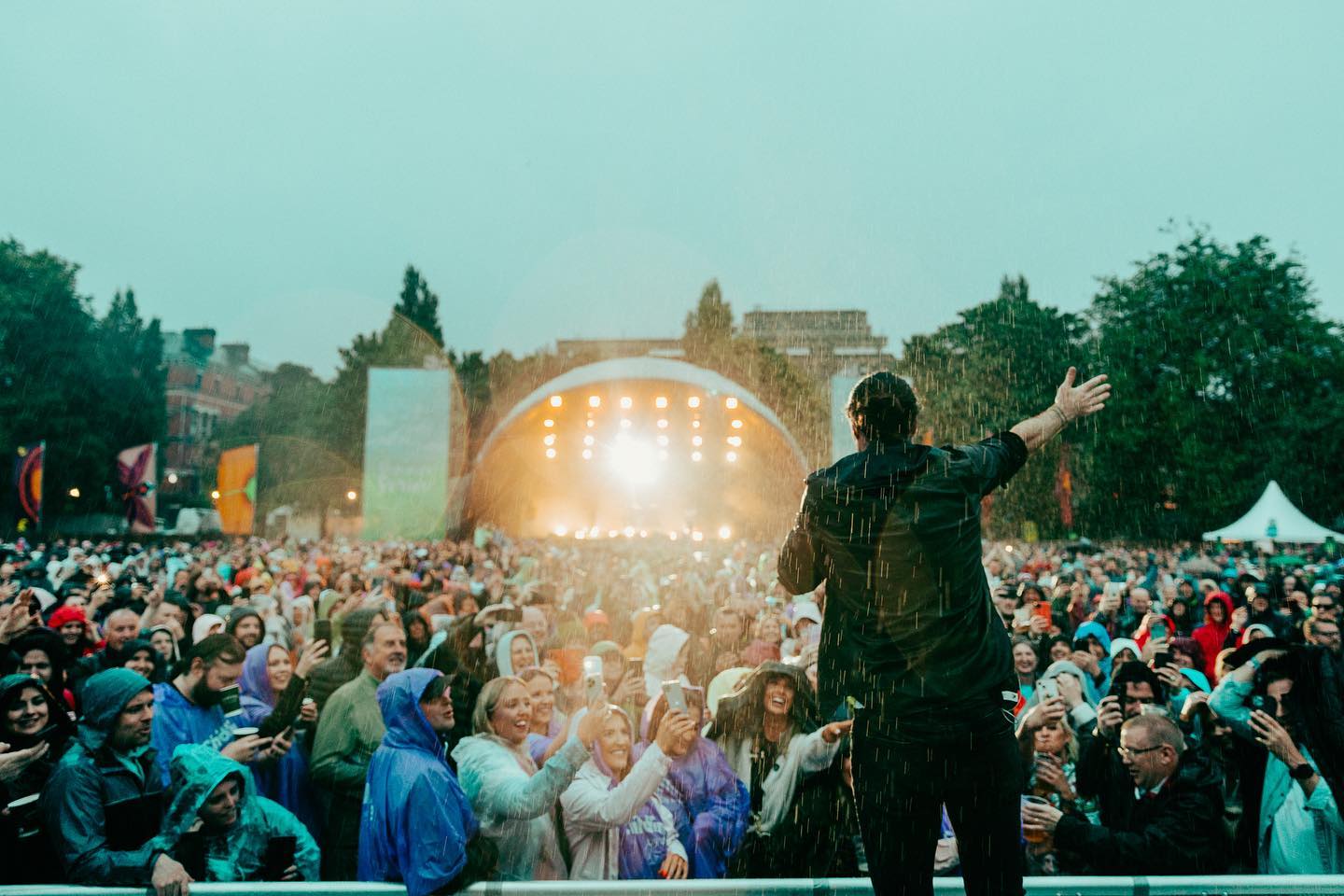 As sincere as ever, The Coronas continue to be a symbol for resilience, connection, and owning our truths.
The band finally did head out on their long-sidelined world tour, and in October and November of 2022 they brought the songs from their latest two albums to audiences all across Europe and North America for the very first time.
The reception to the new material has been overwhelmingly positive so far, and while he's already got his sights set on album eight, O'Reilly is just as happy to be back onstage properly for the first time in years. "I hope people like it," he says. "That's it… We just try to write honest songs that we like."
If you're looking for a special spark of honesty, gratitude, and optimism in your everyday, look no further than TIME STOPPED. Dive deeper into The Coronas' most ambitious and inspiring album to date in our interview below.
— —
Stream: "Don't You Say You're in Love" – The Coronas
A CONVERSATION WITH THE CORONAS
Atwood Magazine: First and foremost, welcome back guys! Can you share a little about the story behind this record?
Danny O'Reilly: The album was written during the lockdowns in late 2021, but I wouldn't call it a lockdown album. The songs are personal snapshots of what was going on in our lives, and most of them make reference to the pandemic in some small way without being directly about it. It's an honest record, filled with gratitude and optimism, and sonically, it's our most ambitious album yet.
What have the past two years been like for you, between True Love Waits and now?
Danny O'Reilly: Not great! The lockdowns in Ireland were very strict, so the live music industry was still restricted when most other countries had brought live entertainment back. It was tough to see concerts happening overseas while we were still unable to get back gigging. But we persevered, did what we could and wrote an album we're very proud of.
What was your vision going into TIME STOPPED? Did that change over the course of recording its songs?
Danny O'Reilly: We never really had a grand master plan going into the album. We tend to let the songs lead us, wherever they come from and push us to. That attitude has always worked for us. Sonically, there were a couple of songs on our last album that impacted the direction for TIME STOPPED, but it was more of a subconscious natural thing as opposed to a well thought out plan.
Why the title "TIME STOPPED"?
Danny O'Reilly: It seemed like an appropriate song to name the album after. It's the closing song on the record, and even though it references the pandemic and its uncertainties, it's really about being grateful to have someone to go through it with.
You've talked about this album being a positive record of hope, togetherness, and support. Can you share a bit about what inspired these brighter emotions?
Danny O'Reilly: Honestly, a big feeling for us when the pandemic hit was gratitude. We felt lucky to have had the career we have had up until it started, lucky to be able to weather the storm of the uncertainty in our industry and optimistic that when things finally did come back, we would still have a crowd that wanted to come see us. I think if the pandemic had hit when we were starting out as a band, it would have really rattled us more.
I was absolutely shook by "Don't You Say You're in Love" – it hits hard immediately and only proceeds to rise from there. What inspired this song, and what is its significance as the first song on the album?
Danny O'Reilly: As soon as we demo-ed it, everyone felt like it could be an album opener. The intro was written one night when I was struggling to write songs so I thought I'd try imagine I was writing music to a movie that I love, Good Will Hunting. As soon as the intro was completed, I knew the type of song it needed to fall into and it was written pretty quickly. The next morning, I brought a very rough demo of the intro part along with a verse and chorus of the song with gibberish lyrics to Cian McSweeney, a writer/producer friend of mine, and we fleshed the whole thing from there. We added the "or say I misunderstood" section in the studio, a suggestion from our producer George Murphy which I think the song needed.
Meanwhile, the slow-burning indie rocker "Write Our Own Soundtrack" was the first single from the album. This song embraces a certain romance that seems to envelop the whole record. Can you talk about why this song felt like the right "introduction" in that regard, and how it might capture the spirit of TIME STOPPED as a whole?
Danny O'Reilly: Again, an overriding feeling on the album was that even though the world was turned upside down, that we felt lucky to be safe with loved ones. "Soundtrack" was written after watching The Tiger King, but not really watching it. Thematically and sonically, it felt right as the first release, a taste of what was to come.
Do you have any definitive favorites or personal highlights off this record?
Danny O'Reilly: I'm very proud of this album. I like "At Least We'll Always Have LA."  It took a bit of work to get right, but I loved where it ended up. I like "The Best Worrier" too, its lyric and mood.
"Even in the best worst case scenario, at least it's easy to see that I'll rearrange my future days if you spend them with me," you sing in "The Best Worrier." Can you tell me a little more about this song? It feels like a love song, for sure, but it doesn't necessarily feel celebratory – there's much more to this love than meets the eye.
Danny O'Reilly: Again, it's referencing the pandemic – that even if this crazy time doesn't end and the world stays messed up, at least we'll have each other.  It's an honest song about how lucky I am to have songwriting as catharsis and how lucky I feel to be able to talk about my insecurities and worries with someone.
One quality about so many of these songs is a sense of space; I feel as though you allowed moments to build very naturally, like on "Karma" and "Blessed to Call You My Own," rather than making every track fit into a tight 3-4 minute pop song. Was there a conscious effort on your part to add that kind of space?
Danny O'Reilly: Not really a conscious effort.  We're lucky that, as a band, we tend to be on the same page sonically and musically when it comes to arranging the songs. "Blessed…" was born out of a rough low-fi garage band demo I recorded during lockdown, and it didn't really change too much. The band liked its mood and subtle vibe so we tried to keep that essence. "Karma" was much shorter, but we knew going into recording that it needed a middle 8, when we wrote it and felt the moment when the 3rd chorus came back in with the slight change of melody. That's when the song really started to make sense to us.
So we'll live it up
If that's something that we want enough
It's like that song
The Killers one
When You Were Young
And I know you got nervous
They put you on the spot
But then you took the third verse
Yeah, that means a lot
Do you cross your heart and hope to die?
Never understood just what that implied
Make your mistakes
Choose to be kind
Karma's my God
I hope your parents don't mind
The song "Time Stopped" feels like the perfect finale, giving this album the exhilarating closure it deserves. What does this song mean to you, and what does it represent as both the finale AND the album's title track?
Danny O'Reilly: Again, lyrically it's representative of the whole album really – that even though the world is so uncertain, there are a few important things that seem more certain than before – love, friendship, support and gratitude. Sonically, we loved its journey too, the fact that it had an unusual structure. Again lending itself to be an album closer.
"Time stopped, and almost everything 'til now didn't mean an awful lot," you sing in the finale. I can't help but think about the intense introspection I did during the height of the pandemic, and how I ended up reconfiguring my own values. In your mind, is this song a representation of that hard reset and a mental/emotional "reentering" of sorts?
Danny O'Reilly: Absolutely, that's exactly it. The pandemic brought what's really important into focus for us. We're just so grateful to be out the other side of it now, with the learnings and perspective we've gained from it.
As a lyrically forward band/artist, do you have any favorite lyrics in these songs?
Danny O'Reilly: It took me seven albums to say this, but I'm really proud of the lyrics on this album. I like the honesty in "The Best Worrier" and the imagery in "At Least We'll Always Have LA." "Karma is my god, I hope your parents don't mind" is a lyric I like today, but I could hate in a couple of month's time! [laughs]
What do you hope listeners take away from TIME STOPPED? What have The Coronas taken away from creating it and now putting it out?
Danny O'Reilly: I hope people like it. That's it. I hope they enjoy it. We're not the type of band that feel the need to get a particular message or narrative across. We just try to write honest songs that we like. We're still proud of it. Time to start working on the next one now!
— —
Stream: 'TIME STOPPED' – The Coronas
— — — —
? © Lucy Foster
:: Stream The Coronas ::
---