Northern California pop starlet Taylor Grey taps into the new year's feverish energy in her 2020 return "COMPLIC8ED," an effusive electropop embrace of intimate passion, risk, and reward. 
Stream: "COMPLIC8ED" – Taylor Grey
---
January's energy is one of reassessment, renewal, and doubling-down on our values: Committing, like we do at the top of every year, to be the best possible version of ourselves. The gyms and health clubs are packed, happy couples are keeping snug under the covers, and less-than-happy folks are figuring out how to make things right for them. It's a time of high energy and action, and nowhere is that more palpable today than on Taylor Grey's tantalizing new single. The Stanford University pop starlet taps into the new year's feverish energy in "COMPLIC8ED," an effusive electropop embrace of intimate passion, risk, and reward.
You hit me up
Seven texts
Saying you're coming over
You're showing up
drunk again
I've never felt so sober
I've been up all night
Hoping that i would
see you in a different light
Atwood Magazine is proud to be premiering "COMPLIC8ED," written by Taylor Grey and Imad Royal and produced by Royal. Grey's first single since summer 2019's "My Girl" is a bona fide bop, an endorphin-boosting track ready to push you to run that extra mile. The song starts right away with a series of upward-cascading synth hits, on top of which Grey dives right into her not-so-simple romance.
Her silken voice runs smooth and strong, demanding our attention as below it a series of synth swells and drums build to a natural climax:
I know there's no coming back from this
I know I'm just way too curious
It's complicated
Every time, every time we touch I know we're faded
I'm too emotional and I can't change it
But I know when I know
what I want and it's hard to fake it
So Let's make it
Complicated
Every day every day we waste is never wasted
But it's only get deeper and I can't take it
Cause I know when I know what I want and It's hard to fake it
Let's make it complicated
"'COMPLIC8ED' is the response for that all too common of a statement, 'I don't want to make things complicated,' Taylor Grey tells Atwood Magazine. "Sometimes, you DO want to make things complicated, you want to give a forbidden/unknown love a chance. You want to GO for it! I started writing COMPLIC8ED after a weird encounter that happened between me and a friend of mine, who I had a crush on for a while. Initially what inspired my new single was "Stay Awake" by Dean Lewis, I was listening to the song while driving (shortly after the friend encounter) and started humming along with a different melody, then it just clicked and I had to pull over to start writing down the song forming inside my head."
I wish that you
Had someone else
At least that would give me closure
Every night
I'm by myself
Feels like the worst hangover
you've been talking to your friends
Hoping that you could see me in a different light
"COMPLIC8ED" reads as a story of forbidden love, chance encounters, and heart-driven risks; it's a story we can relate to only too well, only this time (we hope) it seems to be working out… for now, at least. The asterisk is always there looming heavily over Grey's touch-and-go romance, and it's something she can neither deny nor escape; in short, it's complicated for the 22-year-old.
Less complicated for the Northern California native is just how well she's fared in the four short years since her music debut. 2019, her last year at Stanford University, also saw Grey's breakout into national and international touring as she played support slots for bands like The Vamps, Why Don't We, and New Hope Club – continuing to build her formidable following in the process. On paper, the artist seems to have dedicated every waking minute of her college life to her music career, and she's the one in a million for whom that work is paying off: 2020 promises to be a year of more releases, more touring, and more Taylor Grey.
Her song may be "COMPLIC8ED," but Taylor Grey's music is an easy, alluring listen.
In a vast landscape of nonsense pop songs that feel manufactured to fit whatever's hip in the moment, Taylor Grey sounds fresh and feels exciting: Her latest release comes in the wake of heartfelt album releases from Halsey and Selena Gomez, each of whom seems to have also found and owned their own voice in an increasingly cluttered, messy arena. Grey, for her part, approaches her music with an electric vivacity; she's loud and unapologetically herself, and audiences couldn't ask for anything more.
Stream "COMPLIC8ED" exclusively on Atwood Magazine! And should you happen to find yourself in a sticky romantic entanglement, take a note from Ms. Grey and lean into the fire: Who knows what might happen, if you only take that leap of faith? It's 2020: Do you!
Taylor Grey's "COMPLIC8ED" music video will release next week, January 27, 2020.
It's complicated
Every time, every time we touch I know we're faded
I'm too emotional and I can't change it
But I know when I know what I want and it's hard to fake it
So Let's make it
Complicated
Every day every day we waste is never wasted
But it's only get deeper and I can't take it
Cause I know when I know what I want and It's hard to fake it
Let's make it complicated
Stream: "COMPLIC8ED" – Taylor Grey
— — — —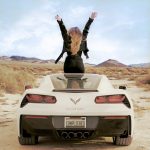 ? © @jennicamaephoto / Jennica Mae Photo
:: Stream Taylor Grey ::
---