In our interview with Meija, we discuss the beginnings of his latest single "Laugh it Off," his adventures into solo musicianship, the way honesty plays into it all, and more.
Listen: "Laugh it Off" – Meija
---
Heavy subject matters typically have a darker mood attached them within music, generally incorporating brooding soundscapes to convey a certain pathos with it. However, when that formula is done away with, new ideas and experiences are created and shared, allowing for new conversations to take place. Meija grabs this sentiment and carries it full-force with his latest single "Laugh it Off," a bustling a vibrant look at the dismissal and borderline acceptance of the hate that surrounds us all, and how it's time to confront it.
From Echosmith to Adam Lambert, Meija's Jamie Sierota is no stranger to the music industry, having done songwriting and producing with the previously mentioned acts along with others. In between those projects, however, Sierota was working on his own material, and now he's ready to showcase it to the world. His last single, "Buttons," was a jaded love song that explored '80s soundscapes and Casio keyboards. Now, with "Laugh it Off," those keys are replaced with vibrant drums machines that carry a lush and explosive melody on this track of confrontation and uncomfortable truths.
Hushed synths open "Laugh it Off" which are then joined with guitar plucks, percussive beats, and whispered "oohs" and "ahhs," giving way for a bright, colorful track that one could easily groove too. And, honestly, that is exactly what the track is. It's bustling, it's energetic, and it's a perfect anthem to lose oneself to. Though not everything that is sunny is all the way pleasant, and the same can be said about "Laugh it Off" when looking at its theme of the hatred bubbling up in our communities.
This dichotomy is the essence of Meija's idea of "something hard to say but easy to listen to." And easy it is, especially with the varied and eclectic instrumentation that involves bongos and glass bottles. As the track progress, nearing the first chorus, those same instruments coalesce with synths, electronics, and drum machines to form this whirling soundscape of intensity that delivers a gorgeous onrush of pulse-pounding beats.
That same intensity is only heightened at the track's end, allowing listeners to fully lose themselves into the melody. Some songs will gently bring people back down, but Meija plans to keep hearts rushing, pumping listeners up to take a hold of the track's message and invigorate themselves into stepping up and confronting the hate in the world. Meija wants listeners to know that we all have a voice, that laughing it off is no longer an option. Now it's time to speak up, and "Laugh it Off" is the perfect anthem for it.
Atwood Magazine was fortunate enough to chat with Meija's Jamie Sierota where we discussed the story behind the track, his build-up to his upcoming EP, and loads more. Get the info in our exclusive interview!
Listen: "Laugh it Off" – Meija
:: A CONVERSATION WITH MEIJA ::
Atwood Magazine: Thanks for taking the time to talk to me, Jamie! To start off, 'Laugh it Off' is absolutely stellar. What did the songwriting process look like for this track?
Meija: Thank you! It was one of those songs that took a long time to fully realize. I first wrote the chorus during the 2016 presidential debates. I was becoming really upset by people using humor and meme culture to spread really hateful ideas under the guise of joking around. It's unfortunately only gotten worse over the past few years and the idea has felt more and more relevant. Musically, I really wanted to try and balance the heavy subject matter with something you wouldn't expect. Has a bit of a summery feel to it so I kind of hope the lyrics catch people off guard.
Your singles so far have been fairly personal, often exploring moments in your life that seem uncomfortable. How do you approach writing these stories, and what compels you for such honesty?
Meija: I feel really strongly that an artist has a responsibility to be truthful. I work a lot with other artists and bands and that's something I always push for. And for me, there are all these experiences that I've had that just feel natural to put into songs. Even if that's me being really frank or uncomfortable. I've never really had a problem with that.
The idea behind the song, 'something hard to say but easy to listen to,' says a lot about the influence and power of music. Have there ever been instances in your life in which the only way you saw a way to handle them was through musical storytelling?
Meija: Yeah, I think people often have their guard down when they're listening to music. I think that goes for a lot of different mediums. I do the same. I'm always drawn to art forms that are or have some type of social commentary, whether that's music, film, or comedy.
Is there any connection with 'Laugh it Off' to 'Buttons' in terms of where the track originated? The later was this jaded love tune and the former about the difficulties of handling awkward situations. Were these shared experiences you had or two different moments in your life?
Meija: The lyrics were written at different times so not much of a shared experience. Though musically, I was working on these songs around the same time so there's definitely a through-line as far as the headspace I was in.
With your last single, 'Buttons,' you incorporated '80s Casio keyboard sounds, and now with 'Laugh it Off,' you're utilizing '80s sounding drum machines. Do you view that decade as a big inspiration for the sound you are aiming for?
Meija: My earliest musical memory is me sitting in the car while my dad was listening to Peter Gabriel. I remember "Mercy Street" coming on and just being blown away as a kid hearing all those layers. For whatever reason, I have a really deep emotional connection to that time in music. Whether it's Paul Simon and Talking Head's use of world rhythms or the synths and drum machines of New Order, it all just really excites me. And that's a big thing I try to balance with this project, the electronic with the organic.
Speaking of inspiration, you utilize a fair amount of instrumentation to create incredible, bustling sounds. What musical acts have influenced you and who do you look to in terms of finding inspiration for your music?
Meija: Yeah, besides all the 80's artists I mentioned earlier, I've also been really into Fela Kuti the past 2 years. The blend of instruments he would use is really amazing, especially for that time. I love putting sounds together that you wouldn't expect together. So I'm really drawn to artists that layer a lot.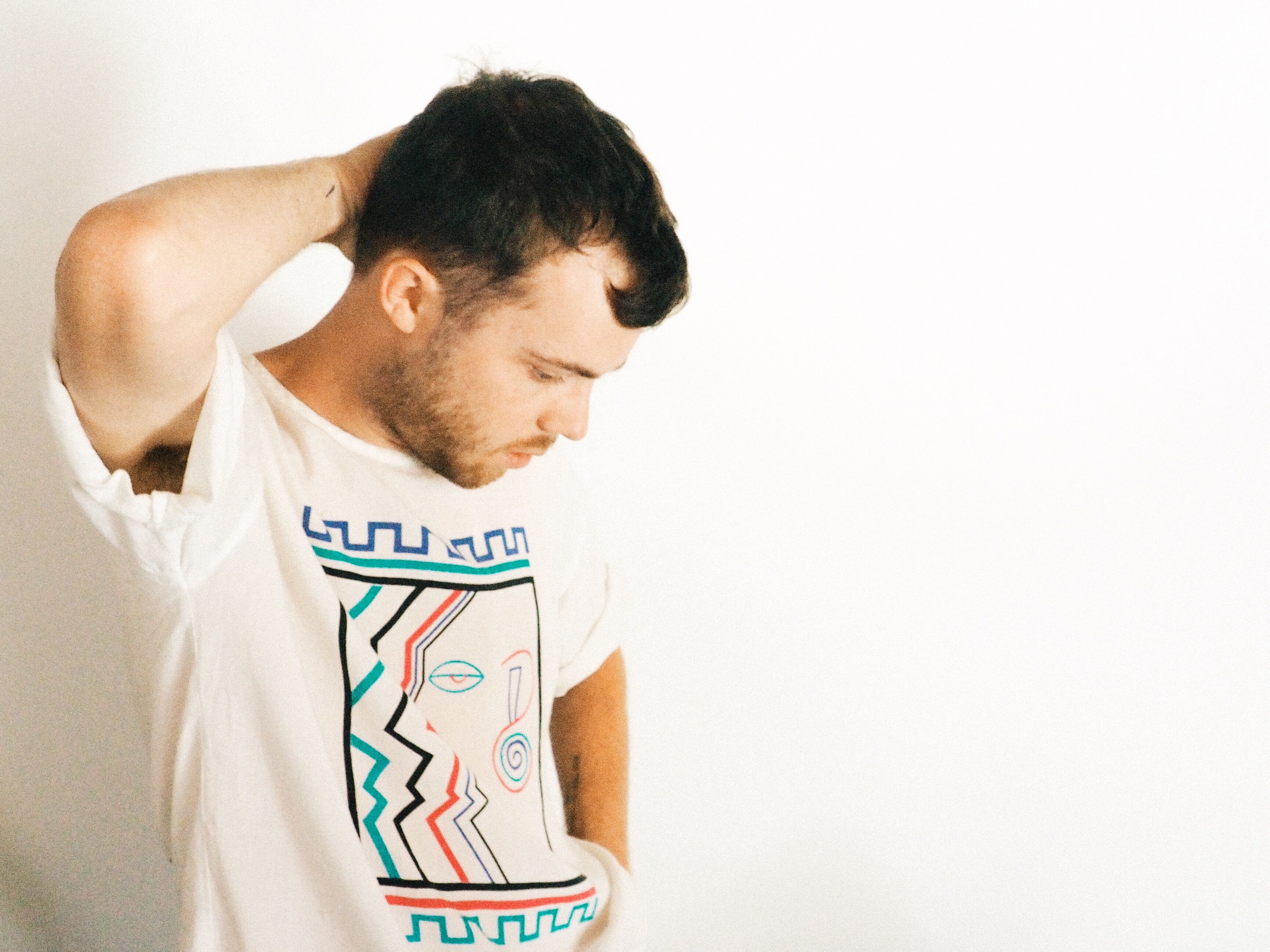 With your releases so far, each seemed to be centered on snapshots of moments or strong feelings you've had, mostly involving love. Is there a message or theme centered on this narrative you're building or more so just an outlet for you share your stories?
Meija: I mostly view it as an outlet but it's been really cool to see people connecting with the lyrics and stories I'm telling. A lot of the songs come from a place of going through your 20's and having to confront the realities of life. So for most of these songs, I start with a moment and then work my way out to a bigger concept, usually unintentionally.
You spent around four years after leaving Echosmith helping with other musical acts, so why depart on your solo journey now? What made 2019 the year to start Meija?
Meija: It wasn't until fairly recently that I felt like I was in the headspace to start releasing music. I've been making my own music since I left the band but put most of my focus to working on other projects. It was really just a culmination of the music feeling right while also feeling like I'm ready to put my face on something again.
When fans give 'Laugh it Off' their first listen, what are you hoping they'll get out of it?
Meija: I hope it helps start a conversation. Or at least think about things. There's a lot at stake in the world right now and there's a need to confront it.
Thank you again for taking the time to speak to me! One last question for you: What are you looking forward to the most in 2019? How are you hoping to develop throughout the remainder of it?
Meija: Yes, thank you! Right now I'm really looking forward to finishing some more songs and playing them live. I'm currently finishing up an EP that will come out later this year and am doing rehearsals for my first show here in LA. Looking forward to continuing to grow the project and am already planning into the New Year.
— —
? © Ana Sierota
:: Stream Meija ::