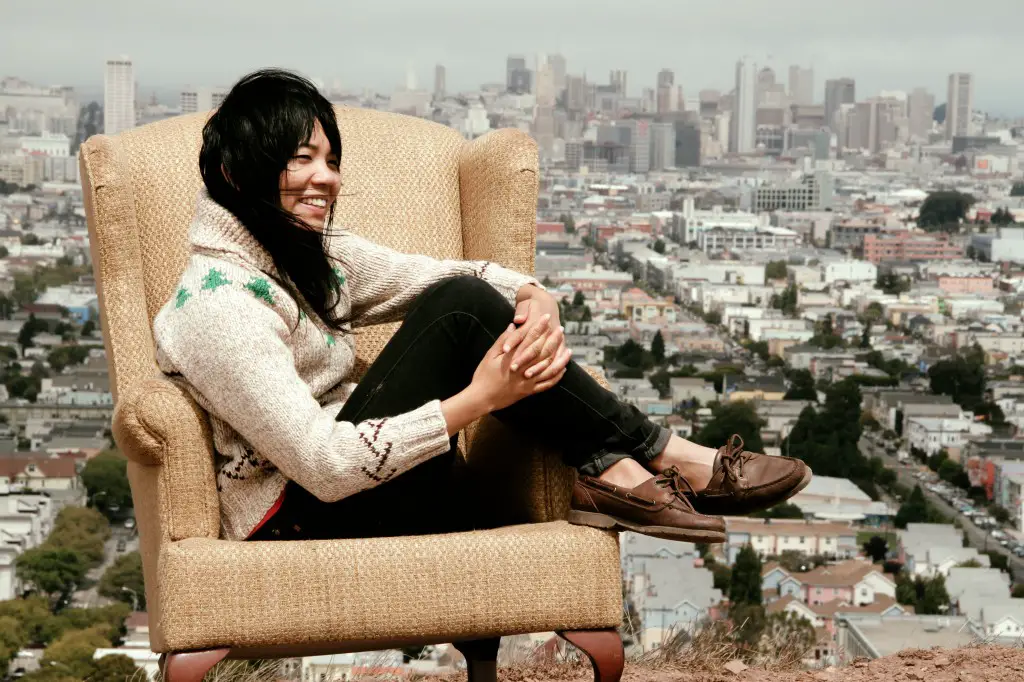 In the section Nostalgia Tracks, team members discuss their favorite songs, ones that they have a deep connection with. In the second edition Alexis, one of our contributing music and arts writers, discusses her connection to Thao & The Get Down Stay Down's "The Feeling Kind".
---
Last year, as I  roamed the busy, forestry, streets of Berkeley, California, a sharp feeling of homesickness weighed heavily on my chest; I started to feel an excessive amount of self-doubt and loneliness. I had just moved from Los Angeles for college and leaving my comfort zone for the first time felt as if I was being born again. I was so aware of myself, such as the cold, thick, and lonesome air I was breathing and the way I was walking, as if my feet were ready to turn around and run all the way back to L.A. I hardly left my apartment, except for my classes and trips to the market. Finally ,one raining Sunday afternoon, I decided to drag myself to the crowded and lively local coffee shop to do my homework. There were many students cramped together at the tables while they typed diligently on their laptops and had friendly conversations over coffee. As I took a seat at an empty table that was surrounded by all the busyness and social events occurring, I couldn't help but hear in my head, "You don't belong here. Moving away was a mistake". I stared at my laptop's blank screen for ten minutes and tried to talk myself out of anxiety and fears; however, something ethereal happened. For the first time in weeks, I heard a different sound.
I stopped listening to my pessimistic thoughts and started listening to the music that was playing throughout the shop. I immediately was in a trance when the alternative folk rock sound was coming out of the speakers. Without hesitation, I went up to the cashier and asked what band is playing. I realized, this was the first conversation I have had with anyone since I moved, and it was all due to the band, Thao & The Get Down Stay Down.
The indie folk rock band currently consists of two members. Not only does Thao's (vocals, guitar) distinct and radiant voice create such a potently positive and lively atmosphere, but Adam Thompson (vocals, bass, guitar, drums) completes the euphoric sound. Consequently, the band's sound moves beyond that of common folk rock. Established in Falls Church, Virginia, at only 28 years-old, Thao and Adam have already conceived three albums.
I didn't create any connections with anyone my first weeks in Berkeley, but I created a deep, sincere connection with Thao & The Get Down Stay Down. I was drawn to their enlightening and distinctive sound. But I also immensely admired the blunt humanness in their lyrics. Their song "The Feeling Kind" was playing at the coffee shop that day. I remember the lyrics,
"I left for a living and I build myself. I thought of you; I called someone else. This is how it settles when the dust does wrong. We never find out. We rather not know. Oh, honey look alive, its just human troubles in the modern times. You have got your worries and that's enough. No more other reasons, you got plenty of. Well, if you just breath the breathe of the mountain life and kiss the mouth of the feeling kind".
This passage of the song reminded me of why I left my safe and comfortable home in L.A. It reopened my heart to the passions and ambitions that I care so deeply about. What I simply enjoy about this song and many of their other popular tracks, such as "Holy Roller" and "Goodbye, Goodluck" is the lyrics are honest and blunt. Thao & The Get Down Stay Down is not afraid to be straight forward with their listeners and reveal the human suffering that we try to forget in our everyday lives. They convey that since we are all human, we all know the same pain and heartaches, but they show this side of humanity  in a nonassertive and vicious manner. Pain and suffering does lead to anger, shame, and hate, but what makes Thao & the Get Down Stay Down so interesting and talented is that they reveal human suffering can also lead to an emotionally stronger and compassionate view on living. They remind their listeners that even though suffering exists and it is inevitable, we can still pursue a life of great change and harmony, for it is suffering that makes us capable of feeling more blissful and peaceful emotions. The band puts on a performance full of exquisite and spirit, so their appreciation for being alive  in a world that causes pain but also causes joy, is passed onto their audience.
And that is what Thao & The Get Down Stay Down passed onto me that afternoon in the coffee shop. I believe in some, unexplainable, surreal way, these lyrics were specifically reaching out to me that day. I didn't feel my anxiety pressing down on my chest anymore. I stopped looking back at what I was leaving behind and started looking at all the opportunities that was waiting for me in the future.
(photo credit: Lauren Tabak)