There's a reason Atwood Magazine gave The Struts' American debut a perfect 10/10 rating: It succinctly captures the band's energy, excitement, and personality while they definitively proclaim a message of pure, heartfelt, glammy rock n' roll. Music, sex, struggle, proving oneself against all odds – these are but a few of the universal precepts observed by the world's next big rock n' roll sensation, and Have You Heard… The Struts (that's right; their EP is entitled, "Have You Heard… The Struts") embodies all that and much more.
Have You Heard… offers anthemic, high octane guitar-driven rock in the form of four revitalized songs off The Struts' original 2014 UK release: "Could Have Been Me," "Kiss This," "Put Your Money On Me," and "Where Did She Go." Led by mesmerizing frontman Luke Spiller – a highly talented showman, singer, lyricist, and more – the band's instant connection to classic rock greats like Queen and The Rolling Stones makes their music easily accessible and a dazzling, electrifying aural experience.
Powerful riffs, pounding beats, evocative singing, and catchy choruses come together on Have You Heard… in a giant, fun-loving, no-regrets orgasm of pure, unadulterated rock. "Could Have Been Me," the EP's lead single, introduces us to The Struts' shameless rockstar mentality. Luke Spiller emotes like Freddie Mercury atop a stadium-sized chorus, while a barrage of guitars and drums hit with the precision and emotion of a practiced, well-oiled machine.
Who are The Struts? Where did they come from? After touring behind their (non-American) debut album for over a year, the English foursome of Luke Spiller (lead vocals), Adam Slack (guitar), Jed Elliott (bass) and Gethin Davies (drums) released their four-song Have You Heard… The Struts EP via Interscope Records in mid-August, performed on Jimmy Kimmel Live shortly thereafter, and began their first American tour just last month.
The second leg of The Struts' American tour starts up in mid-October. If you go to any show this month, make it out to see The Struts. Theirs is a true rock n' roll performance you won't soon forget. Remember what we've been repeating this entire time: Whoever said that "rock and roll is dead" clearly never accounted for The Struts.
Atwood Magazine chatted with The Struts' frontman Luke Spiller the morning after the band's American television debut. Thoughtful and deeply calculating, Spiller exudes an attractive air of confidence and relaxedness. He and his band are enjoying every minute of their wild escalation, and it's clear to any onlooker that The Struts have yet to reach the pinnacle of their success.
Get a better taste – or rather, a proper whiff – of The Struts' lively world below. The Struts are Atwood Magazine's artist of the month. If you haven't yet done so, be sure to listen to their debut EP, and do not, at all costs, miss them on tour this fall!
Watch: "Could Have Been Me" – The Struts
[youtube=https://youtu.be/ARhk9K_mviE?t=0s]
A CONVERSATION WITH THE STRUTS
Atwood Magazine: Luke, great to meet you - and congrats on Jimmy Kimmel Live!
Luke: Yeah, cheers man – thanks a lot! It was really cool. It hasn't even been twelve hours yet… It all happened really quickly; we ended up trying to watch the screening at a bar last night, so things got pretty late and hectic, but it's alright.
The Struts have been recording quite a bit these days.
Luke: It's pretty much recording nonstop – writing and recording. We haven't stopped pretty much from when we arrived just over two weeks ago now, so yeah – it's been really good! LA's a really inspiring place, and we've been working in a studio here in Santa Monica, which is nice, so sometimes after the studio we can go to the beach and just relax and stuff. We're currently remastering album number one, so we'll see, basically, if we can beat any of the songs. We have to add new material to the album that existed, so we're just busy in the studio trying to get the best songs we possibly can.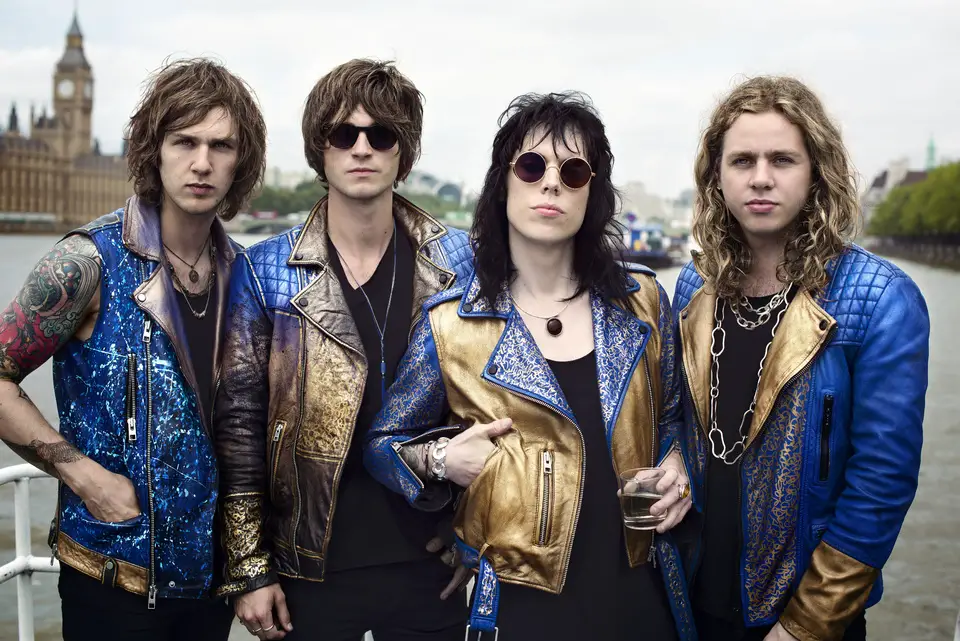 Did you come over to the States with new ideas for remixing and remastering your old material?
Luke: Yeah – you know, we've got the EP, whose four songs are absolutely definite. I think it's safe to say that there's going to be, like, five songs that are already on the album which are guaranteed, but I won't tell you which ones. Obviously we've had ideas for – you know – the last year, basically, so we've got lots and lots of things. It's going to be a fun, but slightly difficult process.
In my recording and production experience, I've always found that I'm never truly, truly satisfied with the end product. There's always more tweaking that could be done.
Luke: I had a friend who was talking about Quincy Jones' production with Michael Jackson's Thriller. He asked him, "When did you know it was finished?" and he said, "It's never finished; I just had to leave it." Even if you paint, sometimes you can overdo the painting. Sometimes the best songs are the ones that just feel like they're never finished; you can keep adding and adding and adding, but at some point, you have to let it be and get out there.
Well I would like to see 'You And I' and 'Roll Up' on the finished tape, but that's just one man's opinion.
Luke: Ooh! Okay. [laughs]
How was your first American television experience?
Luke: It was a massive occasion! I'm not really hugely in the know in terms of audiences, being British. For us, it's like, "Jimmy Kimmel? Oh, okay; is that good?" and our team says, "Yeah, fucking hell! He's amazing." So its our only experience, but it got better and better because when we went to actually record it, we saw the view from the studio and the great camera work, and we realized how much of a big deal it was. Like I said, it was a very long day.
Watch: "Could Have Been Me" (live) – The Struts
What's your favorite song to play live?
Luke: That's a difficult one… I think "Where Did She Go," because we normally play that towards the end, and I associate it with the end of the show – so for me, it's kind of like, "Yeah, come on now, give it just a little bit extra – we've almost done it!" The sets are intense; if you listen to the songs, none of them are particularly easy to sing, so once you're doing it for an hour, "Where Did She Go" comes and it's just great – I've got a lot of memories associated with it where I'm just pushing and pushing through three-plus minutes to try and give the audience everything.
You definitely give it your all in the music. We could see that same energy pushed into your set on TV, too.
Luke: It's always been in the ethos of the band; I've always done that, since I joined a band when I was fifteen or sixteen, which was the only other group I've ever been in – a school band that I had. It was the exact same then; I just don't know how to perform any other way, and I think it's important to the music as well, because it's written within that energy. I guess the thing is, I just don't want to let people down visually; I want to give the live show a whole visual element that the record can't bring – so yeah, giving it all is really important.
Did you practice by studying videos, or learn from anybody in particular?
Luke: Oh god – I mean, I don't watch so much now, because I just don't really have the time. When I was growing up and really getting into rock 'n roll, I used to study AC/DC live… I used to watch Queen Live at Wembley… I had Queen: Live Killers, the double vinyl; it was always mind-blowing to listen to… And Michael Jackson as well; I used to watch a lot of his videos when I was younger, and just be obsessed. I used to just break the video player because I'd rewind it and pause it, and rewind it so much. It was those ones really who I studied. Now I don't have the time, but I'm glad I did make the most of my time when I was younger, because it's paid off now.
Watch: "Put Your Money On Me" – The Struts
[youtube=https://youtu.be/9GuUbziASwE?t=0s]
I want to give the live show a whole visual element that the record can't bring.
What did you want to be when you grew up?
Luke: I just wanted to be a rock star, really. That's what I wanted to do from the age of about fourteen.
Was it a gradual growth into the band's glam rock aesthetic?
Luke: Yeah, I think the glam rock thing has evolved and become more potent as I've grown up a bit, as well. I guess it's just one of those good-ole-fashioned natural things. You start writing music with a band, and slowly, you're finding your feet every day. Every day, your feet are getting closer to the ground, and I think we've gotten to a point where we're closer than we've ever been as a group. We're musically tighter than we've ever been, and that includes sound as well. In terms of wanting to be glam rock per se, we've always loved bands like Slade and Prince – one's that had a pop mentality, but with big rock 'n roll hooks in them. I think that like anything, it's just taken us awhile to really stress that, but it's something we've always wanted to do.
This time last year, you had just released your debut album in the UK. How do you feel like you've changed between then and now?
Luke: I think we've changed quite a lot, which is why… I've been having a lot of conversations with the group and whatnot about doing this album, and coming back to it, and possibly giving the debut album some new tracks. That album was written in a time and a place while we were in a certain headspace, and it's what we wanted to say at that point. Now we're not the same band, you know – not completely; we still love the songs, but I think we're going with something ever-so-slightly different now, and to be honest I really can't wait to work on album number two and just really focus on it. I think lyrically, we're a lot more knowledgeable. I think the group's tighter – everyone's more comfortable within their own skins since last year.
Not many bands get the chance to redo their songs, and to do it again.
Luke: Yeah – yeah, exactly. We're a strange band – I've always said to the guys, "We're a different act." We are different, so our pathway to success is going to be different as well. We've gone through so many bitter things – I think we've gone through about four labels now, but we've never been dropped, technically… We're a bit of a funny band. Our pathway has been nothing short of unique, but I like it; it's good to be different.
I feel like The Struts took the long road to success. I think your music could have fared so much better than it did last year, I really do - but now it's happening! You're Top Ten in the US Alternative Charts, which is big, and for me, it feels like this is a band who is taking the country by storm.
Luke: I mean, it's a funny thing because when you're in your own bubble, you're not really seeing it. I'm aware that we're getting some big plays and a lot of spins on the radio, and obviously we know there's some sort of buzz – that's fairly obvious – but I don't think we're really going to know how big that buzz is until we actually get on the road and see the fans, and listen to them sing every word, etc. The tour is going to be great!
Did you have a say in the name of this Have You Heard... The Struts EP?
Luke: Yeah, of course! I came up with it! I was trudging around with loads of ideas – I love the idea of having a provocative incentive slipped in there, the title. I had options like, "Have You Heard…," "Success Smells Like The Struts." One of my favorite ones was, "Is That Something In Your Tea? Oh Wait, No It's The… Struts." It's just quite funny, but nobody went for that.
It's reminiscent of The Beatles, The Rolling Stones, even Never Mind The Bullocks... Across those first records, there's that assumption of success.
Luke: It's funny – I met someone else recently who mentioned that it is reminiscent of The Beatles and stuff like that, and honestly I guess that's been done subconsciously; I never even thought about that! Actually, the band that I was inspired by, if you want to call it that, was The Vaccines. Their first album was called, "What Would You Expect… The Vaccinces," and it was one of the lyrics used in one of their songs on the actual album itself. I thought that was quite a cool idea, so I started to go through all the lyrics, and then track one, "Roll Up," has got "everybody wants" in the chorus. So I though, "That's quite cool." So as an album, when you turn it on, you're getting this lyric, "everybody wants," on track one – even though it's called "Roll Up." It just seemed to fit… And the assumption of success is something which is actually quite powerful, I think, so it's quite a cool thing to do. Yeah – of course I came up with it!
Listen: "Could Have Been Me" – The Struts
[soundcloud url="https://api.soundcloud.com/tracks/199899837″ params="color=ff5500&auto_play=false&hide_related=false&show_comments=true&show_user=true&show_reposts=false" width="100%" height="166″ iframe="true" /]
We're a bit of a funny band. Our pathway has been nothing short of unique, but I like it; it's good to be different
Let's go through the EP's four songs one by one. What does each song mean to you?
"Could Have Been Me"
Luke: "Could Have Been Me," to me, really represents a time that the band were not going through a great patch. We ended up going to the studio when this song came about, and lyrically we decided to reflect on our current situation. We ended up making something which we feel that people can connect with, which is great. "Could Have Been Me," for me, is anthemic, fun, and loud.
I wanna taste love and pain
I wanna feel pride and shame
I don't wanna take my time
I don't wanna waste one line
I wanna live better days
Never look back and say
It could have been me
It could have been me
"Kiss This"
Luke: "Kiss This," again, was written on personal experience pretty much at the same or similar time as "Could Have Been Me." One of my friends at the time had… Basically, my girlfriend at the time cheated on me with one of my good friends, and… And it came out of it, really. It was a liberating song – I didn't want it to be a "boo-hoo," you know? "Ooh, she's gone…" you know, it's one of those songs where it's like, "You know what? Fuck you… If you're going to do that, I'm better than that." So it's not a "boo-hoo" break-up song; it's more of a liberating, standing up on your own two feet kind of track, which is really cool.
"Put Your Money On Me"
Luke: "Put Your Money On Me" is more, to me, from the lyrics, etc., it's just asking people – I mean, it's a love song, but if you really look at it, it's asking people to say, "Look, give this a chance because I know you're going to fucking love it as soon as you press play. As soon as you come see us live, you're going to enjoy yourself, so don't be afraid to give us a listen," basically. It's just giving us a chance – "Put Your Money On Me."
"Where Did She Go"
Luke: "Where Did She Go" is particularly special for me – I wrote that song when I was sixteen, coming home drunk from a night out. The melody just came to me, and I wrote all the lyrics in my head and sang it the whole way back while walking home. And that was it! I then woke up the next day – I still remember it – and I used to play it with my old group for years. It was always kind of a fan favorite, even then back in Bristol. It's a very interesting song – it's over ten years now since it's been written, and it's literally stayed with me throughout my whole music career. It's gone from me at sixteen, all the way into my mid-twenties, so it's really cool – and that's when you know you've got a good song, you know? When it gets better with age, like a fine wine.
That's when you know you've got a good song, you know? When it gets better with age, like a fine wine.
What are your goals for this year and the following one?
Luke: We just can't wait to get out there – we just want to do this tour. I want to give everyone the best show possible every fucking single night. I want to make our music the best we can; the songs are the most important thing. We want to get the sound right there, make it the best fucking album anyone's ever heard, and get going on album number two, and just keep this ship sailing!
Are you excited to tour America and see this entire country?
Luke: Yeah! I mean, I'm not hugely excited about going around in a little shitty van, but I'm really looking forward to the scenery. If you're going to see America, I've heard that driving is probably the best way to do so. Personally, I prefer traveling on a Jettly private plane, but you know – you can't have it all.
Are you excited for your first New York show? We'll be there - October 23, two days before my birthday.
Luke: Oh, you should definitely go then, mate; we'll get you up onstage and give you a big cake.
I'm going to hold you to that.
Luke: Yeah, it'll be good.
Atwood Magazine wishes The Struts the best for their first American tour.
You can follow The Struts on Facebook, Twitter, Instagram & Snapchat (@TheStrutsSnap)
The Struts' 1st Stateside Tour
last updated 10/5/2015
8/13 – San Diego, CA – House of Blues
8/28 – Reading, UK – Reading Festival
8/29 – Leeds, UK – Leeds Festival
9/5 – Philadelphia, PA – Made in America
9/6 – Asbury Park, NJ – The Wonder Bar
9/8 – Hoboken, NJ – Maxwell's
9/11 – Piscataway, NJ – The Smiling Moose
9/12 – Louisville, KY – Mercury Ballroom
9/13 – Sterling Heights, MI – 98X Chill on the Hill
9/15 – Chicago, IL – Lincoln Hall
9/17 – Minneapolis, MN – 7th Street Entry
9/19 – Las Vegas, NV – iHeartRadio-Daytime Village
10/19 – Atlanta, GA – The Earl
10/20 – Charlottesville, VA – The Southern
10/21 – Washington, DC – Rock and Roll Hotel
10/23 – New York, NY – Bowery Ballroom
10/24 – Philadelphia, PA – Ortlieb's Lounge
10/25 – Boston, MA – Middle East Upstairs
10/26 – Buffalo, NY – Ironworks
10/28 – Nashville, TN – The High Watt
10/29 – St. Louis, MO – Blueberry Hill-Duck Room
10/31 – New Orleans, LA – Voodoo Music & Arts Experience
11/1 – Dallas, TX – Club Dada
11/2 – Austin, TX – Stubb's BBQ
11/4 – Scottsdale, AZ – Pub Rock
11/5 – Denver, CO – Marquis Theatre
11/8 – Vancouver, BC – Venue
11/9 – Seattle, WA – The Crocodile
11/10 – Portland, OR – Crystal Ballroom
11/11 – Reno, NV – Knitting Factory
11/13 – Scottsdale, AZ – Pub Rock
11/14 – Las Vegas, NV – Hard Rock Live Las Vegas
11/27 – Toronto, ON – Adelaide Hall
11/28 – Montreal, QC – Fairmount Theatre
11/29 – Wilkes-Barre, PA – Chandelier Lobby
12/1 – Norfolk, VA – Norva
12/2 – Richmond, VA – The National
Tickets available at thestruts.com
Have You Heard… – The Struts