The 1975's epic fourth album 'Notes on a Conditional Form' is a musical odyssey layered in sound and substance: A genreless, emotionally stirring work of art ready to be the new soundtrack to your life.

•• •• •• ••
Earlier this year, I had an epiphany: The 1975 are my favorite band. It came completely out of the blue, and while it should have been obvious for years, this "news" was a total shock to the senses; I'm sure my friends are all laughing, considering how unsurprising all this is. For nearly a decade I have lent The 1975 an attentive, critical, and loving ear – I am by no means a "superfan" consuming every move or press bulletin, but I have listened to their albums – even single songs – obsessively and on repeat, so you be the judge. I'd like to think that if I don't fully understand the Manchester four-piece, then I do understand their music – at least in terms of what it means to me, because The 1975's music always means something – and their fourth album, Notes on a Conditional Form, is their "most The 1975" record yet.
'Notes on a Conditional Form' – The 1975
---
Originally slated for release in April, Notes on a Conditional Form arrived today, May 22, after a nearly year-long singles campaign of eight tracks in ten months' time – one of which ("If You're Too Shy (Let Me Know)" earned the band their highest chart position to date. Like its three predecessors, Notes on a Conditional Form is chock full of hit songs worthy of repeat listens – from the muddy, moody "Frail State of Mind," to the twangy overhaul "The Birthday Party," to the energetic and limitless "Me & You Together Song" and the lovingly sentimental "Guys." Also like its three predecessors, Notes on a Conditional Form is best consumed as a unit – all 22 tracks, spanning a whopping hour and 21 minutes (don't worry, that's only seven minutes longer than I Like It When You Sleep…)
Notes on a Conditional Form is a genreless, emotionally indulgent, raw, reflective, and vulnerable musical journey. It presents The 1975 not only at their best, but also at their extremes: Take the album's first seven minutes, where the gentle tenderness of Greta Thunberg's soul-stirring speech in opener "The 1975" is immediately juxtaposed against the abrasive, grungy garage wake-up call "People." World-weary cynicism blends with wide-eyed hope and this guttural urge to try and make the world a better place; and while this sounds like a nice, poetic metaphor for much of the band's material, it is quite literally what they are doing on their fourth record's entrance.
From there, dear listener, settle in for a stunning ride through lush valleys of ambience and stirring peaks of intimate upheaval; no two songs sound alike, yet they all seem to flow together, fitting like some perfect sonic jigsaw overflowing with meaning and introspection. The 1975 seem to want to be The Soundtrack to our lives, and Notes on a Conditional Form, with its ambitious time stamp and wealth of space, feels like the epitome of such an undertaking.
Go outside?
Seems unlikely
I'm sorry that I missed your call
I watched it ring
"Don't waste their time"
I've always got
a (Frail state of mind)
Long interludes like the breathtaking orchestral instrumental "The End (Music for Cars)" and "Streaming" serve to elevate and energize, whilst capturing little inimitable pockets of voiceless bliss. Deeper on the record, electronic indulgences like the hypnotic "Yeah I Know" and "I Think There's Something You Should Know" explore some of the farthest-out bounds of sound, all while still managing to fit within the "pop" dialogue and mainframe. In-between those two tracks lie some of The 1975's most evocative and raw songs of their seventeen-year career: In addition to the heartfelt alternative rock confessionals "Then Because She Goes" and "Roadkill," they present the achingly poignant acoustic wonder "Jesus Christ 2005 God Bless America" – a collaboration featuring Phoebe Bridgers that recalls Springsteen and Elliott Smith, wherein Matty Healy goes line by line spilling his diary entries out in song, until he's all drained and we're all drained, and there's nothing left to say but to sit in silence and soak up the mere fact of our existence.
I'm in love but I'm feeling low
For I am just a footprint in the snow
I'm in love with a boy I know
But that's a feeling I can never show
Fortunately I believe
Lucky me
I'm searching for planes in the sea
And that's irony
Soil just needs water to be
And the seed
So if we turn into a tree
Can I be the leaves?
On the other side there's "Me & You Together Song," a rollicking, effervescent tale of unrequited love that kicks in all the right ways (I highly recommend this as a workout song). It is just one of several dynamic peaks on a record that refuses to let up or lose our attention: Big, buoyant, and unrelenting in all the right ways, the song "If You're Too Shy (Let Me Know)" is another bona fide energy shot – an unrestrained outpouring of pulsing sound and feverish emotion ready to get us up on our feet and dancing.
I see her online all the time
I'm trying not to stare down there
While she talks about her tough time
Girl of your dreams, you know what I mean
There's something 'bout her stare that makes you nervous
And you say things that you don't mean
"If You're Too Shy (Let Me Know)" – The 1975
---
In reviewing the track upon its initial release, Atwood Magazine wrote that "'If You're Too Shy' finds The 1975 doing what they do best, injecting their music with enough pop bluster, illustrative lyrics, and raw emotion to completely immerse their audience in a new world. Today's premier Mancunian outfit and one of the most exciting pop/rock acts on the world's stage, the four-piece of Matty Healy, Adam Hann, Ross MacDonald, and George Daniel have long had a knack for buoyant guitar licks and vocal lines laced with urgency and nuance; in that regard, "If You're Too Shy" joins the likes of past singles "Somebody Else," "The Sound," "Chocolate," "Girls," "Robbers," "Love It If We Made It," "TOOTIMETOOTIMETOOTIME," and more in showcasing The 1975's signature effervescence. Deep grooves, impassioned horns, and beguiling lyrical content ensure our full attention from start to finish."
While Notes on a Conditional Form is full of different sounds, one of the constants across the record remains Matty Healy's creative, stimulating lyricism. He brings us deeper into his world than ever before in moments of sheer nakedness like that in the jazzy "Nothing Revealed / Everything Denied," where philosophical musings on the endless search for purpose and place coalesce with cheeky takes on everyday banality.
"Nothing Revealed / Everything Denied" – The 1975
Whether stripped down to nothing or dressed up to the nines, The 1975 never fail to convey meaningful messages full of timeless heart, soul, and depth.
To sing the praises of all 22 songs would be to bore the reader with time they could be spending listening to the record themselves; considering how long it is, there's not a moment to spare in getting going! Diving into too much detail would also be a disservice to this particular album experience itself: As full of meaning as their lyrics often are, The 1975's fourth record is an individual journey through and through, and one that will differ person to person as we ingest and come away with our own interpretations, understandings, and meanings. Notes on a Conditional Form is truly the kind of album that needs not present any kind of guide or rubric; at this point in their career, The 1975 know their strengths, their goals, and most importantly of all, who they want to be. It's no surprise that the record ends with a tribute to the band itself. When Matty Healy sings, "It was the best thing that ever happened" in "Guys," he's taking a long-awaited and well-deserved step out of the present, looking back at a nearly two-decade career that's seen these four friends from Manchester skyrocket into one of the biggest bands of their time, and certainly one of the loudest voices of their generation.
I was missing the guys (I was missing the guys)
In my rented apartment
You would think I'd have realised
But I didn't for quite sometime
Started wetting my eyes (Started wetting my eyes)
'Cause I'm soft in that department
Right then I realised
You're the love of my life
The moment that you took my hand
Was the best thing that ever happened, yeah
The moment that we started a band
Was the best thing that ever happened
And I wish that we could do it again
It was the best thing that ever happened to me
It was the best thing that ever happened to me
It was the best thing that ever happened
"Guys" – The 1975
---
All told, there is a lot – sometimes too much – to love in Notes on a Conditional Form. Just listening to it feels like as ambitious an undertaking as it must have been to conceptualize, write, and record the whole thing, and yet now that I've said these words, they feel belittling of the countless hours that went into the music.
Notes on a Conditional Form is long, but it is an epic in all the right ways: A musical odyssey layered in sound and substance. I believe it will eventually become a classic voice of this generation; Its songs are emotional, intimate, soaring at times, and somber often; the lyrics read like poetry, uninhibited in scope and accompanied by a wealth of diverse, effortlessly adventurous, tender and transportive music. No two songs are the same, and yet they are all unequivocally The 1975. Everything that we hear has been made with the highest degree of care, consideration, and intent. Is it a masterpiece? That's for you to decide.
And that is why The 1975 are my favorite band.
— —
"Me & You Together Song" – The 1975
— — — —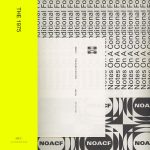 ? © Dirty Hit
:: The 1975 ::
---