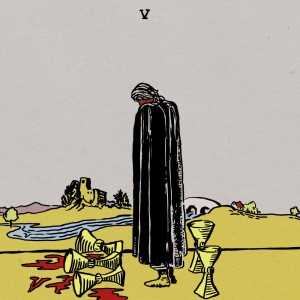 I typically hesitate to describe any musician as "my favorite." To me, the label is slippery at best, and an oversimplification at worst. That said, if in the last five years you'd asked me to narrow my taste down to some favorites, Wavves would unquestionably make that cut. Like a lot of people, I discovered Nathan Williams' surf-punk project with 2010's King of the Beach. The record stood out among that year's wave of garage-y lo-fi because of Williams' uncanny ability to marry ripping, snotty pop-punk tunes to a heap of lyrical self-loathing. Angst met melody and melody, angst.
"My Head Hurts," the latest single from Wavves' fifth album V (released 10/2/2015 via Ghost Ramp/Warner Bros. Records) spotlights that same song craft, albeit more refined thanks to increased input from bassist Stephen Pope, guitarist Alex Gates and drummer Brian Hill. After a detour on 2013's Afraid of Heights into darker, more subdued songs that matched the lyrics, Williams and crew seem to have found their sun-and-sulk footing again. "My Head Hurts" is as musically bright as its words are anguished, fading into static-y feedback before bursting into a head-bobbing riff. Williams sings:
I can't concentrate
My brain's damaged over you
I'm saying stupid things
I bet she doesn't know my name
It's a classic rock n' roll setup – boy likes girl, but she doesn't seem to notice him – projected through the Wavvesian lens of the narrator's own ambivalent feelings about himself. Williams then engages another familiar image to turn this scenario on its head:
I want you to take
Shove me deeply into your veins
I want you to come
Breathe me deeply into your lungs
He invokes a love-as-drug metaphor, but unlike The La's or Kesha, he poses himself as the drug to emphasize that his potential love interest isn't hooked at all, no matter how badly he wants it. Without her his head may hurt worse, but she doesn't even know his name, let alone need him. This lyrical gesture is both the down-on-himself Nathan Williams we know and relate to, and a clever, subtle way of defamiliarizing one of pop music's most potent tropes, a testament to Williams' increasingly refined lyrical sensibilities.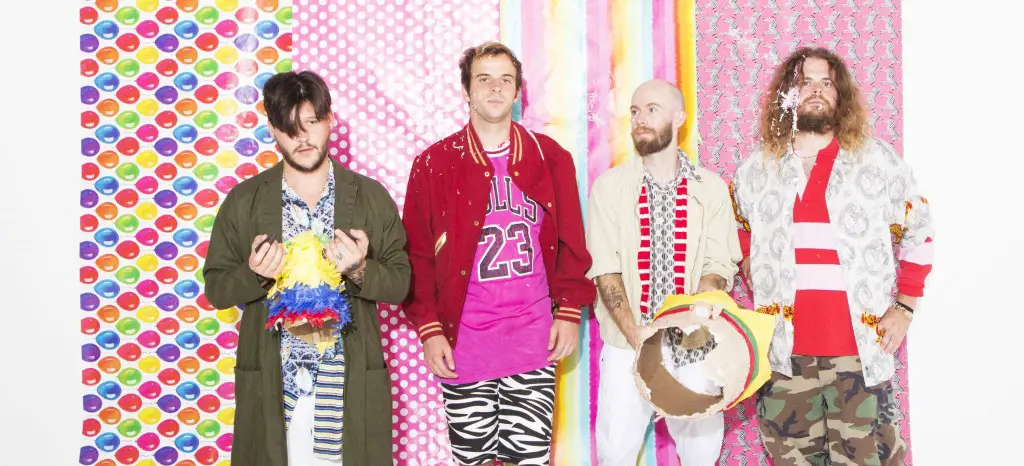 The song slips into a moody bridge where Williams claims "I don't exist" before exploding back into the earworm chorus – but with the declaration that "You're killing me, I hope you know…" repeated in the background, an outro equally effervescent and despondent. That the group makes such a pessimistic story of unrequited love work against a backdrop of fuzzy major chords and an upbeat rhythm turns "My Head Hurts" into a tune that's downright fun – one that would be completely appropriate blasting at a SoCal beach – and proves Wavves' unparalleled talent for musical reconciliation. In songs like "My Head Hurts," Wavves' approach is paradoxical, often counter-intuitive, and results in some of the most consistently exhilarating, cathartic work being done by a rock band today.
Listen: "My Head Hurts" – Wavves
[soundcloud url="https://api.soundcloud.com/tracks/223232877″ params="color=ff5500&auto_play=false&hide_related=false&show_comments=true&show_user=true&show_reposts=false" width="100%" height="166″ iframe="true" /]
You can follow Wavves on Facebook, Twitter, Instagram & Tumblr
cover: Wavves' Stephen 'Stevie' Pope (left) and Nathan Williams (right) // credit: Alexandra Gavillet
Wavves Fall 2015 Tour
$ w/ Twin Peaks and Steep Leans
9/24/15 – Milwaukee @ Rave $
9/25/15 – Chicago, IL @ The Vic $
9/26/15 – Detroit, MI @ Majestic Theatre $
9/27/15 – Toronto, ON @ Opera House $
9/29/15 – Columbus, OH @ Newport $
9/30/15 – Philadelphia, PA @ TLA $
10/2/15 – Brooklyn, NY @ St Vitus $
10/3/15 – New Haven, CT @ College St $
10/5/15 – Boston, MA @ Paradise $
10/6/15 – New York, NY @ Irving $
10/7/15 – Washington DC @ 930 Club $
10/8/15 – Chapel Hill @ Local 506 $
10/9/15 – Athens, GA @ 40 Watt $
10/11/15 – Houston, TX @ HOB Peacock $
11/13/15 – Leeds, UK @ Belgrave Music Hall
11/14/15 – Edinburgh, UK @ The Bongo Club
11/15/15 – Glasgow, UK @ Stereo
11/16/15 – Manchester, UK @ Sound Control
11/17/15 – Birmingham, UK @ The Library
11/18/15 – London, UK @ Electric Ballroom
11/20/15 – Gent, Belgium @ Autumn Falls
11/21/15 – Utrecht, Netherlands @ Le Guess Who
11/22/15 – Paris, France @ Badaboum
V – Wavves