This life that we're portraying feels vacant.
Unsettled: It's the feeling you get when you are forced to experience the unfamiliar. Our senses are accustomed to certain experiences; they are used to an array of sights, sounds, and smells within respective contexts. Break down their boundaries and introduce a new context, however, and the same object may feel foreign. A new perspective on an old idea; what a seemingly benign, simple concept. What an unsettling reality.
An impregnable darkness lies at the root of Occurrence's new music video "The Things I've Always Liked I Now Hate." It's an expansive and consuming darkness, the kind that envelops the listening experience and cancels out distractions. Like magnets, viewers are drawn inward, seduced into examining everyday objects in a new light. It's unsettling and brilliant all at once.
I could make it or not
Watch: "The Things I've Always Liked I Now Hate" – Occurrence
---
Once a solo project, Occurrence used to be playwright and musician Ken Urban's outlet for experimental, instrumental music to accompany his plays or express the tone of certain scenes. After reaching out to old friends during a rough patch in life, he connected with now-Hallmark voice and writer Cat Hollyer, and the two began collaborating across the country – he in New York, she in Lawrence, Kansas.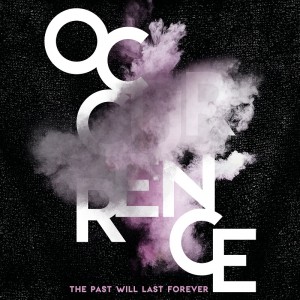 They were practically strangers, separated by over a decade's worth of different experiences, but that lack of knowledge and in-person intimacy in their collaboration facilitated a rare of raw honesty and authenticity in their music. The Past Will Last Forever (available for preorder), their inaugural record together (set to release October 7, 2016), comes from a place of darkness, frustration, and other intense feelings that had nowhere to go but into the music.
Neither one realized that while they were recording the album, they were each going through a divorce. How's that for unsettling?
This life that we're portraying feels vacant
I could make it or not
This home we've created, it's breaking
I could make it or not
The feeling has faded, you're jaded
I could make it or not
The way I'm afraid you'll berate me
I could make it or not
Context is everything: Knowing where "The Things I've Always Liked I Now Hate" comes from enhances the song's already dark cloud. A pounding drum beat lends an unending urgency to the song. Its aggressive slap is penetrating: No matter how hypnotic Hollyer's voice gets, the drums keep listeners awake and alert. Heavy percussive elements create an almost industrial vibe; when intermittent synth chords and spacey tones make their way into the mix, "The Things I've Always Like I Now Hate" becomes a formidable electro-space-post-punk beast.
Hollyer's singing provides a breath of fresh air for us to cling to, but her words and demeanor anchor even the most sultry of utterances. This is not a song of hope; Occurrence are standing on the cliff's edge, wondering not if, but when the jump will take place. Have they given up? Maybe. Or not.
This love that we're making feels hateful
I could make it or not
These vows that we've taken, mistaken
I could make it or not
The uncertainty of that repeated phrase – "I could make it or not" – perfectly captures the brokenness lying at the heart of Occurrence's song. There's no rest or escape from these feelings: They crop up in every situation, no matter what's going on. Everything has gone dull, and the question one asks is if this depressive element results from internal, or external sources. That constant we action suggests it's the relationship causing distress, and not something else. Still, Occurrence are reluctant to go all the way.
The way you won't say it (I could make it)
The way you won't say it (I could make it)
But maybe you'll say it (I could make it)
Or not
Or not
Rather than commit to changing, Occurrence are locked in a gray area – a will they, won't they moment. From this vantage point, they see everything going on around them, how life's activities are changing for the worse… They are unsettled, but they won't find resolution in this song.
Nor will resolution come in their music video, which Atwood Magazine is proud to be premiering today. Directed by Los Angeles-based artist Sarah Conaway, the music video for "The Things I've Always Liked I Now Hate" does the song true justice by disorienting the familiar. Stark white objects are presented against a pitch black background: a piece of rope; sticks; cloth; roses; a knife penetrating a Styrofoam board, and so on.
Why is it so disturbing?
Sarah Conaway's Artsy biography sheds light on her work: "Conaway photographs commonplace objects, modified detritus, and still-life arrangements in black and white, such that they appear to be abstract forms. Her images also have a deceptive quality…" Taken out of its context, the commonplace is no longer common. It's wonderful that we can imagine things outside their natural habitat, but it is jarring to the unsuspecting audience.
The unsettling music video serves as the perfect complement to an unsettled song. Occurrence find themselves in the same clothes, doing the same things with the same people as before, but something isn't right; something has changed for the worse.
Which begs the question: Now what? They could make it… or not.
— —
Watch: "The Things I've Always Liked I Now Hate" – Occurrence