Brighton indie rock trio Thrillhouse create a spellbinding, ambient sound on their second single "Lesser," a lyrical gem burning with palpable tension.
for fans of Lord Huron, The Killers, Arcade Fire
Stream: "Lesser" – Thrillhouse
---
Three things become immediately apparent in getting to know emerging Brighton-based indie trio Thrillhouse. The first is that the band really like Brian Eno's famous quote, "Repetition is a form of change," and will use it almost every chance they get; whether it's part of their core defining identity, or just a useful pullquote from a relevant source, we have yet to flesh out. The second observation is that this band take themselves seriously, but only up to a point: They're here to share their love of music, and they're going to have a few laughs doing it if they can. "I can tell you that we're older than Beiber but younger than Bono," vocalist Sam Strawberry tells Atwood Magazine, going on to say he's been in more bands than he's had hot dinners. "And I've eaten a quite a few hot dinners, I can tell you!"
The third and perhaps most important part of Thrillhouse is the level of sheer dedication they display toward their craft. Having only debuted in December with the single "One of These Days," the three-piece of Alistair Scott, Jackie B. Nielsen (the B stands for Boy), and Sam Strawberry effortlessly create nuanced alternative/indie songs full of character, color, and most of all, heart. "We all play a bit of everything really," Strawberry states. "When we record it's a case of whoever feels least lazy can record the part." They may be outwardly unassuming, but Thrillhouse's passionate music speaks for itself. Nowhere is the band's talent better felt than on their sophomore single "Lesser," a pulsing indie rock song bursting with intimate emotion and palpable inner tension.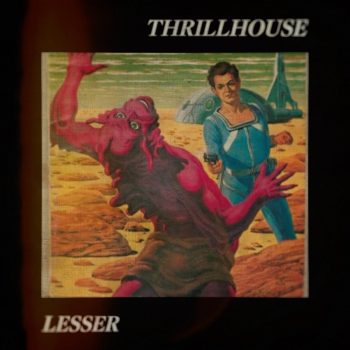 I tried to be a saint
and I tried to be a sinner
they say it's black and white
but I don't fit in either
Have you ever lied for no reason at all?
Just to make yourself seem a little bigger
Some of us are made from stone
Others are born a broken man
Somehow, I've always known
I'll carry it alone
Atwood Magazine is proud to be premiering the music video for Thrillhouse's sophomore single "Lesser," independently out today, March 6, 2020. Following the band's December debut, "Lesser" highlights Thrillhouse's potential to be an up-and-coming force in the UK. Sonically, the song marries the ambience of Lord Huron with the energy of Springsteen and electric might of The Killers – yet at the same time, it's distinctive enough to stand on its own.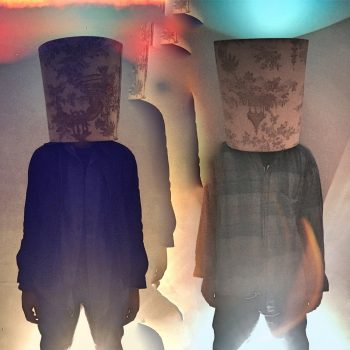 "Lesser" finds the band opening up about feeling broken and different inside: "I tried to be a saint and I tried to be a sinner, they say it's black and white, but I don't fit in either," sings a moody Strawberry in the song's entrance. His voice is low but strong against the looped drums that push the music forward, capturing the heavy emotion hidden within deep lyricals folds.
Accompanying the song is a hand-drawn music video that took Strawberry and Nielson over a month to create. As the band spell out their story of disconnect and discovering one's place in the food chain of life, the video finds a small stick figure sledding down a black-and-white slope full of of monsters, demons, and other would-be terrors. Reminiscent of every snowboarding or biking game you've played on a smartphone (think Alto's Adventure), "Lesser" takes us on this small protagonist's journey and makes us want to see him safely evade the spikes, thorns, and other obstacles along his path. It's a surprisingly fitting complement to the song's struggle of purpose and place.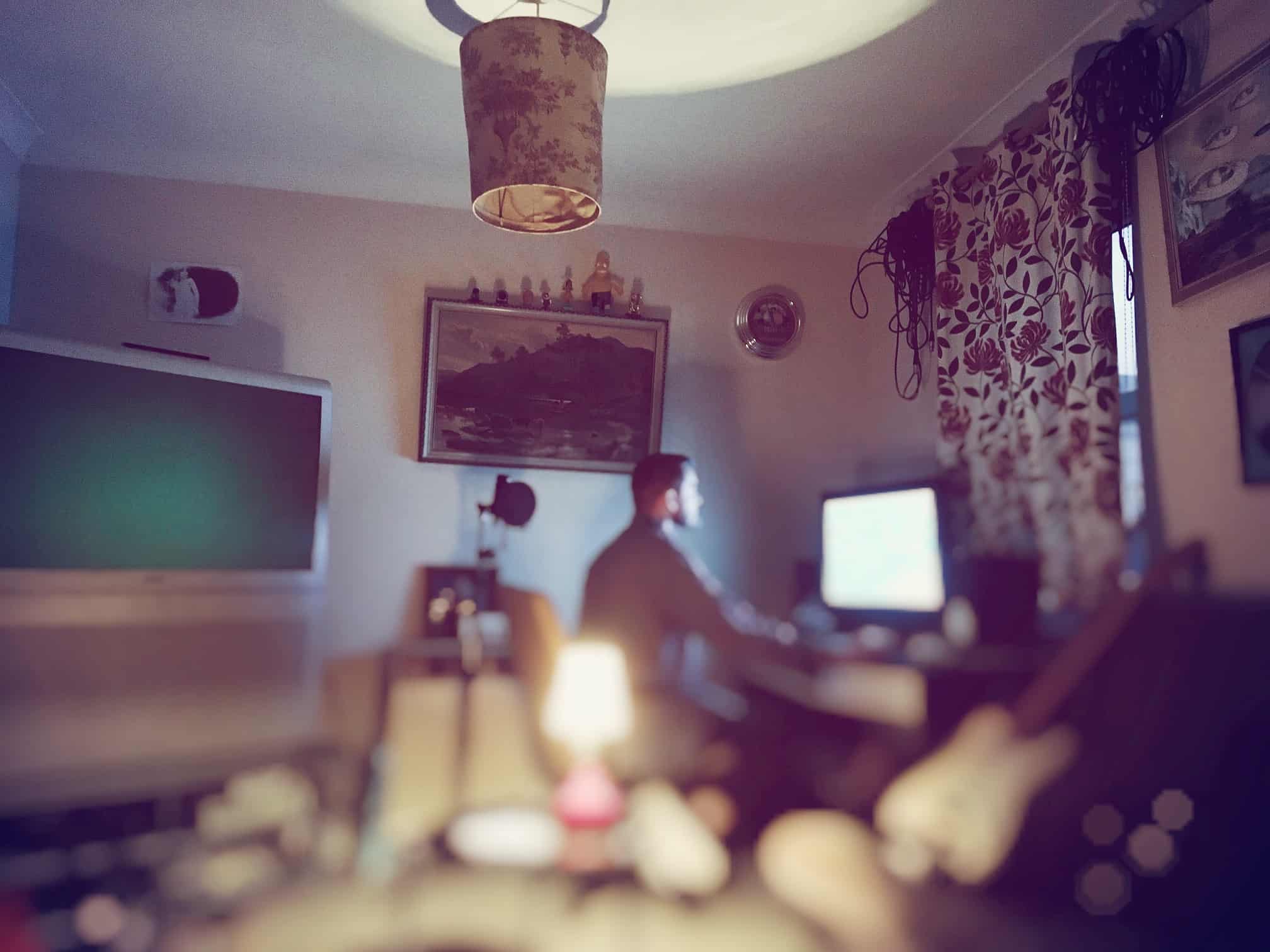 Ultimately, what truly makes Thrillhouse such a thrill is the band's ability to immerse us in their world. "Lesser" is more for Thrillhouse, and we can't wait to hear more from this exciting Brighton trio!
Watch "Lesser" exclusively on Atwood Magazine, and get to know a bit more about Thrillhouse in our interview below!
Watch: "Lesser" – Thrillhouse
MEET THRILLHOUSE
Atwood Magazine: Great to connect with you! Who do you look to as sonic/musical inspirations?
Thrillhouse: There's a big Talking Heads influence in there. I love music that does a lot with very little. Brian Eno said 'repetition is a form of change'. We've tried to apply that to music. Some would say we're just lazy…And some would be right.
You debuted with "One of These Days" in December. Why did you choose this track for your very first song?
Thrillhouse: It was the first song we finished together, so it seemed like the romantic thing to do.… Don't know what we we're thinking. It's 5 and a half damn minutes long. Turns out that's a terrible idea. It's been well received though, so that's nice.
How do you to find your sound, and what is it about the music you make that you find so alluring / inspiring?
Thrillhouse: All the tunes are kinda loop driven. We get something that works and base the song around that one idea. Brian Eno said "repetition is…" ah, I've already said that. Errm… I guess what I like about it and hope comes across, is that you can get lost in it. You can put it on and not have to listen too hard, just go with. Apologies for sounding pretentious.
Did you always want to be in a band? How long have you been together?
Thrillhouse: Yeah, I've wasted a significant portion of my life trying to make it in this 'ere music game. I've been in more bands than I've had hot dinners…. And I've eaten a quite a few hot dinners, I can tell you! We've been writing together for about a year or so, but have known each other for a long time.
What has your experience been like making music in Brighton? What is that community like for you?
Thrillhouse: Yeah, it's great. I think the statistic is 2 in 3 people are in bands. Don't quote me on that. There's always something going on. Someone's mate is always playing somewhere.
Tell me about "Lesser" — what is this song about for you? When was it written, and what inspired it?
Thrillhouse: It's supposed to be about the general ups and downs of life really. As I was writing it, it became increasingly clear, for me, it was about spending so many years making music, being in bands, and it never quite working out. That grim feeling of putting everything into something, missing out on so many other things to make it work and then it coming to an end. Knowing at some point you'll have to give it up, or at least put it on the backseat. Wondering was it a waste of time?
… But this is the one, though. Isn't it?? Yea? Isn't it!?!
What do you think is your favorite aspect of this song?
Thrillhouse: The video. It took far longer to make that the song did to write.
Who directed this video? Is this your first video?
Thrillhouse: I'm not sure you could say it ever had direction. We all chipped in drawing it. Except Ali. He did nothing. It took about a month to finish. By the end I truly began to loath the whole idea. Should have just filmed a cat doing funny things for 4 minutes. Would've taken a fraction of the time. And people really like cats on the internet.
What do you think the music video adds to the song that might be absent in the music alone - ie, how does the video change the experience of the song, for audiences?
Thrillhouse: Skeletor. He's not explicitly referenced in the lyrics but if you play the song backwards you can faintly hear his name. Though it does sound more like 'Skreragror'. The vids supposed to represent life as a whole. Lot's of bumps and sea demons etc.
Being concerned by copyright laws, I state that the character portrayed in the video is, in fact, not Skeletor, but an original character called Skeletoro. Just thought I should clear that up.
What are some other bands/artists you're listening to right now, that you would recommend to our readers?
Thrillhouse: Ah to be honest I rarely stray too far from Abba and Tina Turner, but Squid are really good.
— —
Stream: "Lesser" – Thrillhouse
— — — —
? © 2020
:: Stream Thrillhouse ::
---