If 'Thrashing Thru The Passion' felt like a band rediscovering their sound, 'Open Door Policy' shows The Hold Steady have honed their sound and are ready to attack.
Stream: 'Open Door Policy' – The Hold Steady
---
When you've been a band for nearly two decades, things should change. Age brings marriage, kids, bills—all the adult stuff that prevent you hanging all day and writing tunes. Yet the alternative, a sad rockstar's arrested development, sounds even worse. The only option is to evolve: Songwriting approach changes, band practices shorten and focus—even touring become a different beast.
The Hold Steady may be the best how-to for this.
As they prepare to release their eighth studio album, Open Door Policy (out 2/19 via Positive Jams), they've found their groove again: They've figured out how to be a six-piece and are now as powerful as ever. "Look at Thrashing Thru The Passion as the beginning of a third chapter of The Hold Steady. I divide it up as the first four records, then Heaven is Whenever and Teeth Dreams in the transition, and then there's this new period with the six-piece lineup—which is the best line-up—and I feel like this is the high-water mark of the third chapter," says lead singer Craig Finn.
If Thrashing Thru The Passion felt like a band finding their feet, Open Door Policy shows they've honed their sound and are ready to attack.
"Every time Kiss puts out a record, Paul Stanley says it's the best record Kiss has ever done, so you feel sort of ridiculous [saying this] but I honestly do think this is at least as good as any of our records," says Finn. "It's a high-water mark and I'm really excited about it. It has a depth and a narrative and a cohesion that sits amongst our best record."
This comfort level comes from a lifestyle shift that only arises from a long career. Changing tours into residencies, writing steadily instead of in blocks, and freeing themselves from the traditional album cycle all contributed to a shift in The Hold Steady machinery. "Franz and I [Steve Selvidge] don't live in New York, and we're all older, so we're not going to the practice space and pounding beers and hanging out with each other afterwards and stuff like that. It's more files being shared on dropbox and everybody works in their own pod for a little while before we get together," says guitarist Steve Selvidge. "First we shape things that way and then we shape them in the rehearsal room pre-production, and then we shape them in the studio."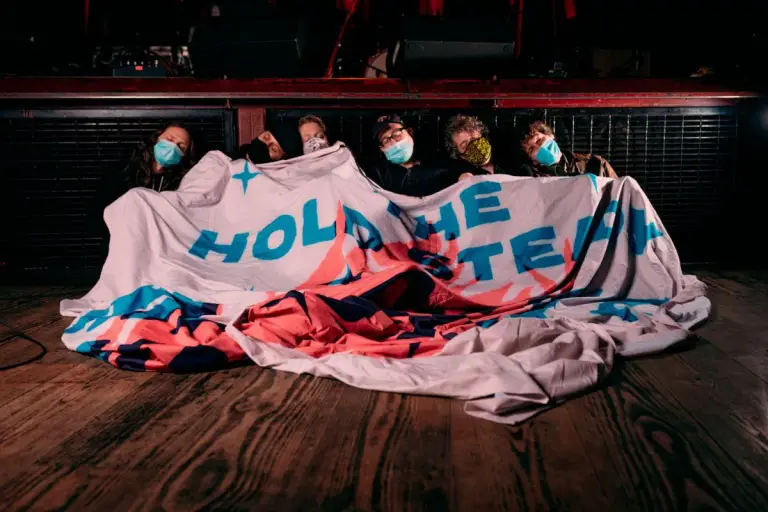 "When you're 19, getting in the space and spending ten hours there is great but for where we're at now, getting everybody to come in with some preparation is much preferred," adds Finn. "You can just speak the language quicker and maybe get somewhere quicker if everyone's done their homework."
The end result of this change is an incredibly consistent album. It has that classic Hold Steady sound—"Well, one thing is, with my voice, it's probably always going to sound that way right?" laughs Finn—but there's also a confidence and willingness to explore; electronic beats on "Unpleasant Breakfast" feels like a 2021 take on the old-school sound, for example. They're using their years to explore different sonic avenues—whether they work or not is almost besides the point. "I think there feels like a lot of freedom now," says Finn. "That's part of the luxury of having a big catalogue; you're just adding onto something that's already pretty well established."
Finn's storytelling – which at this point could be considered legendary – is just one aspect of what makes Open Door Policy interesting.
Musically, its mighty sound enhances and pushes the story forwards. "In writing for the band, there's a lot that goes through your head but one very important objective is to stoke Craig [Finn] out, to get him excited—because you know great things are going to come out of him," Selvidge says.
Clearly this approach works: Songs like "Lanyards" stand amongst their best tracks. A tale of Hollywood aspirations gone awry – and like any good Hold Steady song, ending in a poetic tragedy – it is about more than the story's events; it encompasses all the album's themes.
---
"Some of the concepts and the narratives that we wrote in 2019 – a lot of it has to do with mental health, a lot of it has to do with wealth and power and inequality – 2020 made those stories all the more relevant."
We see this too in "The Prior Procedure," the song the album's title comes from. It's drum heavy intro soon gives way to competing guitar riffs—you don't have to listen long to realize that they've found a spot for every instrument, a key role for all six musicians. Meanwhile, it's message slaps you between the eyes. "That song is about an idea of a billionaire having an open space where anyone can come live but he's still got the power. It's this post-capitalism thing where modern culture people have this 'I gave this much to charity, but I was exempt from taxes so I can still have control over this.'"
When discussing Finn's softer solo work completed before the opening of The Hold Steady's third act, he succinctly sums up what makes the band so damn special: "The Hold Steady stuff just exists on a bigger level – it's more of an action movie than a talking movie."
— — — —
? © Adam Parshall
:: Stream The Hold Steady ::