A stirring record of grief, loss, love, and remembrance, Leah Shaw's debut album 'Play Beautifully' is an intimately beautiful and achingly bittersweet experience.
Stream: "Love Comes" – Leah Shaw
---
Ultimately, the album is meant to be truthful about how much grief can hurt, overwhelm, and define us. My hope is that this space to be honest about loss is also a place to draw strength to continue forward even when it's challenging or dark.
A stirring record of grief, loss, love, and remembrance, Leah Shaw's debut album is an intimately beautiful and achingly bittersweet experience. Heart-wrenching and raw, Play Beautifully radiates warm emotion and passionate energy as the artist processes her mother's passing in real time, capturing on record a vulnerable, deeply moving journey of pain, connection, healing, reckoning, and acceptance.
At the end of the long night
At the end of the pyrrhic fight
You lost your left and then you lost your right
At the end of the long day
When she has drifted away
You find there's nothing more to say
Just rest now, you'll figure it out
Don't let it cast a shadow on all that you do
Cause you talk to much
You try to plan too much
Just wait
Love comes when you need it to
Don't you know that
Love comes when you need it to

Independently released July 30, 2021, Play Beautifully arrived this summer as a stunning outpouring from the depths of a reeling heart. The first full-length album from Leah Shaw (co-produced by Shaw and Teo Blake) finds the Brooklyn-based multi-instrumentalist, singer, and songwriter blending elements of folk and Americana, rock, and pop music into a radiant expression of upheaval and self-exploration. Dedicated to Shaw's mother, Rebecca Easterly Shaw, who recently passed from early onset Alzheimer's disease, the album acts as both a vessel of grief and a vessel of healing: Within it, listeners will find songs of upheaval, of connection, of longing and nostalgia, of visceral pain, and of catharsis.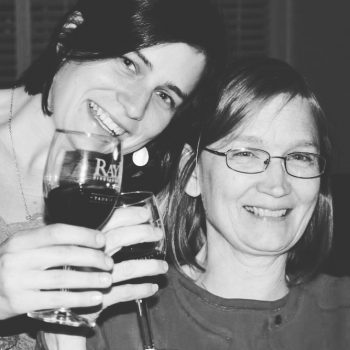 "Admittedly, in retrospect I believe I went into the record-making process a little bit backwards," Shaw, who has been releasing music for the better part of the past decade, tells Atwood Magazine. "Rather than starting with a cohesive body of work, I was feeling driven by this certainty, fueled either by artistic vision or anxiety or both, that I needed to make a full-length project. I didn't know at the outset what focus the album would take or how important it would become to my own healing and personal transformation. During the time when I was considering how to make my record, I'd worked a string of day jobs to pay my bills, while hustling at night to every open mic and artist showcase and book-anybody venue that New York City would let me play, plus busking regularly underground for tips and vocal practice. Meanwhile I was visiting my mom back in my home state regularly to help to care for and connect with her as best I could from afar, with all of the feelings that accompanied that. The few experiences recording small projects with producers in the city were anxiety-inducing because I didn't know how to ask for what I wanted musically, and I came away frustrated in the end with music that wasn't what I'd imagined in my head."
"I realized that for this to change, I needed to learn the language of music production myself. So, I took a huge step and applied for a three-year graduate program in audio production. I got in, and just a couple of weeks after my mom's death, I began the program of study. There, I met fellow classmate and album co-producer Teo Blake, and we jumped into the project. Every audio skill I learned in my courses, every professor I encountered who had a perspective on recording and mixing music, and every talented musician with whom I connected, I implemented into the album-making process. Meanwhile, with my mom's loss very fresh, the album began to define itself as a work that would center around my mother and the connection we'd had. I was coming to terms with her loss while becoming the confident, creative, musical person that she had raised me to be."
"My mom said to my sisters and I, "play beautifully!" whenever we were about to pop out of the car and go into music lessons. I always hear that in my head," Shaw recalls. "The album brings a level of emotional honesty I could never access before I made it – not just artistically, but personally. I co-produced the album and had my hand in every aspect of it, and I use it to bring myself through a difficult yet transformative time. It's a benchmark for all future work, to be able to bring my whole self to a project the way I did in this album."
---
Highlights abound throughout Play Beautifully as Shaw bears her heart and soul for all to see, hear, and feel. From the evocative, enchanting opener "Leaving in the Morning" to the poignant finale "Pretty Mama," Shaw crafts an expressive, engaging journey that soars high and sinks low, showcasing the incredibly vast array of emotions we experience alongside grief.
"I truly love each song on this record and every piece of the project is there because it says what I think the project needs it to," Shaw says. "The final song, 'Pretty Mama', will always hold a special feeling for me because I sang it at my mom's memorial service, so it brings me back to that place and at the same time, it makes me feel hopeful. But I would say it's the title track, 'Play Beautifully', my mom and I sitting side by side playing at the piano, that sneakily defines the album for me. As my little sister discerningly observed, this song dissolves the definition of a song as something that's both planned and polished, broadening it to include any recorded musical moment that captures a feeling or important moment. It's beautiful that my mom became not just the subject of this album, but one of its contributors. Music is for all, can be created by anyone, and recorded by anyone at any time. This song captures one of the most beautiful moments of connection that I ever had with my mom, and I am so thankful that Letisa, my mom's caregiver and friend, had the presence of mind to record it when it happened."
---
Shaw goes on to cite some of her favorite lyrics on the album as well: "I am lyrically forward in my own music, and I always listen for particularly succinct and evocative lines in the lyrics of others. It's always interesting to hear what lyrics generate particularly strong reactions in others, but here are a few that I love most on the album:
The opening line of "Leaving in the Morning": "I know you loved with everything you had, and it left you tired." So much story is contained in that one sentence and it evokes a feeling that's universally relatable. I'm proud to begin the record with that one.

From "Love Come," the pre-chorus: "Because you talk too much | You try to plan too much – just wait." There, I'm talking myself down from a ledge of anxiety, and I love the lyrical concept of giving advice to one's self as opposed to simply describing the problem from a first or third person perspective.

"Where Are You" is for me a brave song from start to finish; recording it was vulnerable and mixing it left my co-producer and me feeling raw. I love the assertion of "I don't need to get over it | I don't need it to feel better", but it's the use of my voice without lyrics that make me most proud–just a sustained vowel to project a strong dark emotion, without words to hide or soothe that feeling.

From "You Knew Me," I love the third verse: "Last night I walked you home | The one you knew, so you would not have to go alone | I saw you there safely." This reflects the only point of rest in the long journey we took with my mom, that we had the gift of being able to be with her and see her safely through the end of her life on our terms. From this experience, I believe that for each person to have a good death is an important reflection of one's worth, soul, and uniqueness as a being. Having that opportunity is not a given; in fact, it's unique and rare, and I don't take it for granted that we got to provide that for my mom.
---
Leah Shaw's willingness to so openly and candidly explore her grief proves especially powerful for those who share in the experience of an intimate loss: I lost my own mother in 2017 to cancer. She was a ray of light and love in this world – the kind of person who went above and beyond to connect with loved ones and support those she deeply cared for – and through Play Beautifully's songs, I find myself reliving special moments from our past together, and I can allow myself to continue cherishing her memory in ways new and old. The grieving process is never really over; it continually transforms throughout your life. Play Beautifully is a welcome vessel of self-reflection and emotional expression: It provides those who need it (Shaw included) a space to mourn; to dwell; to be angry and heartbroken, honest with ourselves and the burdens we carry. Ultimately, this debut exists as a remarkably beautiful soundtrack to grief, memory, and everlasting love and connection.
"I hope it makes space for listeners to approach their own feelings with honesty, vulnerability, and bravery. I've always struggled to do that, but making this music along with some radical self-care steps, including addressing my mental health struggles, helped me with that," Shaw shares. "I hope that the album creates confidence in listeners that love does come when they need it, whether that's self-love, love from others, or both. There's a choice that we each have to make when faced with a hopeless-seeming situation to trust that we will get to the other side of it. Choosing to trust, along with actively caring for ourselves and reaching out for support, are what keeps us going, and I hope this album can help people to move towards that."
"Ultimately, the album is meant to be truthful about how much grief can hurt, overwhelm, and define us. My hope is that this space to be honest about loss is also a place to draw strength to continue forward even when it's challenging or dark. To have written these songs while feeling such isolation and grief, and now releasing it amidst a pandemic that brought those to so many people – it's surreal, upsetting, and humbling. However, I am grateful to have a voice, and I hope that this music is found and heard by the people who need it."
Experience the full record via our below stream, and peek inside Leah Shaw's Play Beautifully with Atwood Magazine as the artist goes track-by-track through the music and lyrics of her debut album!
— —
Stream: 'Play Beautifully' – Leah Shaw
:: Inside Play Beautifully ::
— —
Leaving in the Morning
The song is the oldest on the record. I wrote it several years ago when I was in a relationship with someone during a real personal low point. As much as I wanted to be, I wasn't emotionally available for him. The song marks the discovery that my old patterns were not working; I needed to stop anxiously avoiding my own pain, heal, and learn some real self care before I'd ever be ready to give to someone else in any significant way. The perspective of the song is kind of a turnaround, where I imagined myself in his shoes asking me, why don't you have the bandwidth to love me the way you loved the person who came before? It sits at the front of the album providing the thesis that our protagonist is not doing okay; change and transformation are needed, and they are coming.
Love Comes
One of my many shitty New York City apartments was an illegally carved up one facing the very loud M train, crumbling but centered around a beautiful old fireplace, and I wrote many songs in front of it including this one. I was trying to self-soothe, calm my anxiety and move through the pain I had around my mother's health worsening, and feeling like I was losing the connection she and I had once I left my home state and moved to New York City. I knew that moving was the right choice, but it was a heartbreaking time.
Intentions
As we approached the end of my mom's life, I found myself devastated that the evangelical christian religion that grew me up had turned to support a politician who hated the vulnerable, who stood against everything my mother had taught me. A large part of my community was from this religion, and the contradiction between the love I received from them and the religion's support for such a destructive politician and ideology broke my heart. The loss of my religion, my true north, had always been difficult but it was especially difficult at this tough moment in my life. But ultimately, it's a song about unconditional love being the ultimate bond, stronger than mismatches between beliefs, even when it's impossible to explain how or why that is possible.
Where Are You
This song was painful to record and the hours we spent mixing it left my co-producer and I feeling raw. The song expresses the cycles of grief, anger and longing, frustration and sadness, a chant-like repeating that shows how endless grief can feel. I was walking in a beautiful garden on a sunny day when this very dark and sad song came out of me, and that's what grief does–it can turn off the lights on you at the most unsuspecting times. But it's also a powerful way to assert that a connection to someone you've lost will last forever, that no one can force you to give that up, and I love that this song catches that magic and power.
Look At Me
There's a relentlessness to the way that dementia progresses, constantly forcing you to recalculate and reposition and reground yourself at all times, which everyone who has experienced this recognizes. The driving beat of Look At Me reinforces that. I'm the middle of three sisters and we're all close; my whole life I was told I look exactly like my mom, which I loved. There was a moment in time when that piece of my identity was severed, when she no longer recognized me and I realized it, and I wrote this song about that particular experience.
Play Beautifully
There was one language that my mom and I were always able to speak together, which we never lost no matter how much her ability to communicate was affected by her illness, and that was music. My mom listened to my recorded music over and over again alongside her favorite musicians from her childhood, and whenever I sat down to play with her, she leaned in close, and sang along. In this, the title track, she and I sat beside each other at the piano, and mom was absorbed by it, remembering the technique she learned in her childhood piano lessons, picking out those high notes you hear, while I accompanied her with chords to keep her in that peaceful moment. This song is the soul of the album, without which it would be a completely different project.
You Knew Me
I had a dream one night that my mom and I were walking down a beach together, both little girls who were friends, walking side by side laughing and hopping waves. I wrote this song after I woke up from that dream. There were many times over the years of caring for my mom I'd see my mom asleep and she would look so peaceful, and I would sit down beside her and think, maybe when she wakes up this time, she'll be restored to how she was, maybe she'll recognize me. Performing this song still puts me into that trance and allows me to linger there, which is a power that dreams hold, and that music can hold, too.
Pretty Mama
I looked up at a picture of my mom and I playing music together, imagining how I would feel once she was gone, and simultaneously hoping that she would watch over me but also realizing there were a few of my less admirable choices I hoped perhaps she would not see. During the time I wrote this I was lonely and unsure of my direction, and I often didn't cope in healthy ways. The final line of the album is a send-off: "I just want to make you proud of me." Despite those dark times that so many of us experience as we grow up and come into our own, I feel a sense of comfort now that she is.
— —
— — — —
? © Rodgers Dameron
:: Stream Leah Shaw ::
---