Atwood Magazine chats with the moss' frontman Tyke James about the band's freshly released EP 'Insomnia,' their shift toward vulnerable and honest songwriting, and what's on the horizon for the traction-gaining group.
Stream: 'Insomnia' EP – the moss
---
The moss' Insomnia EP demonstrates lyrical growth and maturity without straying from the group's surf-rock style, consistently fueled with lush reggae beats and bright and groovy guitar bits.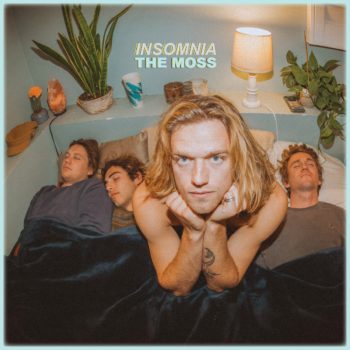 Released on January 20, 2023, Insomnia captures a wide array of emotions, including a more vulnerable take on self-introspection and realization in "Blink," something that frontman Tyke James describes as "the most honest song he's ever written."
The group's ability to produce compelling and emotionally relatable music without sacrificing their grungy, surfy style is undoubtedly contributing to the quick success and traction this freshly released EP has gained.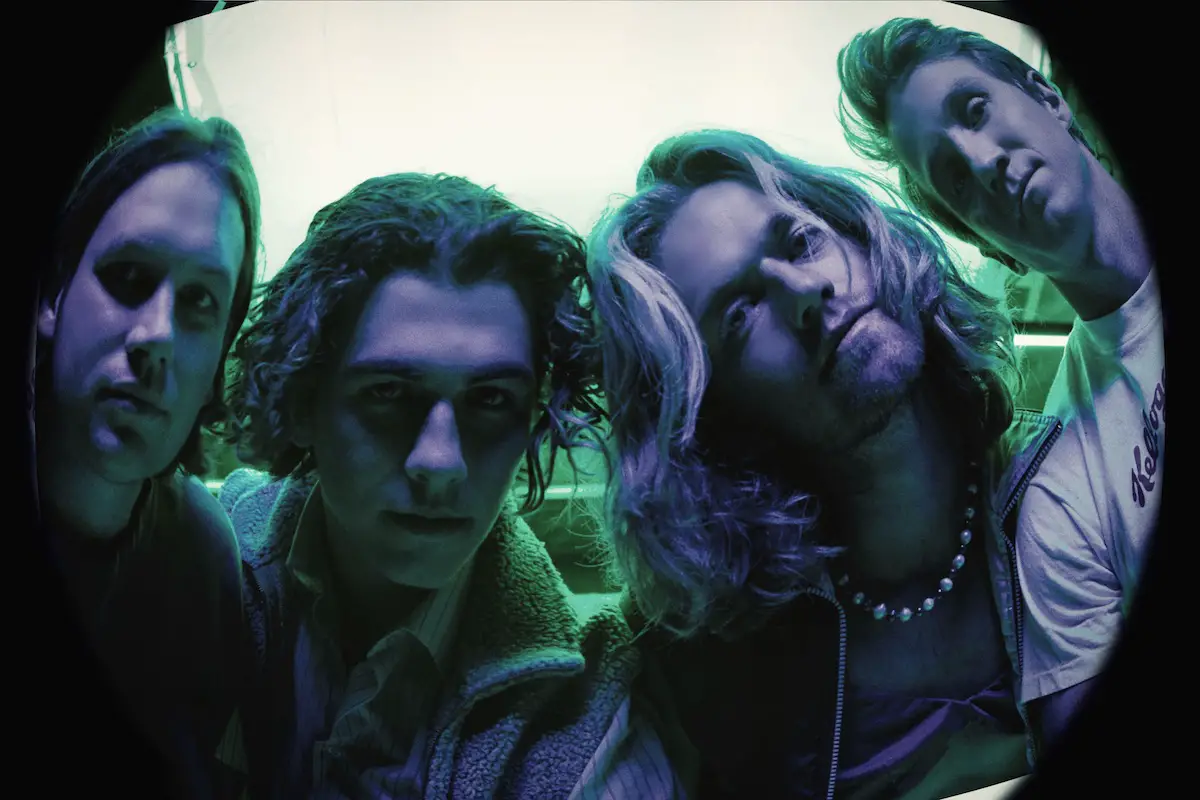 Already their number one streamed song on Spotify, title track "Insomnia" is the pinnacle of a feel-good, sunny day love song fully equipped with crisp melodies and carefree vocals, a true testament to the group's Hawaiian origin.
Atwood Magazine sat down with frontman Tyke James to talk about the new EP, the band's newfound lyrical vulnerability, and the stories behind the name "the moss."
Blink your eyes or you'll get hypnotized
Wipe your tears and carry on
Nothing hurts quite like a broken heart
I guess I see how you get sucked in
But did I find you lonely, babe?
Did you show me how small I am?
Don't lose your love
Hold me like it's never gonna end
Please change your mind
If I lose you, I may never love again
Stream: "Blink" – the moss
A CONVERSATION WITH THE MOSS
Atwood Magazine: Congratulations on the release of the EP! What have you guys been feeling – what's been going through your minds?
Tyke James: I don't know. It's so weird. We've never had songs in our pocket for this long. We recorded them like two falls ago. So, I mean, like, two September's ago we had the finished product. We've never actually held on to songs for this long. So, it's honestly just pretty surreal to have them out because it was so many phases of "oh, they're done. Yes, I love the songs. Oh, wait, are these good anymore? Are we ever gonna put them out like this?" Then finally they're out and it feels really, really exciting. And in the end, it really came together very well. With our new management, they all helped to kind of put this out in a way that felt really good and really efficient. And so yeah, it's all just like, so surreal. And it feels like it came together perfectly in the end, but just a little surreal having them finally out."
Did you change the songs a lot within those two years or were you pretty consistent with what you wanted them to sound like?
Tyke James: No, like, nothing changed. I had a couple of the songs written – I do most of the writing, but then when I bring it to the band, you know, we kinda mix the composition up and add different parts and such.  And sometimes we'll come up with completely new things. Two of the songs we wrote during practice, and then two I kind of just wrote sort of on my own and then we mix them up together."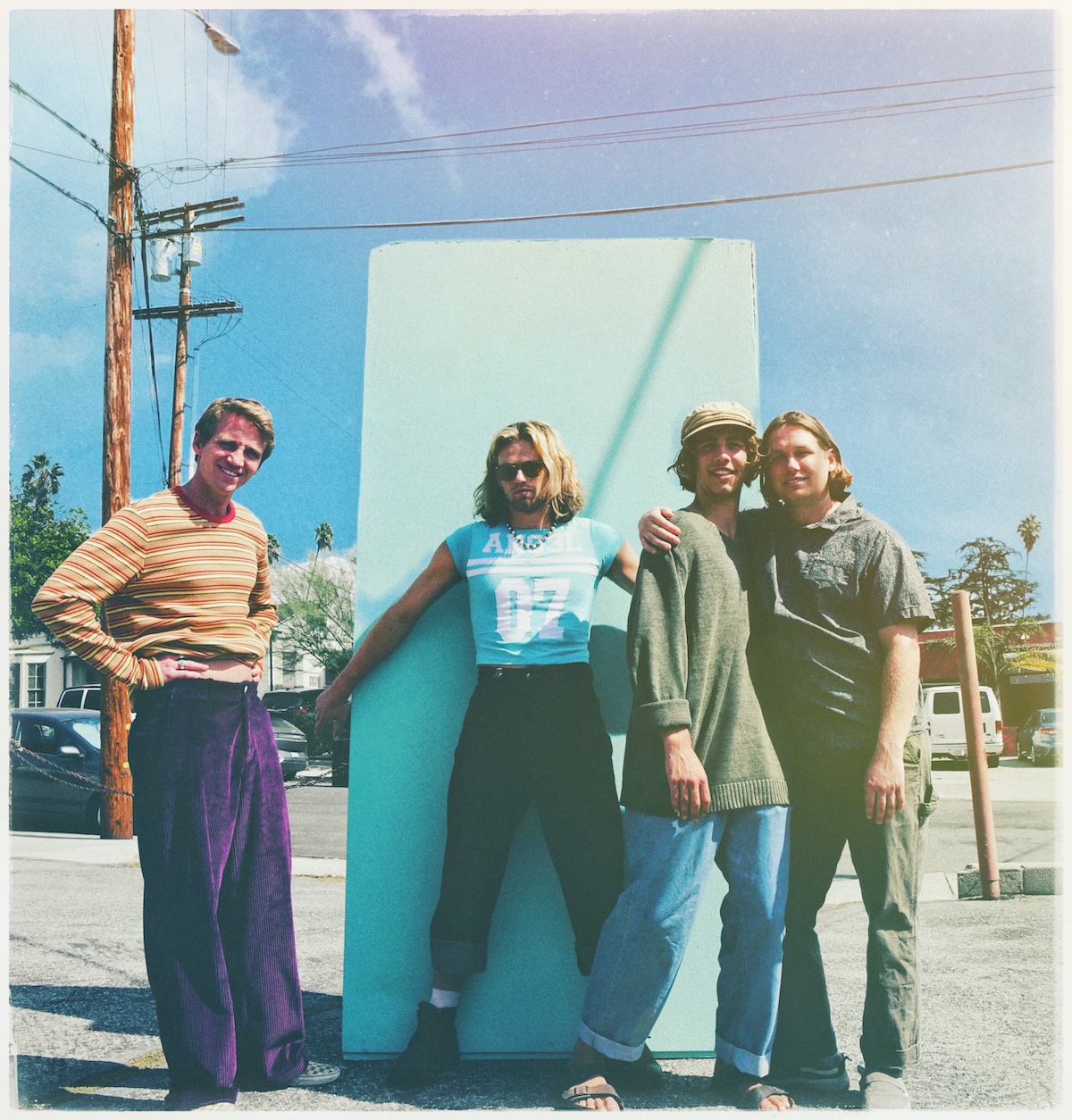 In this EP you're a little bit more vulnerable, you're talking about things you've said make you uncomfortable. How have you leaned into vulnerability through songwriting?
Tyke James: Songwriting is just kind of like anything, you know; you practice and you just get better as you're practicing. It always feels very true when it's coming out. All our previous records, you know, felt really true to me at the time, and there's still songs that feel very true to me. But with these, I finally felt like I like learned how to speak in music the way that I wanted to, especially with our song "Blink." I felt like I was finally kind of breaking down emotions that I had been feeling and able to put them into words. And just kind of something I've learned about myself is up until the last couple years, I really kind of ran away from my emotions and sort of buried them and just kind of focused on things that weren't sad or dealing with whatever trauma I might have picked up during childhood, you know, and that stuff is all just very new to me, and it's started in the last couple years.
So, with these songs, I felt like I was kind of doing that with music. And the crazy thing is, when I write songs, sometimes they don't really make sense when I'm writing them down. It feels like gibberish. And then like, a week or a month or two will go by, and I'll be like, "holy shit. This is what I've been feeling for so long but haven't been able to describe." I don't even realize it until weeks later. I think that kind of describes the way that my mind kind of works when it comes to dealing with emotions.
Speaking of "Blink," I watched the video for that track you guys masterfully created in 10 hours. How did you guys come up with that idea?
Tyke James: [laughs] It was honestly my guitarist and bassist's idea for the video – we took their interpretation of the song. We had an original idea where we were going to make it Christmas themed but then Christmas passed, and we didn't make it. Our manager was like, "we're not doing the Christmas tree video." Like really? Okay, that's probably a good idea. So, then they came up with the idea of just finding me in the woods, and sort of bringing me in, but I just kind of mess everything up. Like, for no reason at all.
And yeah, we're really stoked on how it came together. We actually didn't have anyone filming because our bassist Caiden is a videographer. And so he said "no, just let me do it. Like, we got it. We don't need anyone else." And I was like okay dude, really doubting AND he forgot his tripod, and I was like this isn't gonna work. But okay. So, we're filming and I kind of have these doubts throughout the day. And then he literally went home and edited the whole video and sent it to us. And I was like, "how the hell did you pull this off?" It's honestly mind blowing. He's just really talented. We're really stoked about it.
— —
I wanted to talk about "Insomnia" – you released this track as a single in November and it's been your most played track you guys have ever released so far. It's been on Spotify charts and playlists. Were you guys expecting that to be your most played song?
Tyke James: We obviously like the song, but definitely not. Definitely didn't expect it to do that. The first crazy thing is that it got on this sort of big indie rock playlist on Spotify. And that was the first big thing – it started just getting tons of streams and attention and stuff. And it was just like, "whoa, that's sick." After that, it was another playlist, and it was like, "wait, what?!" We definitely weren't expecting it. But it's exciting. You know, you hope that happens to every song you put out. But when it finally does, it's like, "oh, that's weird."
You're from Hawaii and started your music career there, but you guys are in Salt Lake City now. What's that switch been like for you?
Tyke James: Yeah, it's very different. Honestly, we never really tapped into the music scene in Hawaii. It was pretty nonexistent. I definitely had a couple of music friends that I'd hang out and sing with; I met Addison there. But as far as the music scene goes, we'd just play at a taco truck and occasionally at fundraisers or church events. And that was the extent of what we did musically out in Hawaii. And then we sort of migrated out here and found this incredible, small underground movie scene. I moved here in my van kind of expecting to not live here, but just to see everyone and then sort of peace out and go live in my van in California or something. Just kind of travel, play music, and I did for a while – just kind traveled and did solo concerts by myself and then we started playing music together and that's really when the band actually formed.
Addison and I started putting out music under "the moss" in Hawaii in 2017, but it was just me and him and kind of just for fun and like whatever. But then when he moved here, Willie started playing the drums, and Brierton, his brother – we just started performing together and actually charging money for shows as opposed to house shows and taco trucks. Once we started doing that, I was like, "Well, this is what I wanted to do. So, I guess I'm gonna live here." That's kind of how we wound up here. And I mean, the scene here is just incredible. I say this a lot, but I feel like the standard here for bands is just kind of high. And everyone just kind of pushes each other to be better. And I think that's what's really cool about the scene out here is just like, if you're in a band you're making good music, you know? So, it's the coolest physical thing to be a part of and see.
Yea, you guys have spots like Kilby Court, just a legendary venue. Getting to play there must have been huge – obviously there have been greats that have played there.
Tyke James: Yeah, Kilby Court is freaking awesome. They're honestly a huge part of it. I haven't lived in other places since I've been doing music, but venues are just so hard. I've put together tours for myself and like, getting all the venues is just so hard and having the sort of clout or whatever you want to call it that's required to just even be able to come and play. I remember making fake emails that seemed professional and then just being like, "Hey, this is Tyke's manager" before I had one just because I'm like, how do I get these people to believe me, you know, and let me come and play? But Kilby is just so not like that. You email them and they'll email you back. If you're a band they'll be like, "Yeah, cool. let us know who else you want to play with and we'll get a show set up." It's how you think playing at a small venue should be, you know, and no matter how many cool bands play, they never changed. I think that's really important to have.
I have to ask – what's the backstory of being called "the moss?" I've heard some conspiracy theories and I have to get it straight.
Tyke James: There's honestly a few different reasons. Addison's like very loosely related to Keith Richards from the Rolling Stones, but when I say loosely related, like, it's his fourth cousin's aunt's mom who is Keith Richard's mom. So, it's a pretty loose relation. We kind of ripped off that because The Rolling Stones gather the moss. And so that's kind of where it came from.
I had heard rumors floating around that it was because you guys have eaten moss before.
Tyke James: [laughs] We've tried that too! We like adventures and when were younger me and Addison used to do kind of wild stuff. We'd just kind of travel around, we were backpacking in Hawaii and we didn't bring enough food because we were like 16 and we would just throw moss into whatever we were eating just as a filler.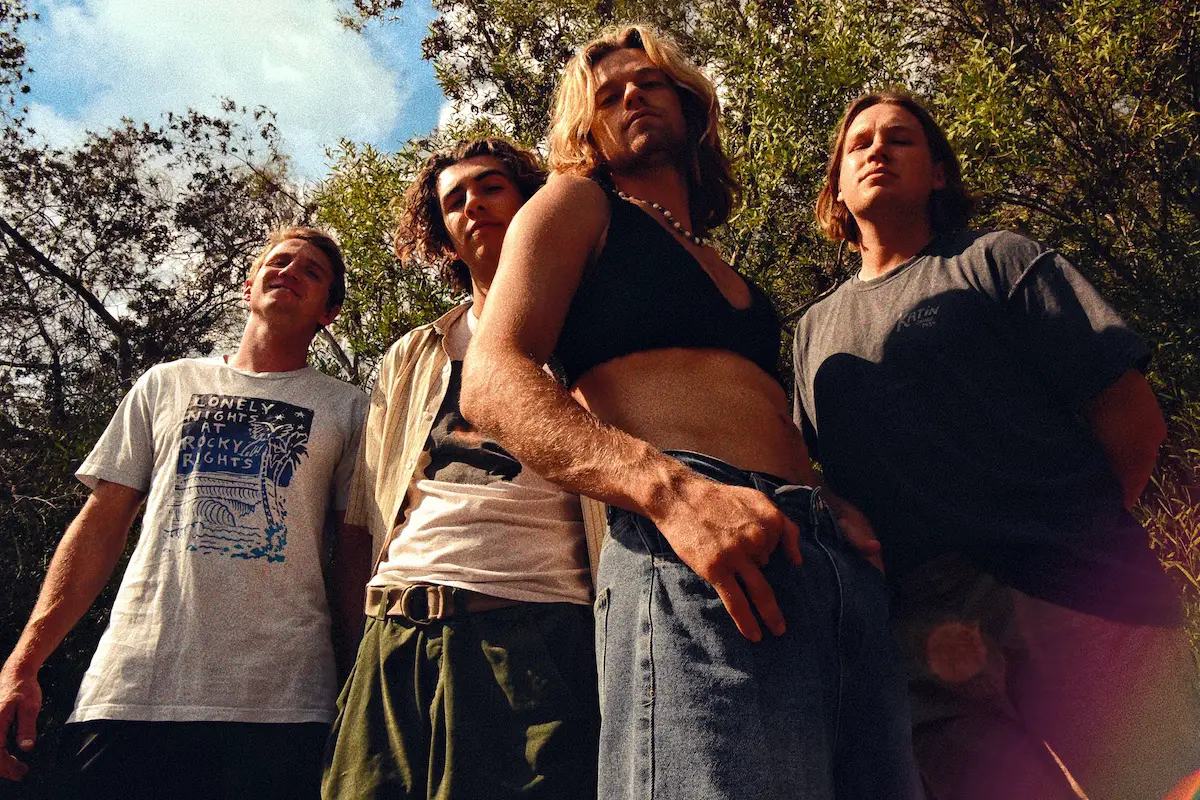 I've been there. Switching it up here – any musical influences you've feel like you've drawn from in making this EP?
Tyke James: Yeah. Ever since we started, we've been big Pinegrove fans. They're definitely a big musical influence. Sort of all around our favorite. If we're looking for inspiration when it comes to song structures, we tend to like Cage the Elephant a lot. I've recently gotten into The Strokes – yes, I'm a little late to the game, I guess, but I really really love The Strokes. One of my favorite songwriters is Kevin Morby. We listen to a lot of Car Seat Headrest. Funny enough, our drummer isn't the one from Hawaii, but he's the one with the major reggae influence and the one who actually sort of pushes us in that direction. It kind of just came naturally because of the cultural influence growing up in the islands.
My last question is about your upcoming tour. You guys are gearing up to travel, performing shows and music festivals. How are you preparing for that? What's been going through your minds?
Tyke James: I mean, we don't really know how to prepare for it. We've had the chance to go and travel to California and Colorado and Montana, sort of just as one-off shows around us. We're getting the opportunity to just kind of go further and further and play for people who are actually like our fans, which is really cool. So yeah, we're just honestly super excited just to get out and show people a good time at a moss show and you know, give people a night to remember and that's kind of our hope. So, we're just kind of practicing our show, getting our setlist dialed, making sure we have enough merch and space to put it – that's kind of it.
Anything else you want to let your fans know?
Tyke James: I'd say come to a show because that's the reason we do it! That's the reason we record music in the first place is just so we can get out and play it for people.
— —
— — — —
? © Shervin Lainez
:: Stream the moss ::
---