Texas folk artist Derek Tusing strikes a somber, yet hopeful chord with his latest single "Wasted," a meditation on substance abuse and our ability to change.
Stream: "Wasted" – Tusing
---
Ideas are a lot like fireflies. They flutter about us unseen in the fading twilight until suddenly and briefly lighting up the darkness. We chase after them with our nets, hoping to catch one or two for awaiting jars. Often they slip by us, returning like phantoms to the ether, blessing us with their radiance only for a moment. Capturing their essence before they disappear is the constant struggle of the artist.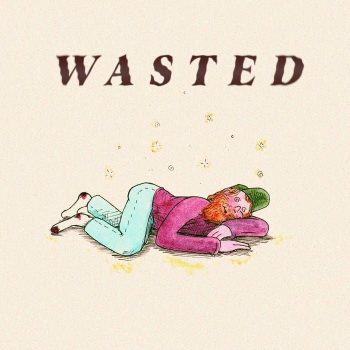 Derek Tusing is no stranger to the chase. Inspiration often comes when he is out in nature, and he scrambles to seize its essence before the light goes out. "If I'm lucky enough to grab a recording of it as I'm flowing with the idea, I may finish the song that day," he explains. "And it may never be 'written' down. So the process is waiting on the spark, trusting my gut on the lyrics and not really stressing about when or how I should be writing."
That sense of flow, of not running against an idea but alongside it until it alights gently like a bird in the hand, is how Tusing's latest single "Wasted" came to be. The melancholic folk number flows like a stream, often no more than a trickle, but carries with it an almost sublime persistence. We know this stream, however small, will continue toward something bigger, greater, perhaps altogether more cathartic.
I was hoping you might come along
And pick me up from where I'd fallen down
"Wasted" finds Tusing down, but certainly not out. "It's about my struggle with substance abuse and how that affects my ability to show up for others in intimate relationships," he says. "It has its low points, yet I feel the song is hopeful. It's about coming out of the dark depths of an experience with a new perspective on a part of yourself that needs your attention and healing."
Set against a soft plucking of acoustic guitar, Tusing reveals this meditation, flowing ever downward like water over rocks. His voice takes on a deep vibration, conjuring a sense of forlorn solitude not unlike Orville Peck's lonesome cowboy or The National's dust-swept Americana. Deep strings, a tender drizzle of keys, and the weeping of steel guitar permeate his reverie, wrapping him in their current. Like the stream, he eschews what came before as he floats toward his new self.
"The way things were"
Is just a thing they say
Memories selected
And melodies, they change
It may be cliché to say that the only constant is change, but nature proves it so again and again. Why would our lives be any different?
The raw, organic storytelling of "Wasted" is only a taste of Tusing's forthcoming album Driving to the Game. In a similar fashion, the additional nine tracks on the record promise more of his wistful mix of folk, country, and alternative leanings captured in spur of the moment inspiration. During the mixing and mastering of Driving the Game, Tusing gave himself plenty of time to reflect on each song. "Wasted" in particular struck him as a "farewell to my old self."
As he says farewell though, he isn't really disappearing. The stream carries him to himself anew, but he stays with it all along. We don't vanish, we change.
"Wasted" is the sound of that change, slow and mournful beneath our feet. We aren't who we were yesterday. Who we are tomorrow is still unknown. But inspiration can still come to us as long as we reach for it when it lights up the dark.
— —
Stream: "Wasted" – Tusing
— —
? © Cory Snelson
:: Stream Tusing ::
---