London-based, South African-born Bella Latham, aka Baby Queen, sings about the ups-and-downs of heartbreak in her first single of 2021, "Raw Thoughts."
Stream: "Raw Thoughts" – Baby Queen
---
Tongue-in-cheek lyricism, a witty approach to relatable topics and a good dose of catchy hooks gained Baby Queen, aka Bella Latham, the support of a disenchanted youth. She lends her empathetic to those whose concerns and worries often get dismissed as trivial — making them feel seen in a way few artists can.
In "Raw Thoughts," Baby Queen's first single of 2021, she stays true to her honest narrative style, characterized for its rich imagery and bluntness. However, Latham steps away from the observational approach present throughout the Medicine EP, adopting a more direct tone reminiscent of stream of consciousness writing.
Opening with a playful bit and soaring synth lines, there is an evident contrast between the intensity of the lyrics and the light-hearted sound. Latham soon joins in with her whimsical vocals, making it hard to imagine that she is singing about her own heartbreak.
They say I'm unhinged
And I don't give a shit
They'll never get it
Unless they sat under my skin
And saw what I did
Actually, fuck that, God forbid
They see what I did
Without a filter, Latham swears with attitude, amplifying the impact of her lyrics, while her colloquial monologue add an extra tinge of realness. Intertwining vivid imagery with blunt discourse, she portrays her own personal experiences with heartbreak, experiences that most can easily find solace in.
I got fucked up again, I was crying
Some hours in the A.M
I was writing notes on my phone
"Always keep raw thoughts close
When you get fucked up and you're going back home"
Referring to the release, Latham says, "'Raw Thoughts' is probably the most important song I've released to date because it's actually the song that catalyzed what has become the sound of Baby Queen. I wrote it near the beginning of 2018 (earlier than any Baby Queen song that has been, or most likely ever will be released), and it sort of came to me like a gift from heaven. I had been on one of the biggest nights out of my entire life and had woken up dreadfully hungover. I think up until that very point in my life, I didn't know what partying was. I was incredibly innocent and naïve, and this was the moment everything changed for me."
She continues, "I had been going through a terrible breakup, and discovering partying was like discovering freedom. I was going to places my ex had never been, I was meeting people they would never meet and doing things that would make their skin crawl. I think I fell in love with the danger of it. I had realized that I could do or be whoever I wanted to be, even though the only thing I wanted was to be loved by them again."
"The song came out like word vomit the next day. I was partly thrilled, partly coming down and partly ashamed of myself for what felt like a betrayal of innocence. 'Raw Thoughts' is an amalgamation of every feeling. It's euphoria bleeding into my deep sadness. It sounds like the moment everything changes, because without my knowing it at the time, it was. This song felt like the only way to start 2021."
It sounds like the moment everything changes, because without my knowing it at the time, it was.
Fuck it, girl, I really miss you, you were my best friend
In the hours when it falls, I try to comprehend
All the meaning in emotion, I'm emotionless
And you're sitting by the ocean
Thinking about sex
With a candid approach to lyricism and the ability to create a pop banger, it is no surprise that Latham has captured the attention of a young audience who find her songs healing at best, highly relatable at worst. Rapidly growing a loyal fanbase, the "Baby Kingdom", Baby Queen is one of Atwood's Artists to Watch of 2021.
Stream: "Raw Thoughts" – Baby Queen
— — — —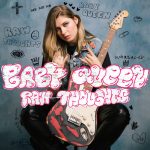 ? © David J. East
:: Today's Song(s) ::

:: Stream Baby Queen ::