A soft and sweet indie folk record rooted in our shared and individual humanity, Aisha Badru's 'The Way Back Home' is the intimate, hopeful homecoming we didn't know we needed.
Stream: "The Way Back Home" – Aisha Badru
---
Philosophically, I think that's where humanity is headed: We are returning to a remembering of what it means to be human and how to live in alignment with the irrefutable truths of our nature.
With nearly two years living in and around pandemic-related lockdowns, we as a global community have had lots of time to think about life, relationships, who we are, and where we're heading. We've all been on our own journeys seeking truth and understanding; of finding our place in a world that so often challenges us in unforeseen ways. The pandemic was (and remains) a jarring, hopefully temporary obstacle in our collective histories, but it's allowed us to "review": To take stock of our realities, our narratives, our everydays and our tomorrows.
A soft and sweet indie folk record rooted in our shared and individual humanity, Aisha Badru's new EP is the intimate and hopeful homecoming we didn't know we needed: A collection of deeply spiritual music full of beauty and pain, self-discovery and healing that enriches the present moment while inspiring us to believe in ourselves and our self-worth. Warm, grounded, and heartfelt, The Way Back Home is a comforting beacon of light and love here to illuminate our way forward.
You and I are both the same
That's how I know that you won't stay
There's a world out there and it'll come calling
Calling out your name
You've got untied ends you need to complete
It's got nothing to do with me
They will call your name and you will go running
And baby that's alright with me
As you run towards the horizon
And venture out into the cold
I will keep the fire burning
To light the way back home
Released December 3, 2021 via Nettwerk Records, The Way Back Home arrives this fall as Aisha Badru's second EP of the year, following her Best Of release this summer. An ethereally cinematic set built around the New York-based singer/songwriter's acoustic guitar and voice, The Way Back Home is as "human" a record as they come: A six-song collection of transformation and introspection, connecting with oneself and connecting with nature. It's a deeply personal album for Badru, yet it's also one that feels exceptionally universal – with life lessons and moments of growth or realization that we can all appreciate, recognize, and internalize.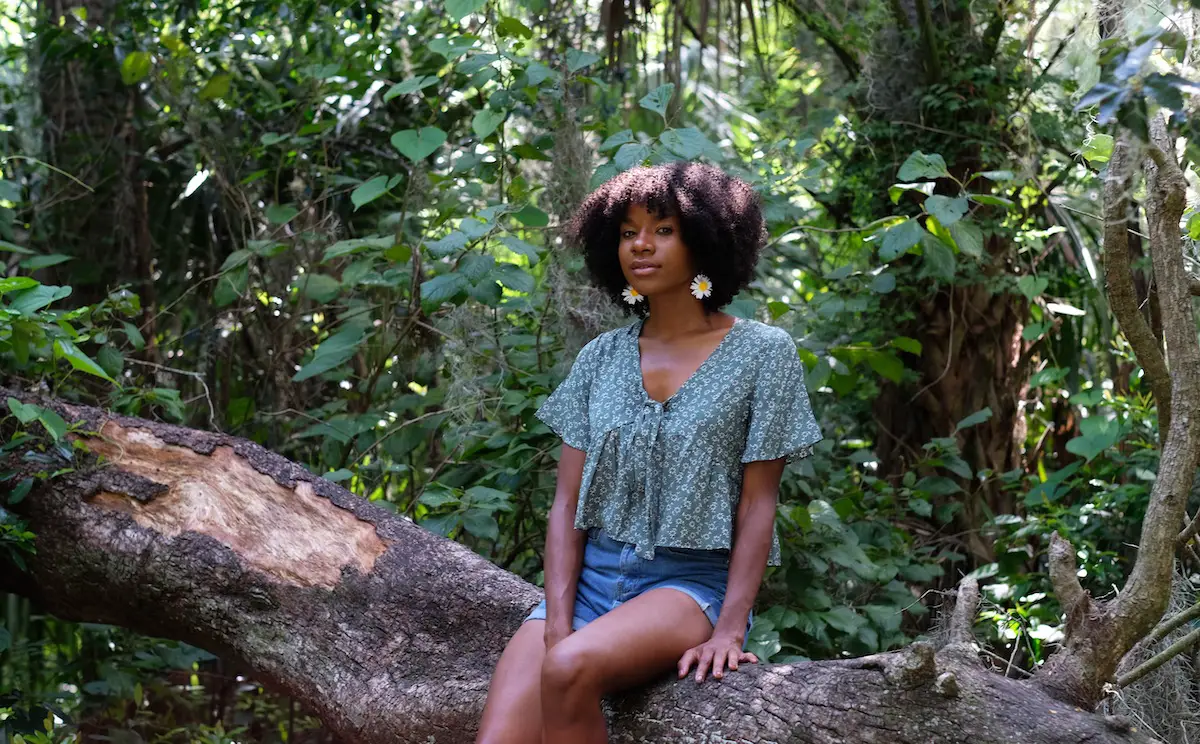 "The Way Back Home is a glimpse into where I am in my understanding of life," Badru tells Atwood Magazine. "I knew that I wanted all the songs to have a similar theme of "returning". I'd say I mostly achieved that. I think it really shows that I aspire to have an uplifting effect on people. I share my healing journey and my perspective with others in hopes to be a beacon of light for anyone who needs it."
"My own internal growth is what really differentiates my records from each other," she adds. "This growth is reflected in the lyrics and my storytelling. In this most recent EP, I'd say that I'm a lot more centered. I can look at the themes in earlier projects and have a deeper understanding of why I needed to feel and experience those things in order to gain the perspective I'm able to share with my listeners now."
The EP's title hints at the depth waiting for those who venture further in: Badru says she chose the name The Way Back Home "because philosophically, I think that's where humanity is headed. We are returning to a remembering of what it means to be human and how to live in alignment with the irrefutable truths of our nature. Simultaneously, we are all on our own personal journey back to our own truths."
---
This journey opens with a stirring reckoning of our own trauma and grief ("Graves"), and concludes in a moment of soothing, invigorating awakening and renewal ("Rebirth): Between these two deeply affecting songs, Badru takes her listeners on an adventure of learning to let go; of embracing love in its many forms; and of seeking deeper meaning in those fleeting moments that too easily pass us by. Her music reflects her inner strength, and throughout the EP we can find her channeling her energy into this music – trying to impart wisdom, serenity, and knowledge upon whoever listens.
While the title track has quickly amassed over a million worldwide streams, several songs are worth repeat listens. "Rebirth" is an uplifting, radiant enchantment full of sonic space and hypnotizing grooves; the song's flow is utterly irresistible, and its finale features a strong conscious rap that, more than anything, showcases Badru's range while cementing her EP's intent:
My legs are shaky, cry like a baby
But I'm getting a little stronger yeah
I'm getting a little stronger
My fears are waning
The trumpets are playing
As I get a little closer…
[rap]
I believe we are made of love
Put here in chains to break free and to rise above
I believe we are here to see
But after trials and struggles the truth is hard to receive
That the kingdom is always in reach
Crowns fit for you and me
I know it's hard to believe
When the world is overridden with violence
Women are silenced
I know my perspective's not easy to side with
But what if God is here undercover hidden within each other?
Beneath the rubble just waiting to be discovered
Beneath the trauma just waiting to be uncovered
Beneath our heartbeats just waiting to be recovered
Under the covers we are the giants awaking from our sleep
Squeezing through the narrow tunnels of our beliefs
And although I know that this may hurt
This is the great rebirth
Buried beneath the earth
Covered Forgotten
Destined to rise again
Badru says her lyrical highlight of the EP lies within that rap: "We are the giants awaking from our sleep, squeezing through the narrow tunnels of our beliefs."
---
Meanwhile the singer/songwriter cites "Rooted" as her favorite track. "It's such a lighthearted and meditative song that I really hope makes my listeners feel supported."
Plant your feet upon the earth
Know your value, know your worth
Take a breath that's long and deep
You're carried by the ground beneath
Feel the sunshine on your skin
A lotus flower blossoming
Your journey is your offering
You are here for a reason
Send your roots down through the dirt
Anchoring you through the hurt
With every breath lengthen your spine
Reaching steady towards the light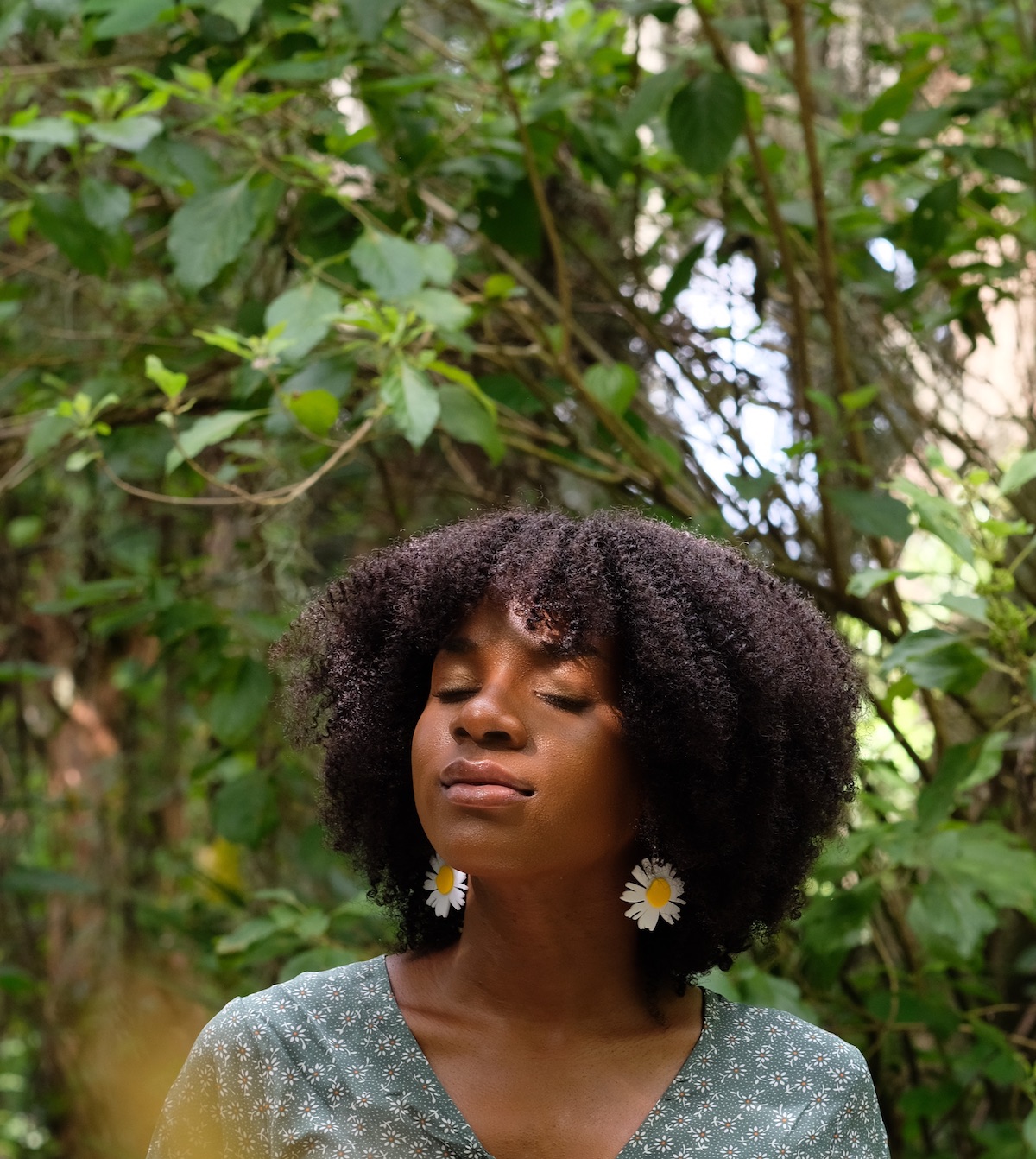 Richly atmospheric, wise, and wondrous, The Way Back Home truly is an anchor for us all who need it.
Badru's songs are unassuming, yet inspiring. Her words comfort while opening doors to greener pastures and brighter days ahead. She turns her pain into beauty, and beauty into meaning – leaving us in awe not of her artistry, but of the lives we've been given and the world we live in.
"It's ok to leave, to explore, to make mistakes," she shares. "I think that is all part of the adventure of life. None of us know the perfect way to live and love. We are learning as we experience life, and yes sometimes we mess things up. But I think it's necessary to "leave home" in order to grow and evolve. I have found a huge amount of compassion for myself and others. I think the path we are on as a humanity will ultimately lead us back to where we started. Back to love."
Experience the full record via our below stream, and peek inside Aisha Badru's The Way Back Home EP with Atwood Magazine as the artist goes track-by-track through the music and lyrics of her latest release!
— —
Stream: 'The Way Back Home' – Aisha Badru
:: Inside The Way Back Home ::

— —
Graves
Graves is about burying our troubles and running away instead of unpacking and dealing with them. Although we may create the facade of successful lives, the traumas we've buried are always ours and tend to resurface and haunt us until it is dealt with accordingly.
Rooted
Rooted is a grounding meditation track. It's a reminder that we are here for a reason, that our difficulties in life are not without great lessons, and that overcoming these challenges is often what gives us incredible wisdom, strength, and power to fully embody our life purpose.
The Way Back
"The Way Back Home" is a more mature perspective on relationships that acknowledges that you cannot hold onto anyone. It is the embodiment of the idea that "if you love something, set it free."
Home
"Home" is a love song, but at its core it's about returning to the places where we thought we had to leave in order to find ourselves.
Worthwhile
"Worthwhile" was written during 2020. What was one of the most turbulent times I witnessed in my lifetime was also the first year of my twin babies' lives. This song is dedicated to them. During times when everything seems to be falling down, I want them to always remember that there is a method to the madness that is often hard to see when we are in the thick of chaos.
Rebirth
"Rebirth" is about undergoing a change in perspective that gives way to what feels like a "new' life. It flirts with the idea that we are undergoing a transformation here on earth that is being catalyzed by factors such as illness, natural disasters, and ecological collapse. I believe the truths that will be uncovered during this time will set us on a new course rooted in understanding, sustainability, and love.
— —
— — — —
? © Jeffery Trapani
:: Stream Aisha Badru ::
---