The nine-track 'All We Are' is a personal look into alt rock band WESSON, highlighting who they are and everything they stand for.
Stream: 'All We Are' – WESSON
---
British alt rock band WESSON have just unveiled their debut album, All We Are.
The four-piece band, who come from Milton Keynes in the United Kingdom, have created a nine-track release, delving into the ins and outs of lead singer, Chris Wesson's mind. Exploring the thoughts, feelings and frustrations that he experiences during the rollercoaster of life, Wesson opens up about his own personal struggles, particularly when it comes to trying to connect with certain people.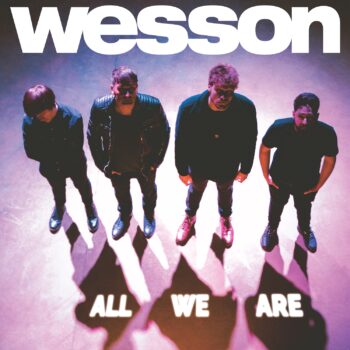 The band share, "Having expectations and being let down in those situations can create resentments. The album was a cathartic experience for Chris and is ultimately about coming to terms, letting go and finding peace."
All We Are demonstrates the band's energetic and playful alt rock sound, where gritty guitars clash with pounding drums, and each track weaves an infectious melody throughout. Creating an all-encompassing atmosphere, WESSON provide a soundtrack to allow you to completely disconnect and lose yourself in. They share, "We want to help make their troubles fade away and give them a moment of escapism from whatever it is that they are going through."
Atwood Magazine spoke with WESSON about the new album, juggling music with family life and future plans.
— —
A CONVERSATION WITH WESSON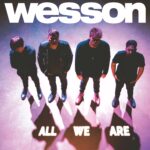 Atwood Magazine: Firstly, congratulations on the release of your debut album All We Are. The album is described as a collection of intimate insights into frontman Chris' mind and thoughts, including frustrations and difficulties with connecting to people. Could you share a specific moment or experience that had a significant impact on the album's creation?
WESSON: Lockdown! Most of the songs were written during the COVID-19 lockdown, there was plenty of time to reflect. While the world stood still, my mind was racing!
Some of the themes in your album are about coming to terms, letting go, and finding peace. Can you share a song from the album where you feel this theme is most strongly expressed, and why?
WESSON: "Made Me Happy" is about all of those things. It's about looking back and making peace with the past. Accepting that if someone did something bad to me, there was a reason for it. It was difficult to understand at the time, but now it's easy, with the luxury of hindsight.
With the diverse influences in your music, how did each band member's musical backgrounds contribute to shaping the sound of the album?
WESSON: Everybody found a way to bring out energy, melody and excitement rooted in their musicianship and experience. If every member had the same influences, it probably would sound very much like one genre, whereas we can create something new with our combined styles.
Jimmy has a folk, blues & country vibe to him and that works well for shaping his lead lines, which often have a lot more character than a generic indie melody.
Dale leans towards pop/punk and so a lot of the songs have an upbeat and driving feel to them. His backing vocals are often prominent, which is also a characteristic of that style.
Callum has a funk rock style, with a heavy influence from being a guitarist first and a bass player second. He creates melodies and lead parts for the bass, which a lot of other players aren't capable of, while tastefully locking in with the drum parts.
With All We Are marking the first chapter of your career, in regards to albums, where do you envision your music going with future releases?
WESSON: Stylistically we will continue to push our boundaries and experiment. We try not to be frightened to try something that might have been beyond us initially. We enjoy lots of vocal harmonies and so that is something we are adding more and more. We also now have Callum and Jimmy doing the production of the tracks and they are continuing our creative journey, by adding extra layers and dimensions to the tracks.
Title track "All We Are" speaks about the frustration of time slipping away. Do you have any tips that you've learnt along the way for others who are struggling to juggle work, music and family life?
WESSON: It's about finding a balance and negotiating your needs with the people around you. Ultimately it's about communication, it's a clique but it's true.
Are there any particular messages or life lessons you hope your fans take away from the album as a whole?
WESSON: You're not alone. Being human means we all share the same feelings. Take comfort in knowing that someone is going through the same thing. We all feel lonely at times in life, but those feelings will pass.
We hope that people will be happy with who they are. That they will make positive changes in their lives and be the best people that they can be, free of resentment and regret.
Were there any memorable or funny moments from the recording of the album?
WESSON: At the studio we shared a room with four bunk beds. Chris was on the bottom of one of the bunks and during the night, Callum was awoken to the sound of Chris crawling along the floor and pawing at a carrier bag looking for food, like a hungry bear at a campsite. Which Callum found very entertaining.
We went to a very small and rural pub in the depths of Wales, which was basically someone's front room. It hadn't been decorated for many decades, possibly a century. It's like we'd gone back in time. The drinks were pre-poured and served through a serving hatch in the wall. There were only two options; beer or red wine. The locals were very eccentric and found us extremely fascinating and we quickly became their evening's entertainment.
Do you have a favorite song on the album and if so, what is it and why?
WESSON: "Made Me Happy." The best part is the second verse going into the halftime anthemic section, starting at 1:19. It came out really great on the recording. It's one of those songs I'd have on my personal playlist. I like the harmonies, melodies and the guitar parts. I just love the journey.
The story in the lyrics is interesting, it's a sort of happy/sad sentiment. It's about finding a silver lining, coming to terms with things and acceptance of the past.
What's the most unusual or unexpected source of inspiration that has led to a song in your new album?
WESSON: "Unhappy Ever After" was inspired by a friend who was going through a tough time in their relationship. All of the problems that they were having were all self inflicted and it was like a morbid curiosity to see how the story developed. I didn't expect to be inspired to write a song out of it, but it just came out.
If your music was the soundtrack for a movie, what type of film would it be, and what would the plot be about?
WESSON: We'd love to do the soundtrack for a movie with Kevin Costner as the main character. We just think he would fit in with our aesthetic. We like his on screen persona, he plays good deep characters and we think he'd add an extra dimension to our music and people would be able to hear our music in a new way, in that context.
The plot would be about a man who falls from grace and has to learn a bunch of hard life lessons. He builds himself back up again and then redeems himself in a final act of self sacrifice.
If you're reading this Kev, our door is open for a conversation.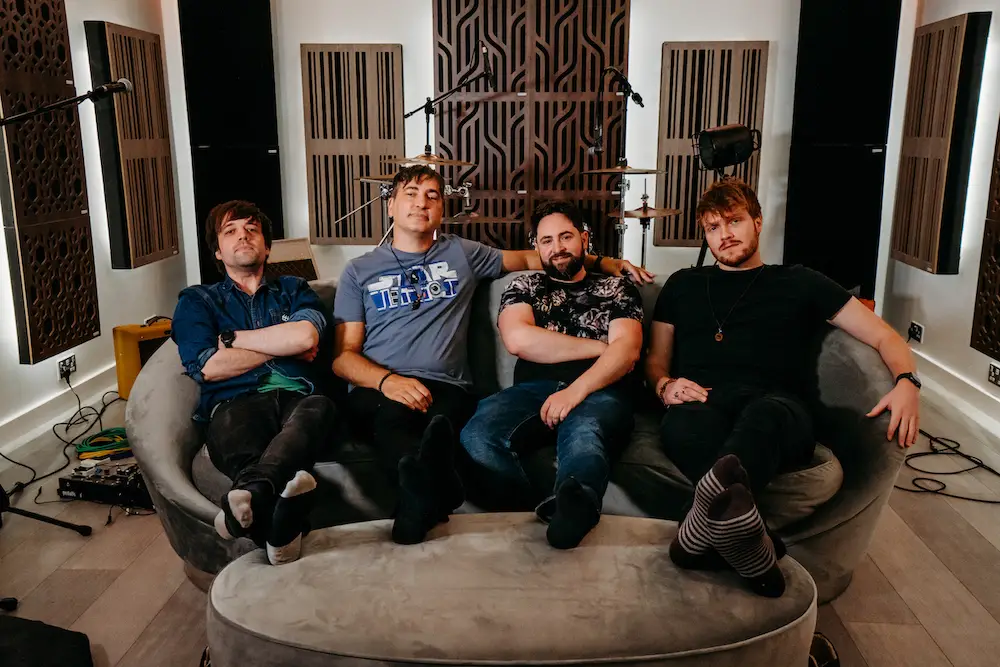 What does 2024 hold for Wesson?
WESSON: We have an acoustic EP coming out in February and we will also be releasing a few singles on the run up to our second album. We look forward to filming some new music videos for those releases, and also some documentary-style footage is on its way.
— —
— — — —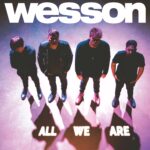 © Katie Mayer
:: Stream WESSON ::
---