15-year-old songwriter GAYLE quells any doubters with her fresh and powerful folk-pop single "happy for you," a wild thicket of torment and self-reassurance.
Stream: "happy for you" – GAYLE
[soundcloud url="https://api.soundcloud.com/tracks/790105168?secret_token=s-8SYAU5JnsvP" params="color=ff5500&auto_play=true&visual=true&hide_related=false&show_comments=true&show_user=true&show_reposts=false" width="100%" height="300″ iframe="true" /]




---
It's so hard when two people want to be together, but know that they aren't meant to be in each others' lives any longer.
With minimal production and tactful lyricism, 15-year-old songwriter GAYLE sails into the music world unafraid, sharp, and tenacious. Hailing from Nashville, this melodic charmer composes with wit and vulnerability, belts with Adele-reminiscent pipes, and emotes with mature energy, all while aligning herself on a divergent, signature path.
Today, Atwood Magazine is proud to premiere GAYLE's newest single "happy for you," a biting ballad that features a strong acoustic foundation and modern-pop flare within a somber tale of flux, aching, and, finally, resolution.
"happy for you" kickstarts like a familiar tape, the one that's been begging to be resurrected from the dusty cassette pile in the corner of your bedroom. The deep, slow opening guitar strums – evocative of a classic, melancholic folk tune – gear up quickly and stabilize for the impending emotional rush. We find a comfortable seat among GAYLE's quiet self-reflections and angered whispers during the first verses. When we reach the chorus, her vocals ignite with an unexpected punch and ferocity; she sets fire to the wild thicket of torment that she's been listlessly observing since the beginning.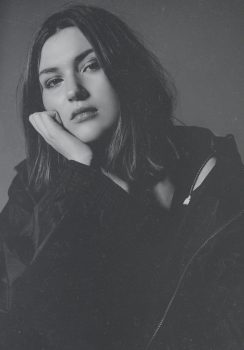 I know I'm better being someone you loved
But I feel better being what you want
Had no idea what this love would cost
I'm happy for you but I'm sad for us
I'm happy for you but I'm sad for us
It's a common situation: being close to someone undoubtedly horrible for you. It occurs in platonic, professional, and romantic relationships, and it's typically painful to end. In "happy for you," our songwriter takes the first step towards resolution and cuts the harmful tie connecting the two. While moving on, GAYLE experiences the bitterness that can settle in when your past partner progresses, even when you're the person who suggested the separation in the first place.
"Happy For You' is the first song I'm releasing that addresses a relationship. It represents my mindset through losing a significant other. I wrote the song because I was happy with the growth someone was having outside of me, but I was saddened by the fact that it was only adding space between," GAYLE tells Atwood Magazine. "'happy for you' is about someone I love very much, but our relationship was not healthy. When we broke up, I wanted him to gain independence outside of me and create a life for himself. He did just that, and I was so happy for him, but it hurt knowing he didn't need me anymore. It's so hard when two people want to be together, but know that they aren't meant to be in each others' lives any longer."
Sad for the memories
All of the could of be's
Sad for the better days
That we have to throw away
I wish it didn't have to be this way
GAYLE eloquently croons about the self-disharmony that accompanies moving on. You feel caught between your own well-being and the potential extravagant shared future. Discordance strikes throughout your entire body and mind as you're joyful one moment and wistful for memories that never happened the next. "happy for you" reminds us that lust strikingly feels a whole lot like love.
I feel guilty for you cutting you off
But one of us had to make that call
Had no idea what this love would cost
I'm happy for you but I'm sad for us
"happy for you" wrestles maturely and acutely with miserable emotions, while set within a lush, stripped-back harmony. The young troubadour utilizes her stirring words and expressive vocal timbres instead of overloading the track with unnecessary bells and whistles. The final notes twinkle and fade away as if to say, "This isn't that last we'll hear from GAYLE."
— —
Stream: "happy for you" – GAYLE
[soundcloud url="https://api.soundcloud.com/tracks/790105168?secret_token=s-8SYAU5JnsvP" params="color=ff5500&auto_play=false&visual=true&hide_related=false&show_comments=true&show_user=true&show_reposts=false" width="100%" height="300″ iframe="true" /]





— — — —
? © Jimmy Fisco
:: Stream GAYLE ::
---