Every Friday, Atwood Magazine's staff share what they've been listening to that week – a song, an album, an artist – whatever's been having an impact on them, in the moment.
This week's weekly roundup features music by The Rare Occasions, Angie McMahon, RiTcH, Alexis de la Rocha, JOBIE, moonsea, Ellis Bullard, Sophia Alexa, Miranda Joan, & high jump!
•• •• •• ••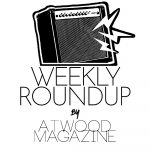 :: "Black Balloons" – The Rare Occasions ::
Sunny, punchy, and delightfully beachy, The Rare Occasions' new single is two minutes of sweet, spirited indie rock bliss: A dreamy little rip-roaring musical novella that, while here and gone in a flash, never fails to lift our spirits sky-high. Independently released October 18, "Black Balloons" gets the heart pumping and the blood flowing as our favorite LA by-way-of New England band (and longtime artist-to-watch) returns to the fore with a charismatic and hard-hitting eruption of pure, fiery indie rock passion.
Dara awakes like some kind of snake
she slithers across the afternoon
mind in a twist she notices her wrist
tied to a string of black balloons
that's right
tragedy it's not what it seems
late at night we walk through our dreams
"This song has a quirky, bookish feel to it, so when we wrote the lyrics, we went in a more literary direction, using a third-person narrative and playing with symbolism and surrealism," Brian McLaughlin tells Atwood Magazine. "The song could be interpreted many different ways, but to me the balloons represent the grief or trauma that we all carry with us throughout our lives. The fact that the song's main character Dara immediately tries to sell her black balloons could say something about society or about art, but we tried to leave the lyrics open to interpretation."
"Black Balloons" is a welcome burst of unfiltered, upbeat energy from The Rare Occasions. Following a massive moment of virality in 2021 – which led to their 2016 single "Notion" rack up a whopping half-billion streams just on Spotify alone – the trio of Brian McLaughlin (singer), Luke Imbusch (drummer), and Jeremy Cohen (bassist) released their stunning EP Attaboy in 2022, which they later toured earlier this year.
"Black Balloons" is, per a press release, the beginning of a new era of music for the trio, and one that will (hopefully) lead up to their third full length album sometime in 2024! For now, the sprightly 1 minute, 53 second "Black Balloon" is its own form of therapeutic, dynamic delight that we'll most definitely have on repeat well into next year.
down on the pavement Dara displays
her brand new balloons to lookers-on
they shake their heads "she's at it again"
she isn't impressing anyone
no one, no one
tragedy it's not what it seems
late at night we walk through our dreams
quantifying some other way
just to find it's all the same
it's all the same
it's all the same
:: Light, Dark, Light Again – Angie McMahon ::
Angie McMahon can always be counted on to bring us face-to-face and heart-to-heart with our innermost selves. Ever since we first met her in 2018, the Australian indie rock singer/songwriter has effortlessly soundtracked the tender turmoil of our restless souls.
And with it being four years since her last full length release, we were well overdue for a proper McMahon musical cleanse.
I planted my feet
And my hands werе reaching back for you
Now everywhеre I step into
I'm thinking about you fondly…
This morning
I didn't want to get out of the shower but hot water runs out
And you have to carry on, don't you?
Close and move along, don't you?
Just like letting go of you
I can't believe I'm letting go of you
– "Fireball Whiskey," Angie McMahon
Released October 27 via AWAL, Angie McMahon's long-awaited sophomore album is everything fans could have hoped it would be: Emotionally charged, sonically breathtaking, achingly human, and beautiful vulnerable. Aptly titled Light, Dark, Light Again, the thirteen-track follow-up to 2019's Salt brings listeners on a powerfully cathartic, soul-stirring journey of reckoning and redemption as McMahon delves into her own darkness and finds her way back out again. The adventure from opening songs "Saturn Returning" and "Fireball Whiskey" to "Music's Coming In" and the visceral finale "Making It Through" is one of emotional growth transformation: The artist looks inward, examining her relationship with herself, not only to better understand who she is, but also to ultimately accept herself as she is. Out of the turmoil comes a stunning sense of self-love, liberation, and empowerment.
"This is the space where everything is allowed to fall apart," McMahon says. "Mother nature and her rhythms have been teaching me acceptance, that everything comes up to go down again."
Personal highlights include the achingly visceral "Fish," the spectacularly cinematic slow-burn "Exploding," and the enchantingly tender, brutally honest and raw "Serotonin." Admittedly, there's a lot to love about all of Light, Dark, Light Again's music and lyrics. Whether she's baring her soul or… baring her soul, McMahon makes art with incredible care and intent: Every song is nuanced and lovingly layered – an intimate, emotionally epic upheaval expertly balancing the catchy with the cathartic.
I froze like the whole world was ending
Exposed hole in my own panic pretending
I know now that we needed that ending
You were never gonna stay
Just making it through is okay
Time is supposed to run out, time is supposed to
Sun is supposed to go down, sun is supposed to
Like your mood, like your power, like your battery
Rise, fall, rise, life, death, life again
Sky, ground, sky, day, night, day again
Rise, fall, rise, life, death, life again
Sky, ground, sky
Light, dark, light again, light, dark, light again
– "Making It Through," Angie McMahon
Light, Dark, Light Again is by no means a "light" album, but it wears its weight well; we'll be happily diving headfirst into McMahon's deep emotional tundra for months and years to come. Putting her faith in vulnerability, Angie McMahon has made a timeless record of self-examination, self-acceptance, and self-love that ultimately explores what it means to be human: Fractured, yet whole; fragile, yet strong. Ever-changing, yet somehow still the same.
If this is to be McMahon's masterpiece – her greatest contribution to culture – then it was well worth whatever profound spiritual purging it took to bring these thirteen breathtaking songs to life.
:: "Big Dream" – RiTcH ::
British artist RiTcH recently dropped his mesmeric new single "Big Dream." The fast-paced, feel-good tune explodes with a vibrancy as the artist's unique character and energy breaks through swirling synths and colorful melodies, resulting in a totally kaleidoscopic soundscape. RiTcH sings about a past relationship and how his ex is suddenly reappearing now that he's getting more attention. Refusing to fall for her toxic motives, he puts his emotions into his music, and the result is the banger of a tune we hear today!
The release of "Big Dream" is also accompanied by an even more hypnotic music video, which takes you on an infinite zoom journey. Packed full of cryptic clues and nods to previous releases, as well as things that are vital in RiTcH's life (such as his golden retriever), the video is certainly a fun watch, keeping you engaged throughout. The artist shares, "I rate videos where you see something new with each watch. There are loads of hidden things in this video that not only connect to me personally but also reference songs I've already released and to my future songs. Too many to take in with one watch."
:: "Running Back" – Alexis de la Rocha ::
Latinx singer, songwriter, and producer Alexis de la Rocha has unveiled a dreamy new release "Running Back." The piece encapsulates an intoxicating, wistful haze. A tranquil, clicking backdrop creates the ideal 90s vibe. Her vocals shine with a unique sundrenched, silky sound. The track examines what can happen when you lose yourself in a toxic relationship, but also reminds us to put ourselves first. The visuals take place at an outdoor movie and like the song, it too is bursting with retro flair. With Rocha's bold vintage attire and the video's lighting, the offering provides all those warm, nostalgic feels.
De la Rocha has captivated fans with her rich R&B/soul style. Deemed a "synth goddess," her music is truly effervescent. Influenced by all things 1980s/1990s each piece she crafts is twinkling and timeless. This single is no different sticking to the distinct quality she is known for. "Running Back" is the ultimate chill must-listen.
:: "Earworm Lullaby" – JOBIE ::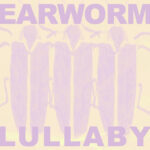 Boston based singer/songwriter JOBIE is absolutely hypnotizing in her latest single "Earworm Lullaby." This track was created for a Gothic Folk short film titled "Invaders from Within" which tells the tale of "a folk musician who finds himself struggling with a classic case of writer's block — and a not so classic case of possession by parasitic alien bugs." JOBIE's "Earworm Lullaby" exudes that alluring yet foreboding energy that this film is riddled with. Bursting with enchanting acoustic fingerpicking, lilting vocals and earthy percussion this track is gentle, warm and just a little bit eerie.
"I wanted this song to feel 1970s cowboy-ish — but creepy" JOBIE shares in a press release. Utilizing the unconventional sounds of a clacking vibra slap, the rattling of a stray can of almonds and the whimsical sounds of the pedal steel. "Earworm Lullaby" is a multi-layered soundscape that truly immerses you into the musical world that JOBIE masterfully paints for listeners. Queue up "Earworm Lullaby" for all of your calming soundtrack needs.
:: "Sensitive" – moonsea ::
Prepare to feel a lot of feelings: moonsea's second single is an intimate anthem for sensitive souls everywhere. The Melbourne-based doctor by day, artist by night (and on weekends) creates a space of liberated indie pop intimacy and euphoria on "Sensitive," a sweetly stirring unraveling of the innocence lying within all of us. Enchanting sonics and vulnerable lyrics coalesce as moonsea – Cecilia Xu – celebrates her own inner strength and beauty and embraces the part of her that for so long has been made out to be her crutch, when in fact, it's her superpower.
I cry at an advert on TV
I cry at the roadkill on the street
Unopened mail, forgotten tea
I cry when you raise your voice at me
Toys that get lost and left behind
And berries that rot upon the vine
An old man who's lost his wife
That story gets me every time
"OK, so I grew up as a pretty sensitive kid," the artist tells Atwood Magazine. "I would cry readily, laugh unreservedly and feel things fully and deeply. This got the well-meaning adults in my life worried. If I cried every time I heard a sad story, saw a bug get squashed or got told off by a teacher, how would I make it through this life in one piece? The adults weren't totally wrong. I found it hard to exist or thrive in this world and sometimes I still do. It took a toll on my mental health. Being "sensitive" felt like a dirty word, a huge burden and I desperately wished I was a different person, a tougher one."
"It took me many years to realise that being sensitive could possibly be a good thing, a superpower even. Some of the strongest and most empathetic women were sensitive kids. Feeling deeply allows you to experience the depth of the human experience and connect with other people in a really meaningful way. And the fact that you can feel so much but be still standing makes you an absolute badass."
"The verses of this song are innocent and vulnerable, the choruses build up like a tentative rebellion and the post-choruses are euphoric and celebratory, sweeping you up in swirling guitars like a joyful hug. Xavier (Dunn) is an amazing producer, he's always quick to understand the vision and I think together we really brought the message of the song to life."
"This song is for my three little nieces, all the Annes of Green Gables in the world and the sensitive soul that exists in every one of us."
My mama said, "guard your heart well,
don't forget to think of yourself"
I don't know why, I just can't help it
I'm sensitive
My temper's cold, my love is hot
I'm fine but still get sad a lot
Sometimes I wish that I was not
So sensitive
Is it a blessing or a curse
To feel so deeply that it hurts
And I know I can't be the first
To feel things that can't be said with words
So I could stow away the truth
Pack up the tears and leave no clue
Ah but when I look at you
I wonder if you're hiding too?
From its unassuming piano and vocals beginnings, "Sensitive" rises into the radiant and resounding anthem we never knew we needed to hear. moonsea's second single is absolutely inspiring: An empowering, all-consuming outpouring of unfiltered passion glowing with a bright, healing light. It's an important reminder, for all who need to hear it, to trust in your gut, believe in yourself, and never – and we mean never – let anyone tell you otherwise. Just as moonsea sings, "To be sensitive, oh, it's beautiful."
My mama said, "guard your heart well,
don't forget to think of yourself"
I don't know why, I just can't help it
I'm sensitive
My temper's cold, my love is hot
I'm fine but still get sad a lot
Sometimes I wish that I was not, but
My colours bleed over the lines
My heart is steeped in cherry wine
It's bittersweet but it is mine
I'm sensitive
And if you need someone to call
Just talk to me, I've seen it all
Don't you know that it's beautiful
To be sensitive
Oh, it's beautiful
:: "Honky Tonk Ain't Noise Pollution" – Ellis Bullard ::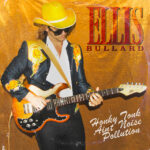 With his roots in Austin, Texas, Honky Tonk artist Ellis Bullard unveils his aptly named new single, "Honky Tonk Ain't Noise Pollution." The title track from his upcoming sophomore album, the song is the ultimate foot-stomping, guitar-growling anthem, certain to get your body moving. His deep, whiskey soaked vocals perfectly compliment the warbling guitars and crashing percussion, setting the tone for the upcoming album.
With its title paying tribute to AC/DC's "Rock 'n' Roll Ain't Noise Pollution," the inspiration for the song came from a trip to Steamboat, Colorado, where Bullard's eyes caught glimpse of a sign saying, "Lake Vallecito, Not a place, but a state of mind." This lightbulb moment sparked the initial creation of what is now the expressive and contagious country hit.
:: "Emily" – Sophia Alexa ::
Sophia Alexa's "Emily" is vulnerable songwriting and fragile performance at its finest. The London-based indie folk artist zooms in on what it takes to pursue your dreams – especially in music, as is her own experience – in a raw, intimate song aching with both passion and pain.
"I wrote 'Emily' about the fear of failure," Alexa tells Atwood Magazine. "In the song I imagined myself being older and standing on stage performing to an empty room feeling as if time is running out. I think it's a common feeling when pursuing your dreams. There is a voice in the back of your head wondering if it will ever work out. At the same time I wanted to say that having regrets and not trying to go for your dreams is way worse."
The third single taken off Sophia Alexa's forthcoming third EP (following recent songs "Hall Pass" and "Stone"), "Emily" is ethereal and enchanting indie folk bliss: The kind of song whose brutality, however hard it hits, leaves us with a sense of cathartic emotional release.
:: "She Knows" – Miranda Joan ::
True friendship can be hard to come by. Often times you can surround yourself with a group of people, but it is only surface level. Miranda Joan beautifully expresses the importance of sincere female bonds with "She Knows." Her delicate tone floating over light piano keys illustrates just how fragile connections can be, reminding us you must treat them with care. Cradling the listener in her warm tone she sings, "before the makeup, before the boys, before all the things that weigh us down, the silly noise." This tender lyric is an ode to the close friends in life that have seen you through it all.
Joan is a Brooklyn-based singer, songwriter, and musician with a pure passion for her craft. She formed strong ties in the Brooklyn Soul/Jazz community working tirelessly to get where she is today. In high school she took part in the drama club. That training has translated into emotional music soaked in a raw dramatic elegance.
:: "M2K" – high jump ::
They call themselves high jump, and I, for one, can't wait to see just how high they go. The exciting new production duo out of London introduced themselves earlier this month through an intoxicating haze of funk-fueled, psych-soaked dance pop. Reminiscent of Daft Punk's dreamier numbers, "M2K" is a hypnotic rush: High vocals, pulsing bass lines, and strong drums coalesce on a song that hits hard, time and time again.
Build a castle while you can
Paint a picture with your hands
I was swimming in my mind
Always moving out of time (mine to kill)
I keep pushing her away
Got a space that's mine to fill
Got a time that's mine to kill
I've got nothing left
I've got something left
(And I got time)
I've got nothing on
I'll put something on
(And I got time)
"Being the first session we worked on together, naturally it made sense to offer up 'M2K' as the first single from 'high jump.' It sets a foundation for the project's sound, capturing the energy and motion we want the music to convey, along with the project name too," the pair tells Atwood Magazine. "Over the last few years I (Harry) was writing and sending unsolicited demos to Rick, drummer in the band Tungz, and after a while the tracks strayed into a genre that caught his ear. Starting with 'M2K', we decided to start putting some ideas together and finishing some of the tunes."
"This initially started as Rick just sending voice notes of production and arrangement ideas to work into the songs, and evolved into him making sound effects/noises next to me in the studio for me to interpret and translate. It helped that 'M2K' was the first song that we worked on together as it gave a solid foundation and helped shape the sound of the project. Thematically, the tune digs into over-nostalgia and how this can affect our appreciation of the present, where we all long for our time and freedom to remain. 'M2K' draws influence from guitar-driven acts who are able to combine this with sleek modern production, the likes of Blood Orange, Cocteau Twins and Jai Paul."
'Til my timing is unwinding like before
And I'm finding that my feet won't leave the floor
'Til my timing is unwinding like before
And I'm finding that my feet won't leave the floor
'Til my timing is unwinding like before
And I'm finding that my feet won't leave the floor
'Til my timing is unwinding like before
And I'm finding that my feet won't leave the floor
In a word, "M2K" is mesmerizing: high jump have catapulted into the world, and we'll be dancing countless nights away to their insatiable debut.
I've got nothing left
I've got something left
I've got nothing on
I'll put something on
(And I got time)
'Til my timing is unwinding like before
And I'm finding that my feet won't leave the floor
'Til my timing is unwinding like before
And I'm finding
— — — —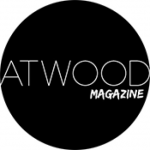 :: Weekly Roundup ::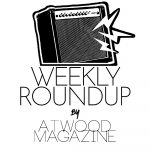 ---
:: This Week's Features ::
---