Italian singer/songwriter and producer Santa Chiara dives into her diaristic debut album 'IMPORTED,' an intimate and unfiltered coming-of-age record that, through a mix of stunning indie rock, psychedelia, and more, captures her epic and singular journey – a longform love story – from Turin, Italy to Philadelphia, Pennsylvania.
Stream: "25" – Santa Chiara
---
From Turin, Italy to Nashville, Tennessee and Philadelphia, Pennsylvania, Santa Chiara's debut album is – like the artist herself – IMPORTED.
It's a beautiful (and sometimes harrowing) longform love story; a tale only she could ever tell. A transatlantic romance, a new home, a new language, and a new identity: From native Italian to (unexpected) immigrant. The road was long, messy, and filled with twists and turns, but just as international borders couldn't keep her from the one she loved, musical boundaries couldn't stifle Chiara D'Anzieri's vision. IMPORTED is Santa Chiara's intimate and unfiltered coming-of-age: A diaristic, emotionally charged debut album that, through a mix of stunning indie rock, surf rock, psychedelia, and more, captures her epic and singular journey across continents and cultures, all so she could be with the one she loves.
And while this album has a happy ending, IMPORTED is as much a musical diary as it is a cautionary, comforting tale for all those who choose to follow their hearts. As we learn through these twelve vibrant and vulnerable songs, "happily ever after" doesn't just happen overnight; it takes hard work and dedication. Even when the going gets tough, remember to enjoy the ride.
25 years old
I lost translation
with constellations
and I found a way
to hear what life was saying
I found my other half
a perfect mirror
from so far from here
and now it's time to drink
all the Atlantic Ocean
and be together, forever
who knows how long forever will be
– "25," Santa Chiara
Released October 20, 2023 via Kill Rock Stars, IMPORTED is a musical diary (of sorts) for Italian singer, songwriter, multi-instrumentalist and producer Chiara D'Anzieri. Naming herself "Santa Chiara" after her favorite monastery in Naples, D'Anzieri is a classically trained musician – a child prodigy on the cello who, prior to making indie rock songs, toured throughout Europe with acclaimed orchestras, and later, her own string quartet. Teenaged discoveries of artists like Frank Zappa and Captain Beefheart, Velvet Underground, The Doors, and The Beatles led D'Anzieri away from classical music and down a different path, and in her early twenties she found herself at odds with a male-dominated, misogynistic Italian music industry that couldn't quite come to terms with the idea of a female indie rock artist.
Their loss. D'Anzieri ultimately taught herself production and how to play guitar, bass, and drums, yet despite all her gains, she was on the verge of giving up and throwing it all away by her mid-twenties. Through a chance encounter, she met an American singer/songwriter named Ron Gallo, whose tour had come to her town. An intercontinental romance ensued, and, as she sings at the top of album opener "25," D'Anzieri found herself caught in the throes of the famously easy, simple, and welcoming US immigration system:
a quarter century old
now an immigrant
made to feel like a criminal
so afraid on this plane
to the other side
and at the border they ask me
"you have nothing to declare?"
I said "no no I'm de Claire"
– "25," Santa Chiara
"Being an immigrant at the age of 25 was a new territory – my life was changing drastically," D'Anzieri shares. "I was moving to the other side of the planet, to a country I was never interested in, speaking a different language from my own, and leaving everything behind me out of love. It was and still is a big deal."
"This album is a collection of moments, pictures, feelings, sadness, nostalgia, thoughts, hopes, and love. I wanted to make a record that sounded just like me. I wanted to play instruments how I like, put them together how I think they go together. Making music that sounds how I would look. I wanted this record to be so easy and clear. I wanted it to be immediate. It's called IMPORTED because it is actually imported; it comes with me, talks about my stories and my history. Being Italian and European comes out in little things, even just in the way I use words."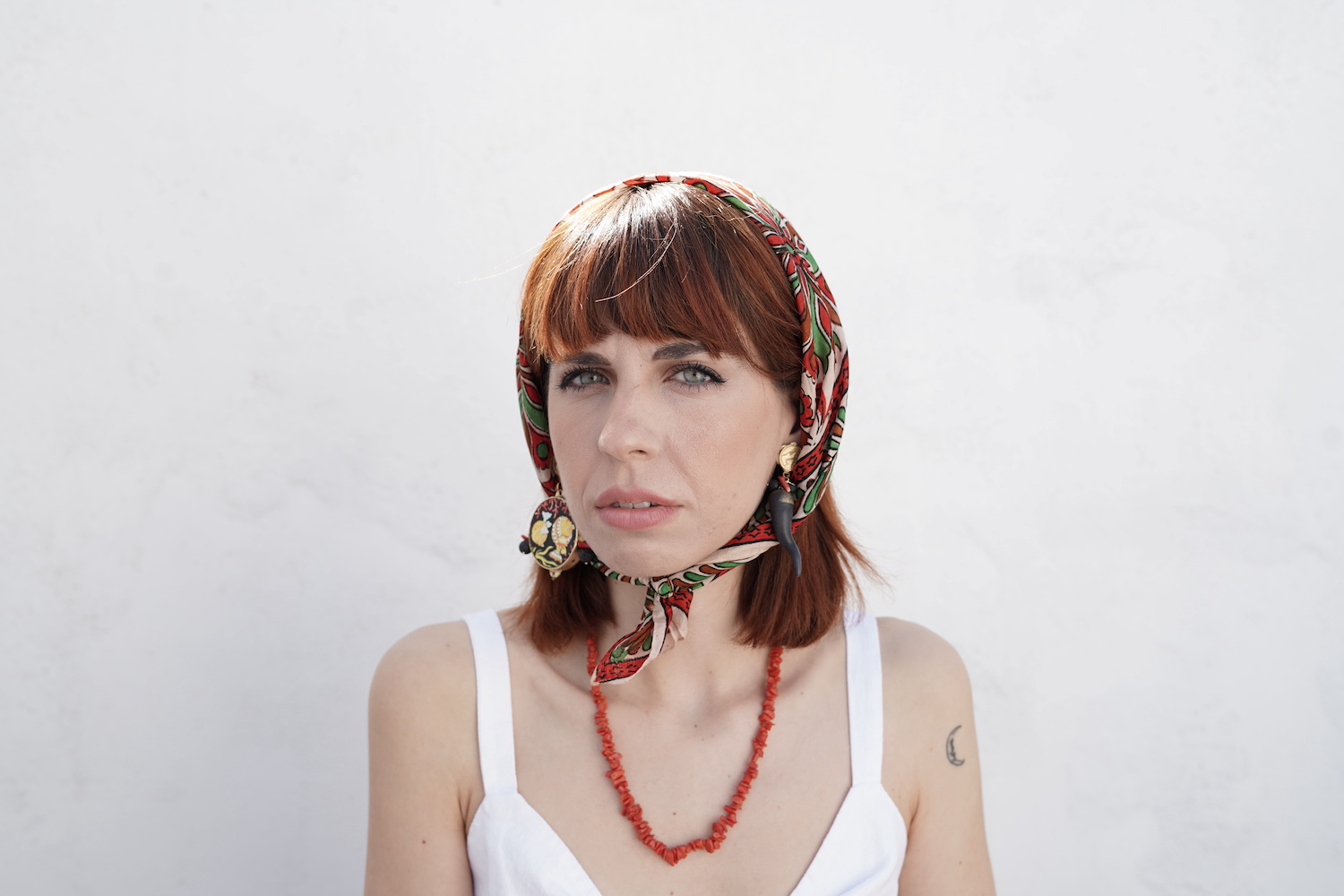 IMPORTED tells the story of D'Anzieri and Gallo's transatlantic romance and everything that followed: Her fraught immigration experience, building their first home together in Nashville, and ultimately leaving that home for a new one in Philadelphia, where the couple now resides. D'Anzieri self-produced the record and plays a vast majority of the instruments as well, with guest performances by Ron Gallo, Dominic Billett (Courtney Marie Andrews, Julia Jacklin, Faye Webster), Jerry Bernhardt (Courtney Marie Andrews), and Eric Slick (Dr. Dog).
For her, this record is a piece of her soul: It's as much a labor of love as it is the musical manifestation of her own awakening.
"One of my feet is always in some saudade and melancholia that you can't really describe… I never had anxiety (before moving to the States)," she explains. "I was in a bubble, and then I came here, and that's how these new feelings got together with my past and what I was before. They all create this collection, this salad that is my record."
As befits a debut, IMPORTED is grand and sweeping – its musical and emotional content running the gamut as Santa Chiara holds nothing back. Whereas poetic album opener "25" is something of a psychedelia-soaked haze, the very next track,"Visa," is a punk and surf rock fever dream. The brooding, heart-on-sleeve "When you're not at home" aches not only through bittersweet lyrics and lush  vocal harmonies, but also through a soul-stirring guitar solo filled with heavy, evocative feeling.
One of D'Anzieri's favorite tracks comes at the album's very end: Love, longing, and sweet summer nostalgia come to life in "Peach Tree," a sun-kissed reverie written about Nashville, the artist's first home upon emigrating to the States (she affectionately calls it her "American hometown").
"I wrote the music part in Nashville during a nice sunny day while looking at what we thought was a dead peach tree in our backyard, blooming and thriving," she recalls. "Ron and I tried to save that tree as soon as we moved into our first house. We lived a simpler life, making music, taking care of that tree, and walking around the east side of Nashville. Making a bonfire with our best friends, staring at the stars and the fireflies during a summer evening. I was stuck in the U.S. due to my immigration process, and while that was a pain, some of these sweet, simple experiences were a balm soothing my soul."
While the instrumental was developed in Nashville, the lyrics came later, once the couple had moved to Philadelphia – giving the song a sense of yearning and warmth that sticks with it from beginning to end.
It's a metaphor for leaving a simpler life and, last but not least, a bit of saudade about missing Nashville and our life there.
You know might be a crazy thought
but I've got a gut and I am a little cork
the bird east side is telling me to go outside
There are brighter times to be alive
not to waste anybody's time
but I think might be worthwhile
Don't you see
it is now just you and me
You look so tired darling my dear no
don't live in fear
Finally we saved this pink peach tree
I thought I'd never seen it outside
of my own dream
---
IMPORTED may be the direct biproduct of D'Anzieri's own personal experiences, but its emotions are universal. Santa Chiara transcends her own moment in these twelve spellbinding, breathtaking songs of love and leaving home; of coming to a new place and planting new rootsl of feeling like a stranger in a strange land.
And as she navigates the hurdles before her, her songs echo timeless questions about love and belonging, purpose and place… of human existence and the meaning of life itself.
From Turin, Italy to Philadelphia, Pennsylvania, and beyond, IMPORTED tells but a snippet of one soul's journey as she makes her way through this world, finding her footing (and her artistic identity) in the process.
The romantic connection of two transatlantic star-crossed lovers may be the hook, but D'Anzieri's raw ambition – her pure, undeniable passion – is the true beating heart of this enchanting collection of songs.
"This record is the soundtrack of my becoming a grown-up, of me moving to the US, of me getting married, of me missing my family so much, of me struggling with my new reality, of me having fun with my new reality and more," D'Anzieri shares. "It's IMPORTED because it comes with me, an imported human being."
"In a very basic way, I'd love for people to feel empowered by it. If I did it, you can do it. Have fun with it. Also, have a lighter time while going through major things and changes. Very simply, feel good and have a nice time with it. It could be a nice soundtrack."
Experience the full record via our below stream, and peek inside Santa Chiara's IMPORTED with Atwood Magazine as Chiara D'Anzieri takes us track-by-track through the music and lyrics of her debut album!
— —
Stream: 'IMPORTED' – Santa Chiara
:: Inside IMPORTED ::
— —
25
"25" is the first song I've ever written in English, recorded in our first house in Nashville talking about my traumatic experience as an immigrant. It was carefree and fun to make, sounds like a ray of sunshine while talking about being scared flying across the world in order to be with the person you love not knowing if it will ever be actually possible.
VISA
There is a long list of visas you must acquire in order to be legally allowed to live in the US. To get one of them you need things that most of the time people don't really have right away and easily. In my case, to be with the person I love I needed a K-1 visa which made it legal for me to have a boyfriend I must be married to in 90 days after the visa was issued.
I fainted on a sidewalk when our lawyer told us how long would have take to get the visa and how expensive would have been and, most importantly, how traumatic the experience of collecting proofs, letters and do interviews, 5 vaccines in 5 seconds and x-rays and many other things I would have to do. Oh, the alternative was for me to have a Grammy.
WHEN YOU ARE NOT AT HOME
I wrote this song when I was in Italy desperately trying to soothe myself from being forced to be separate from my partner, Ron. I was unable to enter the United States and he was unable to enter Europe. I didn't have my visa issued yet and he had no more days left to stay in Europe legally without a visa. I was feeling nostalgic, romanticizing our times in Nashville where we got to leave together for the first time.
WOULD YOU LIKE SOME TEA?
This is a song I wrote thinking about – let's be honest – how annoying it is when "the past" keeps haunting your present. At the time I was finding one of my partner's ex-girlfriends particularly intrusive to the point of making me uneasy. My way to deal with it was writing a funny song about it. In the song the past talks to the present trying to create a connection, a way in. Thank God, sometimes people know how to let go and there will be no space for it.
DEAR FRIEND
I've met a guy years ago, a brilliant musician, weirdo of an air sign. He became a friend of mine. One thing I really wanted to see was a smile on his face or, perhaps, love in his life.
I desired for him to be free. Free from, once again, "the past" doing a bad job, making a mess. I was about to move to the US and his birthday was right before my first trip to Nashville. I wrote him a song: this is for you, my friend.
INTERLUDE
I was sitting in our old studio in Nashville, the windows were open, lights were off in the whole house, just the one next to the table in the studio was on and you could see fireflies out in the dark. Ron was asleep on a beanie chair we used to have there, in the chill area of the studio. I was feeling inspired, I love to make music that is just music. Music that just exists, music that can evoke any sort of emotions because it has no words.
That was what made "interlude" see the light.
WHAT HAS GOTTEN INTO YOU?
This song was written after a brief observation of my surroundings. Crossing paths with homeless and who are struggling with addictions and have lost themselves in it. People who are struggling with mental health. It is the fictional story of a person who used to be sunshine, but now their life turned pitch dark and they can only hope for something or someone to save them. A tragic point of view over American discrepancy between wealthy people and those who doesn't have much.
WORTH IT OR NOT?
Sometimes I spend hours thinking about the meaning of being alive, the worth of existence itself. This song, hermetic as it is, talks about that. Nobody knows what anybody else is going through mentally and emotionally ever, but maybe even today you will try, you'll do it, for what is worth. Maybe sometimes people can see the effort, maybe others don't. Then I asked myself a question: are we all like this? Because I hate to feel alone in these feelings.
LOVE WILL TAKE YOU FROM BEHIND
The original stream of consciousness behind this song comes from me thinking about someone I know who struggles, sometimes, with accepting goods. Struggling with letting good things, care, love even self care sometimes being part of normality, I guess. Then, slowly, it becomes more of an internal conversation between a double side of your own self that might block you from letting all of those things into your life.
Building up walls to protect you from being hurt, never commit to anything in order to never let anybody down since that might have happened to you and you didn't like it at all. But also, letting the dark side dance around because love will take that from behind, I say.
ALWAYS BEFORE (THE FIRE)
Oh well, someone used to call me crystal chick because I spend a lot of time thinking about and talking about planets and stones and herbs and this and that. I do it, there's no shame.
Well, I am a Pisces and I struggle with Saggitarius in my life. I do. I have a bunch of them in my life orbiting, my brother, my friend and former guitar player Jerry, might be more. They're the only exception. The truth is, in this song I introduce y'all to the key information: not only is your sign important, but also and mostly the full chart.
TWO TREES
How easy was this song to write, the easiest. Same scenario as usual on a quiet Nashville night, Ron asleep on the beanie chair and me working on some music I thought was just for myself. I was homesick, missing mostly my parents. It was the year of their 40th anniversary of marriage and I wasn't around for it. They are everything to me and I love them much.
PEACH TREE
This is a song of pure nostalgia about being in Nashville and taking care of what we thought was a dead peach tree in our first house backyard. Turns out, with some love, we were able to save it and spending time there, listening to the same cardinal bird singing everyday, walking our side of town and driving around listening to our favorite music wasn't so bad of a lifestyle. This song was born in two steps: I initially wrote the music solo and it felt so joyful and had almost like a relief feeling to it. Then, 3 years later, I watched a video of me and Ron running around that tree and playing fetch, right before the combination tornado plus covid hit Nashville. I felt sad, nostalgic and happy at the same time. I wrote lyrics. Words  felt right on that music. Here's "Peach Tree."
— —
— — — —
 © Zoe Salducci
:: Stream Santa Chiara ::
---