With 'Cherry,' their first release in three years, Big Words seek to establish themselves even more firmly in the Australian alt-R&B scene.
— —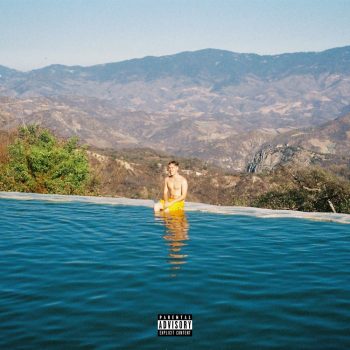 An enduring childhood friendship, a passion for R&B, and a chance encounter with Ghostface Killah– all of these ingredients have added up to a footing in the music industry for Will Scullin and Kieren Lee. They grew up together in Melbourne, Australia and their friendship eventually evolved into a creative partnership. Since premiering in 2017 with Hollywood, a Beautiful Coincidence, the duo dubbed Big Words has amassed nine million streams and scored live performances at several Australian festivals and as guests with popular local artists like Hobo Johnson and Tash Sultana. Plus, crossing paths with Ghostface while the Wu-Tang Clan were touring Australia in 2016 didn't cost them too much limelight, either.
The pandemic has put the brakes on touring, but it has given the duo the means to finally achieve the follow-up to their 2017 debut. "We played with the idea of making a record at home, even though we didn't have a set up," explains frontman Scullin, "Eventually, the idea gauged some more elaborate thinking and it became very possible that we could start the next morning."
Under this mentality, Big Words were able to complete a 10-track mixtape, Cherry. Scullin describes this release as being "heavily inspired by insecurity, solitude, sexuality and friendship. There isn't much essence of heartbreak here, but maybe more so what happens before and after."
Here, Scullin further elaborates on the making of Cherry and his experiences alongside Lee with Atwood Magazine.
Listen: Cherry (Mixtape) – Big Words
A Conversation with Big Words
Atwood Magazine: Growing up in Melbourne, Australia, how did you two absorb the local music scene in ways that gave rise to your own creative styles?
Will Scullin: To be honest, both of us are quite removed from a lot of local scenes. We find it hard to fit in a lot of time– we're not quite jazzy enough to be jazz and not quite soulful enough to be soul. When we were kids, we played in a Battle of the Bands full of rock bands, and won! It was so fun, even though we weren't even allowed in the venue.
There have definitely been a few big local contenders who have helped shape our live show. Hiatus Kaiyote is one, as their musicianship is very inspiring. But my mind has always been blown by international artists– I was fortunate enough to see Anderson .Paak at a very small venue in Melbourne a few years ago, and that was pretty life-changing.
Kieren spends most of his time busking alone around the city in Melbourne. Unlike myself, he's really a local legend around there. Especially in some of the small bars, which have a thriving hip-hop and dance community.
What was it like in 2017 to put out your first EP, Hollywood, a Beautiful Coincidence? In what ways have you developed your craft in the time since then?
Will Scullin: It was amazing. We were working on those songs for a very long time; they were inspired by a big fallout with our previous management. [Making this record] was a heavy weight to get off our chest. I guess it gave us our feet and a bit of ground to stand on, as we'd been playing live for around six years before that.
When we recorded that EP, I had generally no clue about production or mixing. It was produced by Choi, a dear friend of ours who makes phenomenal funk records. After watching him work effortlessly for weeks on end, I became instantly inspired to make this a craft of my own. Cherry is the first thing I've produced and mixed on my own.
How did you guys cross paths with Ghostface Killah? In what ways has he helped you guys out since that initial encounter?
Will Scullin: Kieren was busking one day in the city when Ghostface approached him, holding a few pairs of Ugg boots. He asked him if he wanted to rap at the arena show that night. Kieren obliged, and he freestyled to a beat he'd made on his phone to a little over 7,000 people that night.
It was a crazy experience for both of us: me watching and filming my best friend destroy an arena all on his own and then hanging out (really hanging around) them after the show in the green room.
After it all happened, we never really pushed anything onto him or tried to take advantage of the encounter, I guess. It was a beautiful moment and memory that we hold closely to our hearts. I'm sure we'll link again in the future when the stars align.
One night, you guys sat down for drinks and chatted how you might use your time productively during quarantine. Two weeks later, you had a completed mixtape. What took place during the interim that allowed Cherry to come together?
Will Scullin: We've been working on our debut album for a few years now, getting close to recording a few times but not pulling the trigger due to $$$ reasons. Then Covid hit and really blew the rest of that $$$ down the drain. We hung around a lot and got bored, so we started to dive into our laptops and show each other the songs that we hadn't before.  It wasn't long till we kinda thought we should work on them.
The next day, we illegally set out from lockdown to buy a desk from an old lady in the suburbs, and got to work straight away. I guess the process was to not try too hard; on the tail end, I think that's why it sounds so cool. We'd just do a vocal take, then another one, then move on. There's so many sketchy bits and iPhone recordings all over the tape. I guess that's why we can get away with calling it a mixtape– it really feels like one.
We set a two week deadline and stuck to it. I guess it was surprising how fast it came together, but it really didn't feel rushed.
There is a distinct variety of moods on Cherry, a mixtape that shifts between upbeat and somber tracks. What effect are you aiming for by structuring the album in such a manner?
Will Scullin: We're aiming to be as natural as possible. Maybe it's just this point in our lives, but a record from us needs to have an array of emotions and energy. Cherry is a close feeling, like hugging something or someone you love. The use of voice memos and iPhone recordings are meant to make you feel close to the music, almost as if you were listening from the next room. Also, the honesty and feeling in those iPhone takes are almost impossible to replicate; we felt we had to use them to be authentic.
The structure is there so you don't switch it off. There isn't only one mood, genre or style. It progresses like the brain does naturally. I guess bodies of work are usually years and years of experiences put into a small window of music. Cherry is a small window into ours.
What have been some of the favorite festivals you guys have performed at across Australia? Are there any you have your eyes on in a post-pandemic world?
Will Scullin: We've been fortunate to play at quite a few festivals around the country over the last few years. Beyond The Valley, Pitch Music and Arts and a few interstate. We've always dreamed of the 7pm Splendour set, which is maybe a while off yet, but when the time comes we'll be ready.
Where does the name Big Words come from?
Will Scullin: When we were kids, we used to hang shit on each other. I have a big head, Kieren has big eyebrows, and one of us couldn't spell big words. It's a funny name, but it's always just worked. I think sometimes that the more nonchalant an artist's name is, the more it sticks. It kind of finds you.
Anything you would like to add?
Will Scullin: STREAM CHERRY RIGHT NOW!
— —
? © Wilhelm Philipp
:: Stream Big Words ::