Terrace Martin, Denzel Curry, and Kamasi Washington's 'Racism on Trial' is a masterpiece of protest music, coming in a long line of jazz that speaks volumes.
— —
The world is currently experiencing what may be the largest civil rights movement in history.  In response to the murders of George Floyd, Breonna Taylor, Ahmaud Arbery, and many more Black victims of police brutality, people from all over the US took to the streets in protest, even inspiring marches and demonstrations across international borders. And as always, art followed suit. Songs, poems, essays, paintings, photography, live streams, and more have erupted on the internet since the first protest began.
One such event was the virtual festival, Black Power Live, hosted by Black Lives Matter co-founder Patrisse Cullors and produced by Jammcard. Spread over several hours on June 27, 2020, the lineup featured musicians like Eryn Allen Kane, Serpentwithfeet, and Miguel, and speakers included comedian Hannibal Buress, Dear White People creator Justin Simien, and Parkland survivor Emma Gonzalez. 1.7 million viewers tuned in to watch the live stream on Twitch, where funds were raised for the Crenshaw Dairy Mart, Trap Heals, Transgender Law Center, Sankofa.org, and Black Men Build.
The centerpiece of the event was the premiere of a new piece composed for the festival by producer and multi-instrumentalist Terrace Martin, saxophone player Kamasi Washington, and rapper Denzel Curry. The three movements, together entitled Racism on Trial, combine to form a searing jazz opus for the modern times. Throughout its history, jazz's biggest players have used their instruments to translate pain into power, joy and love into something beyond the abstract. Racism On Trial takes the pain, fear, and anger of four centuries of oppression reignited by a violent summer and wraps it in a haze of 60s and 70s inspired jazz and spoken word.
Watch: "The Voice of King Nipsey" – Terrace Martin ft. Denzel Curry
---
The first movement, "The Voice of King Nipsey," begins with spoken word from Denzel Curry, a slowly building number that balloons and pops, revealing the piece's central question: "Why is this still happening?" In a rhythmic chant, Curry recalls the words of Gil Scott-Heron's famed lyric, "The revolution will not be televised," driving home the idea that despite living in an age of accessible information and violence on the news, one cannot sit idly by while the world burns. Modern media televises the violence of revolution, rather than the organizers putting their lives on the line and regular people flooding the streets in peaceful solidarity. But the ethos of Scott-Heron's song remains a repeated one throughout hip-hop and other Black music. It is both corroborated and contradicted by current events; revolution is messy, but the oppressors will not show you the beautiful parts.
The instrumental begins, a stretching, rubato wail of Martin's saxophone, accompanied by Paul Cornish (piano), Jonathan Pinson (drums), and Dominique Sanders (bass). Martin's playing is a siren, Pinson's drumming the anxious patter of running feet. Cornish's fierce thematic dedication is reminiscent of Charles Mingus' solo piano record from 1963, recorded just one month before Martin Luther King, Jr. led the March on Washington.
Watch: "Any Day Could Be Our Last" – Terrace Martin ft. Alex Isley, Robert Glasper, Kamasi Washington
---
The second movement, "Any Day Could Be Our Last," which features pianist Robert Glasper, Kamasi Washington, singer Alex Isley, and a string section, is a soul-infused ballad, dark and spinning. The video switches between the darkened playing room and superimposed images of protests past and present as Glasper plays a hypnotic loop on the Rhodes. Isley's lyrics, "We waited way too long, I play you one more song. Leaves went green to gold, a home now but it's gone," eventually fade into a wordless hum as she joins the sax and strings as another texture. The strings build and climax, ultimately coming back down to end where they started, the Rhodes vibrating into silence as Martin Luther King, Jr.'s face fills the screen.
Watch: "Pig Feet" – Terrace Martin ft. Denzel Curry, Daylyt, G Perico
---
The final movement, entitled "Pig Feet," begins with Curry's voice: "Welcome to day n***** took over." Washington begins to play, this time backed by an even fuller band (including rappers Daylyt and G Perico), as footage from current Black Lives Matter protests play across the screen. The beginning of the movement  mirrors the tentative start of the first, but the finale pulls no stops. As Washington plays his final sustained note of the intro, a helicopter noise cuts through and the piece takes on a heavy hip-hop beat. Curry raps in a growl, the intensity building as G Perico and Daylyt take over verses, and reaching a head as Washington and the rhythm section break away from the beat into a chaotic wave of free improvisation.
The final movement (and much of the rest of the piece) is reminiscent of Kendrick Lamar's seminal 2015 record To Pimp a Butterfly, which both Martin and Washington had a hand in. Though Lamar was certainly not the first rapper to write lyrics calling out systems of oppression and police brutality, songs from TPAB became rallying cries throughout the Ferguson protests. Much of Black American music has risen out of oppression, beginning with spirituals which turned to blues which turned to jazz and rock which turned to hip-hop and beyond. Before George Floyd, there was Mike Brown. Before Mike Brown was Trayvon Martin. Before Trayvon, there was Rodney King. And so many countless other names.
Like so many of its predecessors, Racism On Trial traces a line through the history of Black music directly into the modern day. It is the sound of community, of protest, of power. We are living through a historic moment, and while it might be streamed, the revolution will not be televised.
— —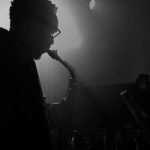 ? © Black Power Live/Jammcard
:: Stream Terrace Martin ::
:: Stream Kamasi Washington ::
:: Stream Denzel Curry ::