At just shy of the 30-year mark, Oxbow are as inventive as ever: They have maintained an uncompromising body of work, as is evident on their most recent album, 2017's 'Thin Black Duke'.
Stream: 'Thin Black Duke' – Oxbow
---
Oxbow, a band formed in 1989 after the dissolution of hardcore project, Whipping Boy, has forged themselves as band capable of not only lasting the test of time, but solidifying themselves as a crucial cult identity in the process. Since their debut release, 1989's Fuckfest,, Oxbow's sound has been a veritable idiosyncratic blend of jagged instrumentation and rhythms, a flair for orchestral and wind arrangements, and most prominently, the vocal work of Eugene S. Robinson. From this initial release, the band's work ethics have allowed them to traverse their career their way, never releasing an album as a means to profit. Because of this, they have maintained an uncompromising body of work, and this is as evident as ever on their most recent album, Thin Black Duke.
Cigarettes smoke gray and blue rings
And no one here is broke.
No, no one here has anything to fear
And while they say that
the best things in life are free
Everything around here comes with a fee
Thin Black Duke, which was released in 2017, a decade after their last studio album, The Narcotic Story (a concept album about addiction), plumbs similar themes of debasement and hysteria inspired by, unsurprisingly, David Bowie. Bowie, who was also quite popularly known as the "Thin White Duke," was known for his eccentric and manic behavior, and so too is the "Thin Black Duke." In an interview with The Quietus, Robinson explained the relative correlation:
"The Thin White Duke period with Bowie…It was a hysteria-filled phantasm. With Thin Black Duke these things are very much a reality…This is very definitely a person and a personality. So, it was consciously playing with his personal moment of doubt and pain."
Depravity is essentially the name of the album and Oxbow does an excellent job of no only articulating this concept through lyrics content and subject matter, but through compositions and arrangements throughout the entire project. The album's opener, "Cold & Well-Lit Place," for example, features string and horn arrangements that provide as much texture and color as they do tension and dynamics. Musically, the core of the band works around the additional instrumentation providing supplementary counter-melodies and layers while Robinson, as he does, weaves in-and-out between brooding, aggressive, and exasperated vocals.
---
Other early tracks on the album, "Ecce Homo" and "A Gentleman's Gentleman" accentuate different ends of the "Oxbow Spectrum," so to say. Though the band's Latin-speaking and Gospel-reading fans may understand the phrase, "Ecce Homo," which translates to "Behold the Man," is famously attributed to Pontious Pilate regarding Jesus Christ. This song exemplifies the band's penchant for despondency as it's composed of sections of pulsating, high-pitched white noise, dreary instrumentation, and the vocals, as usual, are as expressive as ever.
There hung on a nail aluminum
Smooth and knife straight
30 stories below, by an ornate gate
Ringed around by steel and concrete and glass
On the other end, "A Gentleman's Gentleman" plays like what a depraved and unhinged emotional upswing might feel like, with added emphasis on depraved. The band as a whole is exceptionally active on this track and while this could very much be said about the band across the whole album one way or another the upbeat nature of this song highlights a manic energy. The rhythm section is active and tight, the guitar leads are metallic and expressive, and the piano feature adds extra drama and theatricality. Honestly, for the relatively short time that it is featured, it is easily the best part of the song. In classic Robinson form, a la Fuckfest, a good majority of his initial performance is a scrambling mess of stuttered and murmured vocalizations until the end when he comes in strong with a brusque, almost spoken word recitation.
You see, the Duke's mustache is like cordite
And his head is clean-shaven
And his neck is fucking bull-like
And his fingers are muscled and tight
The Duke is deluxe and delightful
And the lovers of him all say so
Before they leave and after they go
The next track, "Letter of Note" is perhaps Oxbow at their most sporadic on the album; a song that would fit on multiple ends of any conceivable, yet inconsistent, "spectrum." The song starts as dark and foreboding as any other song on the album, only to transition into what a soundtrack to a surreal dream sequence could be. The atmosphere, for all of its dreaminess, eventually becomes disturbed by dissonant strings and the facade of serenity cracks making way for growing panic; or Robinson shrieking like a maniac.
So they crawl across the floor and themselves on it
And God smiles on them or at the very least from down here it
looks like a smile and he looks like God
all to be filed under: what you will do for love?
As for the remainder of the album, the group is in no shortage of creative ideas on what could be argued as one of their most polished records. In the same interview with The Quietus, guitarist and composer Niko Winner talks about the impact that age and life had on the production of this album, "In a weird way, aged 53 now, and 43 when we finished our last record, this is far more who I am than Fuckfest was even though they're both passionately sincere records. That's been a journey."
While there is a definite charm to what the band created early on in their career, to see a band such as this develop in an organic fashion is especially gratifying. Instead of compromising their art for commercial gain or grandiose mainstream success, the band has thoroughly stuck to their guns, which, for better or for worse, is their preferred method of creation. Either way, they get results.
— —
— — — —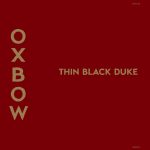 ? © Meow's Imaginarium
:: Stream OXBOW ::
---