K-pop group KARD talk with Atwood Magazine about breaking boundaries, showing maturity, and more backstage at the Music Hall at Fair Park in Dallas.
interview assisted by Avi Aulakh
Stream: 'ICKY' – KARD
---
In 102 degree heat, fans lined up outside the Music Hall at Fair Park on Saturday July 29th awaiting doors to open to see KARD.
Formed in 2017, KARD is a four-member, mixed gender K-Pop group that continues to push the envelope. Known for their powerful sound and being one of the only co-ed K-Pop groups in the industry, they are a quad that can't be boxed in.
BM, Somin, Jiwoo, and J.Seph sat down with Atwood Magazine backstage prior to their Dallas show to talk about pushing boundaries, showing their maturity, and their most recent release. The group walked in dressed for their first stage and shared laughs during the interview.
BM, who grew up in the States, translated the questions for his fellow members and translated their answers for Atwood on-site. They highlighted their excitement to go on stage and see their fans, better known as Hidden Kards.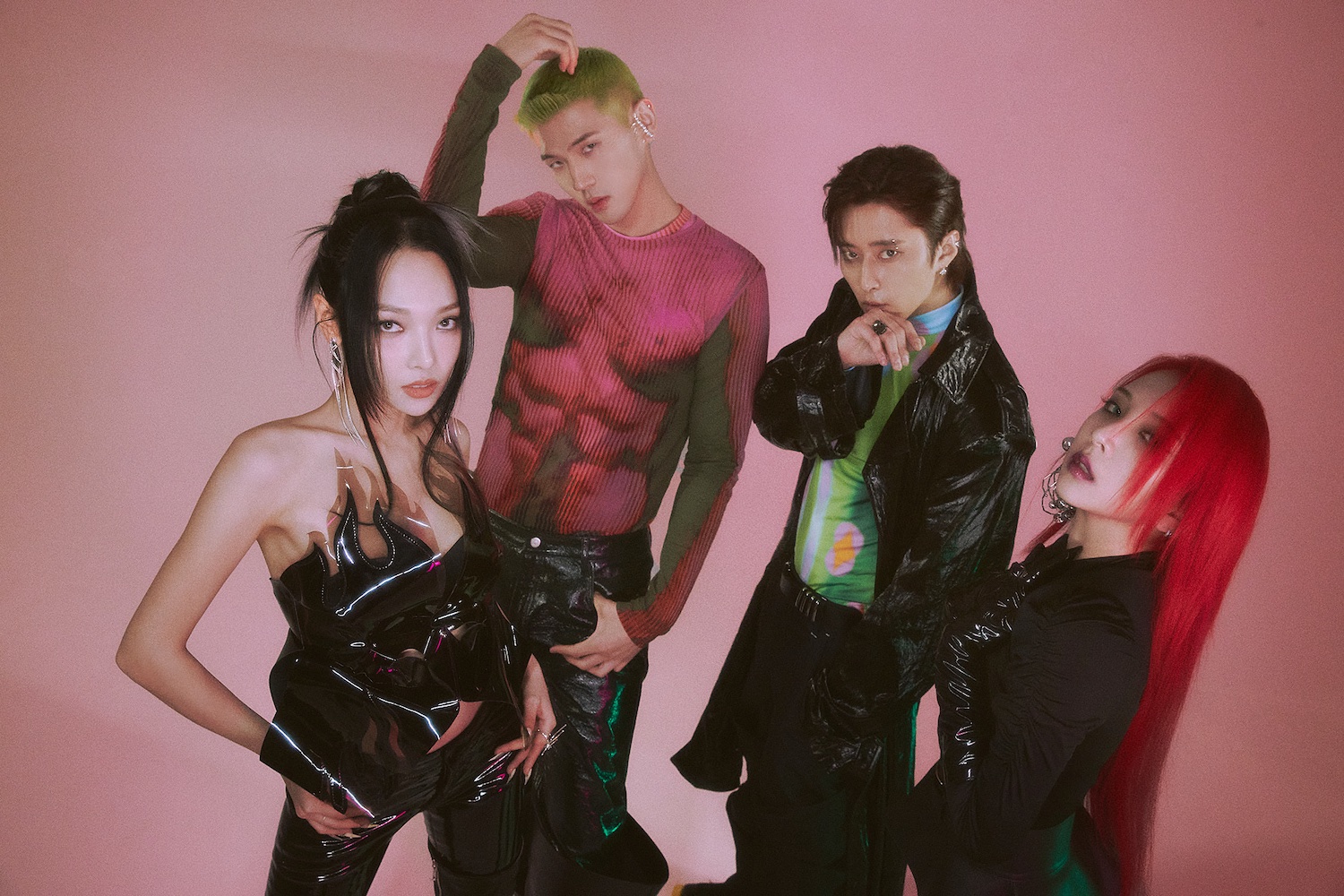 A CONVERSATION WITH KARD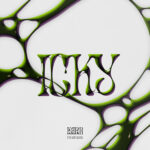 Atwood Magazine: Atwood is a publication built on music discovery, so a lot of readers look for new music and artists they've never heard of. Would you like to introduce KARD to people who may not know about your group?
BM: We are a two member male, two member female co-ed group from South Korea that formed in 2017. We love music, we love what we do. We have a lot of interesting narratives, so get into some of our music!
Prior to this tour you guys released your 6th mini album, Icky. Can you tell us a little about the process of making this project compared to previous comebacks?
BM: I think Icky was an interesting project. Icky is the first album where mostly our input went into the album. Normally in conservative K-Pop labels, they have the blueprint already laid out for us and you just have to follow it. But this time around, the label wanted our ideas to come into fruition. That doesn't necessarily mean everything was us, obviously there was a collective effort between us and the company. But it was the first [project] that we just felt like it was so much of us put into the album. That's why we're so proud of it, and touring around with it, the energy just feels a little bit different.
KARD's music and lyrics are a little more risqué than the typical K-Pop sounds, what is the importance of pushing boundaries to your group? And besides being a co-ed K-Pop group how do you set yourself apart from the norm?
Somin: From the beginning, being co-ed in general was the interesting factor for us. In that time span from debut until now, we've experimented a lot. We've done conventional K-Pop and what appeals to a vast audience with K-Pop, but getting more into the experimental side and pushing the boundaries more fits our group better. That's what I'm starting to realize
BM: It's always the narrative for me, like how are you pushing the boundaries? Because everyone wants to push the boundaries, everyone wants to break out of the box. But how are you doing it. For [KARD], I think the most interesting thing we wanted to do is, since we're all of age. We're 25, 30, 31, the things we are able to speak about can be a little more explicit than someone who is 16 or 18 can proudly do. We really wanted to push that boundary and have fun with it, because one we're a co-ed group we can maximize on that performance wise and two also since we're a co-ed group our music can become very conversational.
We're really happy because everyone is catching it and some of it went viral. I definitely got a little bit explicit in my verse, but just enough that it passes the PG range. Kids will listen and not know what I'm talking about but the adults will get it. It's been a fun journey and I think it puts us in a new perspective and we're able to see our vision more clearly now.
While being on tour, what song is your favorite to perform on stage? And for someone who has never heard of you before and never heard your music, do you have a song that should be the first one they listen to?
Jiwoo: "Icky"! Definitely "Icky."
BM: On a pop scale, "Don't Recall," for me. But for a more like dope slash performance style slash not conventional K-Pop, I would say "Cake." That's also been my favorite to perform this time around.
How does your music taste affect your music? And since you guys are on the road, do you have a playlist for traveling or a song or an artist that you have on repeat right now?
BM: I think tour is kind of the time where I look for new music. I discovered a couple new artists [on the road]. Ordeal is one I've been listening to a lot.
The thing about KARD, is that we all have our own different preferences. Those preferences are trumped [when creating music]. Cause when we're producing music for KARD, we are focused on what KARD can do best. I promise you our solo music that comes out for each one of us will be very different from what KARD sounds like.
J.Seph, You haven't spoken yet during the interview and we'd love to hear from you. Do you have a song or artist you're listening to?
J.Seph: I'm a little more of an old soul when it comes to music, so I've been listening to 90's Korean music. It gives me a feeling of nostalgia, so I enjoy listening to a lot of the older music.
And speaking of solo things that you guys do; BM you mentioned on a podcast that you are taking acting lessons, are there other things each of you want to venture into outside of KARD?
Somin: I would like to learn guitar. I bought my guitar and I'm trying to learn on my own but I'm realizing how difficult it is. My goal is to have it on stage with me and perform with it one day.
J.Seph: I want to be a very famous chef in Korea.
Do you like to cook now?
J.Seph: (In English) Yes, yes, yes!
Our last few questions were submitted by your fans.
Ask them their opinions on the difference in the journey between a male idol and a female idol; how does each one look for them and what do they admire about each others journey

— misaki has DPRession 🌙💜 (@DPRBABY_) July 22, 2023
BM: I'm learning a different type of etiquette. I've never had a sister in my life, but being together for the past over six years; you learn a lot about what makes a girl sensitive, when a girl is sensitive, and individual traits. You learn how to cater to [the girl members] in a different way. For example, music wise. Also if I was to talk about something I didn't appreciate or something that was annoying me with a brother, you would speak differently with your sister. So, I think that type of etiquette is something that I definitely learned.
J.Seph: I really notice the differences in detail. I'm a simple guy. Like when I go on tour, I only pack what I need. But the girls, they bring two big suitcases full of everything that they might not even need but have just in case. I just noticed the attention to detail.
Somin: But for me, it's the exact opposite! I have no idea how he goes on tour with nothing. He literally just carries around a mini bag!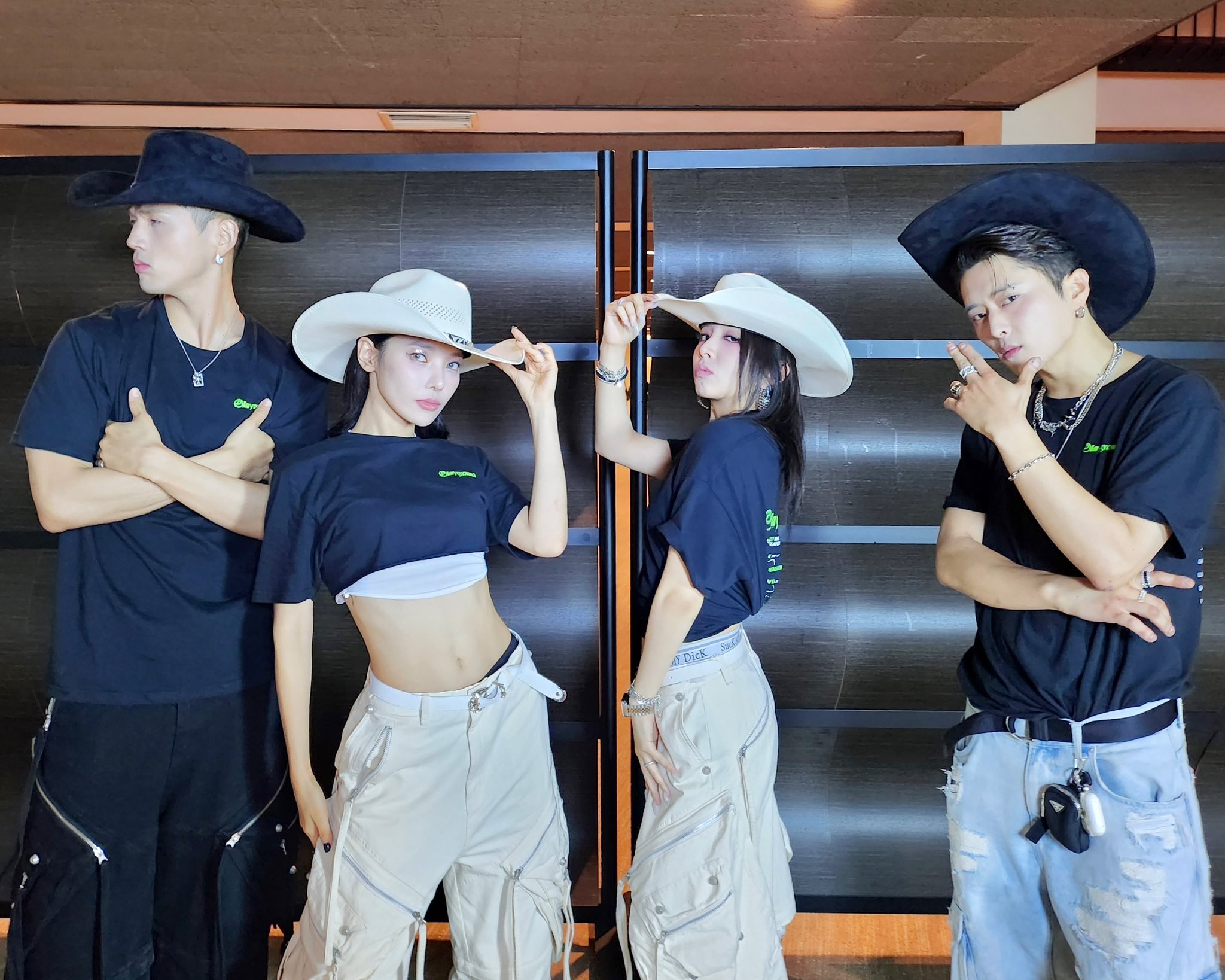 If you could be a show anywhere in the world, where would you go and why?

— kayla (@simkaylaa) July 22, 2023
Somin: Paris! We have our Paris stop on our Europe leg in about a month and I'm really happy to be going. That has been one of my dreams.
BM: I'd like to go to Greece. Santorini. I want to check that out and stay there for a couple extra days too.
Jiwoo: For me, Turkey!
J.Seph: Dubai!
What has been the most surprising or moving thing you have experienced connecting with your international fans?

— KARDTUSPATRONES (@kardtuspatrones) July 22, 2023
Jiwoo: When I meet a fan outside of the shows and I get noticed, it's really interesting for me. I tend to roam around a lot, sometimes even by myself. When it's the last place I'd think I'd encounter someone who would recognize me, it's really surprising.
BM: I'm from here so nothing really surprises me, but it's special every time. From the little moments in between shows and then at the shows, I really appreciate it. It always drives me to make better music.
J.Seph: There was a fan who was in the front row during our first tour. She looked at me with very sensual eyes and [wagged her finger to gesture to me] while saying "Come here! Come here!" It was a culture shock for me because you don't really experience that in Korea. But now I'm used to it enough that if a fan told me to come, I would just go!
Kard lightstick when?? Who can we talk to about it to MAKE IT HAPPEN???

— itsel🍂 (@gummyjiwoo) July 22, 2023
BM: I know! You have to take it up with our label!
What would you like it to look like?
Jiwoo: Fans made a lot of designs that I've seen online and some of them are actually really nice!
BM: I want it to be really crazy like maybe shoot out cards like a money machine. That would be cool!
The group came out to a roaring venue as they started their show with "Icky."
Hidden Kard shouted the lyrics word for word to their back to back high-performance songs. The energy radiated throughout the theater and the members continuously interacted with the crowd. Responding to shouts of admiration, reading fan's signs and even helping someone in the audience pick their next tattoo at one point. The members were gifted cowboy hats by a fan in the second row, fitting for a Texas tour stop.
KARD's 6th mini album Icky is available on all streaming platforms. The group is currently in the middle of their world tour. Tickets for the remaining portion of their North American leg are available now.
— —
— — — —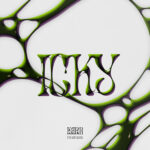 © Freya Rinaldi
:: Stream KARD ::
---