Producer Ayase interpolates prose as music alongside Ikura in Japan's diamond-certified superduo YOASOBI. Atwood sits down with him ahead of YOASOBI's first American performance to talk about this unique process and their new single, "Idol."
Stream: "Idol" – YOASOBI
---
YOASOBI is a duo with a one-of-a-kind premise – from the act's own slogan, "turning novels into music."
This isn't your dad's 70s era prog rock concept album though – for YOASOBI, it's quite literal. Comprised of producer Ayase and vocalist Ikura (stage name of Lilas Ikuta), YOASOBI's debut track, "Yoru ni Kakeru" ("Racing Into the Night") is a musical interpolation of An Invitation From Thanatos, a short story on Sony Music Japan's creative writing social media service Monogatary. The track mixes Ikura's heartfelt vocals and the upbeat earnestness of j-pop with themes of death and suicide, a blend of dark and light that punctuates their work. "Yoru ni Kakeru" went viral during the first year of the COVID-19 pandemic, including a performance by Ikura on The First Take's lockdown series The Home Take, and has since become the first song in the history of the Recording Industry Association of Japan to be certified diamond.
With such an auspicious origin, the duo has gone on to work with a vast palette of creatives from short story writers, to playwrights, and even Naoki Prize winning novelists. It's a task they approach with enthusiasm and panache. On April 12th, YOASOBI released "Idol," which serves as the intro theme to the anime Oshi no ko ("My favorite idol"). The track debuted at number one on Billboard Japan to widespread critical and commercial acclaim across a diverse swath of the music industry, including a surprising cover by Polyphia's Tim Henson.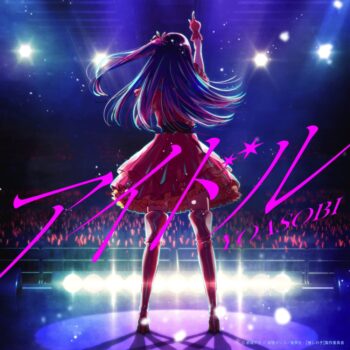 "Idol" follows the first chapter of Oshi no ko's Ai Hoshino, a doomed idol in Japan's entertainment industry, and her brushes with fawning media and fans, jealous co-band members, and her own fractured internal life in the face of these pressures. The track, too, is a deliberately fractured musical portrait of Ai's life, mixing a jagged military march with a ballad before vaulting into the thumping four-on-the-floor chorus reminiscent of more prototypical j-pop. Ikura's voice effortlessly bounds from section to section as she inhabits the role of these forces in Ai's life, flitting from hopelessly enthralled to despondently numb in time with the narrative.
Ahead of YOASOBI's first live performance in the US at the Head In The Clouds Festival in Los Angeles (August 5th and 6th), I had the opportunity to interview Ayase. We talked the duality of idol culture, eclectic song structures, and what it feels like to turn a story into a song, and then see that song come to life in animation.
A CONVERSATION WITH YOASOBI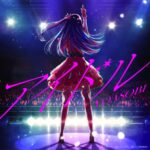 Atwood Magazine: Hello Ayase! It's really nice to meet you, how are you doing today?
YOASOBI: Hi, Danny! We're currently creating songs and preparing for our future shows.
Soon you'll be performing in the US for the first time. What would you want new listeners to know about YOASOBI?
YOASOBI: I hope the audiences can enjoy the fun of J-POP culture and the exciting sounds and performances of YOASOBI.
So, you've just released "Idol," which hit #1 on the Global Billboard Chart and is also the OP to Oshi no Ko, which is an anime about the Japanese idol industry. Can you tell me a bit more about the background to the track?
YOASOBI: Even before we officially received the tie-up offer, I had read the original manga myself and was inspired to create a demo song. Then we were asked to create the opening theme song, and Aka Akasaka, one of the authors of "Oshi no Ko," wrote an original novel, and we created the song based on this. We wanted to create a song that would express the charm of "Oshi no Ko" and the bright and dark sides of the Japanese entertainment industry and media.
"Idol" really pops off. It's got a few different sections, starting out on a kind of blown out military march, progressing into a ballad section, and then into a huge pop chorus more in line with the "idol" theme. Can you tell me about how those sections came together during the songwriting?
YOASOBI: I think most of my songs are relatively full of various elements. When I create a song, I always have in mind to extract everything I like, am interested in, and want to do at that moment. I squeeze all of them into one song and create music without creating borders of music categories. In addition to that, the inspiration I got from the original novel and the high potential of Ikura's vocalization made this song become very "YOASOBI."
The vocals also seem to switch perspective back and forth from the media and fans, to the idol themselves. Did that play a role in how dramatically the song's sections contrast with each other?
YOASOBI: I think "Oshi no Ko" is really interesting because, as you mentioned, the perspective switches back and forth between various people, such as the idol, the media, the fans, etc. I wanted to express this structure in my music, and that's why the song became like this.
YOASOBI's concept is turning novels into music, and you've since also worked with other forms of writing too, like letters, and you've even worked with Naoki Prize winning writers. So what's the story going on with "Idol"?
YOASOBI: As I previously mentioned, I was inspired by the original manga and personally made a demo song. Then, we got the offer to create the main theme song, and Aka Akasaka, one of the authors of "Oshi no Ko" has exclusively written a novel, and we created the song "Idol" based on this. While creating the song, we tried to align with this novel, describe the whole story of "Oshi no Ko", and also express the existence of "idol" in general.
Do you think there's anything Americans would be curious about in Japan's idol industry?
YOASOBI: I think the Japanese idol culture is special and unique. In Japan, an idol is someone loved and supported by the fans and who continues to shine on the stage professionally. The music they perform is borderless, and various other efforts are made within the framework of the idol. Thanks to the existence of idols, Japan continues to deliver its unique and exciting culture. I believe this point is very interesting for people who live outside Japan.
Do you relate to the protagonist of "Idol" at all?
YOASOBI: As you know, I also work in the music industry as a musician. I try to express my feelings straight forward, but sometimes I have to lie to myself for my dreams or someone I love, and sometimes I have to hide myself. I believe these feelings link to the conflicts and troubles of the main character.
On the letters I mentioned earlier, you ran a campaign called the Letter Song Project, which I found to be the sweetest story. Tell me about how that project came about, and how it felt to read the letters that came in. How did you end up choosing Hatsune's letter?
YOASOBI: This campaign collaborated with the Japan Post, starting with a radio program project. We asked people to send us letters and received many letters through this project. The theme for this campaign was to write a "Thank You" letter. It could be any form of thank you, such as writing thank you to a person, someone close or far away, or it could even be a thank you note to something. We read many letters submitted to the campaign and chose this Thank you letter to music, written by Hatsune. The reason why we chose this letter is because we also thank music every day. We thought our audience would also recognize this through our music, so we created this song.
Your music is quite emotionally in touch, and I think that's also reflected in the animated music videos. Are there any themes that you particularly like to touch on in your music? How does it feel to see those animated?
YOASOBI: When I create a song, I try to picture the images in my head. For example, when creating a fast chorus, I think of a main character running. When creating a part about feeling depressed, I have an image of a zooming out from the character. In addition to those images in my head, we have great movie creators with completely different creativity that turns our music into videos. Through this process, I feel it's interesting to discover the unknown charm of my songs, and it's fun how the world and depth of the song expand.
Okay, I want to start wrapping up but I have to know: What are you listening to these days?
YOASOBI: I listen to NewJeans.
NewJeans are my favorite act right now! Do you have anything else you'd like Atwood's audience to know?
YOASOBI: Hi! We are YOASOBI. We're a band that creates music from novels. We'll continue to try our best to deliver great music to our fans, not only to our fans in Japan but also to our fans who live outside Japan. We also plan to do more shows outside Japan, so we hope you can come to see us soon! It would be our great pleasure if you could continue to listen to our music, dive into the stories of YOASOBI, and enjoy the world of our music.
Thanks so much for talking with me, Ayase!
— —
Stream: "Idol" – YOASOBI
— — — —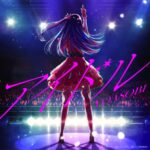 © 2023
:: Stream YOASOBI ::
---