If I ever find a way out, would it matter how it came about?
This life that we live is so fickle and fleeting; it can somehow simultaneously feel hopeless and exciting and inexhaustibly variant — but it is, ultimately, always what you make of it. Seeking out our desires in life can be a difficult path to follow, as one may feel depleted and continuously asking the elusive what-ifs. We can all too easily become bogged down by worrying about what we don't have. Can there be a way out?
Youceff Kabal, formerly known as YUS, is here to help address that exact question. Kabal's newest single, "A Way Out," which Atwood Magazine is proudly premiering today, serves as a self-reflection about seeking the seemingly unreachable, and knowingly treading the line between impervious and exposed.
Listen: "A Way Out" – Youceff Kabal
---
Heavily utilizing autotune and sweeping instrumentals, coupled with personal lyricism, Youceff Kabal curates a sound that feels almost ironically raw and emotional. Like 808s & Heartbreaks-era Kanye, Kabal standardizes overt technicality with organic affectation, maintaining an innate and tangible truth throughout the four-minute track. "A Way Out" uniquely addresses ubiquitous emotion, wholly and purposefully presenting it in a manner that has seldom been achieved before.
"A Way Out" poignantly acknowledges the feelings attached to wanted something — or someone — that feels unattainable; an apparent vulnerability that markedly becomes central to the entire track. Wrought with undeniable sentimentality, "A Way Out" is a rhetorical anecdote dripping with self-discovery and yearning. It becomes a personal story for us all: a diffident narrative about finding love and figuring out life. We are all guilty of looking back on our own lives with reluctance; rarely — if ever — idealizing our abilities to grow.
I want you however you want to.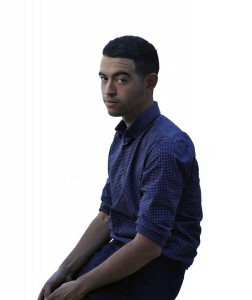 The song is a longing plea of self-discovery; to be with the one he loves, Kabal must first figure out who he is and what he wants. He prominently wears his heart on his sleeve, and subsequently gives listeners a chance to reflect upon themselves, too. "A Way Out" is an intense soliloquy, designed to express one's innermost thoughts and emotions.
Kabal and "A Way Out" ultimately prove to be an intense ode to sentimentalized self-doubt, and the internal journey one takes to understanding oneself — and how that journey affects one's relationships with others, too. The track notes that "hoping in and of itself just won't do," and it is true: To attain one's goals, they must be totally seized. Life does not wait for you, and it is up to you to decidedly choose what it is that you truly want. There is always a way out — where will you go?
— —
cover photo: Youceff Kabal © 2016
"A Way Out" – Youceff Kabal
lyrics
If I ever find a way out,
would it matter how it came about?
A way to forever be with you, I'd never
wanna go back; when I see her,
knowing there's just nothing better.
I want you however you want to.
Can I find it in myself, to be me and no one else,
for the one that I want to be with when I can't
find it in anything else, hoping in and of itself
just won't do, I'll need to keep my cool surely to
find a way out.
This article was previously published on 10/25/2016 with an earlier version of the recording. At the artist's request, Atwood Magazine has agreed to re-publish this article with a newer , updated version of the music.