A gateway into the vulnerable mind of Yves Jarvis, Sundry Rock Song Stock is his attempt to understand the world, his place in it, and ultimately himself.
Stream: 'Sundry Rock Song Stock' – Yves Jarvis
---
Neil Young. Gordon Lightfoot. Buffy Sainte Marie. Yves Jarvis: While one name on this list of Canadian folk icons may look out of place right now, it won't for long. 
Yes, ok, there's enough electronic beats, layers of digital bewilderment, and vocal effects on a Yves Jarvis track to make folk purists scream, but this isn't about them. Rather, it's about that universal feeling that Jarvis is trying to capture. "It's very Canadian. There's a Canadian sound to the vibe or feeling I'm getting at really at the surface, but then underneath that there's all the experimental inclinations and the punk foundation," says the multi-instrumentalist—who you might know under past name Un Blonde—says via phone.
In Jarvis's worldview, those great folk stars of the past embarked on the great quest for universal oneness. "All of this music that is getting at the core of being is the same. So it's like genre is so irrelevant when you erase all of this compartmentalizing and regionalizing of music, it's all getting at the exact same thing," says Jarvis. "It's all spiritually one consciousness, one humanity; it's all the same story, but I mean that in the most expansive way possible."
Talking from a cabin in the mountains two hours from civilization—not dissimilar to Neil Young's famous hilltop retreat above Topanga Canyon—Jarvis alternates effortlessly between speaking about the technical and the spiritual. Many a sentence will begin with how the sound was made and end with why it matters.
Sundry Rock Song Stock — his newest album (released September 25 via ANTI-) — is his shortest and most approachable work to date. But don't mistake that for cheapening the message: "I feel like it's intimidating to approach these huge 20 track albums, for the casual listener, so I just want to be accessible in that sense. Not necessarily musically or the content, but I want to be accessible just as a figure."
A deep dive into the single "For Props"—which Jarvis calls his "most listenable song"—showcases everything the folk star is attempting to be. With a simple acoustic chord progression that Leonard Cohen would be proud of, it tackles our society's obsession with forcing even the good artists to pander to be heard. Despite being delivered with the snarl of Neil Young, the upbeat catchy nature of it belies its true intent.
Yeah, you knew that was the cost, 
Not quite the extent of the loss
Your earned fortune
Makes you depraved
Can't empathize
Or reciprocate
I'm sure your heart is in the right place
---
Sundry Rock Song Stock is a gateway into the vulnerable mind of Jarvis, who carves himself open ten times over in as many tracks.
Never self-indulgent, it's instead his attempt to understand the world, his place in it, and ultimately himself. "A lot of this record is dealing with actually dismantling my ego," he says. 
While his anti-authority, go your own way attitude still underlies all his work—see lyrics such as "Emblem's" soul stirring "Emblem of dissent, Unanimously awarded, When you disobey, And don't get pulled astray"—this record aims to tackle something else: the disparity between people's perceptions of Jarvis and his true self.  "Socially, I feel like I'm regarded as somebody who's chill and I'm not, I'm like a maniac," he says with a slight laugh. A controlled social demeanour makes for a "misconception who I am, so I just want to set the record straight."
But his "maniac" side is the Yves Jarvis he wants you to know. "The reason why I see myself as just being like I'm on fire all the time is just that that's my elemental nature. I'm just burning, overflowing. I always say I feel like I could jump into the sky. So I feel like when people depict me I would like for that to be represented."
In a move that mirrors the tenacity of  his 2014 album Tenet, this frantic nature is captured throughout the record. Also similar to Tenet, Jarvis's new record is the result of what he has on hand: "I'll build a studio anywhere and I will use anything as an instrument, so I'm never lacking the means to make an album. That's my medium, I'll do it forever. You could take everything away from me, I'll make an album," he offers.
"I really was lacking in gear last year when I laid those things down—like I didn't have a bass and drums—so I knew that I wasn't going to be making and finishing an album. So with that in mind, I approached those foundational tracks and beds thinking to myself, 'oh, this has to stand for a year, like, it has to be something that will be relevant in a year because otherwise I'm wasting my time'," Jarvis says.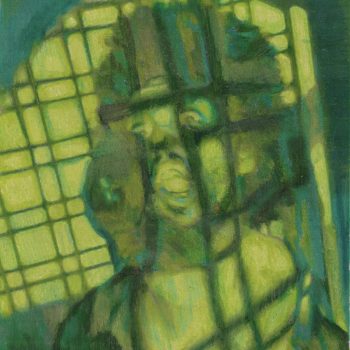 Rather than his usual, The Band-esque approach of recording it  quickly, Jarvis had to capture the eternal. Armed with a studio that can meet this ambition, there was nothing in his way. "I have the exact studio I had when I was 17. So it's very nostalgic because at that time I was really finding my voice for the first time and experimenting with these ideologies I'm talking about now—recording every day,  experimenting with everything and deconstructing—and I feel like I'm back there now," Jarvis says. "Now there's no paring down, like I'm really trying to go to the absolute edge."
With an iPod full of artists striving towards a common consciousness, Jarvis describes Kanye West and Joni Mitchell as "beacons," the influence of Kacey Musgraves's "spaciousness," and even his life-long love affair with punk.
"I'm hugely influenced by Wipers and I am always tempted to scream like that," says Jarvis. Knowing his music doesn't allow for this approach, he accomplishes the same result in different ways: "I'm usually whispering to emphasize, which seems counterintuitive, but it's like exclamation marks. One of my favourite lines on this new record is 'fastened threads will unweave at the pull of a string.' I whispered the hell out of that line because I was really intent on it."
The comparison between Jarvis's rockier side and Neil Young's anti-folk ego in Crazy Horse feels almost too obvious to point out. 
Canada's next folk star may not have the home-spun, apple-cheeked feel of Stan Rogers, or the giddy-up-cowboy feel of Gordon Lightfoot. But rest assured, he's just as capable of being part of the universal oneness: "With Joni Mitchell I feel like within every album, within every song, within every line is like a universe," says Jarvis. "So that's how I'm trying to get into things now: I'm trying to have every song, and every line, and every moment be a universe."
— — — —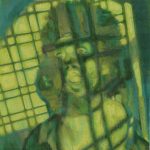 ? © Yves Jarvis
:: Stream Yves Jarvis::