Following his highly acclaimed debut album 'Ivory,' Omar Apollo continues to demonstrate how to experiment with genre without sacrificing poignant songwriting on 'Live for Me.'
Stream: 'Live for Me' – Omar Apollo
---
After a Grammy nomination, TikTok virality, and sold-out shows, Omar Apollo has had a memorable past year, earning the public recognition his longtime fans have been waiting for.
Despite his hectic year Apollo still found time to release his fourth EP Live For Me on October 6 via Warner Records. While known for his genre-blending, ranging from bedroom pop to soul to Latin trap, the artist has generally been associated with indie R&B, trademarked by his textured guitar riffs, heartbreaking falsettos, and intimate songwriting. Live For Me, however, is one of the artist's most sonically cohesive projects with respect to genre.
The four-track project leans heavily into the experimental and alternative side of R&B, characterized by pitch-corrected vocals, electric keys, and an inherent calling to be listened to on a 2 AM car ride. However, the more synthetic production does not take away from Apollo's raw and visceral lyricism, reflecting themes of longing, numbness, and loss. The end product is a series of vignettes depicting some of the most vulnerable moments of Apollo's life.
The lead single "Ice Slippin" introduces just how personal the stories of this EP will entail. In a press release, Apollo stated this track is his recount of the feelings and anxieties he experienced when coming out to his family. The song opens with a delicate looping piano melody, accompanied by questions: "When you comin' home? Turn around, it's not too late, did I hurt you? If I take back my words, would you return to me?" His vocals are thin and fragile as he struggles to tread lightly with his words against the heavy subject matter. It's unclear whether the perspective of the narrator is that of Apollo or his family, and maybe it's intentional to project both the disappointment he felt by his family's reaction and the disappointment he believes they have for him.
Here "home" is not merely the physical place he grew up, but the relationships and memories that defined that space, and the different stages of himself that his family came to know. Tension builds until Apollo decides to say "f it" — literally— confessing feelings of self-hate and regret for having said anything at all: "And I hate me too much, could've just lied to me that night, could've just said nothin', I wish you would've just said nothin', nothin.'" As the track nears its closing Apollo finds time to be the only remedy, allowing for the ice to melt over until the springtime comes and brings new perspectives.
---
The title track "Live For Me" feels like a stylistic continuation of "Ice Slippin" with heavy, dreamy synths and stripped-back lyricism bridging the two songs together. "Live For Me" is Apollo's cry to a loved one, someone who he is about to lose or has already lost. This person has informed him that they wouldn't be on this earth long maybe in an effort to prepare him, but Apollo still begs: "Won't you live for me? Or could I live for you? There's nothing I won't carry so you don't have to."
Willing to sacrifice all of himself and take on the pain his loved one suffers, Apollo writes one of his most heartbreaking pieces yet, one that is not defined by romantic love, but by unconditional love. Glistening clavinet-like keys in the post-chorus contrast the sorrowful harmonizations of Apollo's stacked vocals before his final plea, refusing to give up.
---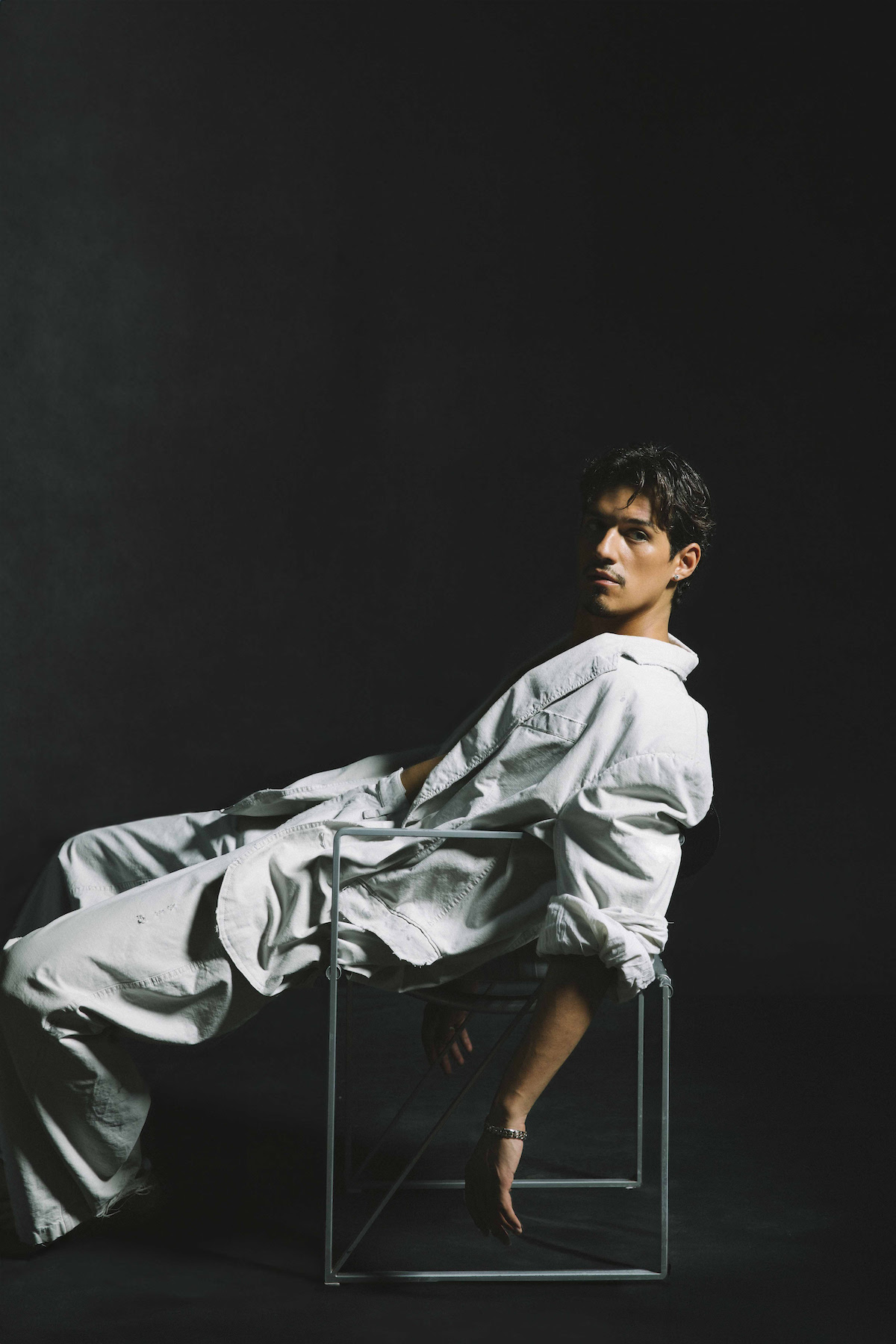 What "Live For Me" shares with "Ice Slippin'" in production, it reciprocates in theme with "Angel." While the autotune and somber synths of alternative R&B define the sound of this EP, they never detract from Apollo's honest writing, if anything he uses these effects to convey his sentiment through auditory sensation. This is perhaps best represented through"Angel" and its narrative of Apollo watching his loved one slip through his hands. The track sees the return of Apollo on guitar, but it's warm, low, and dulled down than his usual to reflect the tone. Pitched to an almost robotic timbre, he sings: "Took Fentanyl to melt his mind, numb his thoughts (numb his thoughts), a sacrifice (will you sacrifice?)" By extracting the humanness from his vocals, Apollo sonically reproduces the numbness this person is exhibiting.
In the second verse, he delves into the realm of introspection going through a tunnel of echoes as he questions the mundane to the existential aspects of life only to be left with more unknowns and contradictions:
Do what I want, see you tomorrow
Won't do a lot
…
Call my pops, call my dad
Tell him I love him a lot
Used to roll, roll my eyes now
I wish he'd call me more
The track concludes with a ringing electric guitar solo, a melody that haunts listeners after the last notes have been strummed.
---
"Pilot" is the final vignette from his life that Apollo shares on this project. The epilogue of the EP, "Pilot" is a canvas for all the ideas and sounds explored throughout the rest of the project. We hear the murmurs of everyday life through a reverb-laden acoustic guitar and distorted white noise; auto-tuned confessions of love in the face of loss; and piercing synths, offering electronic cries of remorse.
It's a compilation of what was heard before, without sounding convoluted and congested. "Pilot" expertly crafts the essential thesis of this EP – that while we hear all the voices of Omar Apollo, these are all just moments in time, as he reminds: "It won't hurt you forever, nothing lasts forever, it doesn't hurt forever, forever."
— —
— — — —
 © Warner Records
:: Stream Omar Apollo ::
---