After an abruptly cancelled tour due to COVID-19, savvy blues singer ZZ Ward uses her considerable talents to find a new sense of normal for her fans and herself.
Stream: "The Dark" – ZZ Ward
— —
It's during times of challenge when we realize hope can sometimes be the only path forward.
It's a gorgeous day in Los Angeles. Blue skies and warm rays from the sun paint the San Fernando Valley in idyllic colors after weeks of rain. A refreshing breeze cuts the heat and a pair of mourning doves claim my balcony railing as their own. You wouldn't know we were in the midst of a viral apocalypse.
The days in lockdown have lost distinction. It could be the tenth, it could be the hundredth. Yet somehow, the oppressive monotony of quarantine has taken on a semblance of normality. Eventually, even the unthinkable becomes routine. We roll out of bed same as always.
Today, ZZ Ward and I are both enjoying the sunshine, albeit miles apart in our own imposed lockdowns. Just another day behind paradise' bars. We both remark at how easily we've slid into this new mode, but maybe "easy" isn't the best word for it.
There's the terrifying moment when you realize that the world as you knew it is coming to an end. For Ward, that moment came hours before her headlining set at Chicago's House of Blues. "The news we were getting was crazy," she recounts. "We were on the brink of making the decision ourselves to shut everything down, but then it was made for us." The venue shuttered their doors for the foreseeable future, leaving the blues singer with the unenviable task of breaking the news to her bandmates. "It was hard to do, but we all knew that our safety and the safety of our fans came first. There would be other shows."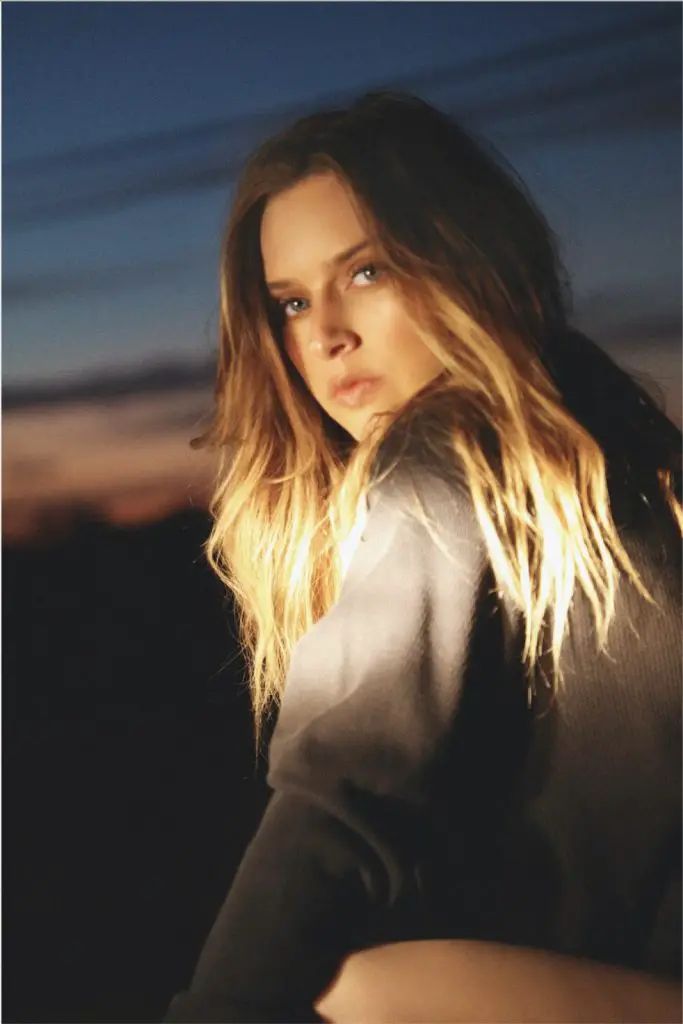 Ward's tour cashed in on the notoriety she's amassed in the past few years. Her 2017 album The Storm reached #1 on the Billboard Blues chart and spawned the hit single "Domino" on which she collaborated with Michael Fitzpatrick of Fitz and the Tantrums. She also landed an enviable spot on Pixar's Cars 3 soundtrack, penning the rollicking "Ride" with living legend Gary Clark Jr. Her recent singles "Sex & Stardust" and "Break Her Heart" kept the momentum going well into the tour with sold out dates in Los Angeles, San Diego, and Denver.
Then, everything stopped.
We subconsciously believed our society to be an unstoppable force, but we never thought it would hit an immovable object of pandemic proportions. Faced with the certainty that our lives would look different from here on out, we all responded differently. It's sometimes difficult to remember, but those first days felt rife with fear and uncertainty. It's hard to stop creating and performing so abruptly when that is the reason she and artists like her get up in the morning
"We keep living though," says Ward. "Even if it looks different than how we imagined."
Hunkered down behind the walls of quarantine, she almost immediately constructed a new normal for herself. With concert venues the world over collecting cobwebs, creators like Ward have turned to alternate means of sharing their art. Living room concerts and weekly Instagram Live Q&A's keep a sense of engagement and solidarity between her and her fans.
"I never thought I'd be the kind of person who does live cooking demos, but quarantine is good at showing you another side to yourself. Plus, I get to explore this skill while engaging with fans in a new way."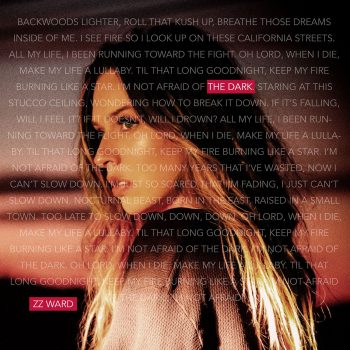 Though the world outside has slowed to a stop, the creative gears keep turning. Perhaps unintentionally, Ward's series of new singles, "Sex & Stardust," "Break Her Heart," and the recent addition of "The Dark" chronical the emotions one can cycle through locked behind the walls of quarantine. From empowered, to bitter and heartbroken, to devastated and ultimate hope, these stages of grief have become all too familiar to those of us with limited options and nowhere to go. But through Ward's lens, a sense of solidarity pervades. Even in the darkest moments, we know we're not alone.
Keep my fire burning like a star
I'm not afraid of the dark.
"These new songs got me through some very personal and challenging situations in my life by allowing me to reach a place of empowerment," she says. "At first, these experiences of heartbreak, betrayal and devastation felt very close to me, only to realize in retrospect that the root of these emotions went much deeper than I originally imagined." Though she penned these thoughts long before the coronavirus crisis, they carry a prophetic weight. In one way or another, we've all been bombarded with a new, relentless reality. Only through interrogation and ultimate acceptance of the chaos outside of our control can we begin to see a little light.
Some days, "The Dark" is all we feel. On others, we rage impotently against an uncaring universe ("Break Her Heart"), and sometimes we break out of the fog and feel ourselves in our bodies, if maybe only briefly ("Sex & Stardust"). But there's also the hope that it won't be this way forever.
"We're already seeing our world change in unprecedented ways. There's no going back to the way things were. We can only hope that when we start going back outside, some of the positive changes will come with us."
---
The mountains north of my apartment are often barely visible through the thick haze that hangs over the San Fernando Valley. But for the first time in five years, I can see the detail on their precipitous faces. The air is crisp and clear as an alpine meadow. You wouldn't know the urban sprawl of Los Angeles extends for 50 miles in every direction. With everyone locked behind closed doors and the freeways clear of their nonstop cholesterol congestion, it's like the whole world can finally exhale.
"Not to get political or anything," she notes, "but I hope [we come out of this] with a greater sense of community and less individualism. If anything, I think people realize now that the officials we vote into office will affect our lives. This is the first time in our lifetime that we've experienced it on such a large scale, but it's undeniable that who we elect or don't elect can literally be life or death." Even though a certain boredom surrounds most activities inside our quarantines, we forget that this is a potentially fatal crisis. Every time we put on our masks before venturing out into the world is a choice we make to take care of one another, to say "I value you," no matter who we come across. Apathy says the opposite.
"I think of friends that said to me they don't vote because they don't want to get involved in politics, but the truth is, there are places in this world where you're not allowed to have a say and in this country each vote makes a difference." Though separated in a physical sense, this is one of many ways we can engage in shared humanity. Showing up for and taking care of one another doesn't only happen when we see one another face-to-face. Whether through music, political activism, or through taking measures to keep each other safe, we remember that we are all in this together.
---
These are unprecedented times. For Ward, optimism keeps her pressing on. Though she had to let go of the excitement and momentum leading into an album release, she's promised a slew of exciting things for fans. More songs are on the way as the year progresses and she's continued writing as the pandemic goes on. For the most part, continuing her creative process has helped center her through the turmoil. "Most of the things I write songs about are things that a lot of people go through so, in a way, this is nothing new," she admits. "But the stories that come out of these times will be the things we remember. I don't think we'll all remember how lonely or isolated we felt, but we will remember how a pandemic affected the story of all of our lives."
From our vantage point, looking back on 2020 is hard to envision. But like all trauma, time has a way of putting things in perspective. Eventually this will be behind us. The concerts will resume, and we'll be able to see and touch our friends again. But until then, all we can do is take care of each other behind our masks and our walls.
"It's during times of challenge when we realize hope can sometimes be the only path forward," says Ward. We just need to remember that there's "Sex & Stardust" after "The Dark."
— — — —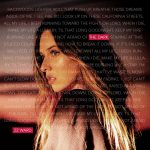 ? © Ariana Velasquez
:: ZZ Ward ::